Rankings
Cleveland Guardians Top Prospects For 2023
Arguably baseball's deepest farm system, the Guardians are in a great position for sustained success.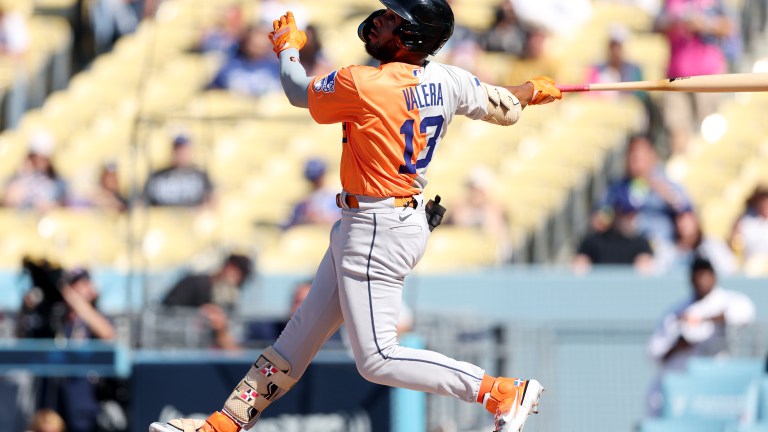 We can debate which farm system is the best in baseball all day long, however you'd be hard-pressed to find a deeper farm system than the Cleveland Guardians. There's a clear trend of hit-tool position player prospects and command-oriented pitching prospects that seems to give the Guardians a higher "hit rate" on their prospects. That said, there's still some extremely high-upside prospects at the top of this system.
1. Gavin Williams – RHP – (Double-A)
Height/Weight: 6'6′, 225 | Bat/Throw: R/R | 1st Round (23), 2021 (CLE) | ETA: 2023
| | | | | | |
| --- | --- | --- | --- | --- | --- |
| FASTBALL | CURVEBALL | SLIDER | CHANGEUP | COMMAND | FV |
| 70/70 | 60/65 | 50/55 | 45/50 | 40/50 | 60 |
A huge power pitcher with some of the best stuff in the country when he was at East Carolina, Williams worked mostly as a reliever due to command issues through his first three seasons. Things clicked for Williams in his fourth season, becoming the team's ace and one of the best pitchers in the country. Though his track record was limited, the Guardians saw too much upside to pass on at pick No. 23 in the 2021 MLB Draft.
Arsenal
Williams fits the description of the big bodied power pitcher, standing at 6-foot-6, 225 pounds while a power fastball leads the way with for his electric arsenal. The right-hander's high-spin fastball sits 95-97 mph with plenty of life, boasting around 19 inches of induced vertical break and some of the best whiff rates in the minors.
The fastball command for Williams has gotten better as the year has progressed, throwing the pitch for a strike 70% of the time. The right-hander has a pair of impressive breaking balls, led by his plus curve that sits in the the upper 70s with a ton of depth and 11-5 break.
Though his cutterish slider is more of an above-average pitch, Williams uses the pitch frequently against righties as a weak-contact inducer that he lands for a strike more frequently than his big curve. Opponents had an OPS of .369 against both of Williams' breaking balls this year, with a 35% strikeout rate.
Williams will mix in an average changeup as his fourth offering, but it can get firm on him in the 87-90 mph range. The pitch flashes above-average when he has the feel for it, showing some arm-side fade. Though not up to the standard of his other three impressive pitches, it gives Williams another look and can be an effective pitch as he gains more confidence in it.
Outlook
The Guardians are as good as any team in baseball at identifying and developing pitching and they seem to have snagged Williams just as his stock was about to go through the roof. Williams rode the momentum of his All American collegiate season right into professional baseball where he pitched to a 1.96 ERA in 115 innings between High-A and Double-A with a 33% strikeout rate, while walking just 9% of batters.
The size, stuff and improved ability to repeat his mechanics have Williams trending like a potential No. 2 starter and he is in the right organization to keep developing on the mound quickly. If the command remains fringy, the Guardians still have a durable, high volume strikeout pitcher who can sit in the middle of their rotation for years and eat innings.
2. Daniel Espino – RHP – (Double-A)
Age: 22 | Height/Weight: 6'2, 205 | Bat/Throw: R/R | 1st Round (24), 2019 (CLE) | ETA: 2023
| | | | | | |
| --- | --- | --- | --- | --- | --- |
| FASTBALL | SLIDER | CHANGEUP | CURVEBALL | COMMAND | FV |
| 70/70 | 60/70 | 50/55 | 45/55 | 45/55 | 60+ |
After a lights-out 2021 season, Espino was off to an even better start in 2022 before injuries cut his season to just four starts. Initially reported as a knee issue, it seems as though shoulder discomfort is what wiped out his season last year, which is of course much more concerning.
Arsenal
Espino's arsenal could go toe-to-toe with any pitcher in the minors and his fastball leads the way. The right-hander's heater sits 96-98 MPH, reaching triple digits consistently. Thanks to Espino's low release point and elite life (21 inches of induced vertical break), he was able to pick up a ton of swinging strikes up in the zone and freeze hitters at the knees.
Since the start of the 2021 season, Espino has recorded a 16 percent swinging strike rate on his fastball, one of the best clips in professional baseball. Expanding to the rest of his stuff, Espino posted the second-best swinging strike rate among qualified pitchers in the minors in 2021 at 20.2%, behind only Spencer Strider of the Braves.
Of his off-speed offerings, Espino's slider is his strongest. The pitch sits in the upper 80s, occasionally touching 90 MPH. Espino does a great job of repeating his tough release point across all of his pitches, making it difficult for the hitter to differentiate what's coming out of his hand. By the time they realize the slider is coming, it's too late. The pitch has sharp, late break, darting away from right-handed hitters and tying up left-handed hitters.
While he is still working to command it, Espino's changeup is an exciting third offering with plus potential. Working off of his elite fastball, the changeup will play up, but the pitch itself is nasty. While a hitter is worrying about 98 with life, Espino could mix in 88 with around 13-15 inches of horizontal movement fading away from left-handed hitters.
Espino's fourth offering is a curveball that he will mix in to steal strikes in the upper 70s. The pitch can be above-average and provides a rare look from Espino that isn't in the upper 80s or upper 90s.
Outlook
A really physical 6-foot-2, 205-pound right-hander, Espino uses his body really well and has clean mechanics. The 21-year-old has progressed with his command nicely and had only walked four batters in his first four starts in 2022 while striking out 35.
Improving his strike-throwing consistency was as simple as finding a more consistent landing spot for Espino given his explosive lower half. As Espino improved on his command, his strikeout rates continued to rise through the 2021 season and into 2022.
The lost 2022 season is upsetting, but at 21 years old and already in Double-A, Espino was ahead of schedule. The hope is that his quick climb through the minors and high profile prospect status led the Guardians to err on the side of caution rather than a more serious shoulder injury.
Assuming Espino is healthy, he is talented enough to start next season in Triple-A with a chance of breaking into the big leagues at some point next season. The sky is the limit for the former first-rounder, who has ace stuff and commands it well.
3. Bo Naylor – C – (Triple-A)
Age: 22 | Height/Weight: 6'0, 205 | Bat/Throw: L/R | 1st Round (29) – 2018 | ETA: 2023
| | | | | | |
| --- | --- | --- | --- | --- | --- |
| HIT | RAW POWER | GAME POWER | RUN | FIELD | FV |
| 45/50 | 55/55 | 45/50 | 50/50 | 45/50 | 55 |
After a let-down season in 2021, Naylor made some tweaks to his swing and has enjoyed the best offensive season of his career this year. The glove has come a long way too.
Offense
Physical but athletic, Naylor offers plenty of raw power and explosiveness in his swing. After his brutal 2021 season, Naylor tweaked his set up to get his lower half more involved, using a more open stance with his weight much more stacked on his back side.
Naylor now features a more pronounced leg kick, that gathers him even further into his back hip before uncorking his powerful swing.
Though the new moves are louder, Naylor is extremely athletic and controls his body really well. Getting his lower half more incorporated has helped Naylor hit the ball with authority more consistently, seeing his 90th percentile exit velocity jump by three mph. More importantly, Naylor's improved ability to replicate his swing has helped him improve his zone contact rate by 8%.
Naylor is a patient hitter who rarely expands the zone, walking at a 16% clip between Double-A and Triple-A this year. His willingness to go deep in counts leaves him more susceptible to strikeouts, though his improvements in the contact and pitch recognition department lend to optimism that he can keep the strikeout rates in the low 20% range.
Possessing comfortably plus pull-side power, we have seen Naylor launch a ball over 460 feet this season to right field. That said, his improvements with his lower half have helped him stay behind the baseball and use the whole field.
A better hitter with added power, it's easy to buy what Naylor is selling this year. He has 30 home run potential with the ability to walk as much as anyone.
Defense/Speed
One of the most athletic catchers in the minors, Naylor has made big leaps behind the dish over the last couple seasons. He naturally moves and blocks well and has continued to receive better. Naylor has a plus throwing arm and has been able to limit the running game with success all year throwing out 33% of attempted base stealers.
An above-average runner, Naylor has stolen 20 bases on 24 tries, bringing that JT Realmuto type of athleticism to the catching position.
Outlook
Naylor impressively turned the page on a brutal season in 2021 and has been a consistent offensive force all year as one of the younger players at the Triple-A level. The progress the 22-year-old has made behind the dish in tandem with his offensive onslaught has him looking like the catcher of the future for the Guardians.
Plus power, athleticism and a patient approach gives Naylor exciting offensive upside. It is more of a matter of whether his hit tool can translate at the highest level. After what we've seen from Naylor this year as a result of tangible adjustments in the box, it's getting easier to believe that he will hit enough.
4. Tanner Bibee – RHP – (Double-A)
Age: 23 | Height/Weight: 6'2, 210 | Bat/Throw: R/R | 5th Round (156), 2021 (CLE) | ETA: 2023
| | | | | | |
| --- | --- | --- | --- | --- | --- |
| FASTBALL | SLIDER | CURVEBALL | CHANGEUP | COMMAND | FV |
| 55/60 | 55/55 | 45/50 | 50/55 | 55/60 | 50+ |
Yet another strike-throwing Guardians pitching prospect who has seen his stuff tick up, Bibee has developed into potential middle-rotation piece.
Arsenal
Bibee's fastball velocity has jumped more than three mph this season, helping the rest of his arsenal play up as well. The pitch now sits in the mid 90s, touching 99 mph with high spin rates and good shape. The right-hander has three secondary offerings he will mix in with his above-average slider leading the way. The pitch sits in the mid 80s with sweep.
The second above average offering for Bibee is his mid 80s changeup with late fade. Bibee has a great feel for the pitch, landing it for a strike nearly 70% of the time, while holding opponents to a .426 OPS.
Rounding out Bibee's arsenal is an average curveball that he will mix in against lefties and to steal strikes against righties. The pitch sits in the upper 70s with downward break.
Outlook
It was pitchability that helped Bibee get drafted out of Cal State Fullerton last year and now with impressive stuff to pair with it, Bibee looks closer to a No. 3 starter than the fringe No. 5 outlook he had on draft day. As the stuff has jumped, Bibee's command has remained fantastic, walking just 5% of hitters this season. He could debut as soon as 2023.
5. Brayan Rocchio – SS – (Triple-A)
Age: 22 | Height/Weight: 5'10, 170 | Bat/Throw: S/R | IFA: $1.3M (2017) – CLE | ETA: 2023
| | | | | | |
| --- | --- | --- | --- | --- | --- |
| HIT | RAW POWER | GAME POWER | RUN | FIELD | FV |
| 50/55 | 40/45 | 40/45 | 60/60 | 55/60 | 50+ |
A switch-hitter with solid tools across the board, elite defensive potential and makeup, Rocchio is a high-floor prospect with intangibles that the Guardians love.
Offense
Impressive bat-to-ball skills and just overall improved quality of contact in 2021 helped Rocchio triple his home run total from 2019 in just 40 extra games. While power may not be the catalyst of Rocchio's game, he has hit the ball with more authority and carry over the last two seasons. He topped his 2021 career-high of 15 homers with 17 more in 2022.
A switch-hitter, Rocchio has a balanced and smooth swing from both sides of the plate. Rocchio's right-handed swing has been more advanced over the years, though he closed the gap on his splits this season.
Like many young hitters who have a strong feel to hit, Rocchio can at times be a bit too swing-happy, swinging at tough pitches early in counts. He has improved a bit with his approach this season, cutting his chase rate by 4% and walking at the highest clip of his career (9.3%).
After an up-and-down season as one of the younger hitters in the upper levels, Rocchio's offensive upside is still intriguing as a guy who could provide 15-20 home runs and hit for a high batting average once his approach is further refined.
Defense/Speed
A great defender at shortstop, it seems like Rocchio always knows where to be and gets excellent breaks on balls hit in his direction. Rocchio's plus speed can be seen in the field, as the talented shortstop will show off impressive range in all directions. Smooth hands and and a strong enough arm for the position have Rocchio projecting as a plus defender.
Rocchio's speed is more visible in the field than on the base paths at this point, which is a bit surprising given his well-documented impressive baseball IQ. He has not been an efficient base stealer (14/23 in 2022), but there's reason to believe he can become a decent factor on the base paths.
Outlook
There may not be as much superstar upside with Rocchio than most other top 100 prospects, but there's also few prospects who have as high of a probability of being a big league regular. A switch-hitter with plus defensive potential and speed, Rocchio has climbed through the minors quickly thanks to his maturity.
Triple-A was a challenge for Rocchio after he shook off a slow start to Double-A with a scorching couple months before his promotion. Rocchio could probably use another season in Triple-A as he tries to find more offensive consistency, however his glove is good enough to hold down the shortstop position at the highest level right now.
If Rocchio can develop into a .270 hitter with 15-20 homers per season, his defense, speed and intangibles would make him a well above-average regular at the position.
6. George Valera – OF – (Triple-A)
Age: 22 | Height/Weight: 6'0, 180 | Bat/Throw: L/R | IFA: $1.3M (2017) – CLE | ETA: 2023
| | | | | | |
| --- | --- | --- | --- | --- | --- |
| HIT | RAW POWER | GAME POWER | RUN | FIELD | FV |
| 40/45 | 55/60 | 50/60 | 50/50 | 40/45 | 55 |
Valera's calling card is his sweet left-handed swing geared for lift and power. Though swing-and-miss concerns cloud the 21-year-old's outlook a bit, his consistent production has become impossible to ignore.
Offense
Valera starts with an open stance and his weight heavily stacked on his backside, which helps him control his lower half throughout his load and into his swing while keeping his weight back. Valera has exciting power–especially to his pull side–but the 21-year-old will at times look to pull a bit too much.
Valera's swing can get long on him and the desire to go pull-side could be stemming from just wanting to get the barrel out in time, though it has caused him to be more susceptible to roll over on off-speed, pulling the ball 65% of the time on non-fastballs, while putting it on the ground 52% of the time.
A patient hitter, Valera punishes mistakes and will wait the pitcher out until he makes one. The ability to shrink the zone and crush pitches middle-in hedges some of Valera's swing and miss concerns and though he seems like he could get exposed against higher quality pitching, Valera has put up solid numbers in Triple-A as a 21-year-old.
When Valera is at his best, he is able to stay back hip and let his natural bat speed/strength eat. He has flashed the ability to drive the ball the other way with authority, but the front foot swings casting out and around the baseball have been more frequent.
Impressive bat speed, with a swing that is geared for home runs, paired with Valera's patience at the plate make him a likely three true outcome slugger who should undoubtedly benefit from the limiting of the shift at the MLB level.
While there are holes in Valera's game, he has remained productive at every level, reaching Triple-A before his 22nd birthday. There's an outside shot that Valera can mature into an average hitter, but it is more likely that he is a below-average hitter who can walk at a high clip and slug.
Defense/Speed
A slightly above-average runner, Valera is a good athlete who moves his feet pretty well along with an average arm. With decent defensive tools across the board, Valera should be a fine defender in a corner outfield spot. He has played all three spots in his Minor League career, but he is most comfortable and experienced in right field.
Outlook
With Valera, it is really about the bat. The good news is, the bat is exciting. He offers 30+ home run upside with an ability to walk with the best of them and hope for an average hit tool.
There seems to be some dissent in the industry as to how valuable of a prospect Valera is, but he has responded to every promotion by making the adjustments needed and remaining productive. Already on the 40-man roster, Valera could break into the big leagues next year, though another few hundred at-bats in Triple-A would do him well.
7. Will Brennan – OF – (MLB)
Age: 25 | Height/Weight: 6'0, 200 | Bat/Throw: L/R | 8th Round (250), 2019 (CLE) | ETA: 2023
| | | | | | |
| --- | --- | --- | --- | --- | --- |
| HIT | RAW POWER | GAME POWER | RUN | FIELD | FV |
| 60/60 | 45/45 | 35/40 | 55/55 | 50/55 | 50 |
Brennan has steadily put up above-average offensive numbers since being drafted in 2019, but he broke out in a big way last season, climbing from Double-A to seeing postseason action for the Guardians by season's end. The ceiling may be limited, but Brennan looked the part at the big league level with the potential to be an above-average regular.
Offense
Brennan starts with an upright stance and a big gathering leg kick that gets him into his back side tap into a bit more power. Though he is a hit-over-power prospect, Brennan has sneaky pop to his pull-side. His 102.4 mph 90th percentile exit velocity is above average and Brennan has a knack for spraying line drives all over the field.
Despite strong numbers in previous seasons against left-handed pitcher, Brennan struggled against southpaws last year, posting just a .637 OPS. Against righties, Brennan has a much easier time staying on the ball, but has the tendency to pull off or roll over left on left.
Aside from his slightly skewed splits in 2022, Brennan was tough to game plan for all year. He had an OPS of .878 against fastballs, .788 against breaking balls and .827 against changeups. With his plus hit tool, Brennan is a high-floor hitter with enough impact to mix in plenty of extra-base hits (he hit 60 XBH in 2022).
Defense/Speed
An above-average runner, Brennan is quick enough to play all three outfields spots. Brennan was a two-way player at Kansas St. boasting above-average arm strength as well. While he projects better in a corner, Brennan is more than capable of playing a decent center field as well.
Brennan is savvy on the base paths and was 22/26 last season on stolen base attempts across all levels. He should be a threat to steal 15-20 bases annually.
Outlook
Brennan may not quite be the athlete that Steven Kwan is, but the two are cut from the same cloth. A left-handed bat with a plus hit tool who is athletic enough to play all three outfield spots is not easy to find. The Guardians have done a great job of identifying overlooked players who can blossom into that profile and Brennan is the latest success story after a big year from Kwan in 2022.
While his ceiling is a bit limited, Brennan has the goods to be a consistent, above-average regular. If a few more of his doubles can stretch to homers, Brennan has 15-20 home run power in the tank, but he has a great chance of hitting enough to be a steady offensive contributor even if his homer output is closer to the 10-15 range. Every other aspect of Brennan's game has a good chance of being average or better.
8. Logan Allen – LHP – (Triple-A)
Age: 24 | Height/Weight: 6'0, 200 | Bat/Throw: L/L | 2nd Round (56), 2020 (CLE) | ETA: 2023
| | | | | | |
| --- | --- | --- | --- | --- | --- |
| FASTBALL | SLIDER | Cutter | CHANGEUP | COMMAND | FV |
| 50/50 | 50/55 | 40/45 | 60/60 | 50/55 | 50 |
A polished, athletic lefty, Allen makes up for his lack of size/explosion with deception and pitchability. Though he struggled in Triple-A last season, Allen still looks like he's on track to be a decent big league starter.
Arsenal
The stuff may not wow you on the surface, but Allen gets a good amount of whiffs with his four-pitch mix against hitters from both sides of the plate. Allen's fastball only operates in the low 90s, but has some riding life and gets on hitters quickly thanks to his ability to hide the baseball with an inward twist as he lifts his leg.
The fastball plays well at the top of the zone, but his lack of velocity gives him a smaller margin for error. When Allen reached Triple-A, hitters began to lay off the elevated heat, forcing him to execute within the strike zone a bit more.
Allen had no issue racking up the whiffs on his plus splitter, even as he struggled in Triple-A. With the way the bottom drops off of his sub-1,000 RPM splitter, Triple-A hitters from both sides of the plate slashed just .148/.217/.167 against the pitch. It is also difficult to pick up thanks to the way that Allen is able to hide the ball and maintain his arm speed.
The third pitch for Allen is his upper 70s slider, which flashes above-average and was an incredibly effective pitch for him against same-handed hitters. Allen commands the pitch well on both sides of the plate, showing confidence burying it by the back leg of right-handed hitters as well.
Allen added a fourth offering last season, mixing in an 85-87 mph cutter. The pitch has the potential to be a viable fourth look for hitters, but Allen had the tendency to leave the pitch up and over the heart of the plate. Despite only throwing the cutter around 14% of the time, nearly a third of Allen's homers allowed on the season were surrendered on the pitch. Even more alarming, opponents were 19-for-51 with 11 extra base hits against the offering on the season. The pitch has still flashed average and could be a fourth option for him if he locates it more effectively.
Outlook
Even though his walk numbers spiked in Triple-A, Allen still projects as above-average in the command department thanks to his athleticism and polish on the mound. If Allen's stuff ticks up a bit more, he could offer a bit more upside, but he already has the look of a back-of-the-rotation starter. If Allen bounces back in the early part of next season, he could join the Guardians rotation before the All-Star Break.
9. Chase DeLauter – OF – (CPX)
Age: 21 | Height/Weight: 6'4, 235 | Bat/Throw: L/R | 1st Round (16), 2022 (CLE) | ETA: 2024
| | | | | | |
| --- | --- | --- | --- | --- | --- |
| HIT | RAW POWER | GAME POWER | RUN | FIELD | FV |
| 45/50 | 55/60 | 45/55 | 55/55 | 45/55 | 50 |
Despite limited action against high-end competition and an injury in his draft year, DeLauter's video game numbers at JMU and impressive 34-game stretch on the Cape were enough to make him the highest pick in school history at 16th overall.
Offense
A big guy listed at 6-foot-4, 235 pounds, DeLauter is able to get into his plus raw power with ease. In 66 collegiate games, DeLauter slashed .402/.520/.715, while walking more than he struck out thanks to his impressive plate discipline and compact stroke for his long levers.
Where DeLauter can get caught at times is his inconsistent lower half. He had the tendency to drift forward too early and lose his back hip at times, leaving him more susceptible to being beat by velocity. This is a common issue for young hitters, especially those who are taller in stature and should get ironed out in pro ball. His plate discipline and bat-to-ball skills should help him push through the lower levels quickly. If DeLauter can iron out his lower half, there is easy plus power in the tank for the big lefty.
Defense/Speed
Above-average speed and a plus arm have DeLauter looking like a potentially impactful corner outfielder. For now, the Guardians will try him in center as well where he is fast enough to hold it down. If his reads and routes continue to get stronger, there's a chance that DeLauter can stick in center as well. Because he's such a big guy, DeLauter doesn't get to his top speed fast enough to be an impactful base stealer, but he is still a positive on the base paths.
Outlook
DeLauter is an overall tough read. He destroyed his mid-major competition and struggled in some early season matchups against ACC schools. Then again, DeLauter lit up the Cape Cod League to a .986 OPS with nine homers in 34 games. With 2020's COVID cancelled season, a short 26-game season in 2021 and an injury last year that cut his campaign to just 24 games, the 34-game Cape sample is actually the largest we have from the first-rounder.
The combination of speed and athleticism were simply too much to pass on for the Guardians at pick No. 16 and his advanced plate discipline fits the bill of what the organization tends to look for in its hitting prospects. With plus raw power, an ability to play all three outfield spots and a good approach from the left side, DeLauter could fly up the Guardians ranks.
10. Angel Martinez – SS/2B – (Double-A)
Age: 21 | Height/Weight: 6'0, 175 | Bat/Throw: S/R | IFA: $500K – 2018 (CLE) | ETA: 2024
| | | | | | |
| --- | --- | --- | --- | --- | --- |
| HIT | RAW POWER | GAME POWER | RUN | FIELD | FV |
| 50/55 | 40/45 | 40/45 | 50/50 | 45/50 | 50 |
A switch-hitter with a natural feel to hit, Martinez mashed through High-A pitching before putting up strong numbers in Double-A over the final month of the season. Martinez is an advanced prospect for his age and enters 2023 as one of the top position player prospects to monitor after making big leaps with his right-handed swing last season.
Offense
Martinez starts with a slightly open stance and his weight stacked on his back side. He has a good feel for the barrel and whippy bat speed which allows him to get to more difficult pitches. While the exit velocities are below-average for Martinez, he has a feel for the barrel and generates easy carry. His 99.3 mph 90th percentile exit velocity is below average, but Martinez launched 15 home runs and 52 extra-base hits last season.
Martinez has a good approach, helping him walk at a 12% clip, while punching out just 17.5% of the time. After really struggling with his right-handed swing in 2021, Martinez saw his OPS jump more than three hundred points to .827 last season. The switch-hitter posted even splits last season after making adjustments that have his swing looking much more similar from both sides.
There's room for projection in Martinez's frame, leaving hope for some more power/upside, but his hit tool and approach make him yet another higher floor bat in the Guardians' system.
Defense/Speed
Despite being closer to an average runner, Martinez is quick with great footwork helping him possess good enough range to play short as well as other spots around the infield. Martinez has good instincts and just needs to clean up his actions a bit to stick as a shortstop at the highest level. His arm is near-plus. Martinez stole 12 bases on 19 tries last season and could be an opportunistic base stealer.
Outlook
After seeing Martinez in the Arizona Fall League, I saw enough twitch and frame projection to hold out hope for some more power. The leaps he made with his right-handed swing and impressive overall BB/K ratio last season, while reaching Double-A as a 20-year-old have helped solidify his floor. With hope for more in the tank, Martinez is quickly rising up the Guardians prospect ranks. For now, Martinez profiles as an intriguing super-utility type, but there's reasonable hope for more.
The Next Five Prospects
Cody Morris – RHP – (MLB): A shoulder injury delayed the start of Morris' season, but he made up for lost time by punching out 30 Triple-A hitters in 15 1/3 innings before pitching to a 2.28 ERA in 23 2/3 frames at the big league level. Though Morris is already 26 years old, he has some intriguing upside thanks to his mid 90s fastball and plus changeup. Morris added a cutter which he had success with last season and will mix in a slider and curve as well. A big guy at 6-foot-5, 220 pounds, Morris has No. 4 starter upside with a solid reliever's floor.
Joey Cantillo – LHP – (Double-A): After missing most of the 2021 season with an oblique injury, Cantillo returned to the mound in 2022, dominating Double-A hitters to a 1.93 ERA and 35.5 K% in 60 2/3 innings before a shoulder issue put an end to his season in July. Cantillo's fastball featured a ridiculous 19.6 inches of induced vertical break last season, making it a whiff machine at the top of the zone while setting up his plus change-up well. The newly-turned 23-year-old found more confidence with his curve than his slider as the year went on, giving him a viable third offering. The stuff is hard to deny, it's about health and command for the tall lefty.
Gabriel Arias – UTIL – (MLB): After reaching Triple-A as a 21-year-old and putting up a 115 wRC+, Arias took a step back at the same level last season, posting just a .716 OPS. It is worth noting that Arias suffered a hand injury that required surgery in May and could very well have hampered his swing even after his return. Even with his struggles, Arias found himself on the Guardians postseason roster, speaking to his advanced ability with the glove and overall maturity. Arias is slick with the glove and can play all over the diamond, he also offers plus raw power. Don't be shocked if Arias bounces back in a big way next year, but his approach will need to improve quite a bit.
Justin Campbell – RHP – (CPX): A two-way player at Oklahoma State for his first two seasons, the 6-foot-7, 220-pound Campbell shifted his focus to the mound his junior season where he punched out 141 batters, while walking just 25 in 101 1/3 innings. Campbell fits the mold of the strike-throwing college arms the Guardians target and with room for plenty more velocity from his presently low 90s fastball, the Guardians snagged the right-hander with the 37th overall selection in the 2022 draft. Campbell's changeup has the looks of a potentially plus pitch with his curveball not far behind. The 21-year-old is one of the top names to follow in this system outside the top 10.
Jhonkensy Noel – 1B/OF – (Triple-A): There's not many players in the Minor Leagues with more raw power than Noel. His max exit velocity of 116 mph and 90th percentile average of 108 mph are both elite, though the power comes with considerable whiff concern. The 21-year-old hedged some of said concern by cutting his strikeout rate from 31.7% in High-A to 22.7% in Double-A while walking more. The big right-handed masher benefitted from a more tame approach and his strong showing in the upper minors at just 21 years old is encouraging. He may ultimately be limited to 1B/DH, but it's all about the bat for Noel.
Other Names to Watch
Xzavion Curry – RHP – (MLB): Curry is an athletic pitcher who gets the most out of his low 90s fastball thanks to its elite 20.8 inches of induced vertical break from a low release point. The 24-year-old also features a mid 80s slider that grades as above average and a downer curve in the mid 70s that can be a viable third pitch. Though he didn't quite match his breakout 2021 campaign last season, Curry has a chance to be a solid No. 5 starter.
Jose Tena – 2B/SS – (Triple-A): What Tena lacks in tools he makes up for in polish and baseball instincts. He reached Triple-A as a 21-year-old last season, but struggled to get on base at the same clip he did in High-A the season prior. With a nice left-handed swing and average power/athleticism, Tena is a high-floor prospect with positional versatility.
Parker Messick – LHP – (CPX): The 54th overall selection in the 2022 draft out of Florida State, Messick showed off his elite command over the course of his collegiate career, punching out 289 batters while walking 43 in 200 innings. Messick presently sits 90-92 mph with his fastball, touching 94 with a changeup that already flashes plus. The 22-year-old has a pair of breaking balls that lag behind a bit, but either could emerge as a viable third offering with his overall feel to pitch.
Jaison Chourio – OF – (CPX): Signed for $1.2 million out of Venezuela in early 2022, the 17-year-old Chourio impressed scouts with his advanced swing from both sides of the plate. Athletic enough to stick in center with projection left in his frame, Chourio is an exciting name to follow.
Tanner Burns – RHP – (Double-A): The 36th overall selection in the 2020 draft, Burns has put together back-to-back decent seasons in High-A and Double-A. Like many other arms in the system, Burns' fastball has impressive shape and generates plenty of whiffs in the zone despite lacking major velocity. Burns' slider gives him a second average-or-better pitch, but his changeup is far behind. The 24-year-old could develop into a back-end starter if he develops that third offering.
Jake Fox – UTIL – (Low-A): A contact machine with good wheels, the Guardians signed Fox away from his University of Florida commitment with an $850,000 bonus in the third round. In his first full season in Low-A, Fox walked nearly as much as he struck out and mixed in five homers as well as 34 extra base hits. He played all over the diamond, but primarily saw action at second base and center field. Fox has the goods to climb through the minors quickly.
Doug Nikhazy – LHP – (Double-A): Command issues held Nikhazy back last season, but his pair of nasty breaking balls helped him punch out more than 28% of hitters. The 23-year-old will need to throw more strikes to avoid a move to the bullpen, but his stuff is too good to ignore.
Jack Leftwich – RHP – (High-A): A big righty with a good three pitch mix and impressive command, Leftwich carved through lower level hitters last season, pitching to a 2.72 ERA in 109 innings while striking out 33% of hitters. With good command and three viable offerings, Leftwich could raise his stock immensely with a strong showing in Double-A, but lacks a plus pitch.