Analysis
Pittsburgh Pirates Trade Deadline Outlook
The Pirates could have two of the biggest trade assets at this year's deadline with stars David Bednar and Bryan Reynolds but will they sell?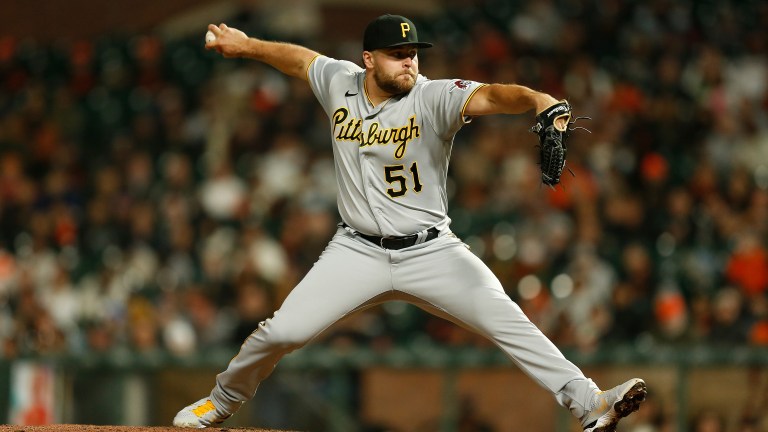 The Pittsburgh Pirates are well into a multi-year rebuild with a 36-50 record, good for third place in the NL Central. Young prospects such as Oneil Cruz, Roansy Contreras, and Jack Suwinski have already had a taste of the majors with more on the way.
There's no question that the Pirates will once again be sellers at the deadline. Several veterans will likely be moved, but the big question is what do they do with Bryan Reynolds?
Who's on the Trade Block?
Bryan Reynolds- OF
2022 Stats: .261/.343/.465, 15 HR, 126 wRC+
Potential Fits: Phillies, Blue Jays, Marlins, Padres
Bryan Reynolds 2021 season led to his name being in every offseason trade discussion. The switch-hitting centerfielder does a bit of everything offensively and would help any club. His 2022 season got off to a slow start, before turning it around lately slashing .287/.382/.521 over the past month.
Rumor is the Pirates are not looking to move Reynolds. Under team control through 2025, the 27-year-oldl could very will be part of the nucleolus of the next playoff team in Pittsburgh. That same length of team control is also what makes him such a sought-after trade target.
The return for Reynolds would be massive. Considering their pitching needs, it will be hard to turn down the packages I am sure they are getting. If the decision is to hold onto Reynolds, the very next decision should be an extension.
David Bednar – Closer
2022 Stats: 3-2, 2.63 ERA, 2.64 FIP, 41 IP, 55 SO
Potential Fits: Red Sox, Twins, Phillies
Rule number one: if you are a rebuilding team trade good bullpen arms. We all know how up and down relivers are in this game. Bednar has shown he's more than just a reliable three-out closer. Oftentimes Bednar is called upon in the eighth to finish out the game. A weapon like that is almost like acquiring two back-end arms.
Bednar's contract situation is tricky. He's under team control through 2026, his age-31 season. With that much team control, and his success, the Pirates could get a massive return for a player they rely on to close out meaningless games.
Like Reynolds, the Pirates have been rumored to want to hold on to Bednar. I understand holding onto Reynolds, but holding onto both would be questionable. I see Bednar as an elite-level pitcher, but with the Pirates still a couple years away from true contention the need is not greater than the return.
Before any of this happens though, Bednar will pitch in this year's All-Star Game, so Pittsburgh fans will at least get to root for him on a big stage as a Pirate one time, if nothing else.
Ben Gamel – OF
2022 Stats: .253/.339/.395, 4 HR, 110 wRC+
Potentials Fits: Mariners, Angels, Mets, White Sox
Acquired off waivers in 2021, Gamel has found a comfortable home in Pittsburgh. The lefty corner outfielder has been pushed into a larger role since joining the Pirates and has performed well. Gamel has a little bit of pop, walks at an 11.5% clip, and comes with an expiring $1.8 million contract.
Although he's started at times in Pittsburgh, Gamel profiles as a fourth outfielder on a contending team. Players with his profile get moved every deadline as contenders looks to strengthen their bench. The return is never great, but a flier or two on younger prospects turns out from time to time.
Daniel Vogelbach – 1B/DH
2022 Stats: .241/.339/.459, 12 HR, 124 wRC+
Potential Fits: Guardians, Twins, Red Sox, Padres
We all forget Daniel Vogelbach was once an All-Star. Weird, right?
The fan-favorite is more than a large human with a fun name. In fact, Vogelbach has been one of the more underrated hitter in all of baseball this season. A 13% walk rate, 23.6% strike out rate, and 12.4% barrel rate has helped produce a 124 wRC+.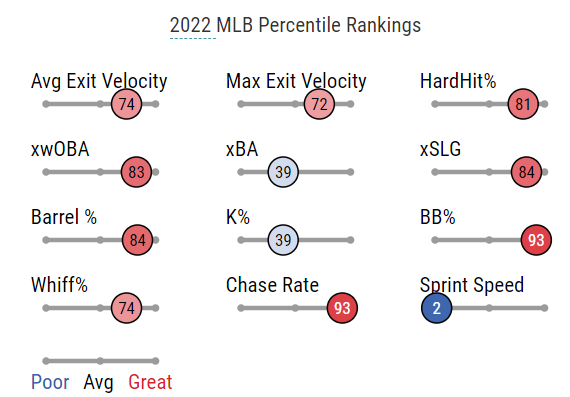 Vogelbach has bounced team-to-team mostly because of his below-average numbers from a power position. Sure, he hit 30 home runs in 2019, but who didn't that season. In the midst of a career-year, Vogelbach and his expiring contract will likely be off to a contender. Adding pop and on-base abilities from the left side will fit in many lineups.
Jose Quintana – SP
2022 Stats: 2-4, 3.59 ERA, 3.33 FIP, 85.1 IP, 78 SO
Potential Fits: Twins, Blue Jays, Red Sox
The 11-year veteran is enjoying his best season since 2017, when he was also moved at the deadline. While that move brought the White Sox Dylan Cease and Eloy Jimenez, I expect Quintana will yield a lesser return this deadline.
Quintana's surface numbers look much better than his advanced statistics. His 4.28 xERA points towards regression. A look at his savant page will show plenty of blue, but one dark red bubble. Average exit velocity, where he ranks in the 88th percentile.
An acquiring team is getting a veteran lefty who can eat some innings and help get them to the playoffs. Once in the playoffs, Quintana can slide to the bullpen offering the manager another southpaw out of the pen.
Wil Crowe/ Duane Underwood / Dillon Peters- Bullpen
I decided to group these names together because of the expected return they would bring. Each is in their late twenties and experiencing the best season of their career.
Again, reference rule one from the Bednar bit above and trade them. Contenders will be looking to add bullpen arms who won't cost much in terms of prospects. Each of these players can help round out a bullpen or fill in for injured players.
The Pirates have entered the part of a rebuild where they have to figure out what their timeline to contend really is. If they are projected a massive improvement based on the influx of young talent on their roster, maybe you hang onto your starts. But if you still feel that contention is a few years away, trading players like you are not sure what they will do Bednar and Reynolds could set the Pirates up for an even longer window of contention in the future
Regardless of what happens, the Pirates have some fun young talent. The future is bright in Pittsburgh, as long as they can figure out a rotation.