Rankings
Texas Rangers Top Prospects For 2023
Headlined by several top 100 prospects, the Rangers have built an exciting system that includes both top end talent and intriguing depth.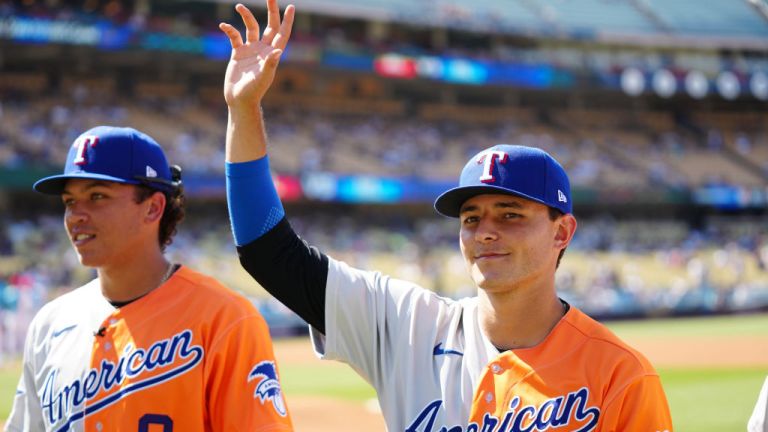 While the Rangers have spent big money at the big league level, the organization has done a phenomenal job of simultaneously building impressive depth throughout the farm system through strong drafting and development.
1. Evan Carter – OF – (Double-A)
Height/Weight: 6'4′, 190 | Bat/Throw: R/R | 2nd Round (50) – 2020 (TEX) | ETA: 2024
| | | | | | |
| --- | --- | --- | --- | --- | --- |
| HIT | RAW POWER | GAME POWER | RUN | FIELD | FV |
| 55/65 | 45/55 | 40/50 | 60/60 | 50/60 | 60 |
An under-the-radar Tennessee prep prospect in the 2020 Draft, few pro scouts had seen Carter play. The Rangers snagged Carter in the second-round for an under-slot bonus of $1.25 million. Carter impressed with his polish and well-rounded game, reaching Double-A in his first season. The 20-year-old has as much helium as just about any prospect in baseball.
Offense
Tall with long levers, Carter stays short to the ball with a flat swing geared for plenty of line drive contact. Carter uses a small leg kick and quiet load, leading into a smooth swing. It's easy to envision Carter developing into a plus hitter or better with the way he is able to repeat his moves and find the barrel.
Carter is already a polished hitter with an advanced approach. Just an 18% chase rate and 17% strikeout rate, Carter is a tough out who will draw plenty of walks. His swing is more geared for contact, but Carter has above-average power to his pull-side with plenty of room to fill out. His 90th percentile exit velocity is above average at 103 mph and Carter already launched multiple homers over 430 feet this season.
A big frame at 6-foot-4, 195 pounds, Carter has plenty of room to add more strength and could easily develop into plus power. The combination of long levers with a great feel to hit can lead to a lethal power/hit combination, which Carter seems to be well on his way to developing.
Defense/Speed
Carter is a plus runner who covers a lot of ground in center with his long quick strides. His jumps and instincts are already impressive along with an above-average arm. If Carter cleans up his routes, he will easily project as a plus defender in center field.
There wasn't much hesitation from the speedy Carter in regards to attempted steals this season. While he did swipe 28 bags, he was caught 13 times. Carter has the speed to be an impactful base stealer, but will need to get more efficient.
Outlook
If Carter had more buzz around him in the 2020 Draft, he would probably be one of baseball's most discussed prospects. Even after a huge 2022 season, it feels like Carter is not getting the notoriety he deserves. Not only is the newly-turned 20-year-old already producing in the Minors, but he has big upside.
Carter has five-tool potential with a great chance to stay in center field and the polish to climb to the big leagues quickly. Assuming Carter picks up where he left off next season, he could easily be considered one of baseball's best young outfield prospects.
2. Owen White – RHP – Texas Rangers
Height/Weight: 6'3, 200 | Bat/Throw: R/R | 2nd Round (55), 2018 (TEX) | ETA: 2023
| | | | | | |
| --- | --- | --- | --- | --- | --- |
| FASTBALL | SLIDER | CURVEBALL | CHANGEUP | COMMAND | FV |
| 60/65 | 55/60 | 45/50 | 50/55 | 50/60 | 55 |
Drafted in 2018, injuries and a COVID-canceled season delayed White's debut until 2021, but the right-hander has been well worth the wait.
Explosive stuff and an advanced feel to pitch has helped White make up for lost time, dominating hitters over the last two seasons, finishing this year in Double-A.
Arsenal
Since debuting in 2021, White's fastball has operated in the mid 90s, topping out at 97 mph with riding life. White's fastball is easily a plus pitch thanks to the strong velocity, high spin rates and his ability to command it east/west and north/south.
White has an assortment of secondaries he is comfortable going to off of his fastball, but his slider is the best of the bunch. The right-hander snaps his slider in the mid 80s with late horizontal bite, while commanding it exceptionally well. His ability to spot it on both sides of the plate makes it effective to both lefties and righties.
The third offering for White is his changeup in the upper 80s with late dive. White has gained more confidence in the pitch this season, landing it for a strike more frequently and using it as his go-to secondary pitch against lefties. The pitch is comfortably above-average and plays up off of his lively fastball.
White's curveball has shown flashes too, sitting in the 78-81 mph range, featuring more downward break and depth. Smooth and easy mechanics help White repeat his delivery and pound the strike zone. His present command is above-average with potential for plus.
Outlook
White entered 2022 with only 71 innings pitched in his professional career, including his dominant stint in the Arizona Fall League at the end of last year. The limited track record caused us to keep White towards the back of our preseason top 100 list this year, however another 80 impressive innings has White climbing up the list and positioning himself as one of the better right-handed pitching prospects in baseball.
An impressive four-pitch mix, which features three above-average or better offerings, White's strong command in tandem with the stuff gives him a high probability of being a No. 4 starter with enough upside to be a high-end No. 3.
3. Josh Jung – 3B – (MLB)
Height/Weight: 6'2, 220 | Bat/Throw: R/R | 1st Round (8), 2019 (TEX) | ETA: 2023
| | | | | | |
| --- | --- | --- | --- | --- | --- |
| HIT | RAW POWER | GAME POWER | RUN | FIELD | FV |
| 50/55 | 60/60 | 50/55 | 40/40 | 45/50 | 55+ |
The hit tool and raw power were never a question for Jung, but he struggled to tap into his plus raw pop in his first professional season. A power breakout in 2021 had Jung on a fast track before a torn left labrum delayed his start to the 2022 season. Despite missing 90% of the regular season, Jung impressed enough upon returning to Triple-A action to earn a big league call-up.
Offense
Jung has had impressive bat-to-ball skills dating back to his days at Texas Tech, where he hit .348/.455/.577 over his three years as a Red Raider. The hit-tool translated in Jung's first season, posting a .316 batting average between rookie ball and Low-A, but the third baseman mustered just one homer in 44 games.
Jung's power was sapped by a 50% ground ball rate, which came as a result of an aggressive leg kick that was more of a knee lift upwards than a gather into his backside. Jung tended to have a heavy front foot on his landing and tended to be steep to the ball.
After 2020's layoff, Jung emerged with a tweaked set up and a swing geared for more lift. The adjustments made a huge impact in the power department and did not undermine his bat-to-ball skills at all.
Jung's groundball rate dipped by more than 15% while his HR/FB rate jumped from 5% to 22%.
It was more of the same in 2022 when Jung returned from injury, launching six homers in 23 Triple-A games. The 24-year-old's extreme confidence in his hit-tool sometimes results in him expanding the zone a bit earlier in counts, holding him back from better walk numbers.
Jung hits the ball hard to all fields and should offer a nice blend of batting average and power. The last piece for Jung will just be improving his approach a bit. That will likely come with more at-bats, but more importantly, the power has looked to be all the way back since his shoulder surgery earlier this year.
Defense/Speed
An extremely fundamentally sound third baseman, Jung may not wow with the range, but only made three errors in his final 77 games at the hot corner in the minors. Jung has improved his footwork to give him average range at the position since going pro and has an above-average arm as well.
Outlook
The fact that Jung was able to return this season in any capacity from his shoulder surgery is extremely encouraging, but to hit the ground running and earn an MLB call-up is about as about as great as things could have gone.
Jung has a chance to post a batting average in the high .200's, along with 25+ homers and average or better defense at third. As the Rangers continue to focus on competing in the next couple years, Jung will undoubtedly be a big part of those plans as a high floor, steady bat who could make a couple All-Star appearances.
4. Jack Leiter – RHP – Texas Rangers
Height/Weight: 6'1″, 205 | Bat/Throw: R/R | 1st Round (2), 2021 (TEX) | ETA: 2023
| | | | | | |
| --- | --- | --- | --- | --- | --- |
| FASTBALL | SLIDER | CURVEBALL | CHANGEUP | COMMAND | FV |
| 55/65 | 60/60 | 50/60 | 45/55 | 35/50 | 55 |
A phenomenal junior season at Vanderbilt had Leiter looking like one of the best pitching prospects in years. After being selected No. 2 overall by the Rangers last year, Leiter received an aggressive assignment to Double-A where he showed flashes of his frontline upside, but really fought command issues.
Arsenal
High ¾ arm slot with a short arm stroke and lower half driven mechanics. There's some effort in the delivery, but Leiter's plus athleticism and ridiculous strong lower half helps. The fastball is a plus offering featuring 93-97 velocity that plays up because of the spin and rise it creates from a low vertical attack angle. Leiter's struggles to command the heater this season caused it to play down some, but it has the potential to be a plus-pitch or better.
Leiter's mid 80s slider was easily his best pitch this season. The right-hander landed it for a strike more than any of his other offerings, holding opponents to a .471 OPS against it. A plus offering, nearly half of Leiter's strikeouts this season came on the pitch.
His upper 70s curveball gives Leiter a second distinctive breaking ball with downward break and depth. The pitch has flashed plus, but was inconsistent this season. At its best, the curve should be a plus swing-and-miss pitch to both lefties and righties thanks to its vertical break.
The right-hander will mix in an 85-87 mph changeup that flashes above-average. Only throwing it around 6% of the time this year, Leiter will need to find more of a feel for the pitch, but it has a chance to be a viable fourth offering.
Outlook
A bulldog on the mound, Leiter has all of the intangibles along with ridiculous athleticism to make him one of baseball's most exciting pitching prospects. There's no way around the fact that 2022 was a disappointing year for Leiter, but he earns exceptional marks for his makeup/work ethic and has a pretty good built-in pitching coach in his father, Al.
An arsenal that is led by an exceptional fastball, along with three secondaries that boast above-average to plus potential, Leiter has the goods to become a frontline starter. A 13% walk rate and overall struggles to get ahead of hitters plagued Leiter this season, but few pitchers make their professional debut in Double-A.
The 22-year-old has plenty of time to iron out some of the issues with his delivery and has the natural tools to be a strike thrower, having showed us the ability to pound the zone through his collegiate career. Look for a bounce back season from the talented competitor in 2023.
5. Brock Porter – RHP – (CPX)
Height/Weight: 6'4, 210 | Bat/Throw: R/R | 4th Round (109), 2022 (TEX) | ETA: 2026
| | | | | | |
| --- | --- | --- | --- | --- | --- |
| FASTBALL | SLIDER | CURVEBALL | CHANGEUP | COMMAND | FV |
| 60/70 | 45/55 | 40/50 | 60/70 | 40/50 | 55 |
Already with two plus offerings and a power pitcher's body, Porter was touted as one of the top arms in the 2022 Draft, but signability concerns dropped him to the fourth round where the Rangers were able to snag him for a record $3.7 million bonus.
Arsenal
Porter sets the tone with an upper 90s heater than can touch triple digits. Good shape and life already have the pitch grading out as plus with a chance to develop into a 70-grade offering. Porter's second pitch with 70-grade potential is his nasty changeup with late arm-side fade.
The 19-year-old already throws two breaking balls, but is still working on his feel to spin them. His mid 80s slider is a bit further along than his upper 70s curveball, though Porter is so early in his development that something could click with either offering as he works towards his professional debut next season.
Porter has a long, unique arm action as he reaches far behind his back leg which can make it difficult to repeat his mechanics at times. Though Porter still hovers around the strike zone pretty well, it could be a factor in his inconsistency with his breaking balls.
Outlook
A plus fastball and changeup give Porter a jump start that few high school power pitchers have. A big body at 6-foot-4, 210 pounds, Porter is a good athlete which helps him repeat his mechanics relatively well and throw strikes. If Porter can shore up his arm action and take the next step with one or both of bis breaking balls, he could be an absolute force out of the gate professionally. Porter has legitimate frontline upside.
6. Luisangel Acuña – SS – (Double-A)
Height/Weight: 5'10, 175 | Bat/Throw: R/R | IFA: $450K – TEX (2018) | ETA: 2024
| | | | | | |
| --- | --- | --- | --- | --- | --- |
| HIT | RAW POWER | GAME POWER | RUN | FIELD | FV |
| 40/50 | 50/55 | 40/50 | 55/55 | 55/60 | 50+ |
Luisangel Acuña may not possess the superstar potential of his brother Ronald, but he is advanced for his age with intriguing tools on both sides of the ball. After demolishing High-A pitching, Acuña earned a tough promotion to Double-A where he struggled for 37 games. He will likely repeat the level next season.
Offense
A nearly identical setup to his brother, Acuña lacks the lower half control and explosiveness of Ronald but still boasts a quick bat/hands and plenty of athleticism. Lower half inconsistencies hold Acuña back from consistently getting his "A-Swing" off, but flashed his above-average impact with exit velocities as high as 112 mph last season.
Acuña has a pretty good feel for the barrel and uses the entire field well. Though he is somewhat of an aggressive hitter, Acuña still draws a decent amount of walks and kept the strikeouts in check even as he tried to get acclimated to Double-A as a 20-year-old. Acuña is a great low-ball hitter and had no problem punishing hanging breaking balls at both the High-A and Double-A levels.
Where Acuña ran into trouble–especially at the upper levels–was with velocity. Against pitches 94 mph and above last season, Acuña posted just a .599 OPS. The early weight shift and heaviness on his front foot causes the bat to drag through the zone at times, making hard fastballs more difficult to catch up to. Especially when elevated. This is a common issue with young hitters and Acuña's athleticism and feel for the stick should help him work through it.
If Acuña can sync up his upper and lower half and continue to fill out a bit, there is 20-25 homer upside with the ability to spray the ball all over the field.
Defense/Speed
An above-average runner with great footwork, Acuña already looks like a strong defender at short. His actions are smooth and his arm grades as plus, providing plenty of optimism that he can develop into a plus defender at shortstop.
Though closer to a 55 grade runner than a 60, Acuña stole 40 bags on 49 tries last season and should be at least a decent stolen base threat at the highest level.
Outlook
Acuña still has some developing to do at the plate, but his athleticism, advanced glove and strong showing in High-A have him riding as much helium as any prospect in the Rangers system while also solidifying his floor a bit. The 20-year-old has enough offensive upside to be an above-average bat at the shortstop position with the complementary skill-set to make him a well-rounded middle infielder.
7. Justin Foscue – 2B – (Triple-A)
Height/Weight: 6'0, 205 | Bat/Throw: R/R | 1st Round (14), 2020 (TEX) | ETA: 2023
| | | | | | |
| --- | --- | --- | --- | --- | --- |
| HIT | RAW POWER | GAME POWER | RUN | FIELD | FV |
| 55/60 | 50/55 | 40/50 | 40/40 | 45/45 | 50 |
Foscue enjoyed a nice breakthrough in the bat-to-ball department last season while still posting decent power numbers. The former first-round pick is starting to look like one of the safer bats in the system.
Offense
Foscue starts with an open upright stance and uses a big, rhythmic leg kick to get into his back side. After combating slightly inflated strikeout rates in 2021, Foscue had things click in Double-A last season. The 23-year-old looked much more comfortable repeating his moves, cutting his strikeout rate nearly in half in 101 Double-A games last season.
A 7% jump in zone contact rate (89%) paired with improved chase rates will typically do the trick.
While his raw power is closer to average than plus, Foscue does a good job of getting the ball in the air, especially to his pull side. Foscue demolished lefties to a near-1.000 OPS last season, while handling right-on-right velocity and sliders well too. The impressive feel for the strike zone that Foscue has bodes well for his adjustment to Triple-A and eventually the big leagues. He should be a consistent on-base threat with 20 homer upside.
Defense/Speed
Drafted predominantly for his bat, Foscue has progressed nicely in the field as well. A below average runner, Foscue has improved his footwork defensively and puts himself in a good position to make all of the plays he needs to. His range is fringy, but Foscue's arm is a bit better than he gets credit for and he did not look out of place in limited third base action this year.
He may never be a threat on the bases or a plus in the field, but Foscue improved his outlook at second base last season and provided some hope for versatility with his decent showing at the hot corner.
Outlook
The ceiling may not be exorbitantly high for Foscue, but he has the looks of a big league regular with a good shot to be an above-average MLB piece. Assuming Foscue can build on what he showed in his full Double-A season last year, the former first round pick could be one of the better offensive second basemen in baseball if it all works out.
8. Aaron Zavala – OF – (Double-A)
Height/Weight: 6'0, 190 | Bat/Throw: L/R | 2nd Round (38), 2021 (TEX) | ETA: 2024
| | | | | | |
| --- | --- | --- | --- | --- | --- |
| HIT | RAW POWER | GAME POWER | RUN | FIELD | FV |
| 55/60 | 50/55 | 40/50 | 50/50 | 35/40 | 50 |
There were no questions about Zavala's ability to hit, but lack of power and iffy outfield play caused him to fall to the second round in the 2021 Draft. After hitting just 10 homers in 113 collegiate games, Zavala launched 16 between High-A and Double-A last year silencing his pre-draft power concerns.
Offense
Zavala starts with a wide stance and uses a small gathering leg kick to get into his back hip. The moves are simple and repeatable for Zavala, helping him consistently be on time and make good swing decisions. Zavala walked at an impressive 17% clip last season, posting minuscule chase rates and a swinging strike rate of just 9%.
Though he struggled against lefties, Zavala's patience still helped him remain competitive left on left and he gained comfort in those spots as the year went on. Beyond the power break out in the standard statistical sense for Zavala (16 HR/37 XBH), the 22-year-old's batted ball data further lends to the belief that he can tap into above-average power relatively consistently.
Zavala's 90th percentile exit velocity of 104 mph last season is above-average and he does a great job of getting the ball in the air–especially to his pull-side. He is a smart hitter who picks his spots well to try to do damage to that pull-side, while also choking up several inches on the bat with two strikes and looking to put a line drive in play.
There's a lot to like with Zavala's offensive profile and he has the goods to be an on-base machine capable of putting up 20 home runs if he continues on this trajectory.
Defense/Speed
An average runner, Zavala will steal bases opportunistically. He swiped 14 bags on 20 tries last season and is far from a detriment on the base paths. In the field, Zavala leaves a bit to be desired, struggling with his reads and having the tendency to misplay balls. His fringy arm doesn't help either, but with his decent athleticism, there is hope that Zavala can grow into an average defender in a corner.
Outlook
There's no way around it with Zavala, he is going to go as far as his bat takes him. The good news is, the outlook on the former second rounder's offensive profile became drastically more exciting after the campaign he put together between High-A and Double-A last season. Zavala has a lot of similarities to Jesse Winker with a bit more athleticism.
9. Dustin Harris – OF/1B – (Double-A)
Height/Weight: 6'3, 210 | Bat/Throw: L/R | 11th Round (344), 2019 (OAK) | ETA: 2024
| | | | | | |
| --- | --- | --- | --- | --- | --- |
| HIT | RAW POWER | GAME POWER | RUN | FIELD | FV |
| 50/55 | 50/55 | 40/50 | 50/50 | 40/45 | 50 |
An above-average hitter at every stop, Harris added some power last season while proving that he can handle the outfield in addition to first base.
Offense
Harris starts with an upright stance and a quiet, simple load into his back side. Harris is an athletic hitter who repeats his subtle moves well, helping him see the ball early and make a ton of contact. There's little doubts around Harris's hit tool and he has shown that he has above-average power in the tank to his pull side.
There's a balance for Harris to strike though as he tends to be a bit pull happy in an effort to slug more (54% pull rate), but Harris's body control and smooth swing allow him to use the whole field well when he isn't selling out for power. Harris doesn't let his desire to go pull-side impact his ability to stay on the baseball against lefties, posting strong splits against same-handed pitching.
Ultimately, Harris' game power could be closer to average than plus, but he has a knack for picking his spots to do damage and his overall strong feel to hit and hit the ball in the air will give him a great chance to hit around 20 homers over the course of a season.
Defense/Speed
Initially drafted as a corner infielder, Harris has demonstrated enough athleticism to play the outfield and saw plenty of action in left field last year. Harris still has some ways to go with his reads and jumps, but showed a level of comfort in the outfield as the year went on. Harris has an average arm and with his decent athleticism, he has a chance to develop into an at least average defender in left. Though a slightly above-average runner at best, Harris is a good baserunner, swiping 19 bags in 24 tries last season.
Outlook
Consistent offensive output and improvements in the slugging department have Harris looking like a potentially nice big league piece–especially with his developing defensive versatility. The 23-year-old is yet another high floor bat in the Rangers system who continues to flash a little bit more upside than anticipated. With the ability to play multiple positions and strong splits against lefties, Harris could hit his way into an everyday big league role.
10. Cole Winn – RHP – (Triple-A)
Height/Weight: 6'2, 190 | Bat/Throw: R/R | 1st Round (15), 2018 (TEX) | ETA: 2023
| | | | | | |
| --- | --- | --- | --- | --- | --- |
| FASTBALL | SLIDER | CURVEBALL | CHANGEUP | COMMAND | FV |
| 45/55 | 45/55 | 55/60 | 50/55 | 40/50 | 50 |
Winn looked like one of baseball's safest pitching prospects in 2021, boasting four above-average pitches and impressive command. The 23-year-old flat out lost it in Triple-A last season, walking 15% of batters and simply struggling to get outs with most of his offerings and an inconsistent delivery.
Arsenal
What made Winn so impressive in 2021 was his four-pitch mix which looked to be above-average across the board. Winn's fastball still operates at 93-95 mph, but the shape was diminished in 2022. Winn's heater saw a drop in more than 150 RPMs on average as well as losing more than two inches of induced vertical break.
Opponents hit just .165/.287/.340 against Winn's fastball in 2021, but crushed his flatter fastball last season to the tune of a .917 OPS with more walks than strikeouts. The lack of fastball command caused Winn to lose confidence in the once dominant pitch, using it a bit less as the year went on and nibbling more with it. As a result, Winn only landed his fastball for a strike 55% of the time.
Winn really struggled to repeat his delivery, even tinkering with his windup to the point of exclusively going out of the stretch in his final handful of starts.
Even through his struggles, the potential of each of his offerings was still evident. Winn's best pitch last season was his 79-81 mph downer curveball, which was effective for him against both lefties and righties. Though all of his offerings have flashed above-average over the last two years, Winn's curveball has the best chance of grading out as a big league plus pitch.
The 23-year-old will also mix in a changeup and slider. Both pitches were inconsistent for Winn this season though he landed his changeup for a strike more than any other offering and gained more confidence in his slider as the season went on. Both pitches sit in the mid 80s and can develop into consistently above-average offerings if his overall command can improve.
Outlook
After dominating Double-A in 2021 with a deep arsenal at 21/22 years old, Winn became a consensus top 100 prospect going into last year. His profound struggles both statistically and with his delivery has his prospect stock sinking like a rock, but he just turned 23 years old and was challenged with the daunting task of pitching in the Pacific Coast League.
The issues for Winn transcend his environment, but the fact that he has four pitches that have each flashed above-average and has put up stretches of solid command in the past are both good reasons to not give up on the still young right-hander.
Next year will be a big one for Winn as he tries to recapture his No. 3/No. 4 upside. At this point, the Rangers would likely be happy if Winn can just stick as a starter.
The Next Five Prospects
Kumar Rocker – RHP – (CPX): The No. 3 overall selection in the 2022 Draft, the Rangers grabbed Rocker early and signed him for a well under-slot $5.2 million bonus. Rocker was previously selected by the Mets 10th overall in 2021, but shoulder and elbow issues caused the Mets to withdraw their offer.
Rocker dominated in the independent Frontier League prior to the draft, but struggled with his command in the Arizona Fall League more recently. The 23-year-old's fastball sits 93-95 mph, topping out at 98 mph. The pitch has the tendency to flatten out, but has featured more life in the past. Rocker's slider is a plus pitch in the mid 80s and a whiff machine. He has mixed in a changeup that flashes above average but tends to be too firm and inconsistent. There's undeniable reliever risk with Rocker due to his injury history and inconsistencies with his delivery, but his ceiling is still immense.
Anthony Gutierrez – OF – (CPX): A projectable frame and athleticism earned Gutierrez a $2 million pay day at the beginning of 2022. Gutierrez's swing is pretty advanced for a teenage prospect though like many young hitters, he struggled with pitch recognition and aggressiveness last season. There's hope that the 6-foot-3, 180 pound outfielder can grow into plus power while acknowledging he may also move to a corner rather than staying in center. His plus arm and offensive upside would profile nicely in either corner.
Tekoah Roby – RHP – (High-A): Roby struggled to keep the ball in the yard which caused his ERA to inflate to 4.64, but he showed a lot of really good things in his age 20 season in High-A. Roby's fastball is above average with riding life in the 93-95 mph range. Working off of his fastball is a downer curve in the upper 70s that has a chance to he a big whiff pitch. Roby's third pitch is a changeup that has flashed above average but was a challenge to command over the course of the season.
Roby's overall command is solid for a pitcher as young and raw as he is–he has only pitched 126.2 innings since being selected in the third round in 2020 out of high school–and his quality three pitch mix gives him a chance to develop into a quality No. 4 starter. Roby is a breakout candidate for next year in this system.
Thomas Saggesse – 2B/3B – (Double-A): While no tools jump off of the page with Saggesse, he put up an impressive 127 wRC+ in High-A as a 19-year-old last season. An aggressive hitter who has a lot of confidence in his feel for the barrel, Saggesse's approach improved as the season went on, making plenty of contact and getting on base at a solid clip. Though he profiles more as a second baseman, the Rangers still believe Saggesse can hold it down at third as well.
Jonathan Ornelas – INF – (Double-A): One of the more underrated names in the Rangers system, Ornelas put up above average numbers in Double-A as a 21/22-year-old and has extremely intriguing tools. Ornelas' 105.7 mph 90th percentile exit velocity is one of the better in the entire organization and he also has good wheels. With a max exit velocity of 114 mph last season, there's no doubting the plus raw power that Ornelas has in the tank. He is capable at shortstop and can play all over the diamond.
Other Names to Watch
Emiliano Teodo – RHP – (Low-A): Teodo boasts an electric fastball that can touch 101 mph along with a sharp slider in the upper 80s that wiped away Low-A hitters. The 21-year-old rolled ground balls at an impressive 61% clip last season and has flashed a decent curve and changeup helping hedge some reliever risk.
Yeison Morrobel – OF – (Low-A): Signed for $1.8 million by the Rangers to headline their 2020-2021 IFA class, Morrobel has a great feel to hit and an advanced approach. Morrobel looks comfortable in all three outfield spots with above average wheels. Morrobel could add some strength to his frame, but has already flashed above average raw power to his pull side.
Antoine Kelly – LHP – (Double-A): Kelly was traded for reliever Matt Bush at last year's trade deadline from the Brewers, Kelly was a second round pick in 2019 and has shown flashes of being an extremely exciting prospect. Injuries and command issues have plagued the 6-foot-5 southpaw, putting up impressive numbers in High-A before running into major command issues in a handful of Double-A innings after the trade. The newly-turned 23-year-old has a plus fastball and slider and has been working on a changeup.
Maximo Acosta – 2B/3B – (Low-A): Signed for $1.65 million out of Venezuela in the 2019 IFA class, Acosta has had his development delayed by 2020's cancelled season and injuries in 2021. All things considered, Acosta showed pretty well in Low-A as a 19-year-old last season, posting a 101 wRC+ while only punching out 19% of the time. The Rangers have higher hopes for their once highly-touted IFA signee, but his ceiling may be a bit more tempered than previously thought.
Alejandro Osuna – OF – (Low-A): The brother of former big league closer Roberto Osuna, Alejandro slashed .308/.394/.451 in Low-A while walking nearly as much as he punched out. He reached High-A in his age 19 season where he held his own last year and has intriguing offensive upside. There's potential for an above average hit/power combination for Osuna.
Mitch Bratt – LHP – (Low-A): Advanced pitchability and a feel for four offerings helped Bratt carve up Low-A hitters last season. The stuff may not be elite, but Bratt's fastball has good life and his slider compiled a good amount of whiffs. His curve and change are decent offerings as well.
Gleider Figuereo – 3B – (Low-A): An advanced hitter with a sweet left-handed swing, there's hope that Figuereo can develop into more power. He projects as an average defender at the hot corner and has continued to put on muscle since going pro. Figuereo dominated rookie ball last season.