Analysis
At Least the Bryan Reynolds Trade Rumors Are Over
Bryan Reynolds is a good player, but a staunch reminder of how much sports culture feels so chained to being a prisoner-of-the-moment affair.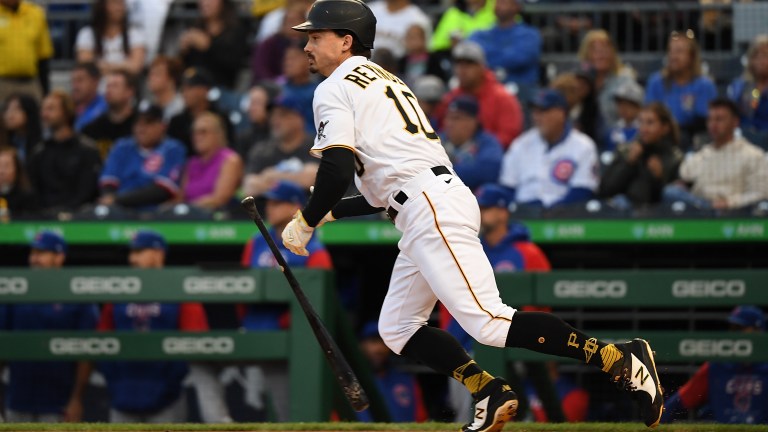 There's one, very specific, not always visible thing, and immensely important thing that needs to be emphasized: I get it. I get the whole thing. I get why sports can be this way.
Sports media, for a variety of reasons — many of which do with money in a capitalistic world and blah, blah, blah — need to procure some engagement somehow. I'd argue it's a bit of a chicken-or-the-egg scenario. Blaming the media for what people actually click/tune into isn't entirely fair, while it's also true they can hold a strong influence in swaying public opinion and, consequently, their interest in clicking/tuning in to begin with.
There's levels to this game, man (except for the whole consequences thing…like blaming the media for simply reporting on something dumb you did; that's pretty straightforward dumbo logic).
[Extremely Stephen A. Smith voice] BUT! That being SAID…I can not emphasize enough how much the many, many, many, many, MANY Bryan Reynolds rumors and reports over the years nearly drove me to a complete conversion to nihilism through the waves of toxic neutrons that were sent into every nerve stem of my brain. I think that's how that works.
The number of mock trade proposals made me want to dunk my head into a tank of piranhas.
Again, the reasons for it being talked about were understandable; I myself benefited from some traffic spikes. But dear lord, people, it was too much. We treated this guy like Mickey Mantle! On the third day, Bryan Reynolds rose again! Bryan Reynolds was, apparently, inevitable! We were hornier for this guy than Shamiek Moore has been for Hailee Steinfeld!
It even got to a point where rumors were flying that the price for Reynolds was commensurate with that of what the Padres famously gave up for Juan Soto. Dear reader: that intimation nearly put me in the gulag. Putting Bryan Reynolds in the same tier as Juan Soto — as if both of them being outfielders on bad teams is all it takes for an apt comparison — is like implying Elon Musk is Tony Stark just because they're both rich.
But as if the Bat Signal was sent out solely to help free us from this nightmare, the Pirates and Bryan Reynolds finally caved. Back in April, they announced an eight-year, $106.75 extension for their star outfielder. Yes, all the rumors we had for nearly two years concluded with a total sum of money for this alleged Bonds-esque prospect being less than what Corbin Carrol received after playing just 32 games.
The announcement was like a cold glass of water after being stranded at, the nightmare emporium known as the beach. The Just Baseball group chat literally instituted a ban on Bryan Reynolds' name even being messaged. And after all that, Reynolds is a…fine player. Well, a lot better than fine; I'm still just recovering mentally, even months later, from the Juan Soto parallel.
So far this season, he's slashing .276/.333/.479 with seven homers and a 118 wRC+. His 1.3 fWAR is good, albeit only tied for the 24th-best mark among outfielders — behind many names that didn't garner nearly as much attention (e.g. Cedric Mullins, LaMonte Wade Jr.) or cause my brain to atrophy through sheer lethargic force.
The bounce back from a mediocre 2022 season is due to a number of factors. He's hitting the ball significantly better, with huge spikes in his hard-hit (42.9 to 53.9%, a ten percent jump!) and barrel (7.9 to 14%) rates.
Plus, he hasn't been as comatose on defense. Last season, he finished with -14 defensive runs saved and -7 outs above average. While the numbers in those two areas haven't been positive (-1 and -2, respectively), they haven't been dreadful, either. And based on his excellent 11 outs above average mark in 2021, he's certainly capable of being a plus defender.
And also importantly, Bryan Reynolds hasn't put himself in the ditch early with a horrendous start:
| | | |
| --- | --- | --- |
| | 2022 | 2023 |
| April/March | .194/.293/.306, 78 wRC+ | .320/.353/.573, 143 wRC+ |
Perhaps all the trade rumors were getting to him, too.
But all of this is a bit of a moot point, because Bryan Reynolds' proliferation in the baseball world has already maimed my soul beyond repair. He's a good player — sometimes even great, with the potential to be even better given he's in his prime at 28 years of age — and has been a key cog for a suddenly-competent Pirates machine.
But the drama took me to the edge. My soul is drenched with the fervor of a Sears store. I can't enjoy his talent without the scars opening back up.
Players like Bryan Reynolds are just a microcosm of the fatigue that sports can sometimes elicit. It's like someone making me chug two white claws before hitting me in the face with a dodgeball, enthusiastically shouting "Isn't this FUN?!?" as it unfolds. We, for super-duper-ultra real, treated this man like he wasn't just Michael Conforto with better PR.
If this rambling collection of words makes me sound like the oldest 26-year-old on the planet, I can not emphasize enough how little I care. It's possible my insanity was the result of being in an echo chamber, to which I also can not emphasize enough how little I care because that wouldn't fit my agenda.
But in the end, we must also thank the Pirates and Bryan Reynolds for them putting the whole thing to rest. Took way too long, but at rest it does, indeed, lay. Let us be thankful for all the many storylines that no longer give us headaches. From the Astros cheating, Yankees fans trying to trade Miguel Andujar & Clint Frazier for MVP candidates, to literally everything that schmuck from that one sports website said about the World Baseball Classic: we are free.
Bryan Reynolds is a good player, but a staunch reminder of how much sports culture feels so chained to being a prisoner-of-the-moment affair.