Analysis
Are the Milwaukee Brewers Really About to Blow it All Up?
After losing their manager to the division rival Chicago Cubs, are the Milwaukee Brewers about to blow it up and start fresh this offseason?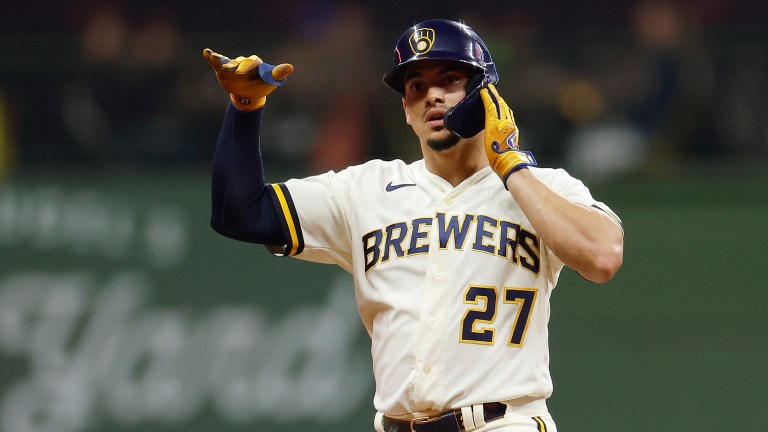 The MLB offseason is just underway, and it has already been a whirlwind for the Milwaukee Brewers.
Just a few days after their 2023 season ended, they lost their co-ace, Brandon Woodruff, for the entirety of next season after he underwent surgery on his right shoulder. More recently, former skipper Craig Counsell shockingly crossed state borders and became the next manger of the division rival Chicago Cubs.
Now, reports are swirling that the Milwaukee Brewers are willing to part ways with seemingly any player on their roster, indicating that a rebuild might soon be on the horizon for the Crew.
To some, these rumors might not be overly shocking. The Brewers have a handful of desirable players who will be hitting free agency next season. Being a small market team with a highly-limited payroll, a sale of their soon-to-be marquee free agents makes sense.
To others, a full-blown teardown appears illogical given their recent success. They're coming off a season in which they won 92 games and took home their third division title since 2018. They've made the playoffs five of the last six seasons, and they have a chance to make one last run with their core of star players in a division that features a good bit of uncertainty heading into 2024.
It was already expected to be a franchise-altering offseason for the Brewers, and that wasn't even considering the possibility of a fire sale in Milwaukee. The organization's decisions in the upcoming weeks could completely change the trajectory of the franchise.
Key Upcoming Free Agents
Over the past decade, the Brewers have consistently contended without going all-in, while simultaneously avoiding rebuild seasons. It's difficult for small market teams to be persistently competitive, but the Brewers have managed to do just that in recent years.
Part of that sustained success stems from their ability to constantly receive reliable reinforcements from their farm system while getting the most out of their big league roster.
Specifically, the Brewers tend to capitalize on players who are not a part of the future in order to ensure competitive success in upcoming seasons. That same philosophy will continue to ring true next season, but it's yet to be seen to what degree.
If the Brewers were to trade their upcoming 2024 free agents, it wouldn't necessarily suggest they are heading into a rebuild. Instead, it would ensure they get the biggest return possible for their most valuable assets in order to bolster their already strong farm system. For starters, Milwaukee's ace sits as the team's biggest trade chip and most coveted asset heading into the winter.
SP Corbin Burnes – UFA 2024
Corbin Burnes' future has been, and will continue to be, one of the most impactful storylines to monitor as the offseason develops. Jim Bowden of The Athletic reported that the Brewers will be willing to trade Corbin Burnes this winter if they can receive "an enticing package of pitching prospects" in return.
Once Woodruff hit the shelf back in October, it didn't feel as if the Brewers were going to move Burnes this winter. Now, as the offseason progresses, it's looking increasingly more likely that the Brewers will ship their star pitcher. An extension between the two parties appears highly improbably at this point in the process. If they wish to trade the former Cy Young Award winner, their best opportunity to do so will be this winter.
With that being said, a Burnes trade likely wouldn't come to fruition until some of the bigger names are taken off the market. Specifically, free agents such as Aaron Nola, Sonny Gray, Blake Snell, Jordan Montgomery, and Yoshinobu Yamamoto will all likely find homes before a Burnes trade occurs.
The Brewers might not be looking to compete in 2024, and they may be able to receive a significant prospect package that could reshape the future of their starting rotation. If Milwaukee is offered such a package, and it's likely they will, it would be extremely difficult for them to pass on the offer when Burnes is likely to walk next offseason.
SS Willy Adames – UFA 2024
Like Corbin Burnes, it's looking improbable that Adames' future is in Milwaukee. While he has communicated interest in remaining in a Brewers uniform, he has also expressed his desire to sign a lucrative long-term contract. It doesn't appear the Brewers will be willing to pay the price to keep Adames in Milwaukee, and the Brewers could get a significant package for their shortstop before he enters free agency next offseason.
Plus, the shortstop free agent class this winter is extraordinarily bare, and Adames would easily be the best shortstop available on the market. Because of this, his demand could drive his price high enough to where Milwaukee would feel compelled to entertain the idea of a trade.
While he is coming off a down year offensively, he remains one of the best power hitting shortstops in baseball, and he still brings elite defense to the position. Since 2021, Adames' 80 home runs are the second-most in baseball only behind Corey Seager. Defensively, he has finished in the top four percent of baseball in outs above average each of his last two seasons.
What's more, the Brewers have viable replacements at shortstop. If an Adames trade were to occur, they could move Brice Turnag back to his natural position at shortstop in the meantime while they continue to develop some of their middle infield talent in the minor leagues.
As mentioned, a trade involving Corbin Burnes or Willy Adames would not be indicative of a forthcoming rebuild. It would simply be a small market team attempting to get the most value possible out of two of their biggest roster pieces.
With that being said, it's possible that such moves would only be the tip of the iceberg for Milwaukee's offseason plans.
Milwaukee's Big League Assets
This is where things get interesting for the Milwaukee Brewers. Ken Rosenthal reported last week that the Brewers "are open to moving virtually any player on its roster" and are "seemingly willing to sacrifice its present for the future." Clearly, this rumor has monumental significance for the ball club's future.
Rumors of a potential fire sale in Milwaukee have been floated in past years, but this offseason feels a little different. Combine the increasing uncertainty of their big league roster with the organization's staffing turnover, and it's valid to speculate who could be on the table if the Brewers engage in a fire sale.
Let's take a look at those who could potentially get moved, which names are unlikely to get moved but could hold some trade value, and players who are certain to remain in a Brewers uniform next season.
Players Who Could Get Traded
| | | | |
| --- | --- | --- | --- |
| RP Devin Williams | 2024: Arb 2 | 2025: Arb 3 | 2026: UFA |
| SP Adrian Houser | 2024: Arb 3 | 2025: UFA | |
Numbers courtesy of Spotrac
Of the players soon to be mentioned, Devin Williams has the highest likelihood of being dealt in the event of a Brewers fire sale.
Williams is entering his second year of arbitration this winter. MLB Trade Rumors projects he will make $6.5 million in 2024, which is the fourth-highest projection among Milwaukee's 11 arbitration eligible players behind Corbin Burnes, Willy Adames, and Brandon Woodruff.
Generally, it's standard practice for rebuilding teams to capitalize on relievers. Spoiler alert, this will be a common theme discussed in upcoming sections.
The Brewers could not only cash in on their most valuable reliever, but it would be a chance to get a return on one of the best closers in the entire sport.
With two years of team control left, Williams could warrant a significant package this winter. They likely won't be extending him beyond the 2025 season, especially if they tear it down, so perhaps the Brewers will take a temperature check of his value on the open market.
Adrian Houser is a much-less flashier name than Devin Williams, but there's a chance he has some appeal on the trade market. He's a dependable starter at the back-end of the starting rotation, and he thrives on pitching to soft contact. The veteran has pitched to a 4.00 ERA and a 3.99 FIP across his seven big league seasons.
Houser would likely only bring in a low-level prospect, but with him slotted for free agency next offseason, the Brewers could look to shop him if they don't anticipate retaining him beyond the 2024 season.
Players Unlikely to be Traded, But It's Possible
| | | | | |
| --- | --- | --- | --- | --- |
| SP Freddy Peralta | 2024: $5.7MM | 2025: $8MM (Club) | 2026: $8MM (Club) | 2027: UFA |
| RP Joel Payamps | 2024: Arb 1 | 2025: Arb 2 | 2026: Arb 3 | 2027: UFA |
Numbers courtesy of Spotrac
Outside of Corbin Burnes and Willy Adames, Freddy Peralta would bring in the most significant prospect package.
He's coming off a year where he flashed frontline-starter potential, and he put together a tremendous second half of the season in which he was one of the best pitchers in the National League. In addition to his high ceiling as a player, he is on arguably the best contract in baseball from a value perspective.
Peralta is under team control for the next three seasons, and he is making $5.7 million in 2024 with club options for $8 million in 2025 and 2026.
Unless the Brewers received an offer they could not refuse, it wouldn't make much sense for the Brewers to trade Peralta given his age, contract status, and impressive production on the mound.
Joel Payamps is coming off the best season of his five-year career. After struggling to find his footing in his first four seasons in the majors, Payamps threw a career-high 70.2 innings in 2023 and managed to post an ERA of 2.55 with a WHIP of 1.05, which were both the best marks of his career.
As referenced earlier, rebuilding clubs try to capitalize on their valuable relievers, and Payamps could bring in some sort of a return after his career year. With three years of team control remaining, Payamps could be a trade chip this winter.
Under-the-Radar Assets
| | | | | |
| --- | --- | --- | --- | --- |
| RP Hoby Milner | 2024: Arb 2 | 2025: Arb 3 | 2026: UFA | |
| OF Tyrone Taylor | 2024: Arb 1 | 2025: Arb 2 | 2026: Arb 3 | 2027: UFA |
Numbers courtesy of Spotrac
The players in this category are those who would not bring in as significant of a prospect package as some of the other names mentioned, but they are names that could hold some value on the open market.
Continuing with the theme of selling valuable relievers, Hoby Milner is in a very similar situation as Joel Payamps (except he will enter free agency in 2026, one year earlier than Payamps). Last season, he pitched to a stellar 1.82 ERA to go with a WHIP under 1.00.
He is projected to make $1.7 million next season, which is a very reasonable salary given his high-level of performance in recent years. With just two years of team control remaining, Milner is yet another valuable relief arm the Brewers could shop this offseason if they are willing to rebuild.
If the Brewers wish to move on from Tyrone Taylor, now would be the time to do so. He is coming off a season in which he slashed .269/.309/.545 in the second half of the season, and he was a valuable contributor for Milwaukee down the stretch in 2023.
He's closer to a fourth outfielder and valuable bench piece rather than a starting outfielder, but the Brewers have a log jam in the outfield. He doesn't have a role in the future of Milwaukee's outfield, so it would be wise to bring in anything they can get for Taylor, even if it's a low to mid level prospect.
Notable Stars Who Will Not Be Traded
| | | | | | |
| --- | --- | --- | --- | --- | --- |
| SP Brandon Woodruff | 2024: Arb 4 | 2025: UFA | | | |
| C William Contreras | 2024: Pre-Arb | 2025: Arb 1 | 2026: Arb 2 | 2027: Arb 3 | 2028: UFA |
| LF Christian Yelich | 2024: $26 MM | 2025: $26 MM | 2026: $26 MM | 2027: $26 MM | 2028: $26 MM |
Numbers courtesy of Spotrac
It's a fun conversation piece, but Christian Yelich is not going to be traded this winter. While he is coming off of his best season in years, his contract complicates the situation. He is scheduled to make an AAV of $26 million for the next five seasons, and then he has a mutual option for $20 million in 2029 (his age 37 season) before hitting free agency in 2030.
Additionally, his contract features a full no-trade clause, thus making it even more difficult to move him. He's evolved into a dependable leadoff hitter for the Brewers, and he still brings tremendous value to the ball club. With that being said, given the logistics of his contract, he's likely to remain a Brewers for years to come.
As mentioned, Woodruff will probably to miss the entirety of the 2024 season, and he is slotted to hit free agency next offseason. Knowing this, no ball club is going to give up valuable assets to acquire Woodruff's final year of his contract knowing he will be unavailable next season. It's always possible the Brewers non-tender Woodruff if they don't plan on extending him beyond 2024, but he won't be a trade chip the Brewers can cash in on this offseason.
Finally, William Contreras has to be one of the few major leaguers who are off limits. He's still in pre-arbitration, and he is flourishing into one of the game's most well-rounded catchers. The 25-year-old is a potential building block on this roster, and the Brewers would have to get a tremendous package of prospects in order to even consider moving their backstop. Still, he's worth mentioning as an incredibly valuable asset on their big league roster nonetheless.
Talent Waiting in the Wings
The Brewers had a major influx of youth in 2023, and they're only going to get younger moving forward. Former top prospects such as Sal Frelick, Joey Wiemer, and Brice Turang were all promoted to the big league roster, and the group was heavily-leaned upon throughout the 2023 season.
Not to mention, Garrett Mitchell was the Opening Day starter in center field, but he missed most of the season as he recovered from a torn labrum. How that he's back to full health, he's yet another outfield piece the Brewers can turn to in 2024.
Additionally, Jackson Chourio (Just Baseball's No. 3 overall prospect) could make his MLB debut as soon as next season. Simply put, the Brewers have an abundance of young positional talent to build around with even more reinforcements on the way.
Jeferson Quero (Just Baseball's No. 26 overall prospect) and Tyler Black (Just Baseball's No. 64 overall prospect) are also anticipated to play a key role for the Brewers in 2024. Black is likely the club's long-term option at third base, and Quero has All-Star potential as the future backstop for the Brewers.
In terms of their pitching staff, the Brewers have some essential prospects who are on the cusp of making their MLB debut. Top prospects such as RHP Jacob Misiorowski (Just Baseball's No. 50 overall prospect), RHP Carlos F. Rodriguez, and LHP Robert Gasser could all be building blocks in the Brewers' starting rotation moving forward.
The ball club also promoted their up-and-coming reliever, Abner Uribe, back in July of 2023, and he turned in an impeccable season in his first year in the big leagues. He ended the season with a 1.76 ERA and a 30.7% strikeout rate in his 30.2 innings pitched with the Brewers.
It's looking like Uribe is the future of Milwaukee's bullpen, which is why they could be alright moving on from some of their soon-to-be expired relievers.
Final Thoughts
The Milwaukee Brewers have a crucial offseason ahead of them. Major decisions loom regarding their most marquee talent, and they will need to decide if they wish to make one last run with their core of star players, or unload their assets to spark a rebuild and turn their sights to the future.
If the ball club entertains offers on soon-to-be free agents such as Corbin Burnes and Willy Adames, that wouldn't necessarily be indicative that a rebuild is coming.
However, reports that they're willing to field offers on essentially every player on their roster suggests something entirely greater. If the Crew wishes to move on from premier talent such as Freddy Peralta, Devin Williams, or Christian Yelich, then this would be a major step back in their competitiveness.
With all that being said, it's no guarantee that the Brewers will sell at all. Having such a young roster, they could truly go in any direction this season. Their potential offseason outcomes range from bringing in key free agents to help round out a competitive roster to hosting a fire sale on some of their biggest stars.
The organization's vision for the future of their ball club should get increasingly more clear as free agency progresses, and the Brewers will be one of the key teams to monitor this winter.