Analysis
Milwaukee Brewers Offseason Outlook for 2023-2024 Free Agency
After a disappointing end to their 2023 season, the Milwaukee Brewers now enter one of the most pivotal offseasons in franchise history.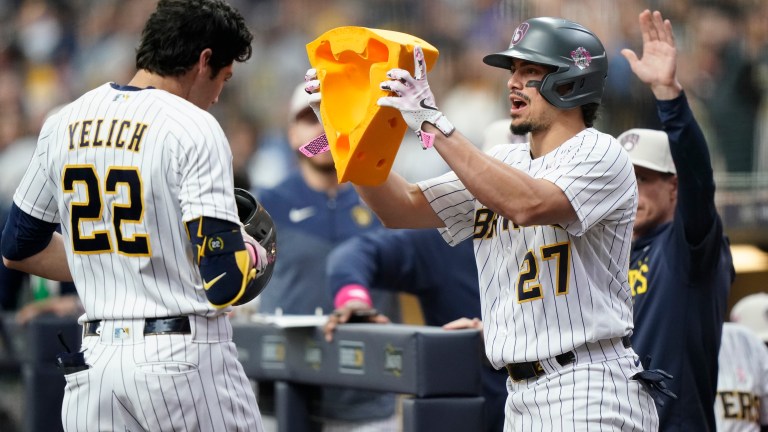 The Milwaukee Brewers put together a strong 2023 campaign, winning a total of 92 games on course to reclaiming the NL Central division crown. However, their season came to an abrupt end when the now National League champion Arizona Diamondbacks swept them on their own field in the NL Wild Card Series.
Now, the Brewers enter a pivotal offseason that could have enormous repercussions on the future of the ball club.
They've already lost key front office executive David Stearns, as Stearns now serves as the president of baseball operations for the New York Mets.
Additionally, the ball club faces managerial questions, as Craig Counsell's contract with the Brewers expires at the end of the month. Counsell was already granted permission to interview with the New York Mets, and there will surely be more teams around the league who have interest in bringing Counsell in to manage their ball club.
On top of the staffing turnover, the Brewers have several impactful decisions to make regarding some of their premier players, and those decisions will have a great impact on the 2024 season and beyond.
Needless to say, this is a monumental offseason for the Milwaukee Brewers.
We'll start by looking at what the roster turnover could look like this winter and how those decisions might impact the way they approach free agency this offseason.
Contract Decisions
The Brewers have a number of impactful players who will be going through the arbitration process this winter. On top of that, they also have a handful of difficult decisions to make on some contract options and impending free agents.
Arbitration-Eligible Players
| Player | Service Time | Projected Arbitration Salary |
| --- | --- | --- |
| RHP Brandon Woodruff | 5.161 | $11.6MM |
| SS Willy Adames | 5.105 | $12.4MM |
| RHP Corbin Burnes | 5.049 | $15.1MM |
| RHP Adrian Houser | 5.010 | $5.6MM |
| 1B Rowdy Tellez | 5.004 | $5.9MM |
| LHP Hoby Milner | 4.068 | $1.7MM |
| RHP Devin Williams | 4.056 | $6.5MM |
| OF Tyrone Taylor | 3.093 | $1.7MM |
| RHP Bryse Wilson | 3.036 | $1.3MM |
| RHP Joel Payamps | 3.027 | $1.7MM |
| INF Abraham Toro | 3.011 | $1.3MM |
Arbitration Salary Projections Courtesy of MLB Trade Rumors
The Brewers have a total of 11 players who are eligible for arbitration this winter. Eric Lauer, who was a non-tender candidate, was outrighted to Triple-A Nashville last week. Lauer refused the assignment and elected free agency.
The other two names who could be non-tender candidates are Rowdy Tellez, who is coming off a brutal 2023 campaign, and Abraham Toro, who failed to carve out a role with the ball club in his first season in Milwaukee. All other names on the list should be easy tenders this winter.
It should be noted that Brandon Woodruff is in a difficult spot entering his final year of arbitration after news broke that he will miss the entire 2024 season after undergoing shoulder surgery a few weeks back.
While he won't be non-tendered, there's a chance that Woodruff and the Brewers reach a short-term, two-year deal in an attempt to bypass his final year of arbitration and push back his scheduled free agency while he recovers from his shoulder injury next season. Regardless, Woodruff missing the entire 2024 season complicates his contract status and has a monumental impact on how the Brewers approach the offseason.
Willy Adames and Corbin Burnes will once again be major names to monitor as they also enter their final year of arbitration. Burnes, who was a trade candidate prior to Woodruff's injury, is now likely to remain a Brewer heading into the 2024 season. While potential extensions for both Burnes and Adames are not off the table, they are rather unlikely. Still, the Brewers will look to take (at least) one final ride with this core of star players in 2024 in an attempt to defend their division title.
Contract Options
| Player | Contract Option |
| --- | --- |
| 1B/OF Mark Canha | $11.5MM Club Option |
| LHP Wade Miley | $10MM Mutual Option |
| LHP Andrew Chafin | $7.25MM Club Option |
| LHP Justin Wilson | $2.5MM Club Option |
Contract Details Courtesy of Spotrac
Starting with the obvious, the Brewers are going to decline Andrew Chafin's $7.25MM club option. Acquired from Arizona at the trade deadline, Chafin struggled in his tenure with Milwaukee. Pitching to a 5.82 ERA with a WHIP of 1.41 across 17 innings, he will almost certainly be hitting the open market this winter.
The Brewers will also likely decline Justin Wilson's $2.5MM club option. Wilson hasn't thrown a pitch in the big leagues since April 2022, and he has undergone Tommy John surgery and suffered a major injury to his left lat muscle over that span. Due to this, it's probable the Brewers pass on his club option.
Mark Canha's play down the stretch for Milwaukee has put the Brewers in a difficult position regarding his club option for 2024. Canha was almost certainly expected to be a rental after being acquired from the Mets at the trade deadline, but his tremendous performance for the Brewers in the final few months of the season may have the Crew thinking twice about his contract option.
He is the perfect fit for Milwaukee's roster, both in terms of his defensive versatility and his approach at the plate. It isn't a cheap number, but I think it's more likely than not the Brewers exercise Canha's $11.5MM club option, keeping him in Milwaukee for at least one more season.
The Brewers are in an equally challenging position with Wade Miley. Miley was extremely valuable for the Brewers in 2023. He pitched to a 3.14 ERA and a 1.14 WHIP across 120.1 innings pitched, and it felt as if he served as a pitching coach in the clubhouse for the younger players as well.
Both the Brewers and Miley would have to opt into his $10MM option in order for his contract to be exercised. If Miley doesn't return to the Brewers via his mutual option, which are generally rarely exercised, there's still a chance the two parties strike a short-term deal to keep the veteran in Milwaukee. While there is a chance Miley elects for free agency, he is clearly comfortable in a Brewers uniform, and Milwaukee may need his services even more so next season.
Impending Free Agents
OF Jesse Winker, 1B Carlos Santana, C Victor Caratini, 3B Josh Donaldson, RHP Colin Rea, 1B Darin Ruf, RHP Julio Teheran
Due to the increasing uncertainty of the structure of Milwaukee's starting rotation, which we will get into momentarily, they could be in the market to bring back one of Colin Rea or Julio Teheran this offseason.
Neither are pretty names, but the Brewers are going to need a veteran arm to eat innings at the back of the starting rotation in 2024. It's possible the Brewers will be willing to spend what it takes to get one of these two arms back next season, as each guy played a big role in the rotation when called upon in 2023.
Backstop Victor Caratini is arguably the most noteworthy name on the list above. He saw a good amount of run for the Brewers in 2023, specifically as Corbin Burnes' personal catcher.
Considering the bare state of the free agent market at the catcher position this offseason, Caratini could be in demand across the league. While he was valuable for the Brewers, I'm not sure they would be willing to pay what it would take to keep him in Milwaukee, especially considering the young talent they have at the position.
Carlos Santana is the other name worth monitoring this offseason. The 37-year-old was acquired from the Pirates at the trade deadline, and he was an essential addition to this Brewers roster down the stretch. Milwaukee will have a dire need at first base, and Santana would fill that hole perfectly. It all depends on Santana's desire to continue his playing career, as well as what his price might be on the free agent market this winter.
Roster Need #1: Starting Pitching
Getting into where the Brewers will need to add this winter, starting pitching is at the top of that list.
Of the names the Brewers could be without next season, the grouping of Woodruff, Teheran, Rea, Lauer, and Miley combined for a total of 405 innings pitched in 2023. Clearly, that would be a significant amount of vacated innings that the Brewers would need to fill next season.
The organization preaches time and time again how important it is to have pitching depth, and this is the first season in quite some time where the Brewers may be hurting in that area. The starting rotation has been the backbone of Milwaukee's success for the past few seasons, but as we look ahead to 2024, they will need to tap into the open market to acquire pitching depth.
Internal Options
| Internal SP Options | IP | K/9 | BB/9 | ERA | xERA | FIP | xFIP |
| --- | --- | --- | --- | --- | --- | --- | --- |
| Corbin Burnes | 193.2 | 9.29 | 3.07 | 3.39 | 3.40 | 3.81 | 3.80 |
| Freddy Peralta | 165.2 | 11.41 | 2.93 | 3.86 | 3.35 | 3.85 | 3.42 |
| Adrian Houser | 106.1 | 7.96 | 2.71 | 4.23 | 4.16 | 3.89 | 4.25 |
| Aaron Ashby* | – | – | – | – | – | – | – |
2023 Stats Courtesy of FanGraphs; *Missed entire 2023 season
Obviously, having a recent Cy Young winner at the top of the rotation serves as a major advantage for any ball club. As mentioned, with Woodruff likely to miss the entire 2024 season, the Brewers need Burnes more than ever if they wish to compete next season.
Beyond Burnes is Freddy Peralta and Adrian Houser. Peralta, who will enter the 2024 season as the club's No. 2 starter, turned in a tremendous second half of the season in 2023. The Brewers need him to elevate his game next season to be a frontline starter alongside Burnes.
Adrian Houser should continue to be a reliable arm in the middle to back end of the starting rotation in 2024. His numbers aren't flashy, but he thrives on pitching to soft contact. He will once again lean on the excellent group of defenders behind him to see success next season.
From there, it gets dicey for Milwaukee. Next up on the depth chart would be Janson Junk, who made just one start for the Brewers in 2023. Junk, 27, has just 32 major league innings under his belt thus far and has pitched to a 4.78 ERA across those innings.
Aaron Ashby could also be in line for an important role in the starting rotation next season. The Brewers signed the up-and-coming southpaw to a five-year contract extension back in July of 2022. Unfortunately for the Brewers, Ashby missed the entire 2023 season due to a shoulder injury that required arthroscopic surgery back in April.
A full-time job in the rotation would mean a large workload for a player coming off of a serious injury, but whatever his exact role, the Brewers will need Ashby to be a key contributor next season.
Minor League Options:
RHP Jacob Misiorowski, LHP Robert Gasser, RHP Carlos F. Rodriguez
There are some talented names in Milwaukee's minor league system who fans should be excited about, but the Brewers shouldn't enter the 2024 season with these names as foundational pieces of their starting rotation.
Gasser, Rodriguez, and Misiorowski are all candidates to see some major league run in 2024. Gasser, who was acquired from the Padres in the infamous Josh Hader trade, will almost certainly make his MLB debut next season.
After a strong 2023 season with Double-A Biloxi, Rodriguez received a mid-September promotion to Triple-A Nashville and is a prime candidate to also make his MLB debut with the Brewers next year.
Misiorowski, Just Baseball's No. 50 overall prospect, is the most exciting name on the list. The organization is quite bullish on the 6-foot-7 flamethrower, and the 21-year-old could also factor into Milwaukee's pitching staff in 2024. However, the Brewers will need to look externally to acquire a dependable arm to help stabilize the starting rotation.
Potential Free Agent Targets:
LHP Hyun Jin Ryu, LHP Martin Pérez, LHP Alex Wood, RHP Kyle Gibson, LHP James Paxton, RHP Michael Lorenzen, RHP Brad Keller
It's not the most star-studded grouping of names, but the Brewers will be in the market for players such as the ones listed above. These are veteran starters who will not be at the top of the market in terms of price point, but they are players who can provide reliable innings in the middle and back of the starting rotation.
The Brewers won't be in contention to splurge on the bigger free agent names, but they have a hefty amount of vacated innings that they will need to replace. The players listed would be more than viable options to help buoy the starting rotation while some of the younger players work to gain their footing in the major leagues.
Roster Need #2: First Base
First base continues to be a significant need for the Milwaukee Brewers. Rowdy Tellez had arguably the worst season of his big league career in 2023, hitting just .215 with an OPS of .667 and a wRC+ of 78. He also finished the season with the lowest fWAR of his career at -0.9.
As mentioned, Tellez is a strong non-tender candidate and might not be back with the team next year. Additionally, if Carlos Santana and the Brewers choose to part ways this offseason, the Brewers would be lacking a true first baseman heading into the 2024 season.
If the Brewers choose to exercise Mark Canha's club option, first base could be his new permanent home. Otherwise, Owen Miller would be in line to see the full-time first base role if the Brewers elect to pass on making any roster additions.
Potential Free Agent Targets:
Rhys Hoskins, Brandon Belt, C.J. Cron, Josh Bell, Ji Man Choi, Garrett Cooper
Of the players listed above, Rhys Hoskins is the only name who could be a potential long-term answer at first base. That being said, Hoskins is going to be in high demand this winter, and the Brewers likely won't be willing to spend what it would take to acquire him.
All other names on the list would help provide depth at first base, but they wouldn't be pieces to build around for the future. The Brewers need to decide if they want to break the bank on the biggest first baseman on the market in Rhys Hoskins, or decide if they want to go the cheaper route and add some lower-floor options to help bolster their positional depth.
The Brewers could also choose to run with their internal options as they head into 2024. There are multiple avenues Milwaukee could take at first base, but it all depends on their willingness to spend this offseason.
Roster Need #3: Third Base
Like first base, the Brewers are lacking an impact bat at the hot corner. The 2023 season featured a rotation of third basemen, including Brian Anderson, Josh Donaldson, Owen Miller, and Andruw Monasterio.
Anderson is no longer with the ball club (designated for assignment), Donaldson is an impending free agent and is not expected to return to the team, and the other options on Milwaukee's big league roster are rather uninspiring from an offensive standpoint.
Tyler Black, Just Baseball's No. 64 overall prospect, is likely the ball club's long-term solution at the position. However, he has yet to make his MLB debut, and there aren't many other internal options to help provide a stopgap until Black is ready to assume a full-time role at third base.
Andruw Monasterio had a surprisingly successful 2023 MLB season after spending the first nine years of his professional career in the minor leagues. Likewise, Miller had a handful of hot stretches that earned him some playing time in the middle of the season, but he cooled off come July. Monasterio and Miller are closer to replacement-level players rather than everyday starting third basemen.
Potential Free Agent Targets:
Joey Wendle, Justin Turner, Evan Longoria, Isiah Kiner-Falefa, Gio Urshela
Frankly, the free agent class at third base is extremely bare outside of the top two names.
Matt Chapman and Jeimer Candelario are the two stars on the market, and they will both be in line to secure luxurious contracts this winter. The Brewers will not be in the market for either of them, especially considering Tyler Black's impending debut next season, which is why both players were left off the list of potential free agent targets.
The names beyond Candelario and Chapman are exactly how I described Milwaukee's internal options: uninspiring. Because of this, there's a strong chance the Brewers use a combination of Monasterio and Miller at third base until they feel comfortable turning the position over to Black.
The Rest of the Roster
The rest of Milwaukee's roster appears to be in a good spot when looking ahead to 2024. It's a young roster with plenty of talent, and the Brewers will rely upon some of their former top prospects to continue to develop their game at the big league level next season.
Infield
Internal Catcher Options: William Contreras, Jeferson Quero
The Brewers witnessed the full-blown breakout of William Contreras in 2023. He has evolved into one of the position's best offensive weapons, and he continues to develop his performance behind the dish as well. The 25-year-old is still in pre-arbitration, and he remains an extension candidate as he continues to blossom behind the plate.
In the minor leagues, they have one of the top catching prospects in the sport in Jeferson Quero. Quero is Rule 5 eligible this winter, and he will almost certainly be added to the 40-man roster to protect him from the Rule 5 draft. It's looking like the Brewers have one of the best young catching tandems in the game heading into 2024.
Internal Middle Infield Options: SS Willy Adames, 2B Brice Turang
The combination of Adames and Turang is one of the better defensive middle infields in the National League, and the pairing will look to build upon that connection next season. As mentioned, Adames is entering his final year of arbitration, and his long-term status with the ball club will be one to monitor as the season progresses. He's coming off a down year offensively, but he's likely to get a significant contract when he reaches free agency.
Turang also struggled at the plate in his first season in the big leagues. However, he managed to make an impact on the game with his elite speed and Gold Glove-caliber defense, and he will look to take a step forward offensively while continuing to be one of the team's most valuable defenders.
Outfield
Internal Outfield Options: Christian Yelich, Garrett Mitchell, Sal Frelick, Joey Wiemer, Tyrone Taylor, Jackson Chourio
Simply put, the Brewers are set in terms of outfield talent. The young core of Mitchell, Frelick, and Wiemer only gets stronger if Jackson Chourio, Just Baseball's No. 3 overall prospect in the game, makes his debut next season.
Christian Yelich put together an All-Star-caliber season in 2023, and his offensive bounce-back was an enormous boost for Milwaukee's lineup. It's a galvanizing group of outfielders, and it's a core that gives Brewers fans a lot to be excited about for the future of this ball club.
Bullpen
| Internal RP Options | IP | K/9 | BB/9 | GB% | Opp. BA | WHIP | ERA | FIP |
| --- | --- | --- | --- | --- | --- | --- | --- | --- |
| Devin Williams | 58.2 | 13.35 | 4.30 | 47.8% | .129 | 0.92 | 1.53 | 2.66 |
| Joel Payamps | 70.2 | 9.81 | 2.17 | 45.9% | .215 | 1.05 | 2.55 | 3.48 |
| Hoby Milner | 64.1 | 8.25 | 1.82 | 50.9% | .207 | 0.96 | 1.82 | 3.13 |
| Abner Uribe | 30.2 | 11.45 | 5.87 | 53.0% | .151 | 1.17 | 1.76 | 2.77 |
| Elvis Peguero | 61.1 | 7.92 | 3.82 | 56.0% | .221 | 1.22 | 3.38 | 3.81 |
| Bryse Wilson | 76.2 | 7.16 | 2.58 | 37.8% | .207 | 1.07 | 2.58 | 4.13 |
| Trevor Megill | 32.2 | 13.50 | 3.03 | 30.7% | .248 | 1.29 | 3.31 | 2.15 |
2023 MLB Stats Courtesy of FanGraphs
After entering the 2023 season with a lot of uncertainty in the bullpen, the Brewers will head into the 2024 season with the bullpen being arguably their greatest strength.
They will be returning the same core of players that they leaned on for the majority of 2023, and this bunch of relievers has an intriguing mix of youthful excitement and veteran experience.
It's a group that the organization has a lot of trust and confidence in as well. They stepped up their play in an enormous way in 2023, and Milwaukee's bullpen played a large role in the team securing a division title. The Brewers will look to run it back with this same group and have them build upon their successful season in 2024.
Final Thoughts
Fortunately for the Brewers, they have an opportunity to run it back in 2024 with much of the same core as they had in 2023. Beyond next season, it remains to be seen how Milwaukee will approach the future of some of their most important players.
If the Brewers wish to defend their NL Central crown, or perhaps compete for something greater, they will need to retain their star players this offseason while addressing several holes on the roster.
Primarily, starting pitching depth, first base, and third base remain the ball club's top priorities as free agency approaches. While they do have some internal options at these positions, the Brewers will need to turn outside of the organization and add some valuable veteran depth to help stabilize both the pitching staff and the batting order.
The Brewers won't be big spenders in free agency, but in order for them to repeat their success or take another step forward in 2024, they will need to make some improvements to their roster one way or another. As it currently stands, the Milwaukee Brewers will be one of the more interesting teams in baseball to monitor this offseason.