Analysis
Will the Milwaukee Brewers Shop Corbin Burnes This Winter?
The Brewers have a difficult decision to make about their ace this offseason, as Corbin Burnes enters his final year of arbitration.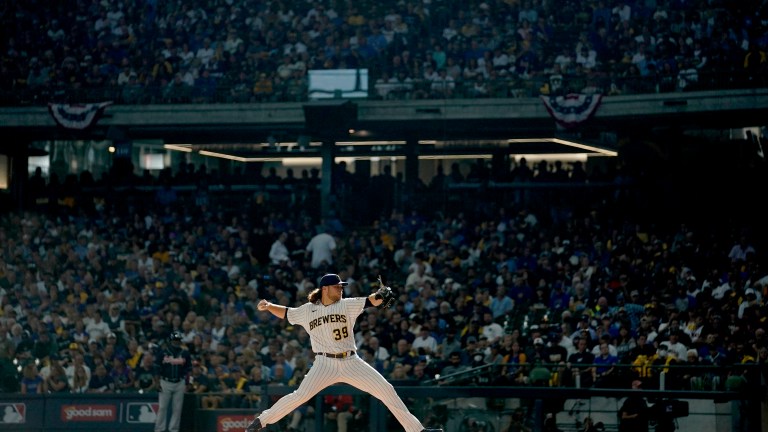 The 2023 Milwaukee Brewers' season is officially in the books, and the front office will now shift its attention to several major decisions involving franchise players this winter.
One of those key decisions involves the future of star pitcher and former Cy Young winner Corbin Burnes.
Burnes will be entering his third and final year of arbitration this offseason and is set to enter free agency following the 2024 campaign. Considering how poorly the arbitration process was handled between Milwaukee and Burnes last winter, surely there will be an extra spotlight on how things shake out between the two parties this offseason.
Last February, the Brewers' ace and the organization couldn't agree on a salary to avoid an arbitration hearing, sparking tension in their relationship. Heading into the 2023 season, the Brewers offered a salary of $10.01 million, while Burnes asked for a salary of $10.75 million. Evidently, the ball club felt the difference of $740,000 between the two numbers was enough to go to an arbitration hearing to decide their ace's salary.
Milwaukee won the case and ended up saving $740K, but in doing so, they fractured the relationship with their most important player.
Now, as the Brewers approach one of their most franchise-altering offseasons in the club's history, a decision on how to approach Corbin Burnes' future sits at the top of their priority list. Assuming the Brewers retain him for the 2024 season, is there a chance Milwaukee and Burnes can agree to an extension before he hits free agency, or did that door shut with the 2023 arbitration debacle?
If he isn't a part of the club's future, do the Brewers trade Burnes this offseason in an attempt to get the most they can for one of the league's best pitchers? Whichever route the Brewers choose to take, the decision will have monumental repercussions on the organization going forward.
Woodruff's Injury May Force Milwaukee's Hand
Following Milwaukee's NLWCS loss to the Arizona Diamondbacks, it felt as if Burnes had made his last start in a Brewers uniform. Coupling the lack of extension talks between him and the front office thus far with the luxurious contract he'll be earning next winter, an upcoming offseason trade felt inevitable.
Unfortunately for the Brewers, difficult news emerged regarding the health of their co-ace on the afternoon of October 13. Frontline starter and two-time All-Star Brandon Woodruff underwent shoulder surgery that is anticipated to keep him sidelined for the entirety of the 2024 season. The news was a swift and mighty blow to this starting rotation, and it's news that will end up impacting how the Brewers approach Burnes' future with the team.
It goes without saying, but Woodruff's subtraction is a substantial one for this ball club. He's a fan favorite, beloved in the clubhouse, and has been an anchor at the top of their starting rotation for the past few seasons.
However, while significant, his loss is not insurmountable for the Brewers. Will it make it more difficult to defend their division title? Of course. But the Brewers built their success on depth and sustainability so that one player's absence does not derail the organization's goal of being continuously competitive.
It rang true when Woodruff missed a majority of the 2023 season with a separate shoulder injury, and it will have to continue to be the case next season.
On October 5, when the team's offseason started, Burnes' long-term outlook with the Brewers looked bleak. Now, the Brewers can ill afford to be without both Woodruff and Burnes next season if they wish to be competitive. They've already lost one of their best pitchers for the 2024 season; it would be illogical to trade away the former Cy Young Award winner as a response to that loss.
GM Matt Arnold's end-of-season press conference contained several interesting tidbits, and one of the hottest topics obviously revolved around the future of Brandon Woodruff and Corbin Burnes.
Take it for what it's worth, but Arnold claimed that he expects Burnes to be pitching for the Milwaukee Brewers in 2024. While he also stated that he can't close the door on any conversations, he recognizes the value that Burnes brings to this organization and how important he has been to the success of their ball club.
The press conference happened prior to the announcement that Woodruff would miss the 2024 season, but one can only believe that Burnes' value to the organization rose following Woodruff's injury.
The Brewers have a young and blossoming core heading into next season. They're in a position where if they wish to compete in 2024, which appears to be the case, they will not only have to hold onto Burnes, but they will be leaning on him more than they ever have if he remains in a Brewers uniform.
Corbin Burnes: The 2023 Season in Review
If the Brewers retain Burnes for one final season, the success of the starting rotation will be on his shoulders.
Burnes' 2023 season wasn't bad by any stretch of the imagination. He earned his third consecutive All-Star bid, and he finished the year with the sixth-best ERA in the National League. However, he didn't post the same degree of eye-popping stats as he did in 2021 or 2022.
| Season | ERA (xERA) | FIP (xFIP) | K/9 | K% | BB/9 | BB% |
| --- | --- | --- | --- | --- | --- | --- |
| 2021 | 2.43 (2.00) | 1.63 (2.30) | 12.61 | 35.6% | 1.83 | 5.2% |
| 2022 | 2.94 (3.05) | 3.14 (2.85) | 10.83 | 30.5% | 2.27 | 6.4% |
| 2023 | 3.39 (3.40) | 3.81 (3.81) | 9.29 | 25.5% | 4.50 | 8.4% |
Stats courtesy of FanGraphs
Burnes' overall numbers on the year were still impressive. Yet, considering the expectations that have been set for him, it left something to be desired from Brewers fans.
His stats declined across the board from 2022, but most noticeably, it was his strikeout totals that took a significant step backward in 2023.
Burnes saw his strikeout rate drop five percent this season, and that decline can be attributed to hitters making more frequent contact against his pitches both inside and outside the strike zone.
Burnes ended the 2023 season with a career-low whiff rate of 28.7%, which was a whopping 6.5% decrease from 2022. It was also the first time in his MLB career that he ended a season with a whiff rate below 30%. Relatedly, Burnes saw a substantial increase in his zone contact rate as well. He ended the season with a career-high zone contact rate of 82%, which was a 2.4% increase over 2022.
Burnes also struggled to get hitters to chase pitches outside of the strike zone. He posted a chase rate of just 30%, which was his lowest since his rookie season in 2018 and a 3.5% decrease from his number a season ago. Even more, when hitters did swing at his pitches outside of the zone, they were making contact at a higher rate than ever before. His chase contact rate ballooned to 51% this season, which was a 6.7% increase from 2022 and a career-high by nearly five percent.
On top of the significant swing-and-miss regression, Burnes saw his ground ball rate dip from 47.6% in 2022 to 44.1% this season. In turn, his line drive rate vaulted to 25.9%, which was over a four percent increase from a season ago.
Opponents were getting the bat on the ball more frequently against Burnes this season, and they were hitting more line drives in the process. Yet, it wasn't all bad for Burnes. After a sluggish start out of the gate, he turned his performance around in the second half of the season.
A Stellar Second Half
Coming out of the All-Star break, Burnes showed that he can still be one of the most dominant arms in the game when things are clicking on the mound. He saw much better results over the course of his final 14 starts, and the success stemmed from his improved ability to generate swings and misses from July 11 onward.
| Period | IP | ERA | WHIP | K% | BB% |
| --- | --- | --- | --- | --- | --- |
| Pre All-Star Break | 107.1 | 3.94 | 1.14 | 23.1% | 8.8% |
| Post All-Star Break | 86.1 | 2.71 | 0.98 | 28.6% | 7.9% |
Stats courtesy of Baseball Savant
For Burnes to get back to his Cy Young level of dominance, it's imperative that he harnesses the command and sequencing that he demonstrated in the second half of 2023. He was walking batters at a lower rate, his strikeout totals were closer to that of previous seasons, and he saw better results on the mound because of it.
Burnes has been one of the best pitchers in baseball dating back to 2021, and he is still just 28 years old. He's a workhorse at the top of Milwaukee's rotation, and it's vital the Brewers retain their ace this winter in order to have any postseason hope heading into the 2024 season.
Final Thoughts
If the Brewers wish to defend their NL Central title, they need to retain Burnes for (at least) the 2024 season. If they ship him away this winter, the organization is booting on 2024 and turning their sights beyond the season, and I don't see the front office setting that sort of precedent prior to opening day.
Ryan Finkelstein laid it out well in his latest piece for Just Baseball. If things go south for the Brewers in the first half of the 2024 season, they still have the ability to trade Burnes at the deadline. Albeit, they wouldn't receive as juicy of a package as they would if they made a deal this winter, but holding onto Burnes' heading into 2024 prevents the optics from going south before the season even begins.
Additionally, an extension isn't necessarily off the table. Is it unlikely? Sure. But holding onto Burnes this winter allows him and the Brewers to continue extension talks, if desired. While it would sting to let Burnes walk without receiving significant compensation, there is too much talent on the roster to punt on 2024 already.
Is Burnes' long-term future in a Brewers uniform? Most likely not. However, they have a shot at making one last run with the core that they have, and Burnes is the anchor in Milwaukee's hopes of defending their division title next season.