Rankings
Tampa Bay Rays Top 10 Prospects
Tampa Bay Rays Top 10 Prospects for 2021.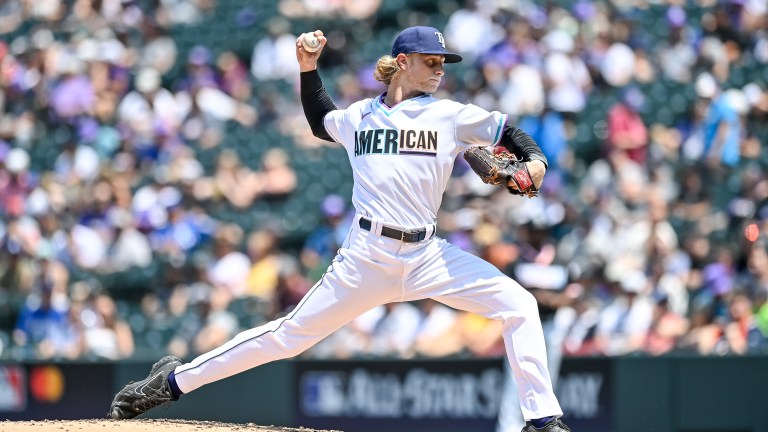 This system needs little introduction; the Rays are perpetually loaded with a balance of high upside and high floor prospects. There is plenty to be excited about if you're a Rays fan, but here are the 10 guys we think you should be paying attention to the most in the Rays system.
Age: 22 | Height/Weight: 6'2′, 190 | Bat/Throw: R/R | 1st Round (12), 2017 (PIT) | ETA: 2022
| | | | | | |
| --- | --- | --- | --- | --- | --- |
| FASTBALL | SLIDER | CURVEBALL | CHANGEUP | COMMAND | FV |
| 70/70 | 65/70 | 40/50 | 50/55 | 50/55 | 60 |
Arsenal
High ¾ arm slot with very low effort and an athletic 6'2" frame. He has a short arm stroke that produces one of the most electric fastballs in the minor leagues, a mid to upper 90's weapon that produces tons of ride and gets swings and misses all over the strike zone. Baz has focused on locating the fastball east and west to get ahead, as well as at the top of the zone where it is virtually unhittable. Baz has become one of the best pitching prospects in the minors due to how significantly his command has improved. He already has average command of his heater and as he continues to develop, there is more to come.
Baz's slider gives him a second plus-plus pitch. It sits in the upper 80's, featuring electric horizontal and vertical break and it seemingly moves at the very last second. It misses bats at an elite rate against righties and lefties, and Baz has continued to show improvement in terms of landing it for a strike as well. He commands it down and to his glove side consistently and similar to his high fastball, it is unhittable when located correctly.
Baz's upper 80's changeup will flash plus at times due to its deception and ASR. The pitch can become too firm at times but in time, it could become a soft contact inducing offering against lefties. He rounds out his arsenal with a low 80's curveball that he has yet to find a feel for. At it's best it steals strikes early in the count, however, Baz has yet to deploy it consistently enough to call it a legitatmete weapon.
Outlook
Baz's lethal fastball-slider combination has allowed him to utterly dominate the Minor Leagues in 2021. His command has improved enough to where he could be an effective arm in the big leagues today. Both his floor and ceiling rival that of any prospect in the entire Minor Leagues and he will be ready to produce for the Rays whenever they see fit.
Age: 23 | Height/Weight: 6'4′, 205 | Bat/Throw: R/R | 1st Round (13), 2016 (TB) | ETA: 2022
| | | | | | |
| --- | --- | --- | --- | --- | --- |
| HIT | RAW POWER | GAME POWER | RUN | FIELD | FV |
| 40/45 | 60/60 | 50/60 | 60/60 | 45/50 | 55 |
Offense
Small leg kick to gather into his back side then unleashes an explosive swing. Lowe has always had tantalizing tools and projectable power, but had not tapped into it through his first few professional seasons. Like many young, tall hitters, Lowe struggled with his lower half, often times drifting onto his front foot; the result is generally less power and more ground balls.
Lowe adjusted his load and found a way to stay in his back hip a bit more which allowed him to stay behind the baseball. As a result, the left handed hitting outfielder broke out in 2019 with 18 bombs after never hitting more than eight in a season. Lowe's ground ball rate dropped by roughly 10% and his HR/FB rate tripled. There is some swing and miss in Lowe's game, but he has been able to offset that with consistent walk rates and steady numbers against southpaws. Now that Lowe is allowing his impressive bat speed to play thanks to his adjustments, he is a legitimate 30/30 threat (21 HR and 26 SB in 109 G).
Defense/Speed
A fantastic athlete, Lowe is a plus runner whose speed translates into stolen bases and above average defense in centerfield. Lowe takes strong routes and long strides which give him great closing speed as well as a plus arm. Despite being tall and long, Lowe is a great baserunner who gets good jumps and picks good spots to run. Lowe was a perfect 26/26 on stolen base attempts in Triple-A this year.
Outlook
Lowe has the chance to be a five-tool player if he is able to keep the strikeouts in check. His blend of power, speed, and fielding is tantalizing; the 23-year-old projects as the future centerfielder for the Rays, potentially pushing out Kevin Kiermaier. Lowe's skillset is reminiscent of Kyle Tucker, but in centerfield and with a little more swing and miss and more walks. There is a lot to be excited about with Josh Lowe in Tampa.
Age: 23 | Height/Weight: 5'10, 180 | Bat/Throw: S/R | IFA: $15K (2014) | ETA: 2022
| | | | | | |
| --- | --- | --- | --- | --- | --- |
| HIT | RAW POWER | GAME POWER | RUN | FIELD | FV |
| 45/55 | 50/50 | 45/50 | 70/70 | 45/55 | 55 |
Offense
Very compact and explosive athlete, packs a lot of pop in his small frame. Uses an aggressive leg kick to create timing and power and his athleticism allows him to be on time and take consistently balanced swings. He's been able to unlock some of his average raw power this year, getting the ball in the air more consistently than ever. Brujan has incredibly fast hands that allow him to crush fastballs as well as spoil pitcher's pitches later in the count. While he has raked from the left side of the plate this year, he has struggled from the right, producing a .688 OPS as opposed to .789 from the left.
His swing from the left side is more advanced than his right, featuring a more advanced ability to sit in his back hip and giving him more time to identify pitches. While Brujan may never produce impact power, he has a chance to hit 15-20 home runs on an annual basis thanks to his big time bat speed as well as the remaining projection in his frame. Brujan is a high variance bat but if everything clicks for him, he could produce above average offensive production thanks to his approach and usable game power.
Defense/Speed
Much of Brujan's value will come from his elite atheltiscism that translates well to the field where he has a chance to be an impact defender at multiple posistions. He has plus range at both shortstop and second base, which he couples with soft hands and an above average arm. Brujan's projection in center field remains high as well. His plus-plus speed allows him to get to balls that most center fielders cannot and his above average arm fits well there as well. Due to all the middle infielders the Rays have, it appears that they will deploy him as a super utility type, capable of impacting the game at a variety of different positions. Brujan's speed is his loudest tool and he has already displayed an ability to steal bags in bunches. He could steal between 25 and 35 bags on an annual basis.
Outlook
Brujan has the potential to be an extremely dynamic player capable of impacting the game in the box, on the bases and in the field. His bat will ultimately determine the extent of his value, however, his glove and wheels give him a great chance to produce at a league average level even if the bat doesn't work out. Brujan's ceiling is sizable, but he needs to find some consistency at the plate to tap into it.
Age: 20 | Height/Weight: 6'2, 170 | Bat/Throw: R/R | IFA: (2018) | ETA: 2022
| | | | | | |
| --- | --- | --- | --- | --- | --- |
| HIT | RAW POWER | GAME POWER | RUN | FIELD | FV |
| 45/60 | 50/55 | 40/50 | 50/45 | 40/50 | 55 |
Offense
Signed by the Phillies out of Australia in 2018, the Rays acquired Mead in November of 2019. The 20-year-old experienced an offensive explosion in his first full year with the Rays, slashing .321/.378/.533 while chipping in 15 homers and 38 doubles across three levels of minors.
Starting from an upright and relaxed setup, Mead features an extremely advanced swing for his age with proper sequencing that allows his lower half to work extremely well. The result is a barrel path that essentially 'lives' in the zone and allows him to drive balls to all parts of the zone with relative ease. While his frame isn't especially large, there's enough strength and bat speed to project for 15-20 homers; he could end up as a doubles machine due to his all fields approach combined with the remaining projection in his frame. Mead's body control and bat to ball skills combined with his average raw power could make him a hitting machine in the future.
Defense/Speed
While not especially flashy or athletic, Mead's hands and instincts should make him an average defender at either third or second base. Mead's average arm and speed will keep him on the dirt with second base being the position he profiles best at. The 20-year-old's footwork looks strong enough to accommodate a move to second, but his arm is decent enough to anchor third if he reaches his offensive ceiling.
Outlook
Mead's advanced approach and swing give him a chance at becoming a plus hitter at the highest level. If his astronomical ascent continues, we may see him in Tampa sooner rather than later. After all, the Rays were willing to shockingly fast track Mead to Triple-A. Mead's characteristics and production are somewhat reminiscent of Jonathan India, which would be a wonderful outcome for the Aussie and the Rays.
Age: 22 | Height/Weight: 5'10, 170 | Bat/Throw: S/R | 1st round (38th), 2018 (SD) | ETA: 2022
| | | | | | |
| --- | --- | --- | --- | --- | --- |
| HIT | RAW POWER | GAME POWER | RUN | FIELD | FV |
| 55/60 | 35/40 | 30/35 | 75/75 | 50/50 | 50 |
At the risk of sounding like an old school scout, Edwards is just a ballplayer. He is a total gamer who plays at full speed, but under control. A switch hitter who excels at putting the bat on the ball and grinding out at-bats, Edwards is the type of player who can give opposing defenses a headache.
A simple set up from both sides, Edwards plays to his strengths with a simple swing geared for contact; he wants to put the ball in play and let his plus, plus speed take care of the rest. With 121 strikeouts against 111 walks in his pro career, the only real question is to whether Edwards can tap into at least doubles power; 252 of Edwards' 305 MiLB hits have been singles. Edwards' ability to spoil pitches and strong knowledge for the strike zone allow him to walk at an above average clip.
Defense/Speed
Edwards' athleticism is more than evident on the defensive side of things. Though capable at shortstop, the Rays have had Edwards playing his games at second base and third base, likely getting him acclimated to his super-utility role that he seems destined for. Edwards is a potentially plus defender at second base, with strong actions an above average arm for the position and a flare for the highlight reel plays.
A plus, plus runner, Edwards has the ability to wreak havoc on the base paths. The 22-year-old needs to improve his jumps, long relying on his speed to swipe bags, which was exposed a bit in Double-A (63% success rate on SB).
Outlook
Edwards will likely never hit enough to be an impact bat, but he does just about everything else. A switch-hitter with elite speed and multi-positional versatility is valuable no matter how much the game of baseball has changed. If Edwards is able to even develop doubles power, he could be an exciting throwback leadoff hitter for the Rays. If not, he could be one of baseball's best super-utility men.
Age: 23 | Height/Weight: 6'2, 175 | Bat/Throw: S/R | 1st round (22nd), 2019 (TB) | ETA: 2023
| | | | | | |
| --- | --- | --- | --- | --- | --- |
| HIT | RAW POWER | GAME POWER | RUN | FIELD | FV |
| 35/45 | 50/55 | 35/50 | 70/70 | 40/50 | 50 |
Offense
Drafted in the first round out of UNC Wilmington in 2019, Jones is an electric switch-hitting athlete with elite quick twitch throughout his frame. Jones had a solid year while spending the majority of his time with High-A, accumulating a .270/.366/.482 slash line with 14 homers and 34 bags across 74 games.
Jones features big time hand speed from both sides of the batter's box which allows him to produce loud contact and spoil good pitches in pitcher's counts. He deploys an all-field approach with a majority of his pop coming from the pull side. There isn't much strength in his frame but his wiry, explosive athleticism allows him to produce contact much louder and harder than one would expect. There's some swing and miss involved in his approach (96 strikeouts in 74 games), which could hurt him because the power will likely not quite reach plus territory. Jones' raw hitting tools are impressive and if he can shore up his strikeout problem, he has a chance to become an impact hitter.
Defense/Speed
Jones' calling card is his 70 grade wheels that give him plus range at shortstop. His arm is a little light for the position and his footwork needs to improve if he's to continue at short, however, a move to center field would free up his immense speed and he could likely become a plus defender out there. That said, Jones told us back in August about the work he had been putting in at shortstop, specifically getting reps with the sure-handed Taylor Walls.
Outlook
Jones' electric athleticism gives him a high ceiling and if he can improve his strikeout problem, his combination of hitting, fielding and speed could make him a dynamic talent at the big league level. A switch hitter who does not see a production dip from either side, there is plenty to be excited about with Jones. His makeup and born gifts provide optimism that he can tap into his high-end potential, but the wide range of outcomes for a prospect of Jones' profile is undeniable.
Age: 23 | Height/Weight: 6'0, 205 | Bat/Throw: L/R | 5th round (156), 2019 (SEA) | ETA: 2023
| | | | | | |
| --- | --- | --- | --- | --- | --- |
| HIT | RAW POWER | GAME POWER | RUN | FIELD | FV |
| 45/55 | 50/55 | 35/50 | 40/40 | 40/45 | 50 |
Offense
Traded midseason as part of the Diego Castillo trade, Shenton is the latest edition of an upper level prospect who the Rays specifically targeted. As someone who has enjoyed watching Shenton hit since his FIU days, I wasn't surprised to see the Rays go after him in the Castillo deal rather than a lower level lottery ticket, especially after the season he was in the midst of in High-A (.295/.418/.576) through 57 games.
Shenton has a sweet swing from the left side that his geared for all fields. A great feel for the barrel, Shenton stays behind the baseball well and gets to tough pitches. With his bat as the carrying tool, Shenton added a bit more of a leg kick to tap into more power, but did not see any timing issues as a result, which is often the concern. The adjustment helped Shenton launch 14 homers in 80 games between High-A and Double-A. While he lacks the present power and physical imposition that Mark Texiera had, I can't help but see the similarities in their swings from the left side.
Defense/Speed
As mentioned earlier, Shenton's bat is his carrying tool, but he has good enough actions and an average arm which should help his chances to stick at third. The Mariners were testing Shenton all over prior to trading him as the 23-year-old racked up multiple starts at third base, first base, second base, and left field. In his 13 games with the Rays, Shenton almost exclusively played third for their Double-A squad.
While Shenton is a below average runner, his footwork is good enough to potentially be average at any of those spots defensively. Left field could ultimately make the most sense, but it will be more so up to what the Rays prefer out of Shenton rather than what he is capable of, because I see him being fringe average at almost any of the spots he tried out this past year.
Outlook
Shenton's bat is something worth being excited about. He may never light the world on fire, but his sound approach, sneaky pop, and sweet swing give him a great chance to be a productive hitter. .280 with a strong on base and 20+ homers is attainable for one of the Rays' newest prospects.
Age: 23 | Height/Weight: 5'10, 175 | Bat/Throw: L/R | IFA: (2016) | ETA: 2023
| | | | | | |
| --- | --- | --- | --- | --- | --- |
| HIT | RAW POWER | GAME POWER | RUN | FIELD | FV |
| 50/60 | 50/50 | 40/50 | 40/40 | 40/45 | 45+ |
Offense
Maybe one of the most overlooked prospects in baseball, Jonathan Aranda did nothing but absolutely rake all year long. Between High-A and Double-A, Aranda hit .330/.418/.541 with 14 homers in 100 games. The reason why you may not have heard of Aranda is that he lacks the tools that get evaluators giddy. To a degree, I understand that, but nothing gets me more giddy than a pure hitter and Aranda is just that.
A slightly open stance with a rhythmic leg kick, Aranda has some of the best bat to ball skills I've seen in the minors. For that reason, Aranda has always been a difficult guy to strikeout, but pitchers were willing to go after him because of his lack of power output. Aranda finally answered the questions around his power by launching 14 homers this year without it coming at the expense of his high contact rate; the 23-year-old hit more home runs in the first month and a half of 2021 than he had in his previous 800 minor league plate appearances.
Aranda has above average power to his pull side, but his potentially plus hit tool will be what he rides to the show. If he is able to hit for even 15 home runs, which was made evident in this 2021 season, Aranda's ability to get on base and avoid K's gives him a chance to be an above average bat or better.
Defense/Speed
Here lies a big part of the problem for Aranda. He is a bit position-less. The Rays tried Aranda out just about everywhere, logging multiple games at second, third, first, shortstop and DH. A majority of his innings came at first base, where he seems to be a solid defender. I am not sure if Aranda is capable of anchoring the hot corner with his subpar arm, but second base could be a possibility as well. Aranda is a below average runner, but opportunistic on the base paths thanks to a high baseball IQ.
Outlook
With the power just now emerging and defensive questions, it is understandable that evaluators may be hesitant to place Aranda in the Rays top 10 prospects. Having a chance to see plenty of Aranda, he reminds me a ton of Ty France in regards to their skill-set and career arc; naturally, France was criminally underrated as well.
After corroborating my takeaways on Aranda with players who had played with and faced the Tijuana, Mexico native, I feel confident in my assessment that Aranda is a legitimate prospect with a chance to be a really solid bat at the big league level.
Age: 24 | Height/Weight: 6'2, 225 | Bat/Throw: R/R | 15th round (453), 2017 (SEA) | ETA: 2022
| | | | | |
| --- | --- | --- | --- | --- |
| FASTBALL | SLIDER | CHANGEUP | COMMAND | FV |
| 55/55 | 55/55 | 45/50 | 45/55 | 45+ |
Arsenal
Drafted out of Polk State Junior College in 2017, Romero has put up consistently excellent stats as he's progressed through the Rays system. 2021 has been his true explosion, however, striking out 145 batters in 110.1 innings against just 31 walks across Double and Triple-A.
Romero features a unique over the top arm slot that oozes deception. His heater parks in the low 90's, but plays up due to the ride he gets through the zone. The heater generates swing and miss at the top of the zone as well as weak contact when Romero locates it to the corners.
While Romero doesn't flash an offspeed pitch that screams plus, he has a pair of quality offerings in his curveball and changeup; both pitches play up thanks to his deception and strong command. The curve has sharp 11-5 break that Romero can throw for strikes with ease and can get swing and miss low out of the zone mostly due to the deception of Romero's delivery. The changeup features solid ASR and fade and can produce weak contact in the zone. Romero's high release point adds to the deception of the change. Despite the fact that it can get firm at times, Romero's changeup is a strong third offering.
Outlook
Romero's three pitch mix isn't flashy, however, the natural deception and strike throwing ability give him a chance to be an effective big league starter. After a rocky start to his Triple-A career, Romero dominated to a 0.55 ERA over his final five starts, putting him in position to possibly compete for a spot on the Rays' Opening Day roster. Tampa will need to add the 24-year-old to their 40-man roster ahead of this winter's Rule 5 Draft. Romero projects as high as a middle of the rotation arm with the fall back of another matchup righty out of the Rays stable.
Age: 20 | Height/Weight: 6'2, 190 | Bat/Throw: R/R | 5th round (150), 2018 (TB) | ETA: 2023
| | | | | |
| --- | --- | --- | --- | --- |
| FASTBALL | SLIDER | CHANGEUP | COMMAND | FV |
| 55/60 | 50/55 | 30/45 | 40/50 | 45 |
Arsenal
Stop me if you've heard this one before; the Rays took Bradley in the 5th round in 2018 and gave him twice the slot value, tantalized by his upside. At 17 years old on draft day, Bradley was one of the youngest players in the entire draft class. Bradley spent two years in Rookie Ball, as the Rays slowly paced his development. Bradley entered 2021 geared up for his first full-season, and his maturation was immediately visible (1.83 ERA in 22 Low and High-A starts).
Bradley's fastball is his best pitch. At 94-97 MPH with a ton of life, Bradley is able to get a ton of swings and misses when he elevates the heater, but also freezes hitters weary of his slider with fastballs at the knees. The slider flashes above average and has gotten better each time I see Bradley pitch. While it is not a wipeout pitch, Bradley locates the slider well and tunnels with his fastball impressively for a 20-year-old. His changeup is lagging behind as a third offering. It tends to get firm on Bradley and he has not shown a ton of comfort throwing it often.
Outlook
Being that he was drafted in 2018, it is easy to forget that Bradley is still too young to legally buy a beer. His secondary pitches need some refining, but the improvement of Bradley's fastball command and slider should have the Rays excited about the future. Now with a dominant full season under his belt, Bradley is still younger than 2021 No. 2 overall pick, Jack Leiter. As Bradley stands now, he projects as more of a back end arm, but with further refinement of his secondaries, the right-hander could be a solid middle rotation arm. I will bet on the Rays continuing to develop this athletic, exciting young arm.
Names to Watch
Carlos Colmenarez – SS – (DSL) – Admittedly, I don't have much on the 17-year-old who signed for $3 million last winter. There is plenty of buzz around this kid from Rays camp, so we will keep an eye out.
Tobias Myers – RHP – (Triple-A) – Myers really put it together this year, seeing the quality of his fastball tick up and his breaking ball become a potentially plus out pitch. With a decent feel for a chance as well, Myers was able to rack up gaudy strikeout numbers (11.2 K/9). Myers is another arm in this system that took a major leap.
Cole Wilcox – RHP – (Low-A) – Not only would Cole Wilcox be in the Rays top 10 had he not gone down with Tommy John surgery, but he would have had strong case for our Top 100 list. Wilcox has big stuff and a massive, projectable frame which should have Rays fans excited for his future, just with a bit of a detour.
Check out our other Top 10 Prospects lists: