Analysis
Tampa Bay Rays High-A Scouting Report
No surprise, but there is a ton of talent at the Rays High-A affiliate.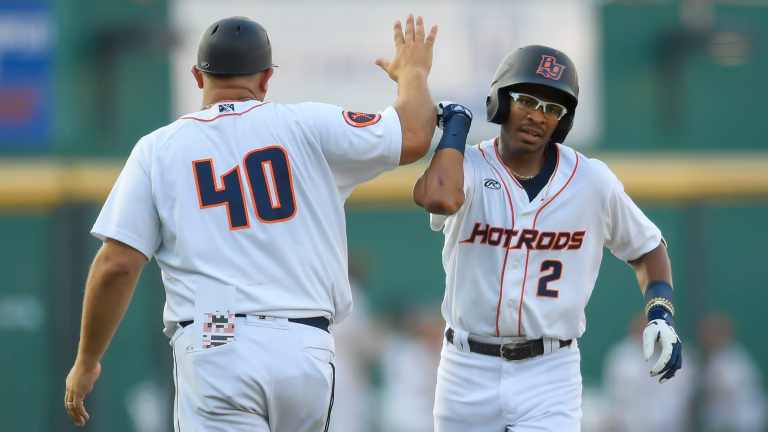 Last week, I was able to attend two games that featured the Bowling Green Hot Rods (Rays) and the Wilmington Blue Rocks (Nationals). These organizations are on opposite ends of the spectrum. The Rays' farm system is regarded as one of the best in baseball, while the Nationals system is depleted of talent, and Blue Rocks roster is not exception. In the six game series, the Hot Rods won four, fueled by top prospects Greg Jones, Curtis Mead, and Blake Hunt. Right after the series, Jones and Hunt were called up to Double-A, so this was the last look at the duo in High-A.
Greg Jones – SS – Age: 23
Shortstop Greg Jones has a package of tools that will get any baseball fan excited. His combination of power and speed work hand-and-hand, all while playing above average defense at a premium position. Oh yeah, and Jones is a switch hitter as well. The 2019 first round pick is having a career year, making up for lost time by hitting his way up to Double-A. Jones has translated his raw power into game power, slugging 13 homers this year compared to the one homer he hit in all of 2019. After being drafted 22nd overall, the North Carolina native was assigned to Low-A Hudson Valley, where he slashed .335/.413/.461 with a 163 wRC+ in 218 plate appearances.
Moving into mid-August, Greg Jones has had a great season to this point, showcasing his power and speed. So far this year, Jones has hit 13 home runs, while stealing 27 bags, and hitting .291 with a 146 wRC+. The main knock on the UNC-Wilmington product has been the swing-and-miss issues, holding a 30% strikeout rate in 2021. This shouldn't be a problem long term, as Jones currently holds a 11.3% walk rate, and his ability to hit will counteract the strikeouts. Due to his athleticism, good arm, and range, Jones has the option of moving to center field in the near future. This may work in his favor, as baseball's former top prospect Wander Franco is taking over the position for the Rays, along with Taylor Walls.
The main goal for Greg Jones and the Rays is to polish his game, making him a candidate to be a quick riser. With improved versatility, hands, and approach, the #9 Rays prospect (Baseball America) creates an intriguing Major League option for Tampa Bay.
Curtis Mead – INF – Age: 20
Curtis Mead may be one of the most interesting prospects in baseball. The Australian-born infielder was acquired from the Philadelphia Phillies for pitcher Cristopher Sanchez in November of 2019. While it may be too early to tell, it is startling to look like Mead will end up being the better of the two.
Mead's bat speed is impressive, while staying under control. His above average raw power begins to look like plus when he goes pull side, but Mead still has a good feel for going the other way. At 20-years-old with more room to fill out, it wouldn't be surprising to see the power continue to grow.
After playing parts of two seasons with the GCL Phillies, the 6-foot-2 infielder broke out with Low-A Charleston to start 2021, mashing to a line of .356/.408/.586 with a .442 wOBA and 164 wRC+. Mead's performance earned him a call-up to High-A where the numbers have come back down to earth a bit. Still productive, Mead has hit .282/.346/.436 in 127 plate appearances.
Through the end of July, he was leading all of the minor leagues in batting average. All this with strikeout rates under 20%, along with a growing ability to walk. Mead signed a five year contract extension with the Adelaide Giants of the Australian Baseball League, where he possesses a .799 career OPS over four seasons (Yes, he started playing there when he was 16). That Giants team is filled with Phillies prospects, such as Luke Williams, Kendall Simmons, Rixon Wingrove, and Cornelius Randolph.
Mead is still a raw, young talent, but there is no denying that he has hit at each level possible. In every season in both Australia and the United States, Mead never had an on-base percentage below .350 in a minimum of 40 games. Due to questions surrounding range and arm strength, Mead could find himself moving to the right side of the infield, at either first or second base, but again, things can change for the better in that regard too.
The expectation is for the Rays to take it slow and make sure they polish him correctly. While it may be a bit early for comps, a couple that I thought of were Royals' infielder Hunter Dozier and on the lower end, the Rays' Mike Brosseau. Mead is currently ranked as the 13th best prospect in the Rays' system according to Baseball America.
Blake Hunt – C – Age: 22
While Blake Hunt has yet to fully put it together at the plate, his ability defensively has not wavered. Last winter, Hunt along with Luis Patiño, Cole Wilcox, and Francisco Mejia were sent to the Rays in exchange for Blake Snell. The California native stands 6-foot-4 and projects as a glove first backstop with good power. While the hit tool is still a bit of a question, if Hunt can cut down on the swing and miss, there is a chance that he could turn into a solid everyday catcher. Hunt hasn't had too much success with the bat to this point, but keeps progressing through levels. The strikeout rate has and will be the biggest knock on his game, sitting in the upper 20s, reaching 30.7% to this point.
So far this season, Hunt is slashing .225/.307/.427 with a 98 wRC+ and nine homers. This is about average production in general and is consistent with previous seasons for the backstop. Defense is definitely Hunt's calling card, being regarded as an excellent blocker and pitch framer, along with having an above-average arm. Hunt has earned high marks for his makeup and something that stood out to me, personally, is that he greets the umpire every game by shaking their hand and introducing himself. While the floor is high on Hunt, the future could hold more if his bat comes around.
John Doxakis – LHP – Age: 22
I was fortunate enough to be able to attend a John Doxakis start, as he did not disappoint. The Blue Rocks had no answer for the 6-foot-4 lefty, only mustering two hits and striking out five times over five innings. Doxakis does what you want every pitcher to do: throw strikes. Other than a hit batter, he didn't walk anyone on Saturday night and consistently pounded the zone. The Texas A&M product has microscopic walk rate, at only three percent. Despite being around the zone consistently, Doxakis produces strikeout rates in the mid-to-upper 20s including a 38.2% rate at Low-A this season. Doxakis' best pitch is his slider, which showcases horizontal movement, along with a swing-and-miss fastball and a developing changeup. Something I noticed from his start was a heavy usage in his changeup versus righties.
If he can continue improving the third pitch, the southpaw projects as a back-end starter, with his floor being a funky reliever, something along the lines of Brent Suter. Like Suter, Doxakis works at a very quick pace, barely giving me enough time to make notes on velocity and pitch usage. The Houston, Texas native put together a nice resume at A&M, being named a finalist for the 2019 Golden Spikes Award, along with multiple All-American nods. Doxakis has parlayed that success into pro ball, putting up a FIP below three at each level. The continued development of all of his pitches will determine the future, but right now, Doxakis has been a pleasant surprise for a stacked Rays' system.