Interview
Greg Jones Is Turning Projection Into Production
Rays shortstop prospect Greg Jones talks about his journey to professional baseball and his breakout season.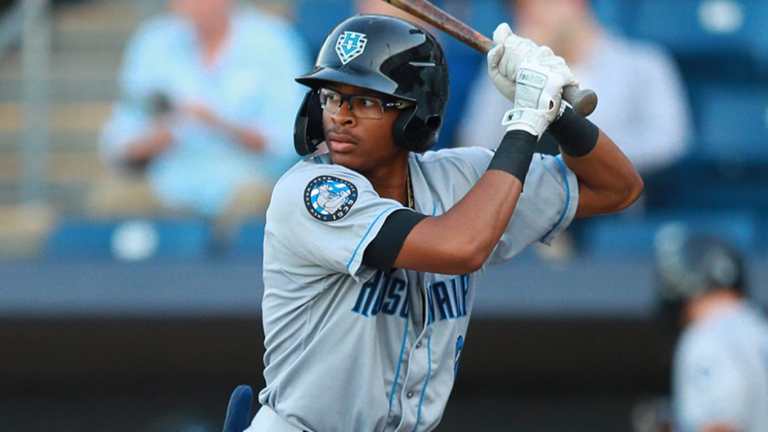 If you ask any player in the Rays organization who the best athlete in the system is, you'll get the same answer every single time: Greg Jones. The shortstop has consensus 70-grade speed on the 20-80 scale, and even ran a 6.3 second 60-yard dash at his UNC Wilmington pro day despite stumbling out of the gate.
Jones is more than an explosive athlete; he's a switch hitter with above average power, has made massive improvements defensively at shortstop, and is in tune with himself as a ballplayer. The 23-year-old mashed his way to an August promotion to Double-A, hitting .291/.389/.527 with 13 home runs, 27 SB, and a 145 wRC+ in High-A. Jones, in part, attributes the increase in production to the focus he placed on the physical side of things during the 2020 layoff.
"I took that time to focus on my body, try to get a litter stronger, and just take care of my body a little better," he said.
A Cary, North Carolina native, Jones decided to stay close to home for his collegiate career, signing with UNC Wilmington, a mere two hour car drive away. Jones was a self described "sleeper", entering his senior year of high school with only one offer (UNCW). As Jones started to turn heads in the late parts of his high school career, larger schools and pro scouts began to flock. For Jones, the attention was validating, but he was pretty set on attending UNC Wilmington.
"(UNC Wilmington) had always been there since the beginning," Jones said. "It was a great program, great staff, and I just wanted to take my skills somewhere that I could play every day from the jump."
Not only did Jones select UNC Wilmington over other schools, he opted to attend the school over starting his professional career. Jones would end up being selected in the 17th round of the 2017 MLB Draft out of high school, but felt like a few years of college ball would put him in a much better position longterm. He was right.
Two years later, Jones became the highest draft pick in UNC Wilmington history, going to the Rays 22nd overall in the 2019 MLB Draft. Now one of the better prospects in one of baseball's best systems, Jones has been able to learn from some of the best young players in the game.
"Times like instructs or spring training, I'm taking ground balls with Taylor Walls or Wander Franco," Jones said. "Just being around those guys makes you better."
As a switch hitter, Jones added that he benefits from just watching the way fellow switch hitter Wander Franco goes about his business. The same is true for the silky smooth Taylor Walls, who boasts one of the best gloves in the minor leagues.
"Me and Taylor go head to head when we're out there fielding ground balls," he said. "He is teaching me a lot and I'm learning a lot."
With the athleticism and strong arm that Jones possesses, there have been looming questions as to whether he would make the move to center field eventually. Jones has made all of his starts in the field this season at shortstop, and feels good about his chances of sticking there.
"I honestly didn't think I would get the opportunity to stay at shortstop this long," he said. "I've cleaned up my footwork and throws to first base, making plays in the hole, I feel better all around."
At the plate, Jones has enjoyed a surge in his power, smashing 14 homers in just 70 games this year. In his 2019 professional debut, Jones only hit one homer in 48 Low-A games. The switch hitter has divvied up the homers evenly, leaving the yard seven times from each side of the plate. Overall, Jones has definitely been more productive this year from the right side, slashing .314/.385/.643 vs. .255/.359/.431 from the left. Jones said his right handed swing was a focus for him heading into the season, but balancing the two different swings is something he is continuously improving upon.
The numbers and video above leave little doubt that Greg Jones can easily hit 20+ homers on an annual basis, with potentially league leading stolen base numbers (32 SB this year in 70 games). After the 2020 layoff and a late start to 2021 due to a quad strain, the Rays top 10 prospect has done his best to make up for lost time. By the time the year is over, the 23-year-old will likely amass close to 150 PA's in Double-A. Jones will likely begin his 2022 season in the same spot, with a chance to play his way into a mid or late season call up next year.
With elite speed and above average power at a premium position (shortstop or center field), Jones has the framework to be a star. Like any player, the goal is to reach the big leagues as soon as possible, but Jones is also focused on staying in the moment.
"I just want to finish this season strong and have fun with it," Jones said. "You don't get to play forever."
While Jones is correct in that all careers eventually come to an end, there's plenty of reason to believe that the potential 5-tool player will be wreaking havoc on the baseball field for many years to come.