Analysis
Why Shane Baz Can Be the Rays Best Pitching Acquisition
Shane Baz has shown enough in the upper-minors, it's time to see what he can do in the big leagues.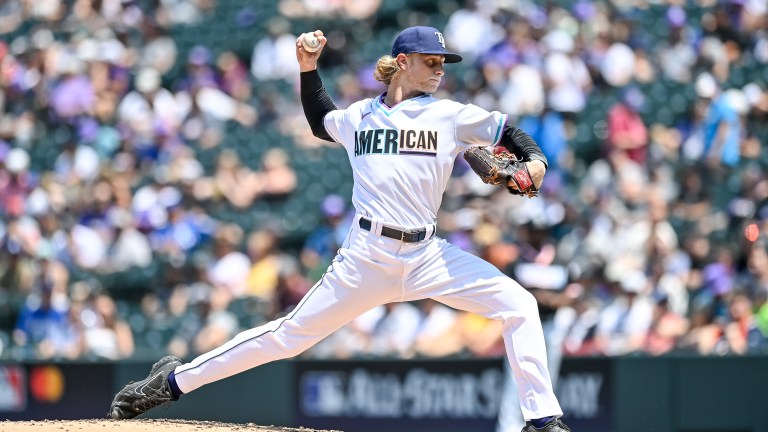 In a not very shocking development, the Rays have helped an extremely talented pitcher take his ability to the next level. This time, it's right-hander Shane Baz who has been arguably the best pitching prospect in all of the minor leagues this year.
Baz came over in the increasingly infamous Chris Archer trade with the Pirates which also sent Tyler Glasnow and Austin Meadows to Tampa. The Pirates dealt Baz just a year after drafting him 12th overall out of a Texas high school in 2017. At the time, Baz was viewed as the third piece in the deal. Now, to say the newly turned 22-year-old has a shot to reach Tyler Glasnow heights is not outrageous.
The 6 foot 2, 190 pound power pitcher has enjoyed an absurd season through Double and Triple-A, pitching to a 2.26 ERA and 0.84 WHIP in 12 starts with an absurd 8.2 K-BB ratio. The stuff has always been there for Baz. His arm speed is outrageous and he has shown an ability to touch triple digits since he stepped foot in pro baseball.
Where Baz has made the biggest jump is his command. Coming into this year, Baz smoothed over his mechanics and delivery. Quieting things down has not compromised his quality of stuff, still sitting mid-90s with the heater along with a plus slider and changeup which flashes plus as well.
10 walks in 55.2 IP for Baz is a far cry from the 40 grade command that many evaluators gave him heading into the year. Now that Baz is reliably throwing strikes and is still racking up swings and misses in Triple-A, you have to wonder if it is only a matter of time before the Rays call him up to bolster the pitching staff in some capacity.
The fastball, slider combination alone would allow Baz to offer a potentially lights-out, multi-inning bullpen option, but given his three viable pitches and strong command, Baz could settle right in as a starter at the big league level.
The Rays seem to find a way to piece together their pitching, but with Tyler Glasnow on the 60-day IL due to a UCL strain, there is definitely a bit of unknown around the rotation. The bullpen, as always, is elite and should return closer Nick Anderson soon who is already back making rehab appearances.
Luis Patiño, the other top-end pitching prospect for the Rays, has held his own as a starter and the peripherals point towards better days ahead (4.19 FIP, 3.65 xERA). While a rotation featuring two rookies would be a bit of a risky proposition in the postseason, the 21-year-old Patiño is gaining valuable experience with each start down the stretch of the second half. Shane Baz could benefit from the same sort of exposure ahead of the playoffs.
Despite having a wealth of talented arms, the Rays do not have your traditional five reliable starters. The team will likely look to add another starter, but with the amount of talent the Rays have, it is safe to expect them to ride the hot hand especially down the stretch. That could mean a multi-inning opener from Collin McHugh or Andrew Kittredge, as well as a quick hook on less reliable starters in Michael Wacha and Spencer Yarbrough to give way to the Rays incredible bullpen.
There is no reason not to throw Shane Baz into the equation for the Rays at this point. At best, he's anchoring a spot in their rotation. At worst, he slots in this year as a reliever who can be stretched out with great swing and miss stuff.