Rankings
Kansas City Royals Top 10 Prospects
The Kansas City Royals Top Prospects for 2021.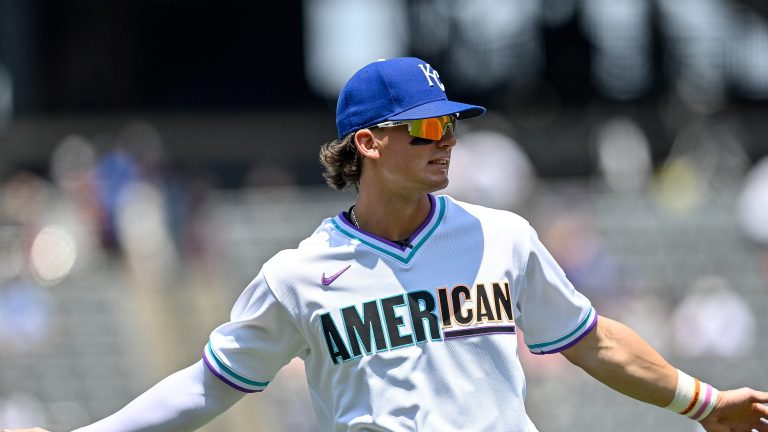 Led by baseball's best prospect, the Royals have an trio of hitters that combined for 110 home runs. Clearly, offense is far from an issue for the Royals, however they have a lot to figure out in the pitching department.
Kansas City did a good job of addressing the lack of organizational pitching depth in the 2021 draft with Frank Mozzicato and Ben Kudrna; two guys who may lack the elite stuff of some other former top picks for the Royals, but boast an impressive feel to pitch.
Age: 21 | Height/Weight: 6'1′, 200 | Bat/Throw: R/R | 1st Round (2), 2019 (KC) | ETA: 2022
| | | | | | |
| --- | --- | --- | --- | --- | --- |
| HIT | RAW POWER | GAME POWER | RUN | FIELD | FV |
| 50/60 | 65/70 | 55/65 | 60/60 | 55/60 | 70+ |
Offense
Very quiet, upright stance to start and proceeds to drop into his back hip, triggering a hovering front leg rather than a leg kick. Witt has a truly special lower half that allows him to produce huge exit velos while his body is in spots that most hitters cannot get to. The lower half is eerily similar to Mookie Betts thanks to the combination of athleticism, mobility and explosion. Even when Witt takes 'B' and 'C' swings, his lower half allows him to create insane, line to line power.
Witt's hands and bat speed are just as impressive, and they allow him to cover top of the scale velocity in all parts of the zone. Witt's electric and wiry body allows him to produce at least plus raw power at present and there could be more to come as he continues to mature and add strength. In addition to his immense raw hitting tools, Witt has already shown an advanced ability to manage at bats. He is quick to make adjustments at the plate and rarely gets fooled.
You'd never guess this kid is only 21-years-old when you watch him. He truly carries himself like a big leaguer already. He currently deploys an approach that features tons of line drives and fly balls, with a slight preference to do damage to his pull side.
The only knock on Witt's offensive profile is his slight tendency to swing and miss. He manages this well, however, and even if he ends up striking out above 25% at the big league level, his huge exit velos and plus-plus speed should fuel a sustainably high BABIP on an annual basis. Witt's bat has the potential to be special, and it wouldn't surprise us if he produces slash lines close to .280/.350/.550 with 30-35 homers per year.
Defense/Speed
Witt is an electric defender who comes with zero concern about his ability to handle shortstop at the big league level. His range is well above average thanks to a fantastic first step as well as light feet that allow him to get to balls that most shortstops cannot.
His arm might be plus-plus with continued development and it allows him to make throws from deep in the hole. Not only can Witt make the web jem play, but he's also close to automatic on routine plays as well. Yet another loud tool, Witt is a plus-plus runner who registers home to first times close to four seconds routinely. He also cuts bases like a big leaguer already, and he could be a threat to lead the league in triples, especially at Kauffman Stadium. 20+ stolen bases can be expected as he continues to refine his base stealing.
Outlook
Not only are Witt's raw tools incredible, he is also lauded for his makeup, work ethic and passion for playing. The tools could be plus or better across the board when all is said and done, making Witt the rare, true five tool player. Physically, he reminds us a bit of Trevor Story, although Witt's tools are louder and his natural feel to hit far exceeds Story's. This is a guy who has a chance to become a perennial MVP threat in the American League. Oh yeah, and he is big league ready now.
Age: 22 | Height/Weight: 6'1, 190 | Bat/Throw: L/R | 2nd Round (52), 2017 (KCR) | ETA: 2022
| | | | | | |
| --- | --- | --- | --- | --- | --- |
| HIT | RAW POWER | GAME POWER | RUN | FIELD | FV |
| 45/55 | 50/55 | 35/45 | 55/55 | 45/50 | 55 |
Offense
After a brutal 2019 that saw Melendez post a 67 WRC+ in 110 games at high A his stock dropped tremendously leaving many prospect evaluators wondering if Melendez would ever make the big leagues. Melendez spent the 2020 COVID year revamping his swing and approach at the plate and the results have been truly astounding thus far in 2021.
Melendez has transformed himself into one of the best power hitters in the minor leagues, producing a 157 WRC+ with 28 homers across 79 games at Double-A while earning a callup to Triple-A at just 22 years of age. Melendez's swing features a slow and controlled load with a sizable leg kick aimed to enhance his timing and power at the plate.
He sits into his back hip at a high level, allowing his barrel to stay in the zone for a long time and produce tons of loft and leverage especially to his pull side. He produces tons of hard line drive and fly ball contact which has been a big reason why the homers have come in bunches this year. Melendez has learned to manage at-bats at a high level, picking his spots to inflict damage. His sweet left handed stroke should produce homers at the highest level, and his feel for hitting has developed so much that he has a chance to produce solid batting averages and on base percentages to go along with the power.
Defense/Speed
Melendez has been a highly regarded defender dating back to his high school days and the offensive improvements he's made in 2021 haven't come at the expense of his above average defensive projection behind the plate. His frame and athleticism allows him to block pitches at a high level and his soft hands make him a solid receiver already. Melendez also features plus arm strength behind the dish that should help neutralize the running game even at the highest level.
Interestingly, the Royals are getting Melendez reps at third base. Given his sped up timeline, he may be blocked by Salvador Perez at the catching position for the time being. Like most catchers, Melendez is a below average runner, although his athleticism and baseball instincts should make him a solid baserunner.
Outlook
Melendez's offensive improvements have made him one of the biggest breakout prospects in 2021. Left handed catchers with power and above average defense are a rare breed, only adding to Melendez's future profile and projection. He has the toolset to become an All-Star one day, and if he keeps hitting like he has, we could see him in the big leagues as soon as 2022.
Age: 22 | Height/Weight: 6'1, 180 | Bat/Throw: L/R | 1st Round (14), 2021 (KCR) | ETA: 2022
| | | | | | |
| --- | --- | --- | --- | --- | --- |
| HIT | RAW POWER | GAME POWER | RUN | FIELD | FV |
| 50/55 | 60/60 | 50/55 | 40/40 | 65/65 | 55 |
Offense
Slightly open and upright stance with simple loading triggers with his hands and lower half. Very easy move into his back hip allows ample time for Pratto to identify pitches and unleash his big league ready swing that features plus bat speed and bat to ball skills. Pratto manages the strike zone at an elite level, albeit with some strikeouts. He's patient early in the count, looking for pitches he can drive into the gaps and do damage with. His ability to recognize spin is extremely advanced and his swing allows him to sit back and do damage to hanging breaking stuff even when he's looking for heaters. Pratto is a big league ready hitter right now and at only 22 years of age, he is only going to get better.
Defense/Speed
Pratto's glove at first base is arguably the best in the minor leagues and he should compete for gold gloves as soon as he gets called up. He's as smooth as they come at first with soft hands and tons of range. The icing on the defensive cake is Pratto owns a plus arm that allowed him to fire low 90's fastballs in high school. He's a below average runner so first base will likely be his spot and he will save his infielders tons of errors over there.
Outlook
Pratto is a safe bet to hit at the big league level and the upside is considerable given his advanced approach at the plate and plus raw hitting tools. The Royals should feel good about Pratto as a long term option at first and we could see him in the show as early as Opening Day next year.
Age: 22 | Height/Weight: 6'5′, 225 | Bat/Throw: R/R | 1st Round (4), 2020 (KC) | ETA: 2023
| | | | | | |
| --- | --- | --- | --- | --- | --- |
| Fastball | SLIDER | Curveball | Changeup | Command | FV |
| 65/65 | 60/65 | 60/60 | 55/55 | 35/45 | 50 |
Arsenal
Lacy's illustrious career at Texas A&M concluded with him becoming the fourth overall pick in the 2020 draft to the Kansas City Royals. Lacy's raw stuff was arguably the best among 2020 draftees and he has flashed the same power arsenal in his introduction to professional baseball. His four pitch mix is among the best in the minor leagues, however, the lack of command he has shown has led to alarmingly high walk rates that have raised some red flags throughout the industry.
Lacy features over the top arm action with high-effort and aggressive mechanics. He has had trouble repeating them, becoming extremely erratic with all four of his pitches. Lacy's fastball is the building block of his pitch mix, a heavy offering sitting in the mid 90's that's capable of getting swings and misses within the strike zone. When his mechanics are synced up he delivers the pitch effectively at the bottom of the zone creating weak contact and ground balls. His command of the pitch is below average, leading to Lacy consistently working behind in the count. The issue is, Lacy still leaned on his heater more than 70% of the time because his secondary command was even more erratic.
The southpaw's trio of offspeed pitches all flash plus or better at their best with his slider currently the most advanced of the three. It's firm in the upper 80's to low 90's and he creates exceptional depth and glove side action when his mechanics are in rhythm. Lacy's curveball sits in the low 80's and features sharp 12-6 break that is capable of generating lots of chases when he locates it down. Rounding out Lacy's arsenal is a mid to upper 80's changeup with fantastic fade and late life. All three pitches are capable of generating swing and miss in the strike zone. The only problem is Lacy has not shown he can consistently command any of them.
Outlook
Lacy's explosive arsenal is truly impressive to the naked eye but the lack of command he has shown is alarming. He often looked sped up and tense on the mound this year and while there are some mechanical inconsistencies. Early reports of from the Arizona Fall League had Lacy running the fastball up to triple digits, which only reinforces his rare raw stuff. If Lacy can learn to command his pitches at even an average level there is definite ace potential in his arm despite the extreme volatility that has emerged in his profile.
5. Frank Mozzicato – LHP – (Complex)
Age: 18 | Height/Weight: 6'3′, 180 | Bat/Throw: L/L | 1st Round (7), 2021 (KC) | ETA: 2024
| | | | | |
| --- | --- | --- | --- | --- |
| FASTBALL | CURVEBALL | CHANGEUP | COMMAND | FV |
| 50/55 | 50/55 | 35/45 | 45/55 | 50 |
Arsenal
Mozzicato is a projectable, athletic lefty and it is easy to dream on both the frame and stuff. Standing at 6-foot-3 and just a tick over 180 pounds, the Connecticut left-hander has ample room to fill out and add velocity.
While his velocity will not blow you away, it's still a respectable 90-94 that garners ample swing and miss due to carry through the zone and late life. With a seemingly easy 10+ pounds that will be added just due to being on a professional lifting and eating program, Mozzicato should see 93s and 94s turn into 95s and 96s.
Mozzicato also has elite feel for a curveball that he can land for strikes, throw to the back foot of righties, or spike low and out of the zone. I would argue that he has the best feel of anyone in the 2021 draft for his breaking pitch and it is not by accident. He essentially throws three different curveballs. He uses three "treks," as he calls it depending on the breaking ball he wants to throw. He will pitch hitters backwards effectively, something so few 18 year olds possess the ability to do.  
Outlook
While we may be higher than some on Frankie Mozzicato, I will not even hesitate to compare the young left hander to young Cliff Lee; his upside is seemingly endless. Mozzicato has starter traits and his ceiling is that of someone who will pitch as a frontline starter for a big league club. Royals fans should be drooling over the idea of a rotation anchored by Singer, Lynch, and Mozzicato sooner rather than later. Despite just being drafted, Mozzicato has the tangibles and intangibles of a pitcher who can climb fast through the minors.
6. Vinnie Pasquantino – 1B – (Double-A)
Age: 23 | Height/Weight: 6'4′, 240 | Bat/Throw: L/L | 11th Round (319), 2019 (KC) | ETA: 2023
| | | | | | |
| --- | --- | --- | --- | --- | --- |
| HIT | RAW POWER | GAME POWER | RUN | FIELD | FV |
| 55/60 | 55/60 | 50/55 | 30/30 | 45/50 | 45+ |
Offense
Open stance into a toe tap that gets him back closed while keeping weight back before unleashing with an explosive lower half. Pasquantino always had the bat to ball skills, but answered the questions around his power output with 24 homers in 2021.
What is really impressive about Pasquantino is his ability to repeat movements. His swing is so consistent and there is no wasted energy. Pasquantino's elite body control helps him almost always be on time and get to tough pitches. Pasquantino's feel to hit blended with his more developed power is hard to find; the first baseman was the only prospect in the entire minor leagues to have a 1.00 K/BB ratio and more than 20 home runs. If 24 home runs wasn't enough to be sold on Pasquantino tapping into plus pop, he produced consistent exit velocities in the top 5% of the minors.
An 11th round pick out of Old Dominion in 2019, Pasquantino just wasn't going to be on top prospect radars unless he put up monstrous numbers. He has did just that in 2021, yet we are not seeing him ranked by the industry where he should be. Those who I have spoken to who played agains Pasquanino marveled at his approach and polish at the plate. Pasquantino has the potential to hit in the .280+ range with a high on base and 20+ homers, and his floor doesn't seem too far off from that.
Defense/Speed
At 6-foot-3, 240 pounds, Pasquantino is not the most nimble, but he does have soft hands defensively at first base. His foot work is good enough and he is good with the glove whether it's digging balls out of the dirt or smothering grounders. Speed will not be a part of his game, but Pasquantino is a smart base runner.
Outlook
Pasquantino excels at the most important aspect of baseball, making consistently hard contact and getting on base. There is not a freakish tool to dream on and he is a first baseman, which is what causes him to be a victim of what I like to call the "Ty France Effect"–in other words we ignore steady offensive production as it pertains to prospect rankings because of defensive limitations or a lack of jaw dropping tools. In a game that is riddled with so much swing and miss, players like Vinnie Pasquantino are incredibly undervalued. Frankly, I see a potential for Anthony Rizzo type of production from Pasquantino. Don't be surprised if he is on the Top 100 list in our next update.
7. Alec Marsh – SP – (Double-A)
| | | | | | |
| --- | --- | --- | --- | --- | --- |
| FASTBALL | SLIDER | CURVEBALL | CHANGEUP | COMMAND | FV |
| 60/60 | 60/60 | 50/50 | 45/50 | 35/45 | 45 |
Arsenal
The surface level numbers may not be the sexiest on Alec Marsh, but the right-hander has a legitimate chance to be as good as any of the Royals high ceiling arms should he be able to stay healthy. Marsh had his season cut short by arm fatigue, and the Royals have been really careful with him since drafting him in the 2nd round of the 2019 Draft.
Marsh is another guy who saw a big velo-jump at the Alternate Training Site, the righty can run it up to the upper-90s with life and doesn't sit much lower than that. Marsh has a sharp mid-80s slider with bite that flashes plus. The pitch is effective to lefties and righties thanks to the late break, but the also has an above average change up and curveball to mix in as well.
While Marsh only turned in 25 innings in 2021, he reinforced a lot of what people were hoping to see after the ATS reports. The 23-year-old racked up strikeouts at an insane 40% clip, and while the 4.97 ERA is a bit high, his 3.15 xFIP and .348 BABIP point to better days ahead. A pitchability guy in college, Marsh has above average command which helps his explosive arsenal play up as well.
Outlook
It seems like health is the biggest question for Marsh, and of course that is the most unpredictable thing in the world. The Royals are being careful with Marsh and the hope is that he will be at full strength and ready for a complete workload in 2022. The uptick in Marsh's stuff paired with his already present pitchability give him a really good chance to be a solid middle rotation starter who can rack up the K's.
8. Kyle Isbel – OF – (MLB)
Age: 24 | Height/Weight: 5'11', 183 | Bat/Throw: L/L | 11th Round (319), 2019 (KC) | ETA: 2023
| | | | | | |
| --- | --- | --- | --- | --- | --- |
| HIT | RAW POWER | GAME POWER | RUN | FIELD | FV |
| 45/50 | 50/50 | 40/45 | 60/60 | 60/60 | 45 |
Offense
Preloaded into his back hip, Isbel deploys a toe tap for timing leading to a rotationally driven swing. Isbel's limited waste of movement and simplicity to his swing have helped him keep his strikeout rate in the 20% range for most of his Minor League career. Isbel can fly open a bit early at times, resulting in a higher pull rate (52%), but he showed more comfort staying behind the baseball as the season went on and in his short big league stint last year.
Isbel has average power with maybe a bit more than that to his pull-side. The outfielder is at his best when he is looking for gaps and picking the right spots to go for pull-side damage. While he may not light up the stat sheet, Isbel doesn't really have a hole in his game and as he continues to gain more understanding of himself as a hitter, there is some room for a bit more production.
Defense/Speed
Isbel is a phenomenal defender in either corner and and solid enough in center to stick. If Isbel can stay up the middle, that would take a bit of pressure off of his bat, but his potentially plus defense in the corners would compensate for a lack of consistent power output. Isbel is teetering right on the edge of plus run times, but he gets great jumps on the base paths and should be able to swipe a decent amount of bags in the big leagues.
Outlook
A high floor prospect who is likely to start the season in the big leagues, there is still enough room for growth with Isbel to hope that he can become a solidly above average regular. Injuries and a Covid cancelled season have limited the 24-year-old to just 228 games in the minors since being drafted in 2018, so further development at the plate is not out of the question.
As is, Isbel is an average left handed bat with good speed and defense who can pop one out of the yard just frequently enough. I think Isbel will continue to refine his approach and turn into a solid everyday outfielder. It could be a rather seamless transition from Andrew Benintendi to Kyle Isbel should the Royals decide to let Benny walk after this year as the two profile very similarly.
9. Nick Loftin – SS – (High-A)
Age: 23 | Height/Weight: 6'1′, 180 | Bat/Throw: R/R | 1st Round (32), 2020 (KC) | ETA: 2023
| | | | | | |
| --- | --- | --- | --- | --- | --- |
| HIT | RAW POWER | GAME POWER | RUN | FIELD | FV |
| 55/55 | 45/45 | 40/45 | 55/55 | 45/50 | 45 |
Offense
Quiet toe tap and limited hand movement prior to pulling the trigger, Loftin has a swing geared for contact through simple, repeatable movements. The lack of violence in Loftin's swing paired with the fact that he hit just 14 homers in 122 collegiate games led to skepticism in regards to how much power he could provide at the pro level. Loftin isn't a guy who you show up early to the ballpark to see take batting practice, but he showed in his first professional season that he has at least average power in the tank.
Average power is all Loftin needs to be a decent regular at the shortstop position because his game is otherwise sound. One other small adjustment that Loftin could benefit from is driving the ball to all fields a bit more. Loftin was shifted a ton in 2021 which could catch up to him more at the higher levels. Still, Loftin is a really tough guy to strikeout and does a good job of putting the ball in play, punching out just 14.6% of the time.
Defense/Speed
An above average runner, Loftin will sprinkle in some stolen bases and can stretch some singles into doubles. Loftin's speed will never be a major asset, but it is a nice complement to his game. His athleticism translates to the field as well where he projects as an above average defender at shortstop. Expect added value with his glove, and enough speed for 10-15 bags.
Outlook
While Loftin is not quite knocking on the door of the Top 100 list, he is a high floor prospect who will stick at shortstop. If Loftin learns to use the whole field a bit more, he could be an above average, well-rounded shortstop. The fallback for Loftin is a contact oriented utility man with some sneaky speed.
10. Erick Peña – OF – (Complex)
Age: 18 | Height/Weight: 6'3′, 205 | Bat/Throw: L/R | IFA: $3.9M – 2018 (KC) | ETA: 2023
| | | | | | |
| --- | --- | --- | --- | --- | --- |
| HIT | RAW POWER | GAME POWER | RUN | FIELD | FV |
| 30/45 | 45/60 | 30/55 | 55/50 | 50/55 | 45 |
Offense
An incredibly physical 18-year-old, Peña's long limbs and already muscular frame instantly clue you in to what the kid could be capable of at the plate. While he may not appear young by stature, Peña's rawness can be seen in his swing and approach. It was a rough professional debut for the Dominican Republic who hit just .161/.256/.314 in 40 Rookie-Level games.
Peña is a bit reminiscent of a baby giraffe in the box. Because of his long legs and levers at such a young age, he struggles to control his body, flying open with his front side and often drifting forward. As a result, Peña's bat often drags through the zone, missing late and under velocity and rolling over on secondary stuff. Despite losing his body on swings, Peña has the strength and bat speed to generate some strong exit velos and impressive carry.
Still just 18 years old with a delay to his professional debut, it is important to remain patient with a prospect like Peña, but it is also difficult not to drop him a few spots in the rankings given the major adjustments he needs to make at the plate. Peña has showed a willingness to experiment, playing around with more of a toe tap in favor of the leg kick he deployed prior, but from what I saw, neither really helped keep his weight back. If Peña can iron out the kinks in his swing, his offensive upside is tremendous with his strength, bat speed, and physicality.
Defense/Speed
An above average runner, Peña takes long strides and can glide up the line. Those long strides translate in the field as well, where he shows good closing speed and has made improvements with his routes. Peña added some muscle and may continue to slow down a tick, making him likely to end up in a corner where his arm and athleticism could play well.
Outlook
Projecting a kid who was born in 2003 is near impossible, especially with Peña's profile. The big, strong, athletic outfielder has massive potential and a vast range of outcomes. Things could click for Peña and he could thrust his way into Top 100 Prospect conversation, or he could continue to struggle in Rookie-Ball. It's a bit of a copout, but it's just too early to tell on Peña and his massive potential is still enough to keep him in the Royals Top 10 Prospects, even if it's not incredibly likely that he reaches his ceiling.
Names to Watch
Tyler Gentry – OF – (High-A): A third round pick in the 2020 Draft, Gentry can really swing it. There's some swing and miss concern, but he held his own jumping right into High-A ball in 2021. Gentry is a good athlete who should play above average defense in either corner. If Gentry can limit the swing and miss, he could be an above average regular in the corner outfield.
Angel Zerpa – LHP – (MLB): A breakout 2021 in the K department, Zerpa pitches his way to a big league cameo, with a chance to crack the Opening Day roster in 2022. Zerpa's fastball jumped in quality, which helped bolster his whiff numbers as the curveball and changeup already were above average. Zerpa could be a back end starter or a solid long relief option.
Ben Hernandez – RHP – (High-A): It wasn't quite the debut season that Hernandez had hoped for after being selected 41st overall in 2020, but the newly turned 20-year-old showed flashes of what the Royals were excited about when the took him out of high school with their second selection. Hernandez has work to do in regards to his command, but his changeup looks like it can be a plus plus pitch. A definitive third pitch, and fastball command will determine Hernandez's fate, but he still has plenty of time to sort that out.
Check out our other Top 10 Prospect lists below:
Seattle Mariners Top 10 Prospects
Tampa Bay Rays Top 10 Prospects
Baltimore Orioles Top 10 Prospects
Detroit Tigers Top 10 Prospects