Rankings
Detroit Tigers Top Prospects
Detroit Tigers Top Prospects for 2021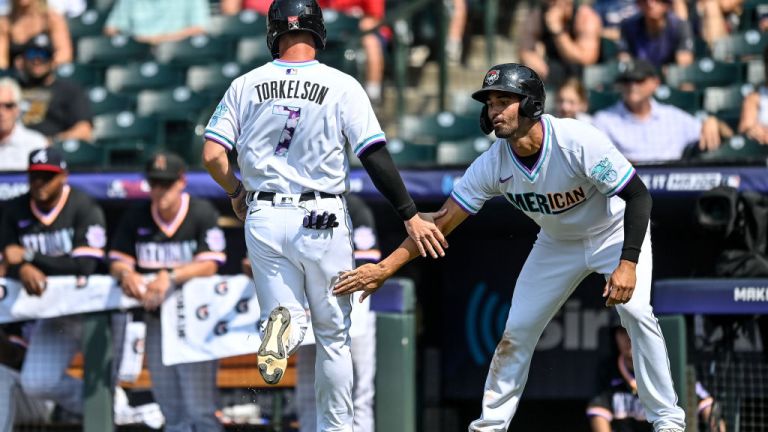 There might not be a more elite prospect duo in baseball than Riley Greene and Spencer Torkelson. With the Tigers two top prospects leading the system, there is a lot more talent through the rest of the top 10 that Detroit fans should be excited about. Check out the write ups below!
Age: 20 | Height/Weight: 6'3′, 200 | Bat/Throw: L/L | 1st Round (5), 2019 (DET) | ETA: 2022
| | | | | | |
| --- | --- | --- | --- | --- | --- |
| HIT | RAW POWER | GAME POWER | RUN | FIELD | FV |
| 55/60 | 55/60 | 50/55 | 55/50 | 45/55 | 60+ |
Offense
Very quiet mechanics in the box allow him to get to a consistent launch point and unleash his silky smooth left handed swing which features plenty of quickness and bat speed. The raw, physical attributes of Greene's swing are truly satisfying to watch and as he matures and puts on weight, it appears that plus power is not out of the question.
Greene has put up consistently good stats as one of the youngest players at each of the levels in which he has played, and the fact that he's still a little rough around the edges when it comes to managing at-bats gives us reason to believe that as he matures as a hitter, his ceiling is monstrous.
Greene has a tendency to get big and expand in plus counts, which is completely understandable for such a young hitter. He has struck out a decent amount throughout his professional career (27%), but it's likely due to his youth/approach rather than any major swing and miss concerns. After all, the 20-year-old has already mashed his way to Triple-A, and is raking there.
His ceiling as a pure hitter rivals his teammate Spencer Torkelson, albeit without quite as prolific of power. Greene still earns plus raw power projection from us and taps into his present pop well thanks to his overall strong feel to hit. Already physical and only 20-years-old, there is still room to add muscle and get stronger. His bat speed and balance at the plate are immense, as are his bat to ball skills that should enable him to hit for both average and power at the highest level.
Defense/Speed
Greene is a very physical athlete who's athleticism is more geared toward fluidity than sheer speed in the field. He's has been able to log a majority of his starts in center field thanks to above average speed and a fantastic first step. His routes have steadily improved since turning pro as well.
If he adds the weight to his frame and becomes a 225 pound monster, he will likely lose a step and move to a corner where his above average arm would play nicely. Greene moves really well for his size and could be average in center though a move to a corner is expected. He'd be well above average defensively in either corner. Greene's strong first step translates into good jumps on the base paths as well, allowing him to be an opportunistic base stealer.
Outlook
Hitters with Greene's gorgeous left handed swing and consistently solid production don't come along often at such an early age. There is still ample room for improvement both physically as well as his process and approach in the box. His sweet left handed swing and frame are reminiscent of Michael Brantley, and he could approach Brantley-like numbers in his prime, with a little bit more power at the expense of some contact. This 20-year-old has the potential to be a special bat alongside Spencer Torkelson in the Tigers lineup for years to come.
2. Spencer Torkelson – 3B/1B – (Top 100 Rank: 7)
Age: 22 | Height/Weight: 6'1′, 220 | Bat/Throw: R/R | 1st Round (1), 2020 (DET) | ETA: 2022
| | | | | | |
| --- | --- | --- | --- | --- | --- |
| HIT | RAW POWER | GAME POWER | RUN | FIELD | FV |
| 60/60 | 60/70 | 55/70 | 40/35 | 40/45 | 60+ |
Offense
One of the simplest swings you'll find in all of baseball, Torkelson uses miniscule movements to produce consistently thunderous contact with ease. Very rarely do you find a player who is as direct and quick to the ball the way Torkelson is. His immense strength allows him to produce plus-plus power with minimal forward movement; he simply sits into his back hip and lets it eat.
His incredible bat speed gives him more time to identify pitches than most and he combines it with an incredible eye. As a result, Tork's plate discipline has allowed him to produce elite BB/K numbers while still hitting for a ton of power. His levers are short and strong, which is why he's so short to the baseball and is able to produce such loud contact.
Torkelson's approach includes ample amounts of line drives and fly balls, specifically to his pull side, leading to his immense power evaluation. Despite not seeing much to hit, Torkelson's at bats are routinely excellent. Another quality that sticks out about Torkelson is how easy his takes are; he seemingly never looks fooled or off balance. This is a can't miss bat, capable of producing 40 homers on an annual basis and could be the anchor of an offense for years to come.
Defense/Speed
Torkelson's sheer size limits his mobility in the field and he will likely be a first baseman when all is said and done. That being said, the Tigers have him splitting time between first base and the hot corner this year. His feet are heavier than you'd like at third and a below average defender is probably the ceiling over there. His arm plays as average, though he does possess the soft hands that you see in a lot of first basmean. He's a 40 runner at best so it doesn't appear that a corner outfield spot is doable either. You can squint and see an average defender at first, but it likely doesn't matter, the bat is going to drive his value.
Outlook
Torkelson was widely heralded as the best bat to come out of college baseball in years and he has done nothing to take that mantle away from him. He'll likely end up at first base where he can focus on perfecting his swing and becoming the best hitter he can be.
If he hits his ceiling, Torkelson should be a top ten hitter in all of baseball and should make the spacious confines of Comerica Park appear small. His swing is simple, repeatable, and powerful, making it built for consistency and longevity. It's probably not a coincidence that his stroke reminds us a bit of Nelson Cruz.
Age: 19 | Height/Weight: 6'2, 195 | Bat/Throw: R/R | 1st Round (3), 2021 | ETA: 2023
| | | | | | |
| --- | --- | --- | --- | --- | --- |
| FASTBALL | SLIDER | CURVEBALL | CHANGEUP | COMMAND | FV |
| 60/70 | 60/70 | 45/55 | 50/60 | 40/55 | 55 |
Arsenal
Easy mechanics with limited effort in his delivery and natural deception. Jobe has a fastball that sits 93-95, but it gets on hitters quickly. Jobe's slider is what scouts have marveled at, posting absurd spin rates over 3,000 RPMs with sharp late break. The Oklahoma Prep arm made high school hitters look silly with the pitch whether it was against a random high school or first rounders. He hasn't needed it yet, but the 19-year old has flashed an above average changup as well, which should give him a solid third offering. The most advanced pitcher in his prep class, and that we have seen in a while, Jobe has the makings to climb quickly and has a ton of physical projection.
Outlook
It's hard to project a kid that we admittedly have not seen much of, but his mechanics, physicality, and pitch data all point towards someone who can develop into an ace. His advanced feel for three pitches as a prep arm should allow him to handle aggressive assignments.
Age: 23 | Height/Weight: 6'3, 210 | Bat/Throw: R/R | 2nd Round (38), 2020 | ETA: 2023
| | | | | | |
| --- | --- | --- | --- | --- | --- |
| HIT | RAW POWER | GAME POWER | RUN | FIELD | FV |
| 45/55 | 50/55 | 40/50 | 55/50 | 45/55 | 55 |
Offense
A twitchy athlete, Dingler generates big time bat speed with limited effort. A quiet load and small stride is all Dingler needs to unleash above average power and impact on the baseball. The 23-year-old's simple swing accommodated a smooth transition to professional baseball. The former Ohio State Buckeye put up numbers immediately in High-A, hitting .287/.376/.549 with 8 home runs and a 149 wRC+.
Dingler looked so good in the box and behind the dish in his 32 High-A games that the Tigers were probably a bit too aggressive in promoting him to Double-A. While Dingler's production slowed in Double-A, he continued to make strides behind the dish. The jump from High-A to Double-A was as dramatic as ever in 2021 talent wise, and just 35 games into his professional career, Dingler had to adjust to much better pitching while accommodating a brand new staff of more advanced arms.
I say all this because I didn't see much to be concerned about at the plate from Dingler despite his upper level struggles. His K-rate remained in a reasonable range, and he didn't look blatantly overmatched. Dingler seemed to be caught in between at times and could use some refining in his approach which will inevitably come with more at bats. His swing, bat speed, and athleticism are too impressive to be concerned about Double-A struggles in a debut professional season. Dingler has the potential to produce offensive numbers similar to J.T. Realmuto if he continues to develop the way I think he is capable of.
Defense/Speed
After starting his collegiate career at Ohio State in center field, Dingler made the full time move to catcher in his sophomore season. Dingler is as athletic of a catcher as you're going to find in the minors and has an a plus arm which he put on display in his first professional season (36% CS). Unsurprisingly, Dingler moves well behind the dish and is a good blocker. He could use some further refinement in regards to his receiving, but that will come with more innings. Dingler's athleticism, arm strength, and work ethic give him a great chance to be an above average defender at the position.
As a former center fielder, it may not surprise you that Dingler is a good runner. While he may slow down a bit as he accumulates innings with the gear on, Dingler ran a sub 6.6 60 yard dash in the Buckey's pro day. Only registering one stolen base in 85 games, Dingler did not really try to make stolen bases a part of his game, but he is a net positive on the base paths with the way he is able to move.
Outlook
Speaking of net positives, 2021 was just that for Dillon Dingler. As an outfielder converted to catcher, you could make the case that Dingler was affected as much as anyone in the Tigers system by the cancellation of the 2020 season from a collegiate and professional standpoint. The newly-turned 23-year-old made up for lost time, and is on track for a 2023 MLB Debut. Dingler has a chance to be one o the better catchers in the game, with rare offensive production from the position and athleticism that can help him be an above average defender.
5. Ty Madden – RHP – (Complex)
Age: 21 | Height/Weight: 6'3, 215 | Bat/Throw: R/R | 1st Round (32), 2021 | ETA: 2024
| | | | | |
| --- | --- | --- | --- | --- |
| FASTBALL | SLIDER | CHANGEUP | COMMAND | FV |
| 55/60 | 60/60 | 35/45 | 40/50 | 50 |
Arsenal
An ideal pitcher's body, Ty Madden has the look of your prototypical starter. Madden leaned on his mid-90s fastball nearly two thirds of the time at Texas, dialing it up to the upper 90s when he needed to. The pitch has life, but it did not quite garner the swing and miss numbers you'd expect, especially against lefties. Madden's fastball generated a 17% whiff rate in his junior season and just a 13% whiff rate against left handed hitters. That said, the pitch profile is strong, and I blame the lack of swing and miss more so on Madden's fastball command rather than the quality of the pitch; Madden fills up the strike zone with the fastball, but tended to miss his spots or miss over the middle.
Madden's plus slider is his best offering. A sharp mid-80s pitch with late, two-plane break. The right-hander threw the pitch 33% of the time in 2020 and piled up a near 50% whiff rate. The pitch is effective to both right-handed hitters and left-handed hitters, which allowed Madden to pile up great numbers despite his lack of trust in his changeup.
The changeup will be the key for Madden. He only tried the pitch around 3% of the time, and nearly exclusively to left-handed hitters. It was largely a coin flip as to whether Madden would throw the pitch for a strike when he did try it, but on the occasions that the offering was in the strike zone, I could see some potential in it as a third pitch.
Outlook
Madden's stuff is good enough to make him a middle-of-the-rotation arm if his command improves. With further development of his changeup and a better feel for hitting his spots, Madden could have the upside of a No. 2 starter.
6. Roberto Campos – OF – (Complex)
Age: 18 | Height/Weight: 6'3, 200 | Bat/Throw: R/R | IFA: $2.85M – 2019 (DET) | ETA: 2024
| | | | | | |
| --- | --- | --- | --- | --- | --- |
| HIT | RAW POWER | GAME POWER | RUN | FIELD | FV |
| 25/50 | 50/60 | 35/60 | 45/40 | 45/55 | 45+ |
Offense
Upright stance into a rhythmic leg kick and an explosive rotational swing, nothing about Campos looks 18 years old when he is in the batters box. Signed for just under $3 million as a 16-year-old, Campos has always been physically mature, but showed much more maturity at the plate in the 2021.
Campos controls his body really well given his stature and lack of professional AB's. A rotational hitter who stays on his back side well, Campos has the potential for massive power with limited effort. Looks at Campos have been somewhat limited, making it hard to draw an early conclusion on the 18-year-old's hit tool, but his barrel seems to live in the zone and his overall body control bode well for his longterm outlook.
In the limited action I've seen, Campos can tend to fly open a bit early at times, causing him to miss under or inside the baseball. To me, it seems like the issue is more of a product of pitch recognition and at times cheating for the fastball more than anything else.
Defense/Speed
Campos played two thirds of his games at the complex in center field, though I would bet that a move to a corner is more likely as he enters his twenties. Since he was 16 years old, Campos earned high marks for his athleticism despite his large stature. Closer to an average runner, Campos has good footwork and an above average arm that should give him a chance to be a decent defender in a corner (full disclosure: I haven't seen enough to judge his reads/routes).
Outlook
Obviously, there's wide range of outcomes with a prospect of Campos' profile. That said, he is more advanced than I thought he would be upon seeing him for the first time. The raw power and swing that Campos possesses should have Tigers fans dreaming of what this kid can become. Campos has as much offensive upside as anyone in the Tigers system not named Greene or Torkelson, it just may take him some time to get there.
7. Colt Keith – 3B – (High-A)
Age: 20 | Height/Weight: 6'3, 210 | Bat/Throw: R/R | 5th Round (132) – 2020 (DET) | ETA: 2024
| | | | | | |
| --- | --- | --- | --- | --- | --- |
| HIT | RAW POWER | GAME POWER | RUN | FIELD | FV |
| 35/55 | 45/50 | 30/50 | 40/40 | 40/50 | 45 |
Offense
A swing that is geared for contact, Keith has his hands in a comfortable spot and loads by sinking into his back hip. Keith's hands remain pretty stagnant pre-pitch, relying on his lower half to serve as his loading mechanism, but the lack of negative movement with his hands may be contributing to the lack of violence in his swing.
A 19-year-old for much of the 2021 season, Keith demonstrated impressive bat to ball skills in Low-A, hitting .320/.436/.422 with 30 BB's against 39 K's in 44 games. At 6-foot-3, 210 pounds and a premium power position, the hope is that Keith will be able to produce some more power moving forward. The left-handed hitter launched just two home runs in 157 PA's, but he seemed to be feeling things out a bit in what was his first professional season.
Keith has an all fields approach and bat to ball skills that should allow him to be an above average hitter as he progresses, but he will need to create a bit more separation or more of the "rubber band effect" in order to impact the baseball a bit more. It is also important to note that Keith has long been a two-way prospect, getting pro looks as an pitcher as well. The Tigers drafted Keith to play third base, and he will be able to add more hitter's strength as he continues through the Tigers' programs. The the bat to ball skills are present for Keith which is harder to teach a young hitter than adding strength and violence to a swing which makes me optimistic about Keith's development.
Defense/Speed
A shortstop in high school, Keith made the move to third in his professional debut. As a former pitcher who could run it up to 93 MPH, Keith's plus arm at third stands out. While he didn't have the range to stick at short professionally, his above average footwork at third base paired with a big arm give him a chance to be a plus defender at the hot corner.
Outlook
It is common for two-way players to come into more power as they focus on putting on hitter's strength, something that Alec Burleson told us about during his 2021 offensive breakout. Keith has the components of an above average hitter, and if the power starts to develop like I think it can, he could be a name to watch to potentially break into the Top 100 lists by the end of next season–especially with his defensive potential at third. Until Keith adds power, his ceiling will be a bit tempered.
8. Dylan Smith – RHP – (Complex)
Age: 21 | Height/Weight: 6'2, 180 | Bat/Throw: R/R | 3rd Round (74) – 2021 (DET) | ETA: 2024
| | | | | | |
| --- | --- | --- | --- | --- | --- |
| FASTBALL | SLIDER | Curveball | Changeup | COMMAND | FV |
| 50/55 | 60/60 | 50/55 | 45/50 | 40/50 | 45 |
Arsenal
Dylan Smith has been on pro scout radars since his Texas high school days, but elected to attend Alabama after being drafted in the 18th round out of high school by the Padres in 2018. After hardly pitching in his first two collegiate seasons due to struggles with command, Smith put it all together in 2021. The athletic right-hander became the Crimson Tide's most reliable arm, punching out 113 in 98.1 innings against just 20 walks.
Smith has a good feel for his breaking balls, with his mid 80s slider as the best offering. Smith went to the slider 25% of the time, racking up a 51% whiff rate on the pitch thanks to its tilt and sharp bite. His curveball is a solid third offering, sitting in the high 70s and registering a 40% swing and miss clip. Smith struggled to locate his changeup as well as his other offerings, but it flashed above average when he commanded it.
Still a bit susceptible to hard contact, Smith's low 90s fastball got knocked around quite a bit. Opponents slugged .502 off of his heater, including 11 of his 14 home runs allowed on the year. The bright side is, opponents hit just .209/.227/.323 against Smith's secondaries with a 49% K-rate.
Outlook
Since arriving on Alabama's campus in 2018, Smith added some weight and with that velocity to his heater. While the fastball sits in the low 90s, he has been able to touch 96 on occasion. If Smith's fastball ticks up and lives closer to the mid 90s range, or he learns to command it a bit better, his secondary stuff is already good enough to give him middle-of-the-rotation potential.
9. Cristian Santana – SS – (DSL)
Age: 17 | Height/Weight: 6'0, 165 | Bat/Throw: R/R | IFA: $2.95 million – 2021 (DET) | ETA: 2025
| | | | | | |
| --- | --- | --- | --- | --- | --- |
| HIT | RAW POWER | GAME POWER | RUN | FIELD | FV |
| 30/55 | 30/50 | 20/50 | 55/50 | 40/50 | 45 |
Offense
One of the prized free agents in the 2021 class, the Tigers had long scouted Santana prior to inking him to a near $3 million bonus in January. Santana earned high marks for his advanced bat to ball skills at a young age, and put it on display in his professional debut. In 54 Dominican Summer League games, Santana hit .269/.421/.520 with 9 HR.
Santana deploys a gathering leg kick which he times up well. His swing is advanced for a 17-year-old with above average power potential. Given how mature Santana is at the plate for his age, I expect him to continue to have success through the lower levels. His production against the upper levels in the subsequent years as well as how he fills would will be something to follow. Santana generates some easy carry and backspin, and has he adds muscle to his 165 pound frame, 25 homer upside is feasible.
Defense/Speed
Good range and an average arm, Santana has a shot to stick at shortstop. The question will be how much added weight could potentially impact his footwork which is presently good enough to stay up the middle. Santana is an above average runner who should be able to trickle in some stolen bases as well.
Outlook
Another player in this system who I have admittedly gotten a limited amount of looks at and is just too young to project with supreme confidence, the limited looks I have gotten of Santana lead me to believe he is a higher floor prospect than most of his IFA peers. Santana's maturity at the plate should help him acclimate to the lower levels well, with the questions being can he stick at short and how much power will he hit for? No matter what level of competition, 9 homers in 54 games is encouraging from a 17-year-old prospect whose hit-tool I feel pretty good about. Cristian Santana is another name that could have some major helium in the next couple years in this Tigers system.
10. Izaac Pacheco – SS/3B – (Complex)
Age: 18 | Height/Weight: 6'4, 225 | Bat/Throw: R/R | 2nd Round (39) 2021 (DET) | ETA: 2025
| | | | | | |
| --- | --- | --- | --- | --- | --- |
| HIT | RAW POWER | GAME POWER | RUN | FIELD | FV |
| 25/50 | 50/60 | 45/60 | 45/40 | 40/50 | 40+ |
Offense
Rhythmic gather and weight shift, Pacheco doesn't need much to unleash major impact on the baseball. At 6-foot-4, 225 pounds, Pacheco boasted some of the best raw power in the 2021 prep class along with Brady House and Joshua Baez. Like many big bodied, young power hitters, Pacheco comes with some swing and miss concerns. The 18-year-old is still working on harnessing his lower half, which at times can be out of sync with his upper body.
Pacheco does not need to do too much to generate power, but at times you can see him selling out for pull side power and yanking off of the baseball. He has showed flashes of comfort letting the ball travel and going the other way, which will be a key for the teenager. Pacheco has the power to leave the yard foul pole to foul pole as he learns to stay behind the baseball and control his body.
Defense/Speed
Most believe that Pacheco will eventually make the move to third where his bat more than profiles and his plus arm should play fine. Despite the general belief that he will move to the hot corner, Pacheco played all 26 games in the Complex League at shortstop. I was really impressed with the way Pacheco moves to the baseball, and his ability to make throws from different arm angles which leaves me to believe that there is an outside shot that he can play shortstop, but assuming he may slow down a step as he reaches his twenties, third base may make the most sense. From what I've seen, Pacheco could be a plus defender at third base.
For now, Pacheco is a tick above average as a runner, but he will likely be fringe average by the time he reaches the upper levels of the minors.
Outlook
Pacheco is a high ceiling, high risk prospect who will take quite some time to develop. The Tigers bet on their ability to develop the big infielder by offering him $2.75 million–$850K over slot–to sign him away from Texas A&M. Pacheco has the strength, body, and bat speed to produce 30+ home run power if it all clicks, but there is a long way to go for the Tigers' 2021 draft pick.
Players to Watch
Gage Workman – SS – (High-A): A plus defender at shortstop and switch hitter, Workman is a high floor prospect who brings a lot of value with his glove. Workman has the ability to hit for above average power, which would give him a better chance to be a regular shortstop, but if he can't hit enough, he fits the profile of a quality utility guy.
Reese Olson – RHP – (Double-A): It was a bit of a roller coaster season for Olson, which included seven starts of at least seven strikeouts, but also six starts of four or more walks. Traded for Daniel Norris at the deadline, Olson has a wide selection of intriguing pitches, but really struggles to harness them.
Ryan Kreidler – SS – (Triple-A): Kreidler exploded following his promotion to Triple-A last season, but the metrics point towards his fantastic 41 games being a bit of a flash in the pan. Long known as a contact oriented hitter, Kreidler tried to add to the slugging department, which has resulted in more swing and miss. Still, 22 home runs was a nice positive for the soon-to-be 24-year-old.
Joey Wentz – LHP – (Double-A): Command was an issue for Wentz in 2021, but the southpaw has a solid three pitch mix that gives him a chance to be a decent back end of the rotation arm. A 25% K-rate is nothing to be upset about, but a 14% walk rate is. If Wentz can even harness average command, he should be able to hold down a No. 4 or No. 5 spot in a rotation.
Check out our other Top 10 Prospect lists already published below: