Analysis
Detroit Tigers Promote Top Prospect Riley Greene
The Detroit Tigers are injecting a spark into their lineup today, as top prospect Riley Greene is set to make his MLB debut.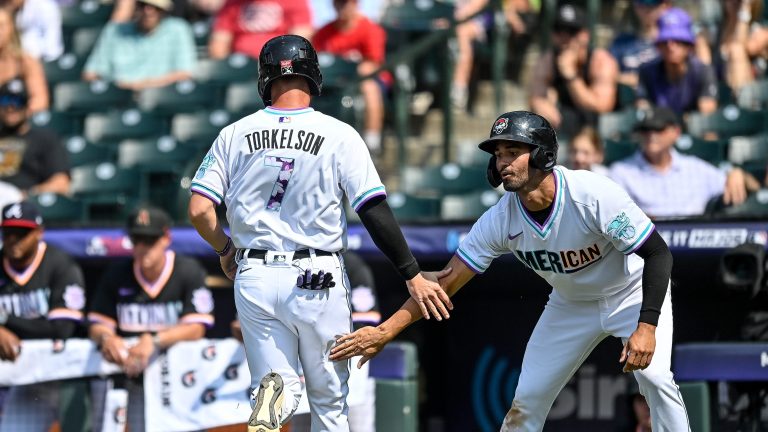 After a disastrous start to the season, Detroit fans can crack their first smile in awhile. Just Baseball's No. 6 prospect, Riley Greene, has been called up and set to debut Saturday.
Greene was poised to break camp in Detroit, pairing the lefty outfielder with the Tigers other top prospect Spencer Torkelson. However, a late spring injury delayed his debut and started a downward spiral for Detroit. Greene appeared in 15 games for Triple-A Toledo slashing .274/.338/.387 before getting the call up.
Tigers Manager A.J. Hinch will likely slot Greene into the lineup everyday. Outfielders Daz Cameron and Austin Meadows recently hit the injury list, creating a clear opportunity for Greene to see regular playing time. The Tigers offense ranks last in most significant offensive categories and Greene will look to provide the spark the Tigers lineup needs.
What tools does Greene bring? Look no further than Aram Leighton's write up.
6.Riley Greene – OF – Detroit Tigers
Age: 21| Height/Weight: 6'3′, 200 | Bat/Throw: L/L | 1st Round (5), 2019 (DET) | ETA: 2022
| | | | | | |
| --- | --- | --- | --- | --- | --- |
| HIT | RAW POWER | GAME POWER | RUN | FIELD | FV |
| 55/60 | 55/60 | 50/55 | 55/50 | 45/55 | 65 |
An advanced hit-tool paired with exciting power potential and impressive athleticism make Riley Greene one of the most exciting, well-rounded prospects in baseball.
2021 Stats (AA/AAA): .301/.387/.534, 24 HR, 57 XBH, 148 wRC+, 27.4 K%, 11.3 BB%
Offense
Very quiet mechanics in the box allow him to get to a consistent launch point and unleash his silky smooth left-handed swing which features plenty of quickness and bat speed. The raw, physical attributes of Greene's swing are truly satisfying to watch. As he matures and puts on weight, it appears that plus power is not out of the question.
Greene has put up consistently good stats as one of the youngest players at each of the levels in which he has played, and the fact that he's still a little rough around the edges when it comes to managing at-bats gives us reason to believe that as he matures as a hitter, his ceiling is monstrous.
Greene has a tendency to get big and expand in plus counts, which is completely understandable for such a young hitter. He has struck out a decent amount throughout his professional career (27%), but it's likely due to his youth/approach rather than any major swing and miss concerns. After all, Greene mashed his way to Triple-A Toledo as a 20-year-old and performed there too.
His ceiling as a pure hitter rivals his teammate Spencer Torkelson, albeit without quite as prolific of power. Greene still boasts plus raw power projection and taps into his present pop well thanks to his overall strong feel to hit. Already physical and only 21 years old, there is still room to add muscle and get stronger. His bat speed and balance at the plate are immense, as are his bat-to-ball skills that should enable him to hit for both average and power at the highest level.
Defense/Speed
Greene is a very physical athlete who's athleticism is more geared toward fluidity than sheer speed in the field. He's has been able to log a majority of his starts in center field thanks to above-average speed and a fantastic first step. His routes have steadily improved since turning pro as well.
If he adds the weight to his frame and becomes a 225-pound monster, he will likely lose a step and move to a corner where his above-average arm would play nicely. Greene moves really well for his size and could be average in center, though a move to a corner is expected. He'd be well above-average defensively in either corner. Greene's strong first step translates into good jumps on the base paths as well, allowing him to be an opportunistic base stealer.
Outlook
Hitters with Greene's gorgeous left-handed swing and consistently solid production don't come along often at such an early age. There is still ample room for improvement both physically as well as with his process and approach in the box. His sweet left handed swing and frame are reminiscent of Michael Brantley, and he could approach Brantley-like numbers in his prime, with a little bit more power at the expense of some contact.