Feature
Cardinals Prospect Alec Burleson Discusses His Meteoric Rise
The Cardinals prospect is quickly looking like one of the steals of the 2020 Draft.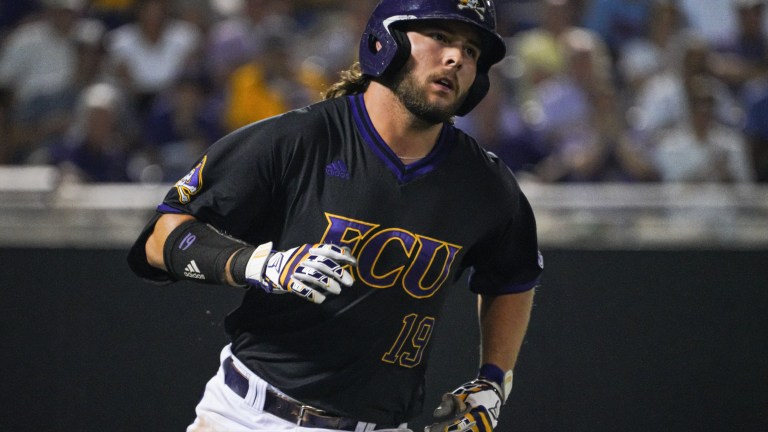 After being selected 70th overall in the 2020 MLB Draft, Cardinals outfield prospect Alec Burleson is already looking like one of the biggest steals from his class.
Burleson could not have had a much better start to his professional career, earning the call-up to Double-A after just 11 games in High-A Peroia. The young outfielder also hasn't missed a beat in his first 22 games at Double-A Springfield. Between the two levels, the 22-year-old is slashing .280/.351/.515 with 9 homers and 25 RBI in 33 games.
Aside from the obvious improvement of command and stuff in Double-A, Burleson says the biggest adjustment has been how pitchers attack hitters.
"The pitchers' breaking stuff is a tick better and their command is a tick better," Burleson said. "In hitter's counts, a fastball isn't guaranteed. They pitch to my weaknesses, they don't really pitch to their strengths."
The added emphasis on scouting reports, and ability of pitchers to execute them, is a defining characteristic of upper-level baseball. However, that hasn't kept Burleson from producing a 122 wRC+ despite being more than two years younger than his competition.
Burleson's hit-tool was seen by most evaluators as one of his biggest strengths, so his smooth transition to professional baseball does not come as a total shock. Where Burleson may be surprising some is his power output. In just 33 games, the Cardinals outfield prospect has already hit 9 homers. That matches the most home runs he hit in a full season at East Carolina University, where he starred as a two-way player.
The power surge is not out of nowhere for Burleson, who largely attributes the breakout to being able to focus solely on hitting. Burleson made 47 appearances on the mound at ECU and was a key part of the pitching staff for three seasons.
"Focusing on hitting has allowed me more benefit in the weightroom," Burleson said. "As a pitcher, upper-body was very limited. It's allowed me to pick up that strength at the plate."
Burleson's nine homers rank behind only Nolan Gorman's ten for most in the Cardinals system, and while the shift to just hitting has paid dividends, Burleson says his time on the mound has helped him shape his approach at the plate as well.
"It helps me understand how they want to pitch me," he said. "It helps me guess a bit better sometimes."
Since getting the call up to Double-A, Burleson has trimmed his strikeout rate to 24% while maintaining a respectable 9% walk rate. A promising development from the Cardinals outfield prospect has been his comfort hitting the ball with authority to all fields. The uptick in power has coincided with Burleson going the other way roughly 40% of the time, boding well for a prospect who was already seen as a guy with good pull-side power.
Striking out only 9% of the time in his collegiate career, punch-outs were never a problem. As Burleson faces more complicated pitching at the higher levels, he has focused on simplifying things with two strikes.
"It sounds cliche, but see ball hit ball," the outfielder said. "You see what you see and you do what you can with it."
Burleson saw a ton of left on left curveballs in college, but the left-handed hitter says that southpaws are definitely more willing to challenge him with the heater in professional baseball. This has encouraged him to boil things down a bit at the plate.
After a slow start against left-handed pitching as a pro, Burleson has started to put together more consistently solid at-bats against southpaws and recently launched his first left on left homer. Already an above average hit-tool guy, improved consistency against southpaws would make him as complete of a hitter as you'll find in the minors.
On the defensive side of things, Burleson has been getting acclimated to playing outfield every day. In college, he split time between first base, the mound and the outfield. The full-time transition to the outfield has gone well for him so far, but Burleson admits things speed up a bit in Double-A.
"The game is a little bit faster in Double-A, they'll run in your face a little bit," Burleson said. "The ball comes off a lot harder, but I am getting really comfortable out there and trusting what I see with my reads."
While not viewed as a plus runner, the 6 foot 2, 212 pound outfielder can still close in on balls in the gap (as you can see in the video above). With Burleson's pitching background, it's no surprise that his arm plays up in the outfield as well, giving him the chance to be an above average defender in either corner.
Burleson is ranked as Just Baseball's 7th best prospect in the Cardinals system, but don't be surprised if the 22 years-old continues his rapid rise from there.
Listen to the full interview with Alec Burleson below: