Analysis
Your Viewing Guide to the Best Games on 2023 MLB Opening Day
It's Christmas morning for baseball fans, the beginning of the MLB season. In a full slate of games, these are the best to watch on Opening Day.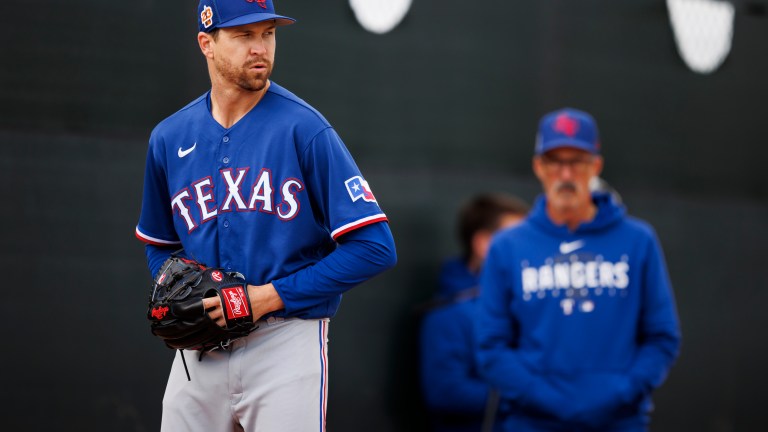 There really is nothing like Opening Day. All 30 teams play in 15 contests, with the first pitch of the day coming in somewhere around 1:00 p.m. ET and the last pitch not being recorded until well past midnight on the East Coast.
Today is a day to play hooky from school or work, head out to the ballpark, bar or just home in your living room to watch our first full slate of MLB action for the 2023 season.
With so much great baseball being played, it may be hard to keep tabs of everything going on in the league today, so we figured it would be good to give you a viewing guide to the best games that you can tune into to start your season off right.
Giants vs. Yankees: 1:00 p.m. ET
Pitching Matchup: Logan Webb vs. Gerrit Cole
We have two games set to kick off the festivities today, but one of them is far superior to the other. The San Francisco Giants are set to make their season debut in Yankee Stadium, where Logan Webb will square off against Gerrit Cole.
There is no great history between these two teams and it is still strange to see interleague matchups on Opening Day, but in comparison to the other 1:00 p.m. game, it is no contest where your attention should be.
Webb vs. Cole is a far better pitching matchup than you will find in the other game, where two lefties of far different caliber will go head-to-head. In Washington D.C. the Atlanta Braves will square off against the Nationals putting Max Fried against Patrick Corbin.
Corbin might be the worst pitcher to take the mound on Opening Day, which should allow the Braves to jump out to an early lead with their ace on the bump. Keep your eyes on Cole and Webb for the first hour until we get some better games at 2:00 p.m.
Brewers vs. Cubs: 2:20 p.m. ET
Pitching Matchup: Corbin Burnes vs. Marcus Stroman
Is there anything that says baseball is back more than the first day game at Wrigley?
The 2:00 o'clock slate is headlined by a great pitching matchup between 2021 NL Cy Young Corbin Burnes and the always fun to watch, Marcus Stroman. The Brewers and Cubs are rivals in the NL Central, with each featuring rosters that hope to contend in 2023.
Dansby Swanson will make his Chicago Cubs debut playing up the middle alongside Nico Hoerner. Cody Bellinger will also make his Cubs debut, playing with All-Star Ian Happ in the outfield.
Milwaukee has plenty of new faces on their roster this year, from catcher William Contreras, to outfielder Jesse Winker. The name to really watch though is rookie infielder Brice Turang, who earned a spot on the Opening Day roster in Spring Training.
The other game of this second hour is a matchup between the Baltimore Orioles and Boston Red Sox. These two teams will be battling it out at the bottom of the AL East, but there might not be much intrigue in a Kyle Gibson vs. Corey Kluber pitching matchup.
At 3:10 p.m. ET, we have a game between the Detroit Tigers and Tampa Bay Rays with Eduardo Rodriguez and Shane McClanahan on the hill, but the best pitching matchups really begin the following hour.
Phillies vs. Rangers: 4:05 p.m. ET
Pitching Matchup: Aaron Nola vs. Jacob deGrom
Fresh off signing a five-year, $185 million contract this offseason, Jacob deGrom will get to showcase his incredible talent in front of Texas Rangers fans for the first time. DeGrom will be going up against an ace he has matched up with many times in the NL East, Aaron Nola
Nola and deGrom are no strangers, with Nola finishing as the second runner-up to deGrom in the 2018 NL Cy Young race. With pitchers this good, it may be hard to scratch a run early.
Still, there is plenty of star power to watch in the batter's box, as Marcus Semien and Corey Seager enter year two in a Rangers uniform. If they play up to their potential, Semien and Seager could easily become the top double play combination in baseball by season's end.
Meanwhile, the Phillies feature the best middle infielder in this contest, with Trea Turner set to make his debut with a new club. Turner is coming off being one of the clear heroes for Team USA in the World Baseball Classic, leading the tournament with five home runs.
Mets vs. Marlins: 4:10 p.m. ET
Pitching Matchup: Max Scherzer vs. Sandy Alcantara
In a day with a lot of great pitching matchup, this is arguably this best one. Last year's NL Cy Young and the No. 1 pitcher in baseball, Sandy Alcantara will go up against a three-time Cy Young winner, Max Scherzer.
Alcantara was sensational all season long, but really took his game to another level whenever he got to pitch at home. The 27-year-old pitched to a 1.64 ERA over 121 innings on that mound he owned in Miami. Across 16 starts at home, Alcantara went 9-4, throwing three complete games and one shutout.
Now when I went to write this article, I remembered the Mets having Alcantara's number this year. Then I looked back at the game logs and turns out, they were just one of the few teams who showed he was mortal.
Alcantara pitched to a solid 3.33 ERA in four starts against the Mets. In his first start in New York, Alcantara earned a victory, allowing two runs over eight strong innings. His next time out he faced the Mets in Miami and they got to him for four runs. Alcantara still pitched seven innings. The Cy Young responded with seven scoreless in his next time facing the Mets.
Maybe it was the last matchup that colored my impression of Alcantara's season against the Mets, as he yielded four runs over just five innings pitched, giving up eight hits. We'll see if Alcantara responds in a similar fashion to what we saw last year and carves them up as revenge.
If your curious how Scherzer fared against the Marlins last year, the NL East veteran somehow missed Miami across his 23 starts.
White Sox vs. Astros: 7:08 p.m. ET
Pitching Matchup: Dylan Cease vs. Framber Valdez
Notice how the pitching matchups keep getting sexier as the night wears on. Dylan Cease and Framber Valdez is about as good as it gets.
Cease is one of the most electric strikeout artists in the game. He has eclipsed 225 strikeouts in each of his last two seasons and finished 2022 as the runner-up to Justin Verlander in the Cy Young race. Now Verlander has left the league, giving Cease a wide-open path towards contending for the award again in 2023.
Meanwhile, Framber Valdez is coming off pitching his team to a championship, winning both of his starts in the World Series.
The Houston Astros certainly have the more exciting team on paper, although they are missing a big piece in Jose Altuve. David Hensley will look to fill the void left by Altuve, as the Astros hope to continue their dominance of the American League.
Guardians vs. Mariners: 10:10 pm. ET
Pitching Matchup: Shane Bieber vs. Luis Castillo
Last but certainly not least, the Cleveland Guardians and Seattle Mariners will close out our slate of Opening Day games, along with the Los Angeles Dodgers and Arizona Diamondbacks. The pitching matchup of Zac Gallen and Julio Urias is pretty great in that Dodgers/D-Backs game, but if I have to decide which game I'm watching later tonight, it's the one that has Julio Rodriguez in it.
Rodriguez's Mariners are one of the most-anticipated teams to watch this season, with a roster that has been built around the 22-year-old superstar to win now. Part of that roster building was adding a bona fide ace at last year's deadline, trading for and extending Luis Castillo.
Castillo is one of the best pitchers in baseball and could certainly contend for a Cy Young this season. The same can be said about Shane Bieber, who won the Cy Young in 2020.
Down the stretch last year, the Guardians and Mariners were playing some of the best baseball in the game in their push to become Wild Card teams. With a great pitching, All-Star players like J-Rod, Jose Ramirez and Andres Gimenez, and two electric bullpens, this promises to be the perfect ending to an amazing day of Major League Baseball.