Analysis
Top Five Double Play Combinations in Baseball For 2023
A great double play combination can take a team very far in Major League Baseball. Here are some of the best duos in the game today.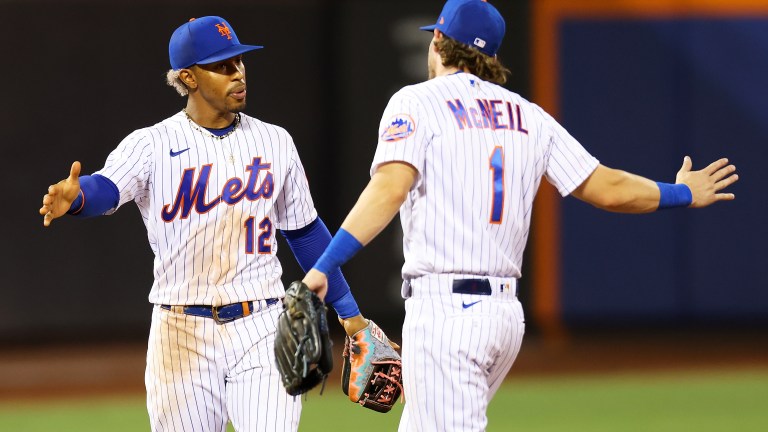 There is nothing more satisfying in the game of baseball than watching a clean double play turned. The fluidity of motion required between two middle infielders, using their combined leather to turn one groundball out into two is as pleasing to the eye as any play in this sport.
When we look around the game today, there is so much talent in the middle. We just released our top 10 second basemen and top 10 shortstops ahead of the 2023 season and each list is chock full of superstars. Some teams are even lucky enough to have a player on each list, which is where our focus is drawn today, as we break down the top double play combinations in the game.
Initially we were looking to make another top 10 list, but ultimately the decision was made to really focus in on the top five double play duos because the back-half of our top 10 would be comprised of combos that are propped up by one stud, not two.
Bo Bichette was featured in our top 10 shortstops and Andres Gimenez was featured in our top 10 second basemen, but their double play mates of Santiago Espinal and Amed Rosario leave something to be desired.
Ozzie Albies and Vaughn Grissom could absolutely become a dynamic double play combination this year, but Albies is coming off an injury-plagued campaign and Grissom still has to prove he can play the shortstop position everyday at the big league level. Ultimately there were few combinations that just stood out above all the rest and those are the one's we will break down today.
Honorable Mentions
Carlos Correa and Jorge Polanco
The Minnesota Twins double play combination sure got a lot better when they re-signed Carlos Correa this offseason. Now Correa returns to form a potent duo with really any infielder the Twins decide to start at second base.
For now, it would appear to be Jorge Polanco, but with Nick Gordon and Royce Lewis also available this season, Polanco could be shifted around or get some time at DH.
Nevertheless, Correa carries whatever middle infield partner he has and if it is Polanco, you are talking about a guy who is just a year removed from hitting 33 home runs in 2021.
Wander Franco and Brandon Lowe
If come season's end, this was the best double play combination in baseball, I would not be surprised. The only reason why they can't be listed is because each is coming off an injury-plagued campaign, which has cast a shadow of doubt on what they will be moving forward.
Wander Franco will turn just 22 years old at the start of March, with all of his prime years ahead of him. He only played 83 games last year and is yet to fully tap into his pop at the big league level. With that said, we are all expecting for that to come soon, where Franco will become a top-five shortstop in the game. Time well tell if he lives up to the hype.
Lowe on the other hand has already exceeded expectations at the big league level, he just has to get back to who he was. The 28-year-old hit 14 home runs in the shortened 2020 season, before launching 39 in 2021. Last year, the numbers were dreadful but that was likely due to injury.
Dansby Swanson and Nico Hoerner
This might just be the best defensive double play combination in all of baseball, with a Gold Glove shortstop pushing another elite defensive shortstop over to second base. Really the only thing that kept them off this list is their lack of a track record before last season.
Dansby Swanson was a solid starting shortstop for the Braves throughout his career, but last year he became elite. Posting a 6.4 fWAR could be a one-year aberration that took place in a contract year, or it could become the norm for Swanson. We are still waiting to find out.
Hoerner is coming off four-win season, where he hit 10 home runs, stole 20 bags and only struck out 11% of the time. If Hoerner takes a step and Swanson doesn't regress too much, this could be right up there with any double play combination in baseball.
It is also worth mentioning that their combined 2022 fWAR of 10.4 would be second on this list, behind only our No. 1 double play combination.
5. Trea Turner and Bryson Stott
After writing the last two honorable mentions, it feels like the Phillies are more of a placeholder in this top five than a lock to keep a spot through season's end. If they want to hold onto this mantle, a lot of it is going to come down to a breakout from Bryson Stott.
Stott's numbers are not going to jump off the board after his rookie campaign. He hit .234/.295/.358, with a 83 wRC+ across his first 127 games. Once we understand the context of his season though, there is more reason for optimism that Stott can become an above-average Robin to Trea Turner's Batman up the middle.
Called up on April 7th, Stott's first big league stint did not last more than two weeks, as he went 4-for-30 with 10 strikeouts in his nine MLB games. Stott returned in May, but his numbers did not turn around until June, when he hit his first career home run in his 26th game for the Phillies.
From June 1st through the end of the season, Stott hit .257/.318/.401, with 10 home runs and 12 stolen bases. His 102 wRC+ was just slightly better than league average and he posted a 2.0 fWAR.
Stott was trending towards being an average starting shortstop, but now his talent gets to play up in a big way over at second base. Worth -5 DRS and -3 OAA at shortstop, Stott played a much better second base in 2022, where he was worth 3 OAA.
Really though, the reason the Phillies are included on this list is all because of signing Trea Turner.
Turner is one of the game's truest five-tool players, bringing exceptional athleticism that this Philly squad desperately needed. Having led shortstops in fWAR over the past four seasons, Turner himself is too much better and more-established to put any of our honorable mentions ahead of him on this list. The Phillies will have a strong defensive middle infield with Stott and Turner and one of them is an MVP-candidate. That is why they crack this list.
4. Xander Bogaerts and Ha-seong Kim
If the Padres decided to shift Xander Bogaerts to second base and return Fernando Tatis Jr. back to shortstop, it would be hard to keep San Diego away from that top spot. That talent level is just astronomical. That is not happening though, and it is because Ha-seong Kim is that talented of a middle infielder.
Replacing Tatis last season, Kim posted 10 DRS and 6 OAA playing shortstop. Now he goes over to second base, where he will be in line for a Gold Glove. Kim also made great strides offensively in his second season since coming from the KBO.
Kim cut his strikeout rate by over six percent in 2022 and posted a respectable .251/.325/.383 slash line with a 105 wRC+. Capable of being a 15-15 home run-stolen base guy, while bringing an exceptional glove up the middle, Kim has a very high floor at second base.
Pair him with one of the best shortstops in baseball in Xander Bogaerts and you have a potent combination. Bogaerts is one of the most consistent hitters in the game, but it was his work defensively last year that made it a career-best season in a contract year.
For the first time in his career, Bogaerts graded out as a positive defender based on Defensive Runs Saved, worth 5 DRS. With the elimination of the shift, Bogaerts is due for some regression, but with Manny Machado and Kim flanking him, this will be the best infield Xander has ever played with.
3. Corey Seager and Marcus Semien
If healthy and playing up to the back of their baseball card, this will probably be the best double play combination in baseball by year's end.
After signing a combined $500 million in contracts to join forces in Texas, Seager and Semien were hyped up to become baseball's next-best double play combination. Unfortunately, year one proved to be uneven for this high-priced double play duo.
Semien got off to a dreadful start, slumping for much of the first two months of the season. It was not until May 28th that Semien even hit his first home run. He did so in Grand fashion however.
It took a return to Oakland for Semien to feel at home enough in his Rangers threads to start hitting, but he certainly got more comfortable after that. The 32-year-old homered 26 times in his final 118 games, hitting .267/.324/.492, with a 130 wRC+. During that same span, Seager blasted 25 home runs, showcasing the power potential this duo truly has.
Altogether for the full season, Seager hit a career-high 33 home runs. His numbers did take a step down though, as he posted career-low marks across the board with his .245/.317/.455 slash line. Staying healthy was a great accomplishment for Seager, so if he can build off that in 2023, we could be looking at career year.
With Seager and Semien, the Rangers probably have the one double play combination in baseball that is capable of hitting 80 home runs this season. If they reach that ceiling, we will be looking at them as the top duo in the game next year.
2. Jose Altuve and Jeremy Peña
The hardest decision to make on this list was who to put second. The Rangers or the Astros.
With Texas, the potential is so promising, but we can't forget who just showcased their abilities on the biggest stage. The Houston Astros won the World Series last year and it was in large part thanks to how strong they were up the middle.
After losing Carlos Correa this team could have taken a big dip in the double play department, but they ended up inserted a guy who went on to win a Gold Glove. That marks two-straight Gold Gloves for the Houston shortstop position, with Jeremy Peña filling the Correa void seamlessly.
While great with the glove, Peña certainly wasn't Correa with the bat during the regular season, posting an average (but respectable) 102 wRC+. He still hit 22 home runs though, and saved his best for last, getting red-hot in October.
Across 13 postseason games, Peña hit .345 with four home runs, 12 runs scored and eight clutch RBIs. The 25-year-old took home the MVP for both the NLCS and the World Series.
Meanwhile, Altuve struggled mightily in October, hitting just .190/.242/.241. An ill-timed slump to be sure, but no one is doubting Altuve's ability to hit. Especially coming off a regular season where he hit .300/.387/.533, with 28 home runs and an incredible 164 wRC+.
1. Francisco Lindor and Jeff McNeil
This now brings us to the best double play combination in all of baseball, the Mets duo of Francisco Lindor and Jeff McNeil (of Rat-coon fame).
When looking at the fWAR leaderboards for 2022, you will see both Lindor and McNeil listed among the top 16 players in the game. Lindor comes in at No. 6 with his shortstop-leading 6.8 fWAR. McNeil on the other hand was the top second baseman in the NL, posting a 5.9 fWAR.
Combined, Lindor and McNeil's 12.7 fWAR is over two wins better than any other double play combination, setting a tough standard for even them to live up too. Lindor is the best shortstop in the game on our top 10 list and McNeil is ranked second behind Altuve for the top second basemen.
McNeil just won the batting title and has two seasons under his belt where he has finished with a wRC+ over 140. Lindor just went for 26 home runs and 107 runs driven in, all while playing Gold Glove-caliber defense at shortstop.
Now entering year three of their partnership, Lindor and McNeil are suddenly one of the longest-established double play combinations in the games, having been together longer than anyone on this list (including the honorable mentions).
The Mets just gave McNeil a team-friendly five-year, $50 million extension, keeping this duo together for at least another half-decade. Based on the team they will have around them, Lindor and McNeil figure to win a lot of baseball game's together during that time.