Analysis
With Jose Altuve Sidelined, Who's Up Next for the Astros?
The reigning champs remain AL favorites, despite losing Jose Altuve for months. How will they get by without their superstar second baseman?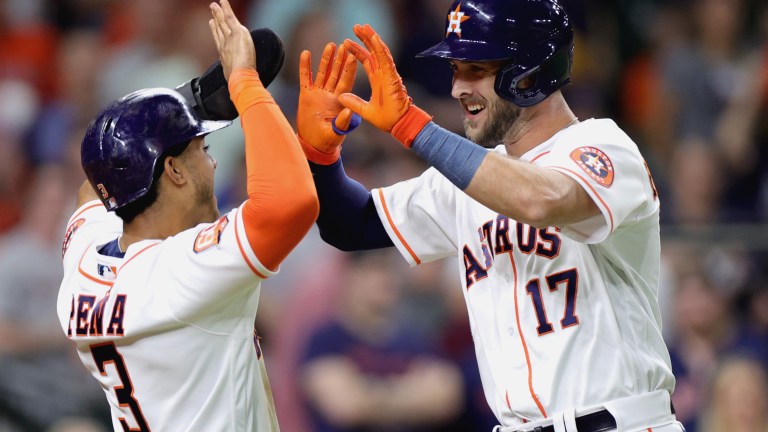 Written By: Tomas Romo
Houston Astros All-Star second baseman Jose Altuve is expected to miss more than two months after suffering a fractured thumb in the World Baseball Classic. Altuve was hit in the hand at the plate when Team Venezuela squared off against the United States. He will be sidelined until at least June and even longer depending on how he heals from his injury.
Altuve is one of the best hitters in the game, he ranked fifth in the MLB with a .921 OPS last season. On top of that he hit .300 with 28 home runs in 2022 en route to another World Series title. Losing him for the first couple of months will be difficult for Houston and someone will need to step up in his absence.
The Astros have always prioritized having utility men on their roster and David Hensley will be expected to replace Altuve for the time being. Last year, Hensley was called up later in the season and showed a lot of potential. In 29 at-bats Hensley batted .345 with a .441 OBP and a 1.027 OPS.
While it is a limited sample size, Hensley did show he was able to handle big league pitching. He played multiple positions across the infield and even made a start in left field as well.
Hensley was expected to make the Opening Day roster and the injury to Altuve has given him the opportunity to be an everyday player for Houston moving forward. Hensley has shown that he has been able to produce offensively on every level. Over the past two seasons splitting time between Double-A and Triple-A, he has been a consistent .295 hitter.
The Astros are asking a lot of their Opening Day middle infield. Jeremy Pena is set to begin a pivotal second season after a big rookie year and Hensley is still a rookie himself. If the 27-year-old follows Pena's blueprint of how he replaced an All-Star up the middle in Houston, the Astros will be ok.
Just like Pena didn't have to be Correa, Hensley doesn't have to be Altuve. The Astros will just need him to play solid defense at second base, which he is more than capable of, while being a steady cog at the end of their lineup.
Mauricio Dubón could also see some time at second base. The former San Francisco Giant has never been known for his ability at the plate. But the speedy utility man has shown his potential as a runner and defensive replacement in the later innings.
He has the ability to play across the infield and outfield, but his lack of offense won't make him an everyday player. Dubón batted .214 last season and had a 60 OPS+ in 104 games between Houston and San Francisco.
Now if Hensley and Dubón aren't up for the task of replacing Altuve, the Astros do have a top prospect who could see himself with the big-league club. According to MLB.com Pedro Leon ranks as the team's eighth best prospect heading into the season. The 24-year old was a big signing for Houston back in December of 2019.
Leon has the capability to play in the outfield and second base and is regarded as one of the most-gifted prospects in the Astros system. He has raw power and above-average speed.
In Triple-A last season, Leon batted .228/.365/.431, with 17 home runs and 38 stolen bases. His downside has continued to be his ability to hit for average, as well as his high strikeout rate. He struck out 145 times in 2022 and will need to be more consistent at the big-league level.
The Astros are well-equipped to win even without Altuve. They are one of the deepest teams in baseball and have multiple pieces to help fill the void. Altuve will be back with plenty of season left, as Houston hopes to repeat as World Champions.