Analysis
Who Should the Mets Pay Long-Term, Michael Conforto or Brandon Nimmo?
Michael Conforto and Brandon Nimmo have spent their careers playing together in the Mets outfield, but which player is a better bet on a long-term contract?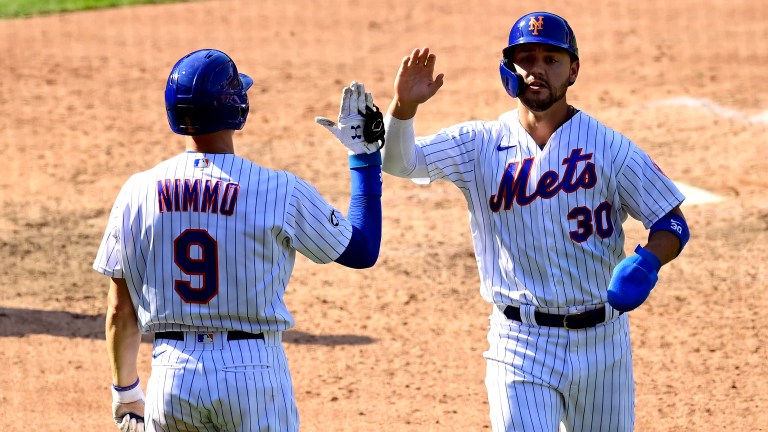 Dating back to the end of last season, a lot of us have been operating under the belief that Michael Conforto has played his last game as a member of the New York Mets.
If you hadn't been reading the tea leaves that had been left all season, that conclusion became evidently clear during Conforto's last game played at Citi Field. With the Mets beating the Miami Marlins 12-3, the homegrown Met made one last play in the bottom of the ninth that felt like the conclusion to his career in Queens.
Along with the beautiful shoe-string catch, Conforto went 3-for-5 with a double and two RBIs in his final game at Citi Field, giving fans one last glimpse at a player that could be set to star in another uniform in 2022.
When Conforto declined the Mets qualifying offer, the end only seemed more imminent, as there was now draft compensation attached to his departure. Then Billy Eppler's first move as the Mets GM was to sign not one, but two replacements, as New York landed both Starling Marte and Mark Canha in free agency.
The Mets Opening Day outfield is set, with Brandon Nimmo, Marte and Canha currently penciled in the starting lineup. All three outfielders provide solid to above-average defense, with an ability to get on-base at a great clip.
Re-signing Conforto is a luxury more than a necessity based on those signings, yet the universal DH could lead the Mets to consider a reunion, as recent reports indicate that there might still be some interest there.
Signing Conforto would allow the Mets to stagger playing time between four starting-caliber outfielders, while all of them could get time as the DH. Mark Canha's ability to play first base only makes this signing more palatable for the Mets, as Pete Alonso could get some time off his feet as the DH as well.
With a quick ramp up likely following this lockout, Conforto could welcome a return to the Mets where he can remain comfortable in the same place he has spent his entire career. It would also be the perfect place to sign a one-year deal, where he can reset his value to hit free agency again next season without the comp. pick attached.
The only problem with this scenario is that the Mets really value all their picks in the upcoming draft and are playing with Steve Cohen's Monopoly money. They could simply sign Kris Bryant, let Conforto walk and get their extra pick in this draft.
But if I was Billy Eppler, I would be thinking bigger picture here. And the big picture is that Conforto is likely a safer bet long-term than Brandon Nimmo. So maybe the Mets should sign Conforto to the long-term deal and prepare for a future without Nimmo instead.
The Case for Letting Conforto Walk
Ever since Billy Eppler took over as the Mets GM he has made it clear that his plan is to build out the team through free agency, while trying do their best to build out a farm system that lacks depth after years of making win-now trades.
The Mets really do value that compensation pick that they will be getting when Conforto signs with another team, so a reunion still feels a bit unlikely. Especially since they could just go out and sign Seiya Suzuki or Kris Bryant instead (remember, Monopoly money).
Also when it comes to the Mets needs right now, outfield should not necessarily be on top of the list. Like most teams, pitching depth is the number one priority for the Mets right now, both in the bullpen and in the starting rotation.
The Mets have not replaced their best reliever from 2021, Aaron Loup, and would like to add at least one more starting pitcher to a rotation that is carrying a lot of injury risk.
After signing Marte and Canha, the Mets have pretty good outfield depth already. On the MLB roster they have Dominic Smith and Jeff McNeil who can get some time in the outfield, and they also feature two top 10 prospects that are close to the majors in Khalil Lee and Nick Plummer that could play roles in 2022 as well.
If Conforto only has interest in returning to New York on a one-year contract, the Mets would be best served long-term to sign a different free agent or just stay in-house.
Brandon Nimmo will be a free agent after this season, but the Mets could look to extend him now or re-sign him after the 2022 campaign. With Marte signed to a four-year deal and Canha on the books for 2023, the Mets would be set for the foreseeable future if they decided to retain Nimmo long-term.
An argument can certainly be made that Nimmo is a better player than Conforto when healthy, but that last part really is the problem. Nimmo has eclipsed 100 games played just once in his six-year career, making him a much more dangerous long-term gamble than Conforto.
The Case for Signing Conforto Over Nimmo
While it might feel like Michael Conforto is way older than Brandon Nimmo, these two homegrown Mets are only separated in age by 26 days. Both will turn 29 years old in March, so a long-term contract for either player will be paying for their early to mid-30 seasons.
Since 2016, Conforto has played nearly 250 more games than Nimmo, as he has stayed relatively healthy throughout his career. There have only been two significant injuries for Conforto at this stage in his career. He missed the final few months of an All-Star campaign in 2017 due to a shoulder injury, and then missed a few months early in the 2021 season with a hamstring injury. With Nimmo, there has been too many different injuries to count.
If we could project out great health for both players, Nimmo would probable be the better player to invest in, as his numbers since 2016 are superior to Conforto.
| | | | | | |
| --- | --- | --- | --- | --- | --- |
| Player | Slashline | wRC+ | BB% | K% | fwar |
| Michael Conforto | .254/.358/.466 | 124 | 12.3 | 24.1 | 15.0 |
| Brandon Nimmo | .266/.393/.445 | 134 | 14.9 | 24.4 | 12.2 |
Stats since 2016
Obviously these are two very different hitters, as Nimmo is more of an on-base threat, but Conforto carries more pop in his bat. Nimmo's wRC+ is 10 points higher than Conforto, meaning he has been 10% better offensively. Also when you consider the great disparity in games played, Nimmo has been more valuable when on the field, as fWAR is a cumulative stat.
Still, as the old adage goes, "the greatest ability is availability" and Conforto's durability has made him a more valuable player for the Mets over the past six seasons. Also if we look at Starling Marte as a Nimmo replacement rather than a Conforto replacement, the long-term fit makes even more sense.
Marte's skill-set is much more aligned with Nimmo than Conforto, as he is a centerfielder that gets on base at an elite clip. What Marte doesn't necessarily bring to the table is the same pop, as he has never even eclipsed 25 home runs in a season, a feat Conforto has reached three times.
Since 2016, Nimmo and Marte have combined to hit 124 home runs, which is just one more than the total Conforto hit by himself. Furthermore Conforto's 123 longballs dwarf the 47 that Nimmo hit. Over the next four seasons, Conforto is the much better fit next to Marte not only offensively, but defensively as well.
Nimmo's posturing for free agency has already begun, as he has let it be known that he would look to stay in centerfield next season despite the addition of Marte.
Obviously Nimmo is going to be a more valuable free agent if he sticks in center, but he also is not wrong about the improvements he made this past season defensively. He went from being worth -4 OAA and -5 DRS in 2020 to being worth 4 OAA and 4 DRS in 2021. Still, Marte's best position is centerfield, but Nimmo's arm is not suited to replace Conforto in right.
On the other hand, Conforto has a strong arm and has adjusted very to playing right field since becoming the everyday starter at the position in 2019. If he were re-signed, the Mets could have the best of both worlds, as Nimmo can move to what is likely his best position in left field, with Marte in center and Conforto in right.
The Mets would have arguably the most loaded outfield in baseball for the 2022 season with Mark Canha regulated to a fourth outfielder/DH role. Then the Mets can make a decision on what to do with Nimmo after the season.
If Nimmo is healthy and productive, he likely will cost more money than Conforto will cost now anyway. But considering the players they have been up to this stage in their careers, if one of them is going to get a long-term deal, Conforto should be strongly considered to remain with the Mets moving forward.