Feature
New York Mets Cap Off Spending Spree by Landing Starling Marte
In one night, the New York Mets signed Eduardo Escobar, Mark Canha and Starling Marte to completely transform their starting lineup.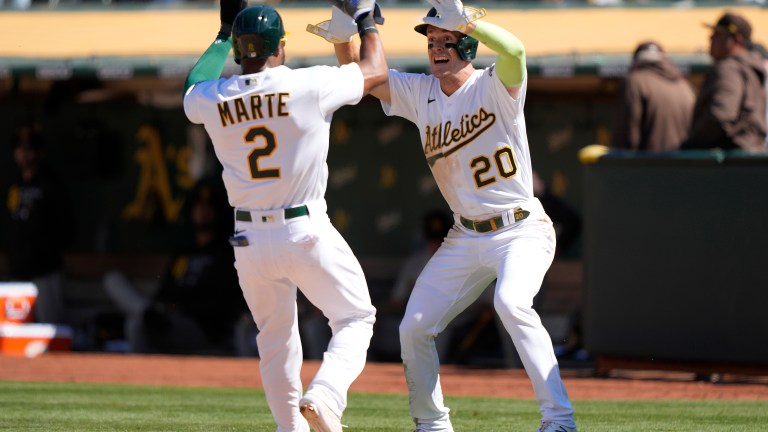 The New York Mets have spent the last four months in a constant state of turmoil. At the All-Star Break, the Mets were in first place with Jacob deGrom leading the charge as an MVP candidate.
The Mets players acted like they had a stranglehold on the NL East, because they had managed to hang onto first place for a few months. In reality, the Mets hold on the division was akin to when you put your dog's leash around your wrist without grabbing hold with your hand. As soon as the dog takes off, the leash goes with him and your chasing that puppy down the road.
The Atlanta Braves were that puppy and they ran all the way to a World Series championship. In the process, the Mets saw their ace mysteriously sidelined for months, before being shut down, while the team suffered one of the worst second-half collapses in franchise history.
Zack Scott, who was essentially their interim GM due to a previous GM catastrophe, was let go after getting arrested for driving while under the influence. Their manager was fired to clean house and the Mets took on the most agonizing executive search in MLB history. After numerous executives declined the opportunity to spend Steve Cohen's money, the Mets finally found the one guy who doesn't mind blowing a billionaire's cash and hired Billy Eppler.
Whether Eppler succeeds at this job or not is to be determined, but he certainly had a crash course in this exact set of circumstances during his tenure with the Angels. A roster with some shiny toes (Mike Trout or Jacob deGrom), but a lot around it that needs refurbishing and a thin farm that had already been ravaged from previous trades.
Eppler admitted at his introductory press conference that his strategy with the Angels was to use free agency as a quick fix, while devoted resources to building out the farm system methodically. Don't expect the Mets to trade away prospects or sign free agents with qualifying offers this offseason, because Eppler is not spending that capital. Instead he is going to sign free agents to big money short-term deals and try to create an instant contender, while stockpiling assets to build Mr. Cohen a cheaper team in the future.
Like the anxious teenager who wants a PS5 on Black Friday, Billy Eppler went shopping with Cohen's cash and found a lot of deals he liked in the 32-year-old bin.
Three free agents that will likely become starters for the New York Mets, all signed to relatively short deals.
The first domino to fall was Eduardo Escobar, a free agent that was probably thrilled to receive a $20 million contract over two years when his last deal was for $21 million over three.
Escobar gives the Mets a quality starting infielder who has posted at least a 3.0 fWAR in his last three full 162-games seasons. He's a switch-hitter who has averaged 28 home runs per season across that span, while playing every position in the infield (albeit not always well).
Eppler following up his first 32-year-old free agent signing with another, nabbing Mark Canha from the Oakland Athletics.

Canha is an on-base machine (.366 OBP since 2018), who can still play quality defense in the outfield. Canha alone would have provided the Mets with a decent facsimile to what they are losing with Michael Conforto in free agency (while gaining a draft pick), but then within a few hours it turned out he wasn't the actual replacement at all.
Even if he ends up playing right, Canha is actually going to be replacing the Mets circus of left fielders from 2021, in Dominic Smith, Jeff McNeil and to a certain extent, Kevin Pillar.
The replacement for Conforto ended up being the biggest signing of them all, the first real splashy position player signing of the 2021-22 offseason.
Just as Black Friday ended, the Mets signed the top free agent centerfielder on the market to a four-year contract. Starling Marte was one of the most coveted free agents available this offseason, as any contending team could plug a 5.5 fWAR centerfielder atop their starting lineup.
Marte's career-year came at the right time, as he just landed a $78 million contract heading into his age-33 season. I have spent enough time blabbering about how great Marte this offseason, so I will spare you the long-winded statistics for one article. But you can certainly find those in my free agent profile of Marte, where I predicted he would sign with the Mets.
Instead of diving into numbers, let's take a minute to reflect on the net result of Billy Eppler's shopping spree. The Mets just added 2,097 games and 11,524 career plate appearances of experience to their revamped starting lineup.
If the Mets played an exhibition tomorrow, this could be their starting nine.
Brandon Nimmo – LF
Starling Marte – CF
Francisco Lindor – SS
Pete Alonso – 1B
Mark Canha – RF
Jeff McNeil – 2B
Eduardo Escobar – 3B
James McCann – C
Jacob deGrom – P
Marte is the perfect fit for this Mets team, and a signing that reminds me a lot of when this franchise signed Curtis Granderson back in 2014. Granderson also received a four-year deal and in year-two of that deal, he led the Mets in fWAR in the season when they went to the World Series.
Marte is absolutely a top-tier free agent acquisition and one that makes the previous signing of Canha pop that much more.
The Mets have long played converted infielders in left field, dating back to the adventures of Lucas Duda and Daniel Murphy of a decade ago. For the first time in I don't know how long, the Mets have three competent defensive outfielders to run out everyday. The fact that those three get on-base a ton is just the cherry on top.
When it comes to the Escobar signing, the Mets may have overpaid a bit, but they landed a guy who can certainly thrive in the Jonathan Villar role from this past season, with the adding benefit of being a clubhouse leader that is beloved around the game.
If they make one more splash in their infield and re-sign Javier Baez, the Escobar signing will pop even more, similar to how we can now view Canha after the Mets signed Marte. A Baez reunion could push McNeil to the bench, which is an absolute luxury, or just put him on the trading block. Regardless of the next move, the Mets find themselves in a significantly better position then they were in 24 hours ago.
Now the sad thing about Mets fans is that they are never satisfied. If this is merely the first of many presents under their holiday tree, they will be happy. Yet fans still demand a front-line starting pitcher, high-leverage bullpen arms and of course the aforementioned Baez.
Instead of focusing on all of that though, I beg Mets fans to take a deep breath and enjoy not being the laughingstock for a day. Because with this franchise you need to bask in the victories when you get them. And a starting outfield of Starling Marte, Brandon Nimmo and Mark Canha is certainly a victory to celebrate.