Analysis
Michael Conforto Crushing His Way Through May
After missing all of last year due to injury, Michael Conforto is finally starting to shake of the rust and has rediscovered his power.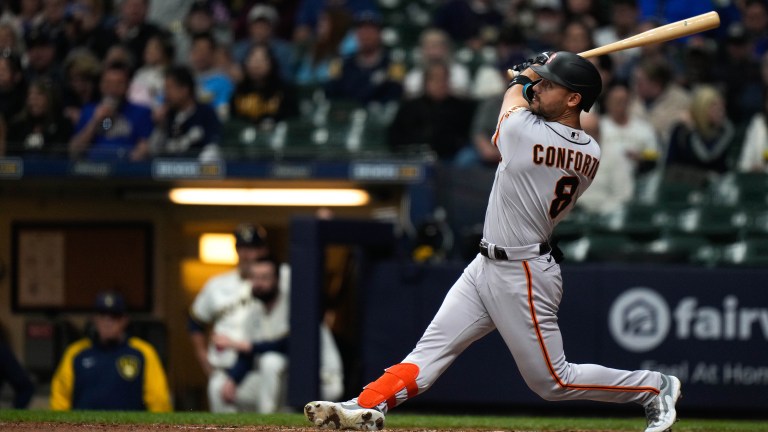 Striking out on Aaron Judge and Carlos Correa in the offseason, the San Francisco Giants bet on Michael Conforto coming off shoulder surgery resulting in him missing all of the 2022 season.
With no expectation of him meeting Judge or Correa standards, San Francisco was hoping to see flashes of his 2017-2019 past self, hitting over .250 with 25+ home runs a season.
Looking back at Conforto's best full season with the Mets in 2019, he hit .257/.363/.494 with 33 home runs and 92 RBIs. Conforto followed up his career-year with an even better run of success in 2020, where he was one of the top hitters in baseball during the shortened season.
Across 54 games played in 2020, Conforto hit .322/.412/.515, with nine home runs and 31 RBIs. His 158 wRC+ was the 11th-best mark in all of baseball. Conforto looked like the type of player a franchise would build around and sign to an extension. With the Mets that extension never came.
After an underwhelming 2021 season with only 14 home runs and slugging just .382, an abrupt shoulder injury during the offseason put him on the shelf for the entire 2022 season. This came at the worst time, as he was a free agent and was left unsigned.
This made Conforto one of the most intriguing low-risk, high-reward propositions this offseason, and the Giants jumped at the chance to see if he could return to form, signing him to a two-year, $36 million deal.
Conforto stepped into a major league box for the first time in 543 days on Opening Day against the Yankees and who else to welcome you back than Gerrit Cole.
All baseball players know you can't just pick up a bat a year later and expect success because that ball will come in twice as fast as you remembered it. His first month of getting back into the swing of things was rough, hitting .193 with a .311 OBP and striking out 33% of the time.
Now all of a sudden though, Conforto is looking like the player of old and it is propelling the Giants to one of their best runs of baseball all season. Winners in 10 of their last 12, the Giants are hot largely due to Conforto's resurgence.
In his last 15 games, Conforto ranks in the top 10 in OPS, AVG, and hits and is fourth in the National League in home runs. Conforto has smashed six homers with a 195 wRC+.
He has nearly cut his strikeout percentage in half (19.6 K%) while simultaneously hitting .392/.429/.784, making it clear he's seeing a beach ball being thrown at him right now.
A guy striking out nearly twice a game a month ago is now hitting three-run bombs with a 102 mph exit velocity to the opposite field over 400 feet. That raises the eyebrows of opposing pitchers, making them think a little harder about what they're throwing next.
After his surgery, Conforto's biggest question was "Is the power still there?" YES!
With the second-highest barrel rate of his career and the highest hard-hit percentage of his career at nearly 50%, he looks comfortable at the plate. After missing out on Judge and Corea in the offseason, Conforto's success has the Giants excited about getting a true power hitter in their lineup.
The former first-round pick is cleaning up his bumpy start, evening out his season totals with 11 home runs a .795 OPS and 123 wRC+. Not only are his power averages returning but his season strikeout rate has rapidly decreased to 26.6% with just 11 strikeouts in his last 56 plate appearances.
Conforto is a big reason the Giants have battled their way back to .500, along with Thairo Estrada's phenomenal year at the plate, not to mention Casey Schmidt and Patrick Bailey contributing in their first month in the show. With these four guys clicking at the same time, the Giants have emerged as a tough team to beat, who could make a run at Wild Card if they keep this momentum going.