Analysis
2023 Free Agent Profile: Michael Conforto
After missing all of 2022, Michael Conforto will look for a new home in free agency, where he might become the biggest steal on the market.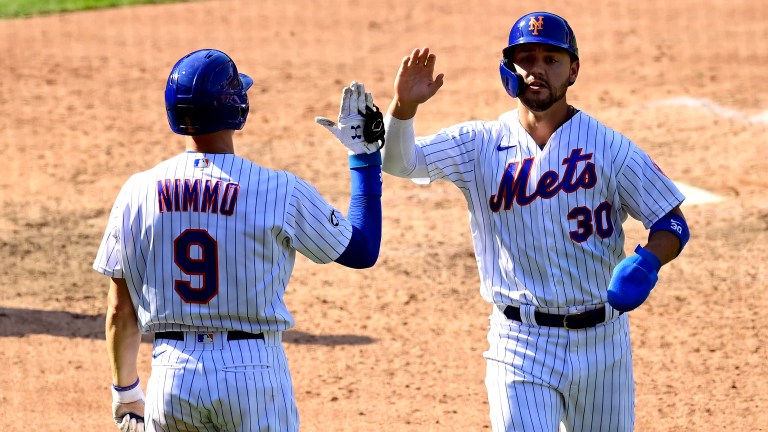 Position: OF
Bats/Throws: L/R
Age: March 1st, 1993 (29 years old)
2021 Traditional Stats: .232/.344/.384, 14 HR, 34 XBH, 55 RBI, 52 R, 104 K, 406 PA
2021 Advanced Stats: 21.7% K%, 12.3% BB%, 106 wRC+, .322 wOBA, 0.8 fWAR
2021 Defensive Stats: 1 OAA, -4 DRS
One of the biggest wild cards on available this offseason, Michael Conforto is set to hit the free agent market after missing the entirety of the 2022 season with a shoulder injury.
Conforto was once one of the game's most promising young outfielder's who seemed to be on track to become a perennial All-Star, capable of hitting 25-30 home runs while hitting for a high average and playing strong defense in right field.
There is plenty of upside for teams to bet on with the 29-year-old, who will be looking to prove his worth in 2023.
Path to Free Agency
Drafted 10th overall by the New York Mets in 2014, Michael Conforto was fast-tracked through their minor league system and debuted on July 24th, 2015.
Conforto made the jump straight from Double-A to help a Mets team that was struggling mightily offensively. With the addition of Conforto, along with the trade deadline acquisition of Yoenis Cespedes, the Mets completely revamped their outfield and their lineup, helping them make a push in the second half that resulted in an NL East division title.
When the Mets made the World Series, Conforto became just the third player in MLB history to have played in the Little League World Series, College World Series and Major League World Series. He made history again when he homered twice in Game 4, becoming the first rookie since Andruw Jones to accomplish that feat in a World Series game.
Conforto was the Mets Opening Day left fielder in 2016, but would end up enduring a real sophomore slump that saw him demoted to Triple-A in the middle of the season. Conforto would bounce back in a big way the following year, making his first All-Star appearance in 2017.
That season was really the best of Conforto's career, as he hit .279/.384/.555, with 27 home runs and a 147 wRC+ in 109 games. Unfortunately his season was cut short when he dislocated his left shoulder on a swing, which required surgery to repair. Conforto posted a career-best 4.4 fWAR in 2017.
Over the following two seasons, Conforto returned to the lineup healthy and eclipsed 150 games played each year. Altogether he hit .250/.356/.471, with 61 home runs, 117 extra-base hits, 174 RBIs and a 123 wRC+. He also posted strong seasons defensively, as he was worth 12 OAA across 2018 and 2019.
In 2020, Conforto played at an All-Star level in the shortened season, finishing 11th in all of baseball with his 158 wRC+. Everything went downhill though in 2021, as Conforto hit just .232/.344/.384, with a 106 wRC.
To make matters worst, after hitting free agency off the down-year, Conforto injured his shoulder in January and got season-ending surgery in April. He will now test the free agent waters again after missing a full year, where he will undoubtedly be signing a short-term contract to rebuild his value.
Michael Conforto Contract Projection
There really is no telling what Michael Conforto could command in free agency, as there isn't too much precedent for a player of his caliber dealing with the variety of circumstances he has over the last two years.
When right, Conforto can be an All-Star right fielder, capable of hitting in the middle of anyone's lineup. The problem is that he has dealt with inconsistency throughout his career, including his uneven 2021 campaign, which is the last we saw of him before the injury.
Still, over his seven-year career with the Mets, Michael Conforto was one of the more productive outfielders in baseball. For his career, he has hit .255/.356/.468, with a respectable K% of 21.7% and a BB% of 12.1%. Among qualified outfielders since 2015, Conforto ranks 21st in wRC+ (124) and 14th in fWAR (19.3).
Having spent the better part of a decade as one of the top 20 outfielders in baseball, Conforto is worth taking a flier on. The question is how much will that flier cost?
Conforto is likely to sign a one-year deal, that will pay him at least $10 million. With the lack of the other starting-level outfielders on the market, there is a chance he could make closer to $15 million, and could even nab a three-year deal with an opt-out after the first season.
Top Five Landing Spots
Based on his reduced cost, there isn't a team in baseball that shouldn't be kicking the tires on Michael Conforto. Outside of Aaron Judge, Brandon Nimmo, Andrew Benintendi, Joc Pederson and maybe Mitch Haniger, you'd be hard-pressed to find a better starting outfielder on the market than Conforto.
Now he comes with a massive injury question mark and hasn't seen live pitching in over a year, but that shouldn't stop teams from taking a shot on what could be one of the biggest free agent steals on the market.
San Francisco Giants
The San Francisco Giants have their sights set on a pretty high profile right fielder this offseason, with reports indicating that they are all-in on signing Aaron Judge. If that plan falls through though, Conforto could be a nice fallback plan for them that would not cost anywhere near as much.
Chicago White Sox
In 2022, the Chicago White Sox started Gavin Sheets and Andrew Vaughn a combined 159 games in the outfield. That duo combined to be worth -23 DRS and -21 OAA. The White Sox need to address their outfield this offseason and Michael Conforto could be a great fit, as he would substantially improve their defense in the corners.
New York Yankees
Another team that could the circle the wagons on Conforto if they fail to sign Aaron Judge. Obviously the Yankees are going to be dead-set on keeping their homegrown MVP, but if he does leave for greener pastures, Conforto could be a good fit in his absence.
Having already spent his entire career playing in New York, the bright lights shouldn't faze him and his left-handed swing should play great with their short porch in right field.
New York Mets
Could Michael Conforto just end up right back where he left off in 2021?
The Mets signed Starling Marte to replace him in right field last offseason and that move worked out great for them as he put together an All-Star campaign in 2022. Still, the Mets will have a hole to fill in the outfield this offseason if they can't retain Brandon Nimmo.
Nimmo is going to cost more than Conforto and if the Mets get wary of his asking price, they could always shift Marte back into center field and return Conforto to right.
Seattle Mariners
Conforto was born and raised in Seattle, so a homecoming could be an enticing possibility for the 29-year-old, especially as the Mariners are set to be contenders for years to come with the young core they have put together.
The Jesse Winker addition did not go as planned for Seattle this year and Mitch Haniger is set to be a free agent as well. Seattle could use another strong outfielder to play next to Julio Rodriguez and if Conforto wants to go back home, it could be the perfect fit.
Prediction
Michael Conforto signs a one-year, $13 million deal with the San Francisco Giants
This is really one where it is so hard to predict where the free agent is going to land. Michael Conforto could be looking to play for a contender, or he may just want to find a home on a rebuilding team where he is guaranteed to play everyday in a hitter-friendly ballpark.
Ultimately if the Yankees retain Judge, the Giants make a lot of sense for Conforto, who could be cheaper than trying to bring back Joc Pederson off a great season.