Rankings
New York Mets Top Prospects
Headlined by one of game's best catching prospects in Francisco Alvarez, the Mets have some real impact bats in the pipeline for the future.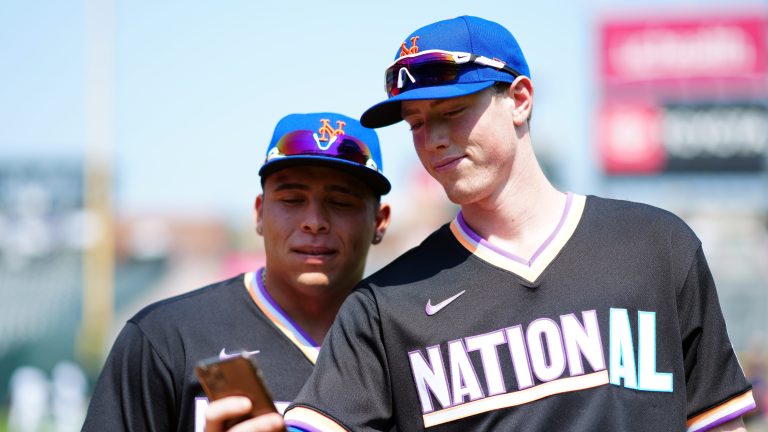 A top-heavy but relatively thin farm system, the New York Mets feature three prospects that are on our top 100 prospect list.
The Mets best prospects are all position players, as they traded plenty of pitching over the last few years in the deals to acquire Marcus Stroman, Edwin Diaz and Robinson Cano. New York's depth in the pitching department took another hit this past draft, as they drafted but failed to sign Vanderbilt star Kumar Rocker.
The Mets did receive a comp pick for Rocker and will receive two more after Noah Syndergaard and Michael Conforto both declined qualifying offers to sign with other teams this offseason. This next draft will be crucial for the overall state of the Mets farm system, but they still have a lot of talent in their top 10 prospects that could lay the foundation to a promising future.
1. Francisco Alvarez – C – (High-A)
Age: 19 | Height/Weight: 5'10', 233 | Bat/Throw: R/R | IFA: $2.7M (2018) | ETA: 2023
| | | | | | |
| --- | --- | --- | --- | --- | --- |
| HIT | RAW POWER | GAME POWER | RUN | FIELD | FV |
| 50/55 | 65/70 | 50/65 | 45/40 | 45/55 | 60+ |
Offense
Open stance with pre-loaded weight shift into back hip reminiscent of Tyler O'Neil. Only really physical players can generate power from that position and Alvarez is just that. At a solid 5-foot-10, 230 pounds, Alvarez has easy plus plus pop in the tank and his simple set up allows him to consistently be on time as well as control his body. Still just 19-years-old, Alvarez has mashed his way to High-A, launching 22 homers in 2021, while maintaining a respectable 22% K-rate.
Right now, Alvarez's power is mostly being demonstrated pull-side as he has had no problem punishing hanging breaking balls and catching up to hard stuff middle-in thanks to his explosive bat speed. Pitchers at higher levels will likely work away from the at times pull-happy Alvarez, but his pitch recognition and body control have us confident that he will adjust.
Alvarez has plus plus raw power, combined with a feel to hit that is ahead of his years. Forty home runs wouldn't even be out of question for the Mets top prospect at some point in his career, along with palatable K-rates.
Defense/Speed
Alvarez's athleticism at the plate can be seen behind the dish as well. He is an incredibly advanced receiver for a 19-year-old and moves well behind the dish, allowing him to block balls that many catchers can't get to. Alvarez also has a plus arm and gets good carry on his throws. All indications point towards Alvarez becoming an above-average defender.
Outlook
As soon as Adley Rutschman graduates, Alvarez will become the best catching prospect in baseball. To take it a step further, we believe that Alvarez will eventually be baseball's top overall prospect. At the big league level, the sky truly is the limit for the teenage catcher. With offensive upside that rivals any prospect at any position and projectable defense, Mets fans could be looking at their best catcher since Mike Piazza.
2. Brett Baty – 3B – (Double-A)
Age: 21 | Height/Weight: 6'3′, 210 | Bat/Throw: L/R | 1st Round (20), 2019 (NYM) | ETA: 2022
| | | | | | |
| --- | --- | --- | --- | --- | --- |
| HIT | RAW POWER | GAME POWER | RUN | FIELD | FV |
| 45/55 | 55/60 | 45/55 | 30/30 | 45/50 | 60 |
2021 Stats (A+/AA): .292/.382/.473, 12 HR, 35 XBH, 132 wRC+, 25.5 K%, 11.9 BB%
Offense
Very loose and relaxed setup that features a wide base in which he holds the majority of his weight in a coiled back hip. The swing is still a little raw because Baty is inconsistent in regards to his lower half weight transfer, he has a tendency to lose the power in his lower half when he doesn't load correctly. With that being said, Baty features both quickness and bat speed, with the latter being close to elite once he's fully developed. Baty's loudest tool is his raw power to all parts of the field thanks to his immense combination of strength and bat speed.
The power that he flashes to the opposite field is truly unique because of his ability to hit homers to left field that even right handed hitters have trouble reaching. He deploys the approach of a fastball masher as he is aggressive to heaters in all parts of the zone. His pitch recognition is advanced for his age and he has shown an ability to sit back and drive hanging breaking balls as well.
There is some swing-and-miss to his profile, however, it could be due to his inconsistent swing mechanics that also produce more ground balls than a player like Baty should be hitting. Baty's swing mechanics hint at untapped upside in his offensive profile and once he shores them up, his advanced approach and physical tools could blend into a middle of the order run producer at the highest level.
Baty's plus raw power can be seen when he hits the ball in the air, but the 22-year-old simply did not do enough of that last season. In 91 games between High-A Brooklyn and Double-A Binghamton, Baty recorded a ground ball rate above 55%.
When Baty did get the ball in the air, it went. Nearly a quarter of his fly balls left the yard in 2021, but for a power hitter, you cannot be hitting the ball in the ground more than half the time.
Defense/Speed
Baty is a physical presence at 6-foot-3, 210 pounds and while he moves well for his size, we don't believe he will be an impact defender at the hot corner. His feet are heavier than most third baseman and while he has soft hands, range will always be a problem due to his size. He has a chance to be average defensively but it's somewhat of a stretch. Baty's plus arm is an asset for him in the field and he moves well enough to deploy in left field in a pinch. First base is his best natural fit, where his soft hands and solid footwork could add up to a plus defender.
Outlook
Baty's profile is driven by his flat out ability to hit. His plus power potential and strong approach lead me to believe he will be an impact bat in the big leagues one day. Baty's power to all fields will translate at the highest level, if he continues to improve on his ability to get the ball in the air. 30+ home runs with a high on base percentage is the hopeful outcome for Baty and he has a good chance of achieving it.
3. Mark Vientos – 3B/LF – (Triple-A)
Age: 21 | Height/Weight: 6'4, 185 | Bat/Throw: R/R | 2nd Round (59), 2017 (NYM) | ETA: 2022
| | | | | | |
| --- | --- | --- | --- | --- | --- |
| HIT | RAW POWER | GAME POWER | RUN | FIELD | FV |
| 40/45 | 60/70 | 55/65 | 40/40 | 35/40 | 55 |
2021 Stats (AA/AAA): .281/.352/.581, 25 HR, 43 XBH, 146 wRC+, 28.7 K%, 9.5 BB%
Offense
With some of the best raw power in his draft class and a large, projectable frame, Vientos enticed the Mets enough to take him 59th overall at the price tag of $1.5 million (half a million dollars over slot). Seventeen years old on draft day, Vientos was one of the youngest players in his class and took a few years to fully settle into professional baseball. It is safe to say he got comfortable in his fourth professional season. The South Florida native tapped into his power, walked more, and boosted his contact rates at the Double-A level and is still just 21-years-old.
Vientos always had the physical projection, but some small tweaks at the plate have allowed him to really unlock his 70-grade raw power. The 6-foot-4, 190-pound slugger was going to his pull side for power earlier in his professional career, but adjusted his load which has allowed him to get into his back hip more and stay there. Now, we're seeing Vientos mishit baseballs that are getting out to the opposite field.
Vientos has lightning quick hands and wiry strength, and his improved body control has allowed those unteachable qualities to shine through. The 21-year-old tripled his HR/FB% to 30% this year, and is going to center field or the other way nearly 7% more frequently. There were concerns as to whether Vientos could handle high velocity and/or breaking stuff and I think he answered both last season. Against fastballs 94 MPH and above, Vientos hit a robust .469/.538/.938 in a 139 pitch sample. While not quite as dominant against breaking balls, Vientos held his own, posting a .765 OPS and a much improved chase rate.
Defense/Speed
With fellow third base prospect Brett Baty also enjoying a great season, Vientos has gotten reps in left field as well as third base. Vientos will likely be average at best at either spot. He has a rocket for an arm, but his footwork at third could use some cleaning up and his throws can be inconsistent.
Outlook
Regardless of which corner he ends up in, Vientos is a bat-first prospect with prolific home run potential. Improved approach and swing mechanics have helped his long-term outlook, but Vientos still remains a boom-or-bust corner player with as much offensive upside as anyone you'll find in the Minors. The fact that he has feasted on velocity and showed vastly improved spin recognition in the upper levels gives us a lot of reason to believe that Vientos could be the next homegrown masher for the Mets.
4. Ronny Mauricio – SS – (Double-A)
Age: 20 | Height/Weight: 6'3′, 165 | Bat/Throw: S/R | IFA: $2.1 million (NYM) – 2017 | ETA: 2024
| | | | | | |
| --- | --- | --- | --- | --- | --- |
| HIT | RAW POWER | GAME POWER | RUN | FIELD | FV |
| 40/45 | 45/55 | 40/55 | 45/40 | 40/50 | 50 |
A toolsy prospect with a flawed approach, it is easy to forget that Mauricio is still just 20 years old. That being said, with more than 1200 professional PA's already under his belt, some doubt has to start trickling in as to whether Mauricio will ever fully figure it out.
2021 Stats (A+/AA): .248/.296/.449, 20 HR, 40 XBH, 24.7 K%, 5.7 BB%
Offense
Mauricio has good bat-to-ball skills, but he swings at everything. Pulling the trigger at 44% of pitches outside of the zone, pitchers took advantage of his aggressiveness by expanding the zone early in the count.
Mauricio's hands work really well and he boasts impressive bat speed from both sides of the plate. When he attacks the right pitches, Mauricio generates easy carry, showcasing his above-average power. In fact, Mauricio's 22% HR/FB rate is well above average. The issue is, Mauricio doesn't get the ball in the air enough. The switch-hitter recorded a 48% ground ball rate due to his inconsistent lower half and his willingness to pull the trigger on pitches that he can't do much with.
At 6-foot-3, 165 pounds, Mauricio has room to add more strength to an already wiry strong frame. The power projection could push to plus if he adds some muscle, but ultimately Mauricio's approach will determine whether he can produce the way many have long hoped.
Defense/Speed
An average runner, Mauricio will never make much of an impact on the base paths (11/18 SB last year). Don't mistake Mauricio's lack of top-end speed for a lack of athleticism as the 20-year-old shows off his twitchiness in the batters box and in his footwork at shortstop.
Mauricio has good range and a big arm which allows him to make the difficult plays. The struggle for him is often times the routine plays. Despite strong defensive tools and projection, Mauricio made 22 errors in 95 games. Odds are, Mauricio should stick at shortstop, however if he adds more weight his arm and bat should project fine at third base as well.
Outlook
Even though Mauricio has been in professional baseball since 2018, he is still just 20 years old and has plenty of time to figure things out. The Mets have consistently been aggressive with Mauricio's development which could have played a part in his inconsistency at the plate. Next year will be a big one for Mauricio's development as he presumably will spend the vast majority of the season in Double-A Binghampton.
While Mauricio did not make the improvements we would have wanted to see at the plate, he flashed some of the power that scouts had long known he was capable of, easily breaking 110 mph when he connects.
5. Matt Allan – RHP – (High-A)
Age: 20 | Height/Weight: 6'3′, 225 | Bat/Throw: R/R | 3rd Round (89), 2019 – NYM | ETA: 2024
| | | | | |
| --- | --- | --- | --- | --- |
| FASTBALL | CURVEBALL | CHANGEUP | COMMAND | FV |
| 60/65 | 55/60 | 45/60 | 35/45 | 50 |
The highest upside arm in the Mets system, Allan gave us an extremely brief look at what the Mets saw in him when they signed him to a $2.5 million signing bonus in 2019. It was going to take first round money to sign Allan away from the University of Florida because he is a first round talent. In the limited action that we have seen of the right-hander, Allan has demonstrated that he has frontline stuff. Allan's timeline is a bit delayed after undergoing Tommy John surgery early last season, but he is an advanced pitcher for his age and is poised to make up for lost time once he returns.
*Did not pitch in 2021
Arsenal
Allan's fastball is a big-time power pitch that ranges from 95-97 MPH, topping at 98 with a ton of late arm side run. In a Spring Training outing against the Washington Nationals MLB lineup, Allan did not blink when I saw him. He tied up right-handed hitters with his fastball on several occasions, either jamming them for weak contact or half-hearted whiffs. Left-handed hitters often missed under the offering or tried to cheat for something middle-in, rolling over as the fastball ran away from them.
With a heater that demonstrates that kind of velocity and movement profile, Allan has a really strong baseline that few arms offer. On top of his plus fastball, Allan has an 80 MPH downer curveball which shows plus. I would love to see Allan throw a slider as a firm, horizontally breaking pitch to the glove side will create a tunneling nightmare for hitters. Given Allan's feel for spinning his breaking ball, I think he can add the slider without much issue.
Allan's third offering is his changeup which has shown flashes of plus potential when he commands it, but can also get a bit firm at times. The 20-year-old repeats his release point well and has clean mechanics which make me confident in his ability to command the pitch long-term. It will be important for Allan to have a bit more separation between the changeup and fastball in the velocity department as the two offerings have similar movement profiles.
Outlook
Still not even a year removed from having Tommy John surgery last May, Matt Allan's 2022 season is going to be all about getting healthy and back on the mound. Allan represents the only pitching prospect in the Mets farm system that has frontline starter potential. In 2023, Allan will finally get the chance to prove that upside, but for now expect the Mets to be cautious with the most prized arm in their system.
6. J.T. Ginn – RHP – (High-A)
Age: 22 | Height/Weight: 6'2′, 200 | Bat/Throw: R/R | 2nd Round (52), 2020 – NYM | ETA: 2024
| | | | | |
| --- | --- | --- | --- | --- |
| FASTBALL | SLIDER | CHANGEUP | COMMAND | FV |
| 50/55 | 55/60 | 40/50 | 45/55 | 45+ |
2021 Stats A/A+: 92 IP, 3.03 ERA, 3.39 FIP, 1.05 WHIP, 21.9 K%, 5.9 BB%
A first round talent who slipped to the second round due to Tommy John surgery, the Mets shelled out a well above slot sum of $2.9 million to add him to the 2020 draft class. Ginn looked good in his debut and got stronger as the season went on.
Arsenal
Ginn's fastball gained velocity as the year went along, while also improving the quality of his overall stuff. A two-seamer with a ton of arm side run in the 91-93 mph range. Ginn commands it well, locating the fastball effectively at the bottom of the zone on his way to a 61% ground ball rate.
With an ability to pitch to weak contact, Ginn was able to work deeper into starts with an economical pitch count. As the year went on and Ginn's stuff ticked up, he started to rack up more swings-and-misses thanks to his slider that flashes plus and an improving changeup. The slider sits in the 83-85 mph range with late downward action.
Ginn has a pretty decent feel for his changeup, but it doesn't play the way it should due to a similar action to his fastball and not enough separation (sits 85-87 mph). If Ginn can get the changeup to differentiate from his fastball a bit more, it could play as an average or better pitch.
Outlook
With strong command and an ability to get a ton of ground balls on his heavy fastball, Ginn has a high floor of a back-end rotation arm. Mixing in a four-seamer that Ginn could elevate would help him immensely as everything he throws right now works at the bottom of the zone.
While Ginn improved with his ability to get whiffs, his ceiling is somewhat limited by a fastball that is built for weak contact more than swing-and-miss and a third pitch that does not distinguish itself. Ginn's slider is a pitch that he will likely continue to rely on more at the upper levels, putting even more pressure on his command of it. Ginn likely projects as a back-end starter, but with a really good chance of achieving that outcome.
7. Alex Ramirez – OF – (Low-A)
Age: 19 | Height/Weight: 6'3′, 170 | Bat/Throw: R/R | IFA: $2.05 million (NYM) – 2019 | ETA: 2024
| | | | | | |
| --- | --- | --- | --- | --- | --- |
| HIT | RAW POWER | GAME POWER | RUN | FIELD | FV |
| 40/50 | 45/55 | 35/50 | 55/55 | 40/50 | 45+ |
The prize if the 2019 IFA class for the Mets, Ramirez impressed with his tools across the board and advanced skills for a teenager. After missing out on 2020's pandemic cancelled season, Ramirez held his own jumping straight to full season ball.
2021 Stats (A): .258/.326/.384, 5 HR, 24 XBH, 96 wRC+, 31.1 K%, 6.9 BB%, 16/23 SB
Offense
It is extremely difficult for a teenage international free agent to make the jump straight to full season baseball. Sure, there was some swing-and-miss, but the fact that Ramirez's tools across the board were able to shine through has to have the Mets brass feeling really good about their $2 million investment.
Ramirez has an extremely quick bat, generating a ton of whip. At times, Ramirez can get a bit armsy and out of control with his swing, but when he is under control, the bat speed still plays and he can drive the ball to all fields. Starting from an upright stance, Ramirez uses a hovering leg-kick to get into his back side and does a pretty good job of utilizing his lower half.
At 6-foot-3, 170 pounds, Ramirez has plenty of room to add strength in his frame. Already demonstrating an ability to impact the baseball, 15 pounds of muscle could take Ramirez into the above-average range power wise with promising bat-to-ball skills and an already decent approach.
Defense/Speed
Ramirez saw a majority of his starts in centerfield last year, where he is able to cover plenty of ground and has an average or better arm. Like many young outfielders, Ramirez's reads and routes need work, but he looked the part out there at times, using his long strides to close in on fly balls.
Closer to above average than plus in the speed department, there is a chance Ramirez could slow down a step if he adds some strength, however his quick twitch ability and long strides lead me to believe that he should be able to sustain at least above-average run times. Ramirez should get plenty of run in centerfield unless he proves unable to stick there, but if he moves to a corner, Ramirez should be a very solid defender.
8. Khalil Lee – OF – (MLB)
Age: 23 | Height/Weight: 5'10′, 170 | Bat/Throw: L/L | 3rd Round (103), KC – 2016 | ETA: 2022
| | | | | | |
| --- | --- | --- | --- | --- | --- |
| HIT | RAW POWER | GAME POWER | RUN | FIELD | FV |
| 40/45 | 55/55 | 40/50 | 55/55 | 55/60 | 45 |
Part of a three-team trade that most notably sent Andrew Benintendi to the Royals, the Mets parted with pitching prospect Josh Winckowski in order to get Khalil Lee from Kansas City. Lee struggled in his MLB debut, but dominated Triple-A last season, earning himself another MLB look as a potential fourth outfielder in 2022.
2021 Stats (AAA): .274/.451/.500, 14 HR, 36 XBH, 162 wRC+, 29.6 K%, 18.3 BB%
Offense
Lee really packs a punch for his frame, flashing well above-average power to his pull side with exit velocities above 110 mph on several occasions. While Lee's K-rate was high in Triple-A, so was his walk rate, both of which are a byproduct of his extremely passive approach. Lee only pulled the trigger at 36% of offerings last year, nearly 10% less than league average. The figure remains consistently 10% below average for pitches in the zone as well for Lee.
As a result, Lee found himself in a lot of deep counts, leaving things up to Minor League umpires or being one bad swing away from walking back to the dugout. Lee was still wildly productive, punishing fastballs to a well over 1.000 OPS. Lee's passiveness could come from his struggles to hit breaking balls throughout his career, but he will need to ambush more fastballs at the upper levels if he is going to be so passive with secondary offerings.
When Lee gets the ball in the air, it goes. The issue for Lee is that his production has always been somewhat sapped by his high ground ball rates. Lee struggles to stay back on breaking balls, often going out to get them and rolling over. When Lee keeps his energy stored in his back hip, he has impressive rotational power that plays foul pole to foul pole and we see that more often when he gets fastballs.
It could be pitch recognition, which would present a more difficult hurdle than body control, but if Lee can improve even a little bit against breaking balls, his ability to get on base and hit for some power could make him an average bat.
Defense/Speed
An above-average runner, Lee is capable of playing solid defense in centerfield but plus defense in right thanks to his big arm. Lee projects defensively as the ideal fourth outfielder who can play all three spots well and add some speed and power.
Outlook
Lee had a really good finish to the 2021 season, hitting .297/.466/.593 with 10 home runs over his final 50 games. Over those final two months, Lee swung at pitches in the zone a bit more and hit breaking balls better while doing what he has always done: crush fastballs and walk.
At this point, it is probably safe to say that Lee has the floor of a fourth outfielder, but with his tools and strong finish to last season, not all hope is lost on him being an average regular.
9. Jaylen Palmer – 3B/OF – (Low-A)
Age: 21 | Height/Weight: 6'4′, 208 | Bat/Throw: R/R | 22nd Round (650), NYM – 2018 | ETA: 2024
| | | | | | |
| --- | --- | --- | --- | --- | --- |
| HIT | RAW POWER | GAME POWER | RUN | FIELD | FV |
| 35/45 | 50/60 | 35/50 | 55/50 | 40/50 | 45 |
A pop up prospect from Holy Cross High School in Flushing, the Mets snagged Palmer in the 22nd round for 200k, well above slot value. Palmer surprised many with his ability to compete with professional pitching out of the gate and boasts extremely exciting tools and projection.
2021 Stats (A/A+): .244/.354/.368, 6 HR, 30 XBH, 102 wRC+, 31.7 K%, 13.9 BB%, 30/36 SB
Offense
A projectable frame complemented with impressive athleticism and explosiveness, Palmer absolutely looks the part. Palmer's feel for the strike zone and swing is more advanced than many expected from a cold weather prep prospect right out of the gate in his 2018 Rookie Ball debut.
Palmer struggled with swing-and-miss a bit in his second season of Rookie Ball, but jumped out in 2021. He ended up looking much more comfortable at the plate and in control of his at-bats in his full season debut at Low-A Port St. Lucie posting a 114 wRC+, 27.8 K%, and 13.4 BB%. He earned a promotion to High-A midseason, which was an understandably big adjustment for Palmer, as he struggled more with swing-and-miss after the call-up.
Palmer's quick bat and efficient path allow him to catch up to high velocity and flat out crush fastballs. Where Palmer is understandably a bit deficient is his pitch recognition, combined with a struggle to keep his weight back on secondaries. The 21-year-old didn't miss a step in regards to fastballs after his promotion, but the improved quality of breaking balls further exposed his challenges in that department.
Given Palmer's athleticism, ability to hit velocity, and feel for the strike zone, I really think this is something Palmer will be able to work through. After all, this was his first season above Rookie Ball with 2020's lost season. Palmer has 25+ home run upside and exciting tools across the board that could make him a dynamic offensive player.
Defense/Speed
The Mets are excited about Palmer's ability to play different spots and are eager to see where he excels. Palmer has already played six different positions professionally and split time between third base, center field and right field last season. Palmer's above-average speed and long strides bode well for his ability in the outfield and his strong arm and decent footwork have helped him develop nicely at third base.
Palmer gets good jumps on the base paths as well, swiping 30 bases in 36 attempts last season.
Outlook
There's no doubting the wide range of potential outcomes with a player of Palmer's profile, but given where he was selected, the upside that the 21-year-old offers has the Mets excited. There's a ton of risk, but 25 home runs with tools across the board and defensive versatility is a possible outcome. If the hit tool continues to improve, it wouldn't be crazy to see Palmer on a top 100 list at some point, but as of now that is still a big "if".
10. Nick Plummer – OF – (Triple-A)
Age: 25 | Height/Weight: 5'10′, 200 | Bat/Throw: L/L | 1st Round (23), STL – 2015 | ETA: 2022
| | | | | | |
| --- | --- | --- | --- | --- | --- |
| HIT | RAW POWER | GAME POWER | RUN | FIELD | FV |
| 40/45 | 55/55 | 40/50 | 55/55 | 50/55 | 45 |
A former first rounder out of high school by the Cardinals in 2015, Plummer struggled through his first several professional seasons before putting it together in 2021. Due to a crowded outfield, the Cardinals could not give Plummer a 40-man roster spot and he signed with the Mets as a Minor League free agent.
2021 Stats (AA/AAA): .280/.415/.479, 15 HR, 41 XBH, 144 wRC+, 26.4 K%, 15.3 BB%
Offense
Plummer's strength and athleticism are what drew scouts to him when he was selected in the first round out of high school in Michigan. A combination of injuries and some swing-and-miss issues led to major inconsistency through the first few seasons of Plummer's career.
Previously having a lot of moving parts to his swing and an aggressive leg kick that he struggled to control and time, Plummer returned in 2021 looking like a much more mature hitter. Plummer utilized his athleticism to allow him to really get into his base and trusted his natural strength and bat speed to do damage without a big leg kick. Now a tiny toe tap, Plummer was able to be on time and under control much more frequently.
Plummer did not lose any power by simplifying things, in fact, he may have gained some. Entering this year, the 25-year-old had 18 career home runs in 343 games; Plummer hit 15 homers in 2021 alone (107 games). After struggling to a 33% K-rate in 2019, Plummer cut it down to 26.4% in the upper levels and began to use the whole field a bit more. His walk rate remained strong along with a HR/FB rate that tripled to 18%.
Another encouraging aspect of the left-handed hitter's improvements are his splits. Plummer posted an .890 OPS against righties and a .908 OPS against lefties. While it is fair to have some hesitation in regards to buying Plummer's breakout, just about every metric helps reinforce the validity of the light bulb flash for the former first rounder.
Defense/Speed
A stalky build at 5-foot-10, 200 pounds, Plummer is not the quickest accelerator in the world, but once he gets going, he can move. As a result, Plummer's above-average speed translates more in the outfield in the form of closing speed than on the basepaths. Plummer makes good reads, but his below-average arm holds him back from being a plus defender in the corner. Still, Plummer is an above-average outfielder who can even play centerfield in a pinch.
Outlook
After the season Plummer had in the upper levels, it would be fair to assume that he could be competing with Khalil Lee for the Mets fourth outfield spot this spring. Both have very similar profiles and have a little bit more upside than a traditional fourth outfielder.
Other Names to Watch
Robert Dominguez – RHP – (CPX) A big, projectable right-hander, Dominguez struggled with command in his brief Rookie Ball debut, but offers a plus fastball that can reach the upper-90s and a curveball with some projection.
Eric Orze – RHP – (AAA): A two-time cancer survivor, Orze is an incredible success story and the guy can really pitch. Between Double and Triple-A, Orze struck out 33% of batters thanks to an elite split change and a lively fastball. Orze could be a legit bullpen piece for the Mets very soon.
Jose Butto – RHP – (AA): Butto enjoyed a nice year for the Mets, producing a career high in K% while getting stronger as the year went on. Butto is a command over stuff guy, but could be a nice depth arm or swingman piece.
Calvin Ziegler – RHP – (CPX): Canada's top prospect in the 2021 MLB Draft, the Mets snagged Ziegler in the second round, enticed by his mid-90s fastball and projectable breaking ball. Ziegler has yet to make his MLB debut, but offers plenty of upside.
Carlos Cortes – UTIL – (AA): A sweet swinging lefty with some sneaky pop, Cortes enjoyed a nice year in Double-A Binghampton, launching 14 home runs on his way to a 120 wRC+. Cortes only played the outfield last season after some defensive struggles at second base in 2019, however he is capable in the infield and projects as a utility piece who can swing a bit.