Analysis
Scott Boras Bandbox Shopping for Michael Conforto?
Coming off a down-season, Michael Conforto is one of this year's most fascinating free agents. Here is how Scott Boras could set him up for a bounce back in 2022.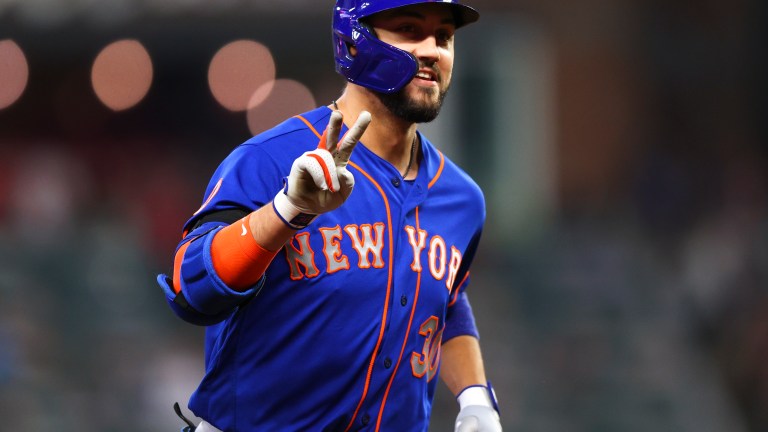 Michael Conforto's 2021 season cannot be described as anything but a massive disappointment. The 28-year-old entered a contract year with the expectation that he would be the clear top free agent outfielder on the market if he just performed up to his career norms.
Conforto was coming off the heels of his most consistent full season in 2019, where he set career-highs across the board including 33 home runs, and a torrid 2020 shortened-season where he put up a 158 wRC+. Conforto was supposed to be right alongside Corey Seager, Kris Bryant and Max Scherzer as top tier free agents represented by Scott Boras in the 2022 class.
Unfortunately for both the Mets and Conforto, the right fielder put together the worst season of his career in 2021, setting a very unpredictable market for himself in free agency. The down year did not stop the Mets from tagging Conforto with the $18.4 million qualifying offer, as New York looked to receive draft compensation for their former first round pick.
Conforto could have accepted that one-year deal to remain with the Mets and try to rebuild his value for next season, but if you know anything about Scott Boras, that was never going to happen. It has long been reported that when Conforto received the qualifying offer, he would ultimately reject it and that is exactly what happened last night, two days after the offer was extended.
Despite his down-year, Conforto could still enjoy a healthy market for his services considering the lack of other great options in a thin free agent outfielder class. Starling Marte and Nick Castellanos are the only free agent outfielders that are clearly ahead of him in this class and even they have their concerns.
For Marte, age is definitely something teams will have to consider, as he is set to play his age-33 season. For Castellanos, his poor defense could be seen as a big hang-up for teams that may view him as more of a DH. Another free agent outfielder to watch is Avisail Garcia, who is coming off a better season than Conforto, but does not nearly have the same track record.
With all of that said, Conforto should be able to receive a contract from another team that gets him in the range of the $18.4 million he would receive on the qualifying offer, but in a situation that sets him up to better capitalize on his market again next offseason.
This could explain why Conforto was very emotional playing his last home game at Citi Field this season, knowing that there was a pretty good chance that it could be his last in a Mets uniform.
If we just take a look at his free agent counterpart in Castellanos and his first taste of free agency two years ago, there is a very clear blue-print that Boras could be looking to follow with Conforto.
Castellanos first hit free agency after the 2019 season, where Boras hoped to cash in on his client's strong second-half following being traded to the Chicago Cubs. Castellanos went from the cavernous Comerica Park to the bandbox known as Wrigley Field.
The impact of that change was seismic for the slugger, as he went from hitting just 11 home runs in his first 100 games, to mashing 16 longballs in 51 games as a Cub. Castellanos posted a 106 wRC+ in Detroit that season, before closing the season with a 152 wRC+ in Chicago. His slugging percentage jumped nearly 200 points seemingly overnight.
While Boras tried to sell those numbers to other teams in free agency, the sample size was too small for Castellanos to receive the massive payday they coveted. So Boras found the best possible situation for Castellanos to continue to produce those gaudy numbers. They found a new deal that brought his client to the Great American Ball Park.
The Reds offered Castellanos a four-year, $64 million deal, but the structure of the contract was what really incentivized him to accept. Castellanos had opt-outs structured into the contract after both the 2020 and the 2021 season.
After putting together a career year this season, in which he hit 34 home runs, Castellanos exercised that opt-out and will now enjoy a far more robust market than he did when first hitting free agency two years ago. Boras will undoubtedly be looking to replicate that with Conforto this offseason.
We recently explored the drastic home/road splits from Castellanos' 2021 season and the mental advantage a hitter receives by playing in a bandbox. Most of the home runs Castellanos hit would have been gone regardless of the ballpark, but you can't measure the mental edge he received from seeing the short-porch of Cincinnati, compared to the pitcher's haven that is Comerica.
When it comes to Baseball Savant's Park Factor Leaderboard, Citi Field is ranked just ahead of Comerica at No. 19. Yet despite playing in a pitcher's park, Conforto has remarkably consistent home/road splits throughout his career, as he has hit exactly 66 home runs both at home and on the road.
| | | | | | | |
| --- | --- | --- | --- | --- | --- | --- |
| Career Splits | PA | Slash Line | HR | RBI | OPS | wRC+ |
| Home | 1419 | .256/.361/.472 | 66 | 186 | .833 | 134 |
| Road | 1561 | .254/.352/.465 | 66 | 210 | .817 | 115 |
Michael Conforto's career home/road splits show a very consistent player regardless of ballpark.
The one number that most jumps out when looking at Conforto's home/road splits is his wRC+ which is nearly 20 points higher at Citi Field than on the road. While this could have been viewed as a reason to accept the qualifying offer and stay with the Mets, there are always greener pastures for a Boras client.
If Conforto can find that level of consistency in a pitcher's ballpark like Citi Field, just imagine the damage he would do playing 81 home games at Great American Ball Park, or Fenway for that matter. Judging based off his career numbers up to this point, the ballpark that could be very attractive to Boras is one that would surely anger Mets fans.
When it comes to playing on the road, Conforto has enjoyed more success hitting in Citizen's Bank Park than anywhere else. Across 53 games played, Conforto is hitting .279/.356/.569, with 15 home runs and 42 RBI in Philadelphia. After declining their option on Andrew McCutchen, the Phillies could certainly look to pouch their division rival and pair Conforto with Bryce Harper to form a dynamic duo in their outfield.
Regardless of if Philly is the ultimate landing spot, the structure of Conforto's next contract seems pretty clear. As we saw with Castellanos and even with J.D. Martinez a few years prior, Boras will be looking for the perfect landing spot for Conforto on a contract that has multiple opt-outs so he can test the market again after his next great season.
When it comes to gauging Conforto's market this offseason, the predictions are all over the place right now with what he will receive. Ken Davidoff of the New York Post predicted he would sign a six-year, $140 million deal, whereas MLB Trade Rumors pegged Conforto at one-year, $20 million.
Maybe there is a team that will overlook his 2021 season and give Conforto the long nine-figure contract he has always coveted, but that seems rather unrealistic at this stage.
At the end of the day, this is about getting Conforto his big deal the next time around and the safest way to do that is by planting Conforto in a bandbox and banking on a 40-home run season in 2022.
For more on Michael Conforto's free agency and how agent Scott Boras plays into where he will land, check out the latest episode of my daily podcast on the New York Mets, Locked On Mets.