Analysis
What in Tarnation is Happening With Manny Machado?
Despite finishing runner-up in MVP voting in 2022, superstar Manny Machado has started off this year's campaign about as poorly as possible.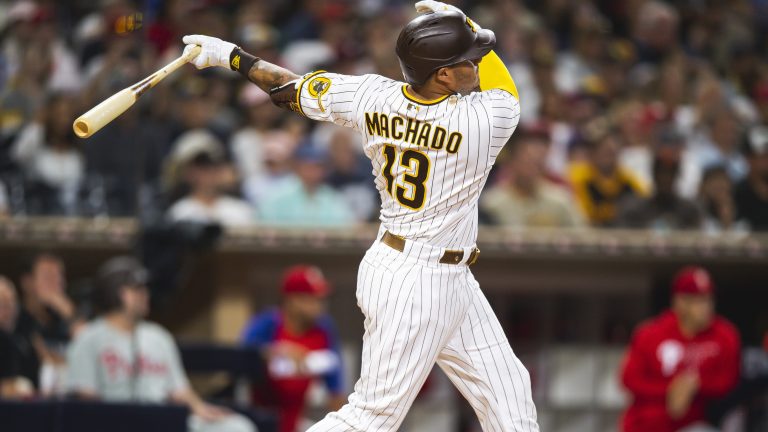 Baseball is hard. In the immortal words of the great American philosopher, Jayson Werth, "There's nothing harder in the galaxy", than this sport we (I think?) love. And do you know what's the second most difficult thing? Being a fan.
Because being a fan of this sport has trials and tribulations of its own. There's everything from the culture, the rich jerks that run it, and perhaps the most haunting of all: when one of the best players on your favorite team inexplicably turns into a pumpkin. 
Third baseman Manny Machado is the latest culprit of this pumpkin disease.
Last year — and throughout his entire career, really — Machado was one of the game's best, finishing with an astounding 7.4 fWAR (trailing only Aaron Judge and Shohei Ohtani) and a 2nd-place-that-should've-been-1st finish for National League MVP.
This year, he's been very much not one of the game's best. 
His .221/.253/.291 slash line is similar to what I showcased in little league, and his 51 wRC+ ranks 25th among third basemen. This is a number lower than known studs like Jace Peterson and Nick Maton. Apologies to those two folks for the stray shots, but it's truly been that bad for Machado.
Machado has been a huge reason why the Padres have been so poor with runners in scoring position, where he's hit into nearly as many double plays (5, he had 12 all of last season) as he has driven in runs (7 RBIs). 
A simple explanation would be to say Machado is getting unlucky — something he's certainly been the victim of before — but that hasn't quite been the case. His strikeout rate has gone up to 24.2% (20.2% in 2022), his hard hit and barrel numbers are heinous (16th and 27th percentile, respectively), and his .281 BABIP isn't particularly low given his career norm and lack of major speed. 
Plus, while superstar Juan Soto's slow start has been the subject of the most coverage, he's at least been effective when it comes to his plate discipline (21.2% walk rate, the third-best in the game).
Machado, on the other hand, has done precisely the opposite, declining from 9.8% in 2022 to just 4.4% this season. It doesn't take a genius to say fewer walks and more strikeouts is bad, but that's the basic gist of it. There are, of course, some reasons behind this. 
The first and most obvious reason is that it's early and that everyone should shut up, but my editor tells me that doesn't make for an interesting article. Even still, it's worth noting that Machado is just 30 years old and has remained one of the more reliable power hitters in the sport for many years. He's never really shown such a drastic split in his walk-to-strikeout ratio like this before, and there might even be some unknown ailment plaguing him (even though it's unlikely, as only Paul Goldschmidt has played in more games than him since 2017).
Another thing about Machado that should ease concerns is that, aside from last year, he tends to start the season a tad slow with his bat. Here are his slash lines for the first month of the seasons he's been a Padre:
| | |
| --- | --- |
| 2022 | .386/.453/.614 |
| 2021 | .240/.336/.370 |
| 2020 | .226/.351/.419 |
| 2019 | .242/.343/.396 |
Granted, this year has been truly heinous for Machado even by his slow-start standards. Even worse than that unlucky 2017 season alluded to earlier. But with his recent ginormous contract extension with the team, it's possible Machado might be pressing a bit at the plate to prove it — something pitchers may be taking advantage of as they've thrown more breaking stuff (sliders, the new "sweeper" everyone's all jazzed about, etc.) and getting him to chase. 
His approach at the plate might also be catching up to him. Over the past couple of seasons, Machado has swung at more balls outside the zone than usual. In 2021, his outside-zone swing percentage jumped by 5%, and in 2022 up again from that point by another 1% on top of a 3.5% increase in swinging on the first pitch. This resulted in more hit balls, sure, but also a higher BABIP than usual (.337 in 2022, his career average being .300) which suggests his overall slash line may have been a bit inflated. 
Given all the turmoil with the Padres roster — which had just lost Fernando Tatis Jr. thanks to his tom-foolery and had not yet acquired Bogaerts or Soto — a lot of the team's offensive success rested on Manny Machado's shoulders.
That more aggressive approach was cool with the baseball god tenants at the time, but now it seems they're asking Machado to pay up a bit on rent. He's not a batting average-contact-madman like Luis Arráez, so he's going to need to adjust, and especially when it comes to righties, where he's slashing .161/.186/.232 compared to the .333/.375/.400 he's hitting against lefties.
But enough with all the numbers, man. He's Manny Machado…he'll figure it out! Sure, there's reason for concern, but that all depends on your expectations. Machado just simply isn't at that age or point in his career where a Carl Crawford-after-signing-with-the-Red-Sox type of implosion should be expected. Just ask yourself: does that even feel right? The answer is no!
It's all about expectations. Manny Machado's horrific start should only be a concern for those that might've thought another 7.4 fWAR season was in store. That's not a bad thing, especially considering his Gold Glove defense at the hot corner hasn't changed in the slightest.
But if he's simply a reliable 4-5 win player that the Padres can count on for a potential World Series run, that's more than enough.