Analysis
Could Fernando Tatís Jr. Be the Villain Baseball Needs?
Considered by many to be one of the game's most exciting players, Fernando Tatís Jr. may very well be entering his villain arc.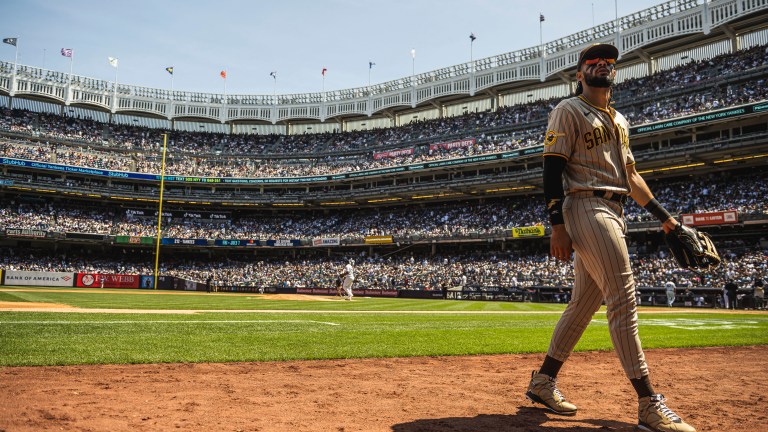 There's certainly a conversation to be had about how we determine our sports villains. There's a moral aspect of it — which is often dicey and littered with slippery slopes — and an on-court demeanor/actions side that is, usually, easier to cling to.
For years, baseball had perhaps the magnum opus of sports villains: the entirety of the Houston Astros. While I'd argue for many esoteric or unabashedly (and mostly silly) political reasons that the Boston Red Sox, and any Boston team, will forever be the magnum opus of sports villains…people don't like cheaters. 
I mean, like, really don't like cheaters. And Fernando Tatis Jr. is the latest offender.
Everyone knows Tatis Jr.'s story by now. The Padres superstar has had about as tumultuous a year as possible from injuries, to initially refusing surgery to address said injuries, to motorcycle accidents, and finally to a costly suspension. And it can't be understated that, from the Padres perspective, the suspension came just after the team made its blockbuster trade for Juan Soto. 
After all of that, the dissent against Tatis Jr. is understandable. All sorts of fan bases have been getting in on the mockery.
And Fernando Tatis Jr., bless his soul, has not shied away from the negative attention.
Although it's somewhat hilarious every time fans make it their mission to heckle players for steroid/cheating scandals — as if nearly every team hasn't had some flirtation with behind-the-scenes chicanery at one point or another — I find this whole thing to be ELECTRIC. Sports are always more fun when we have a villain, and Fernando Tatis Jr. is fitting the bill perfectly.
This isn't necessarily about numbers (yet) though. Through 33 games, Tatis Jr. is slashing .246/.294/.472 with nine homers and a 108 wRC+. His .250 BABIP (career .334) may suggest he's been getting a bit unlucky in the batting average department, but he's also been incredibly impatient at the plate so far. His outside-zone swing percentage is up 2.9% and his first-pitch swing percentage up 4.9%, and he hasn't been making nearly as much contact (whiff rate is up 6.8%). 
His overall production has been solid thanks to his surprisingly elite defense in the outfield, speed, and timely home runs. It's likely a timing thing — an understandable issue given he didn't play at all in 2022 and is coming off of shoulder surgery. But I also offer you this: who cares?
Because Tatis Jr.'s 2023, so far, is a season of moments. And nobody lives up to the moment better than him: 
This was perhaps the single-funniest (lord forgive me for using this phrase) clap back from an athlete towards fans I've ever seen. Despite the onslaught of jeering, he hit two home runs over the weekend in New York. I was at the game on Saturday, and you could really feel how rageful the Yankees fans were whenever Tatis Jr. came up to the plate — and how equally joyous they were whenever he struck out or, in one instance, was picked off at first base. 
The latter moment unfortunately resulted in Yankees first baseman Anthony Rizzo leaving with an injury, though I'm sure the famously even-keeled New York fanbase will stay away from pushing blame onto Tatis.
But, really, I think this could be a fun subplot for what has been a mightily disappointing Padres season. Every sport sees plenty of antagonists, like Dillon "The media! The media!" Brooks of the NBA. But unlike those type of drama-queens, Tatis Jr. is actually — and I can't emphasize this enough — really good at his given sport.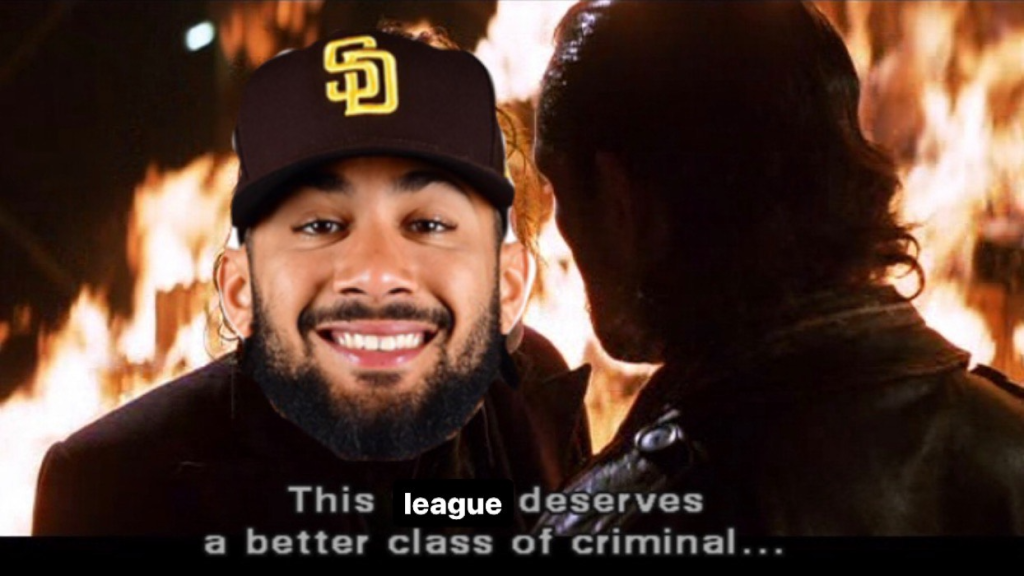 Although it hasn't been the best of starts on paper, Tatis Jr. is more than capable of putting together an MVP-quality campaign, since he has already done it twice in his young career. He's been heralded as, absent the superhero that currently plays for the Angels, the most exciting player in the sport many times before.
And judging by this past weekend, he might be the type of personality to perform better under the scrutiny, which could make the league a lot more fun in the process.
Consider him the Trae Young of the sport.
Fandom can often be a weird and mercurial thing to behold, and Tatis Jr. entering his villain arc is as good an example you'll find. And if you're a Padres fan, don't take the Yankees hooting-and-hollering too personally.
After all, this is the same fanbase that allegedly shouted racist chants at Teoscar Hernandez, mocking Steven Kwan for an injury, and chose to boo Tim Anderson following his offense to Josh Donaldson calling him Jackie Robinson. And that's all within just the past couple years. 
With the hatred towards the Astros all but dissipating following their championship run in 2022, Fernando Tatis Jr. might be the next player to step into the villain role.
It's unfair in some ways, and fair in others, but at the very least it's understandable. And at the most, it's probably going to be a whole lot of fun.