Analysis
Fernando Tatís Jr.'s Return is Exactly What the Padres Need
Sitting at a 10-12 record on the season, the return of superstar Fernando Tatis Jr. is the exact spark the Padres need.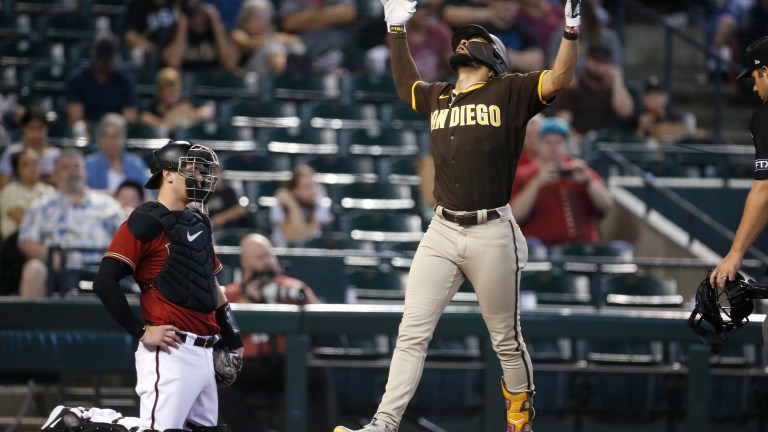 The Padres shouldn't be in this position, but they are. Sitting at a 10-12 record on the season, the return of superstar Fernando Tatis Jr. was supposed to be gravy.
A super decadent, only-the-best-restaurant-in-the-world kind of gravy, sure, but just a splendid bonus all the same. Instead, as currently constituted, this Padres offense may be in dire need of the spark that Tatís can — and over the course of his young career, often has — provided. 
And in his first game back, Tatís went 0-for-5 with two strikeouts. Not exactly something that would elicit over-joyous #TheReturn posts on the bird app, but it was still lovely to see him return nonetheless. T
he lone highlight of the night — unless you're a sicko, allegedly, like myself who laughed at him nearly swinging out of his shoes on the first pitch — was a nice rundown catch he made in right field in the eighth inning:
But it wasn't just his super-stardom that made Tatis' particular return to playing so important.
Because despite the Padres bolstering a lineup that features three potential MVP-caliber players (Manny Machado, Juan Soto, Xander Bogaerts) they've been the most under-performing lineup in baseball thus far. The team, while having some success in the home run (25, good for 8th best) and walk rate (9.7%, 12th) departments, they have failed to produce runs consistently — much of which can be attributed to the slow starts from Manny Machado and Juan Soto. 
As a team, their 92 wRC+ mark ranks 21st among teams and their .193 AVG with runners in scoring position is the second-worst in the league, ahead of only the Royals. They have been, embarrassingly enough, worse than the team that they acquired the aforementioned Bogaerts from: the Boston Red Sox. 
The cliché about it being far too early to judge remains true here. Given the expectations for this particular Padres team, however, it's a stark reminder of how cruel the baseball gods can be.
In a league that just announced one of its teams is abandoning its fans and moving to Vegas, the Padres have been the counter-culture savior in most people's eyes. And yet, they've been mediocre. Frustrating, but that's baseball. 
It's typically impossible to judge the impact a player will have on others. There's no real way to conclude that Tatís' mere presence will break a player like Juan Soto — a lifetime .283 hitter, and currently .183 — out of his slump. But even still, there's some hope that Tatís' "it" factor (or "Him" as the young guns have been saying lately) can help right the Padres ship.
On the field, there is very little to talk about with his play. You've read all the stats, seen all the highlights, and heard all of the moments that made Padres announcer Don Orsillo sound like his gallbladder was about to explode. But really, I find Tatís' approval rating to be one of the most interesting things about his return.
While much has been (rightfully) celebrated about his return, Fernando Tatís Jr. isn't exactly an innocent figure. He'll likely be met with plenty of "cheater" criticism from players, fans, and media all year. And while, as a Padres fan, my first instinct is to yell at those people to protect perhaps the best prospect the team has ever had sans Tony Gwynn, the slander, in this case, is justified.
Joe Musgrove being called a cheater by Mets fans and media after last year's playoff outing was sour grapes, while Tatís is more a matter of fact. 
And that's not even counting the overall goofball behavior he's exhibited the last couple of years. Motorcycle accidents, initially forgoing shoulder surgery, and a highly-publicized dugout shouting match with teammate Manny Machado are just what we've seen publicly. The young fellow may not have many flaws as a player, but he's still got a lot to learn about maturity.
On the other side of things, ridiculing someone like Tatís feels like a waste of time. Aside from there simply being plenty of non-sports figures much more worthy of vitriol, there are players who have done far worse real-life things still hanging out in the baseball fraternity — many of which haven't received the same condemnation from their peers as Tatís already has. 
Granted, that's just the way things are when it comes to complicated character issues, and players are well within their right to speak. Plus, in my extremely lengthy time being alive on this earth (26 years) and being a fan of sports (around 15 years?)I've come to notice how fickle people can be. Time and time again, we jump right back in as long as Man Hit Ball Very Far happens with good frequency. We forgive everything, and we'll likely forgive El Niño as well.
Fernando Tatis Jr.'s 2023 season will be about a whole assortment of things. His skill, blockbuster value, and cheating scandals all combine to make it perhaps the biggest storyline of the season next to Shohei Ohtani's upcoming free agency. Will we see the same level of flourish?
The running of the bases, flipping of the hair, or the bat-flips literally immortalized as video game box art? Will he still showboat after success? Will we see the same smug, but delightful, comments about his place in baseball's culture?
I have no idea. But with guys like Fernando Tatís Jr., it's the possibilities that make him so special.