Analysis
The Luis Arráez Trade Could Be Kim Ng's Signature Move
The reigning American League batting champion was a great get for the Miami Marlins. What needs to happen to lock him up long-term?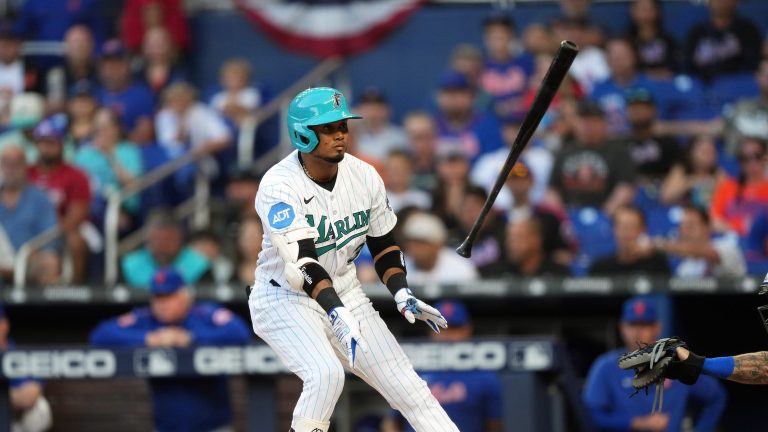 The Miami Marlins' search for an impactful big league bat over the last year was well-documented. A team typically tentative to spend big on free agents was looking to jumpstart its offense by trading from a starting pitching surplus. As Marlins general manager Kim Ng found out, that's easier said than done.
Pablo López seemed to be the ideal ticket for the Marlins to cash in for a bat, but with only two years of control left on his contract, the list of teams willing to part with controllable big league pieces was small. For most teams, that kind of move would be borrowing from Peter to pay Paul.
The Minnesota Twins were an exception. In terms of depth, there are few teams with more infield options than the Twins–and they have even more on the way. As spring training crept closer, the Marlins found themselves increasingly desperate for offensive reinforcement. There could very well have been some urgency from Ng to make an impactful move ahead of a year that could decide her long-term fate as the Marlins shot-caller.
Typically, the team with the "expendable" starting pitching should be in the driver's seat when it comes to trade talks, but the Twins did not need to make a move as badly as the Marlins did–or as badly as Ng did, for that matter.
Over the last 18 months, the Twins had traded a handful of notable prospects to acquire starters Sonny Gray, Tyler Mahle and Chris Paddack (currently recovering from Tommy John surgery). The team was also set to return Kenta Maeda to the rotation to start the season from Tommy John surgery.
Conventionally, Pablo López with two years of control for Luis Arráez with three years of control would be a fair deal straight up, but the Twins had enough pitching to wait and see how things went through the first few months of the season. Put simply, the Marlins could not run it back with essentially the same offense that lost 93 games the year prior after publicly stating on several occasions that the team would fortify the lineup ahead of the 2023 season.
With leverage swung in the Twins' favor, Ng had to pay the steep price of López, plus one of the organization's most talented infield prospects in Jose Salas, as well as DSL prospect Byron Chourio. The idea of trading a solid position player prospect from a farm system that lacks exactly that, along with a proven starter, was understandably difficult to digest for many Marlins fans, but not as difficult as it would be to watch another year of an offense that could not even muster a .300 on base percentage as a collective unit.
Ng pushed the chips forward and paid a premium for a player that is viewed by some as a dated prototype. The reigning batting champion in the American League was a living example of the mystique of the award not being what it once was.
An overlooked aspect of Arráez was the fact that despite the "throwback" nature of his game, he was coming off of a career year at age 25 where he put up a 131 wRC+ and 3.2 fWAR. Not only did Ng identify an undervalued player in a game that has strayed from offensive profiles like that of Arráez, but she was willing to pay a premium for a player who could continue to improve through his three years of control with the Marlins.
Early detractors of the trade pointed towards Arráez's limited power and how it could be further sapped in a cavernous loanDepot Park. Though I am admittedly partaking in small sample size theatre through 18 games, early results imply that more space in the outfield has actually benefited one of the league's best contact hitters.
Arráez does not discriminate; he sprays the ball all over the field and now has much more room to work with. Think about it this way: if Arráez was not going to hit the ball over the wall frequently regardless, wouldn't it be more beneficial to have more space to work with between him and the wall?
The even distribution across the field is not new for Arráez. In his career, his batted ball tendencies are as follows:
Pull: 30%, Center: 36.5%, Opposite: 33.5%.
Arráez's 100+ point jump in BABIP from his career average may not be sustainable, but it would be fair to hypothesize that a move to loanDepot Park could bode well for his batting average on balls in play.
Rather than bringing a low-BABIP power hitter who would see his greatest strength potentially compromised with limited silver lining, Ng took the unconventional approach, and the early dividends have been fruitful.
An Extension Is a Must
The Twins wasted no time after López's hot start, extending him to a four-year, $73.5 million deal earlier this week. Given what the Twins parted with in order to obtain López, it was important for them to leverage the two years of control in order to pick up two more. For the Marlins, the case is no different; if anything, it's more extreme.
The Marlins have more negotiating leverage with an extra year of control, as Arráez is not set to hit free agency until 2026. That said, the fact that Ng had to part with a pair of prospects in addition to López, as well as the team's obvious struggles with identifying and developing offensive talent in recent history, it is imperative that the Marlins hold on to Arráez for dear life.
Jorge Soler is off to a great start in a hopeful bounce-back campaign for the Fish, but Avisaíl García looks like a lost cause in year two of his four-year, $53 million contract. Further, you'd be hard-pressed to identify a position player prospect who inspires much hope in regards to making a big league impact in the near future.
Ahead of this season, Jeff McNeil and the Mets agreed to a four-year, $50 million extension with a club option for $15.75 million in year five. The Marlins front office should have been high-fiving around the office after that deal was finalized, as it provides a favorable blueprint for a potential Arráez extension.
McNeil's elite defense and more power make him a higher impact player, but he also was a rare example of a player who will be in the back end of his prime, at best, at the end of an extension agreed upon in year two of arbitration (the club option is for his age-35 season).
Arráez is making $6.1 million this year for his second year of arbitration, roughly the same number McNeil was slated to make this year prior to his extension. If the Marlins offered Arráez a carbon-copy of the McNeil deal, the club option would come ahead of his age 31 season.
I won't begin to speculate the value of youth in this comparison, but even if you want to be extremely generous and call it a reasonable hedge of the value difference between Arráez and McNeil's level of impact in the eyes of fWAR, something slightly below a four-year, $50 million deal with Arráez, along with the option to make it a tick below five years, $65.75 million seems like a no-brainer for the Marlins.
The best part is, it probably won't even cost that much for the Marlins. Kim Ng and co. did well to acquire a much-needed player like Luis Arráez. Now, they need to push it across the finish line with an extension and truly convince fans that these are not the same old Miami Marlins.