List
Top 10 Team Infields For the 2023 MLB Season
When looking across MLB at the talented infields that have formed, it is clear we are in for an incredible 2023 season. Here are the best 10.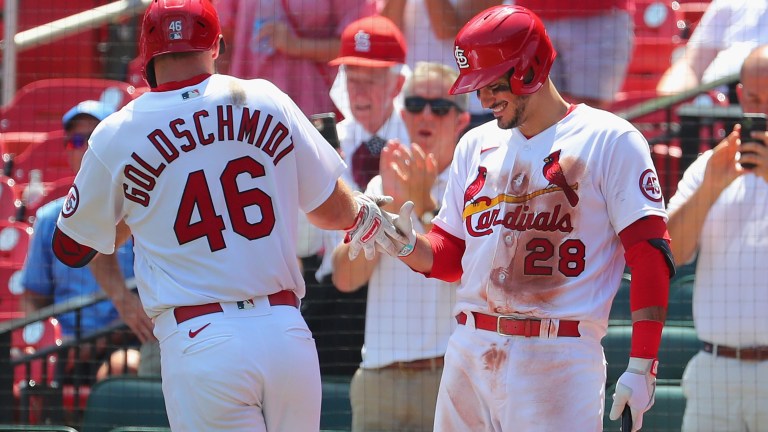 This week we have completed our top 10 rankings at each position in the infield around baseball. Last week, came to a consensus that Jose Altuve was the best second baseman in baseball and that Francisco Lindor headlined our shortstops.
This week, we ranked our top 10 infielders in each corner, breaking down the top players at both first and third base. If look at the No. 2 spot on the top first basemen list, then move over and find No. 2 on the top third basemen list, you are going to find guys wearing similar colors.
Nolan Arenado and Paul Goldschmidt each came up just short of the top spot on their respective to top 10 lists, but if we combined them as part of the Cardinals infield, would they finally receive the validation of being No. 1?
That is what we aim to accomplish today, as we look around baseball and rank the top 10 team infields in the game heading into the 2023 season.
Honorable Mentions:
Philadelphia Phillies: Our first honorable mention nearly made the top 10, as you can certainly make the argument that with the addition of Trea Turner, they have one of the best infields baseball.
Bryson Stott now slides over to second base, where his defense should play up way more. There's is also a chance that going into year two, we see more steady improvements offensively from Stott, who was a completely different player in the second half last season. Similarly, Alec Bohm came into his own down the stretch, particularly with the glove at third base.
The reason they are not on this list though is because Bohm and Stott are unproven and have to actually make that leap in MLB games before we can fully recognize their potential. Also, Rhys Hoskins is one of the best offensive first baseman in the game (career 125 wRC+), but he is so poor defensively that he has never put up even a 2.5-win season.
Los Angeles Dodgers: The Los Angeles Dodgers infield just took a massive hit, with the news that Gavin Lux is expected to miss the upcoming season with a torn ACL. This group wasn't going to make our top 10 anyway, but this definitely squarely places them as an honorable mention.
Still, we must acknowledge any infield that has one of the best pure hitters in the game, with Freddie Freeman being an MVP candidate. Max Muncy is due for some positive regression and while he does not bring the best bat, if Miguel Rojas has to be the everyday shortstop because of Lux's injury, at least we know they will be getting great defense at the position.
Now with Lux out, the pressure is really on Miguel Vargas to become an impact player everyday in the infield, but the top prospect is certainly capable of doing so.
Chicago Cubs: If only the Cubs did not sign Eric Hosmer.
This nothing personal against Hosmer. On the right team, he can be a nice veteran first baseman. A guy that deserves to keep cashing MLB checks, where he can be a solid innings-eater and veteran to younger guys on a rebuilding team. The problem is when he blocks the young guy on the rebuilding team, who is clearly ready for the show.
If Matt Mervis was where he belongs in the starting lineup on Opening Day, I would have put the Cubs in the top 10. The 24-year-old is coming off a season where he hit .309/.379/.606, with 36 home runs and 119 RBIs across three levels of the minor leagues. Mervis received over 200 plate appearances at both Double-A and Triple-A last year and thrived at each stop.
Ultimately, when we get to a place where Cubs have one of the best double play combinations in baseball with Dansby Swanson and Nico Hoerner, paired with a young slugger in Mervis and the uber-athletic Christopher Morel at third, the Cubs will have a top 10 infield in baseball.
10. Minnesota Twins
Alex Kirilloff, Jorge Polanco, Carlos Correa, Jose Miranda
The Minnesota Twins have the potential to shoot up the top 10 this year and that is why they made it over our honorable mentions. Carlos Correa's return is massive for Minnesota, as they essentially get their best player back (Byron Buxton's health presuming).
Correa won a Platinum Glove in 2021 and just posted a 140 wRC+. Coming off a tumultuous offseason where he was spurned by multiple teams in free agency, don't be shocked if we get a defiantly awesome season from a pissed off Correa this year.
Now everywhere else around Correa there is question marks, but there is also immense depth. Alex Kirilloff has yet to do it at the big league level yet, but he hit .359/.465/.641 with 10 home runs and a 192 wRC+ across 157 plate appearances in Triple-A last season. In 156 plate appearances at the MLB level though, Kiriloff hit .250/.290/.361, with just three home runs and a 86 wRC+.
Jose Miranda played more first base than third base last year, but with Kiriloff projected to take that spot, Miranda is expected to slid over to third. The defense will be a question Miranda has to answer, but no one is concerned if he will hit after slashing .268/.325/.426, with a 117 wRC+ across 125 games during his rookie season.
Beyond Correa at short, and the kids at the corners, the Twins will have Jorge Polanco, Nick Gordon and Royce Lewis as incredible depth, with all three fighting for playing time at multiple positions, with DH being an avenue to get everyone their playing time.
Polanco had a down-year in 2022, but is a year removed from 33 homers. Gordon established himself as a really solid utility man last year and if Lewis returns healthy, he could be the best infielder on this team not named Correa.
9. Tampa Bay Rays
Isaac Parades, Brandon Lowe, Wander Franco, Yandy Diaz
The Tampa Bay Rays are a bit confusing when it comes to their infield. Roster resource at Fangraphs has Isaac Parades listed as their third baseman, with Yandy Diaz at first base and Harold Ramirez at DH. Those three players figure to take a lion's share of the at-bats at the corners, but how they will ultimately split time defensively is to be seen.
Regardless of if he plays first base this season, Diaz found his way on our top 10 list of third basemen thanks to the .401 on-base percentage he posted in 2022. While his 146 wRC+ is inflated due that ability to get on, the quality of his at-bats really can't be questioned when you consider the fact that he walked more than he struck out by a healthy margin (14.0% BB% vs. 10.8% K%).
Parades is the better defender at third base, which is why Fangraphs likely has him projected to start at the position, as he was worth 5 DRS and 2 OAA in limited time at the position last year. Parades also brings some pop, as he hit 20 home runs across 381 plate appearances.
Then when it comes to double play combinations, no duo has a greater potential to increase their stock this year than Brandon Lowe and Wander Franco.
We are still waiting for our first full year of Wander and that could finally come in 2022. Most projection models are predicting that Franco will be at least a 4.4 fWAR player, with some even expecting him to be worth over five wins this season.
For Lowe, the question is can he stay healthy after missing nearly 100 games last season. His injuries also may have affected his production, as his offensive numbers dropped off a cliff (137 wRC+ in 2021, down to 104 wRC+ in 2022). If Lowe can return to 2021 form, when he blasted 39 home runs, and Wander establishes himself as top-five shortstop in the game, watch out for the Rays.
8. Texas Rangers
Nathaniel Lowe, Marcus Semien, Corey Seager, Josh Jung
Nathaniel Lowe was ranked as one of our top 10 first basemen, Marcus Semien ranked fourth among our top 10 second basemen and Corey Seager was our fifth-best shortstop. Throw in Josh Jung at third base, who is ranked in our top 100 prospects and is considered the second-best prospect in the Rangers system and this has the potential to become the best infield in baseball.
We ranked Seager and Semien third in our top five double play combinations, but when we discussed it on the Just Baseball Show, all of us agreed that they could be the best in baseball by season's end. This is a duo that could conceivably hit 80 bombs this season, while playing strong defense up the middle.
Lowe is not a good defender over at first base, but as long as he hits .302/.358/.492, with 27 home runs and a 143 wRC+, his defense won't stop him from being one of the better first basemen in the game. Jung wasn't great in his cameo with the big league team last year (.653 OPS), but the fact he even made it there following a shoulder surgery is what was the most impressive.
With the ability to play at least average, if not above-average defense at third base, Jung has all of the makings of a plus contributor at the position. Considering all of the talent that is around him, the Rangers just need Jung hold his own for their infield to be top 10.
7. San Diego Padres
Jake Cronenworth, Ha-seong Kim, Xander Bogaerts, Manny Machado
The Padres might have the strongest left side of the infield as any team in Major League Baseball, with the newly extended Manny Machado and the newly signed Xander Bogaerts. This duo is under contract for over a decade, giving the Padres a long window to contend in the NL West.
Again it is worth noting, that if Fernando Tatis Jr. was part of the infield, the Padres would shoot up to No. 1, but it appears that Tatis will spend this season on the grass. That puts Ha-seong Kim and Jake Cronenworth together on the right side of the infield, giving the Padres two former shortstops playing less strenuous defensive positions.
With the elimination of the shift, Cronenworth and Kim could become invaluable vacuums, covering more ground than most teams will be able too on that side of the bag. Offensively, they aren't the most flashy players but both are actually really solid.
Last season, Cronenworth saw a dip in his numbers as his strikeout rate went from 14.0% to 19.2%, and his OPS dropped from .800 in 2021, to .722 in 2022. Still, Cronenworth hit 17 home runs and drove in 88, with an above-average 109 wRC+. On the other hand Kim saw the opposite from Cronenworth, cutting his K-rate by over six percent and raising his wRC+ by 35 points, finishing the season with a 105 wRC+.
6. Toronto Blue Jays
Vlad Guerrero Jr., Santiago Espinal, Bo Bichette, Matt Chapman
The Blue Jays might have the most ignitable infield in baseball with their two young superstars in Bo Bichette and Vlad Guerrero Jr. There's a chance that MVPs are in both of their futures, with their immense offensive potential to just absolutely rake for an entire season.
We already saw it with Guerrero in 2021 and there is every chance we see that guy return in 2023. Bichette is a career .297 hitter, who has blasted 53 home runs and 77 doubles over the last two seasons. Receiving 150 extra-base hits from two guys is a crazy expectation, but not an unreasonable one with bats as potent as Guerrero and Bichette.
Matt Chapman might have the most to play for however, as the 29-year-old is set to hit free agency after the season. A three-time Gold Glover, Chapman has seen his production tail off a bit over the last two seasons, but still has hit 27 homers each year.
With a weak free agent class around him due to the recent extensions of Rafael Devers and Manny Machado, a great year would solidify Chapman as the best free agent, outside of Shohei Ohtani.
The last spot of the infield for the Blue Jays will be played by a combination of Santiago Espinal, Whitt Merrifield and even Cavan Biggio, giving Toronto a solid floor at second base, with maybe a limited ceiling.
5. Cleveland Guardians
Josh Bell, Andres Gimenez, Amed Rosario, Jose Ramirez
One of the most underrated signings of this offseason, Josh Bell really brings this infield together in a big way. The switch-hitting Bell was incredible playing for the Nationals through the first 103 games last season, hitting .301/.384/.493, with a 143 wRC+. Unfortunately for Bell, his contract year tanked as soon as he was traded to the San Diego Padres.
Bell struggled to get acclimated to his new surroundings and paid the price, hitting just three home runs and producing a paltry .192/.316/.271 slash line, with a 79 wRC+. Due to his struggles, Bell was forced to sign a two-year deal in free agency, with an opt-out so he can test the market again after this season.
This ends up being the perfect deal for the small market Guardians however, as they get Bell at an affordable $16.5 million price tag, giving Jose Ramirez some much-needed protection in the lineup.
Across the last two seasons, Bell has played 300 games and has hit .264/.355/.448, with 44 home runs and a 121 wRC+. Cleveland would be perfectly happy if he duplicates those numbers for them over the next two years. There is every chance Bell slides over to DH though, as Josh Naylor will likely split first base/DH duties with him.
Naylor is the better defender at first and just had his breakout season at the big league level, hitting 20 home runs with a 117 wRC+.
Where this infield gets really interesting though is at the other corner, with perennial MVP candidate Jose Ramirez. J-Ram has been a six-win player in each of the last two years and four times over his past five full 162-game seasons. Andres Gimenez joined him as a six-win player last year, breaking out as an All-Star at second base.
Amed Rosario might not be a top 10 shortstop, but he has become a guy that plays about average defense at the position, while hitting over .280, with enough pop to get you double-digit home runs and enough speed to swipe over 15 bases.
4. Atlanta Braves
Matt Olson, Ozzie Albies, Vaughn Grissom, Austin Riley
The Atlanta Braves are absolutely loaded in the infield and if we included catcher in this conversation with Sean Murphy, they may jump to No. 1 on this list. The Braves have acquired two former Athletics over the last two winters, eventually locking up both players to long-term deals.
Matt Olson is entering year two with Atlanta, where he could raise the ceiling of this infield exponentially. Olson had what was considered a down-year, with his OPS dropping over 100 points compared to 2021, yet he still hit 34 bombs and drove in 103 runs. Olson isn't even the best hitter in this infield though, as that man resides in the other corner.
Austin Riley solidified himself as a perennial MVP candidate last season, hitting .273/.349/.528, with 38 home runs and a 142 wRC+. He also plays strong defense at third. When it comes to the Braves infield, the questions come up the middle, with Dansby Swanson departing in free agency.
Vaughn Grissom is set to fill Swanson's big shoes, which is easier said then done, despite what Jeremy Pena did replacing Carlos Correa in 2022. Grissom is expected to hit, as he was got a chance to see him at second last year, where he posted a 121 wRC+ in his first 156 MLB plate appearances. The question will be how he plays shortstop at the big league level, at just 22 years old.
Meanwhile there are no real questions about if Ozzie Albies will produce when on the field, he just has to stay healthy after being limited to 64 games last season.
3. New York Mets
Pete Alonso, Jeff McNeil, Francisco Lindor, Eduardo Escobar
Headlined by the best double play combination in baseball with Francisco Lindor and Jeff McNeil, as well as the reigning RBI leader in Pete Alonso, the Mets infield is loaded.
Coming into his third season in New York, Francisco Lindor is a dark horse MVP candidate this season. With the elimination of the shift, Lindor's defense will be at even more of a premium and he is always capable of hitting 30 bombs, with over 20 stolen bases. If he puts that altogether, we could see a return of 2018 Lindor, who posted an fWAR of 7.8.
McNeil is the reigning batting champ, capable of playing great defense at second base, or anywhere else you put him on the diamond. Meanwhile Alonso leads the league in both RBIs and home runs dating back to his debut in 2019.
The one hole in this Mets infield is over at third base, where Eduardo Escobar returns for the second season of a two-year contract. Escobar was signed to be a bridge to top prospect Brett Baty and there is every chance we see the Mets make the switch early into this year.
If Baty is given the keys to third base against right-handed pitching, with Escobar batting from his stronger right side against lefties as part of a platoon, this Mets infield has the chance to become the best in the game.
2. St. Louis Cardinals
Paul Goldschmidt, Brendan Donovan, Tommy Edman, Nolan Arenado
The top two infields in baseball are pretty much a coin flip. If you feel that the infield that includes two guys who finished top-three in the NL MVP voting last year should have been No. 1, I don't blame you.
St. Louis is awesome at the corners with Paul Goldschmidt and Nolan Arenado, giving them arguably the best tandem the game had in 2022. They have 14 Gold Gloves and 10 Silver Sluggers between them and combined to hit 65 home runs with 218 RBIs last year. Arenado's 151 wRC+ was fourth-best in the NL last year, to only Freddie Freeman (157), Manny Machado (152) and Goldy himself at a whopping 177 wRC+.
Up the middle, Tommy Edman proved to be an elite defensive shortstop last year, doubling his fWAR from 2021 to be worth 5.6 wins. Brendan Donovan enjoyed a breakout as well, hitting .281/.394/.379, with a 129 wRC+ in 126 games as a rookie. With their combination of elite defense and steady offense, this might be the highest-floor infield in baseball.
1. Houston Astros
Jose Abreu, Jose Altuve, Jeremy Pena, Alex Bregman
The reigning champs replaced one Cuban first baseman with another this offseason and it resulted in a massive upgrade that has them featured atop this list.
Going from Yuli Gurriel, a guy who was admittedly great in October but graded out as a detriment with a -0.9 fWAR last season. And replacing him with Jose Abreu, who just posted a 137 wRC+ and is a career .292/.354/.506 hitter is an unbelievable win for this front office.
Abreu is the perfect compliment to the talent on this roster, giving the Astros a right-handed bat that can slot in between two great left-handed hitters in Yordan Alvarez and Kyle Tucker. Alex Bregman actually filled that role for the Astros last year, but if they wanted to move him up into the two-hole and push Jeremy Pena down in the lineup, they now have that luxury.
Bottom line, this group has no holes and has four bats that will bring plenty of slug into the starting lineup. Pena is the biggest question mark with the bat, but he still hit 22 home runs last season and led the team come October.
Altuve and Bregman are two of the most consistent hitters in baseball, coming off seasons where they combined to post an fWAR of 12.1. They should hit 50 home runs between them, while getting on-base over a .350 clip and striking out well under 20% of the time.
The one hole to poke in this infield is how the elimination of the shift will impact them with a 32-year-old Altuve at second and a 36-year-old Abreu at first, but Pena and Bregman are strong enough from the other side to make up for it.