Rankings
Los Angeles Dodgers Top Prospects For 2023
Seemingly always loaded, the Dodgers 2023 top prospect list is no exception.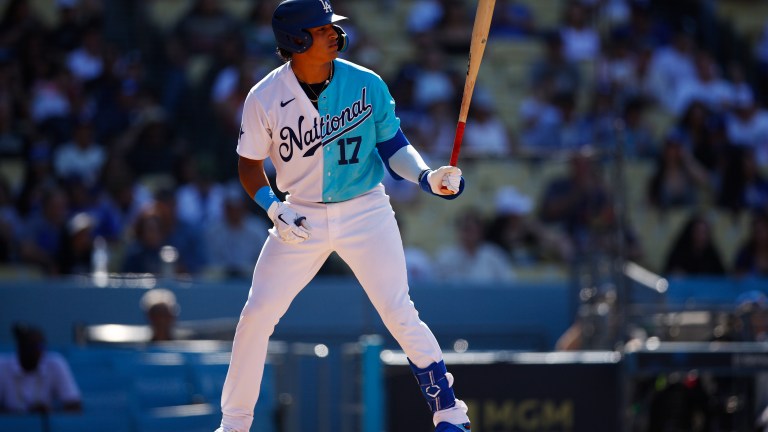 The perennial preseason favorite to hoist the World Series trophy year-after-year, the Los Angeles Dodgers have built a factory for talent. Unfortunately, the massive payroll and roster-construction mastery has only resulted in one World Series title, during the COVID-shortened 2020 season.
However, President of Baseball Operations Andrew Friedman and his staff have placed a primary focus on one key aspect: player development. Consistently boasting a young, controllable roster with one of the best farm systems in the game, 2023 should be no exception for the Dodgers' Minor League success.
1. Diego Cartaya – C – (High-A)
Age: 21 | Height/Weight: 6'3, 220 | Bat/Throw: R/R | IFA: 2018 – LAD ($2.5M) | ETA: 2024
| | | | | | |
| --- | --- | --- | --- | --- | --- |
| HIT | RAW POWER | GAME POWER | RUN | FIELD | FV |
| 40/50 | 60/60 | 50/60 | 40/40 | 45/55 | 60+ |
A prized international free agent, Cartaya signed for $2.5 million as a 16-year-old in 2018. After impressing at the complex, Cartaya was off to a phenomenal start to his 2021 season in Low-A before an injury cut him to just 31 games. Cartaya picked up where he left off in 2022 with another great offensive season while impressing with his polish behind the plate.
Offense
Relaxed setup with a small leg kick, Cartaya made a slight adjustment with his hands this season, starting them a bit further back in his stance to make his hand load as simple as possible. A strong hitter with plenty of raw bat speed, Cartaya produces impressive exit velocities with ease along with a swing that is built for lift and carry.
Cartaya has plus power to his pull side and at times will try to yank the ball that way, causing him to spin off of softer stuff, especially from lefties. It seems to be more of an approach thing than a swing that is geared for the pull, as he has shown plenty of comfort going the other way with authority, launching five homers to the opposite field and plenty of extra base hits.
With 32 homers in his last 125 Minor League games, there is no doubting Cartaya's power potential. He is a pretty patient hitter who has walked at a 14% clip over that same timespan. While there is some present whiff for Cartaya, he controls his body well, repeating his moves in the box. The tendency to get a bit long and pull happy will be something to monitor as he ascends to the upper minors, but his body control and solid chase rates give him a good chance to develop into an average hitter.
Defense/Speed
Already earning high marks for the way he commands a game behind the dish, Cartaya is an incredibly cerebral catcher who pitchers love to throw to. Like many young catching prospects, Cartaya could use some improvement in the receiving department, but has steadily improved over the last couple seasons.
One area of concern with Cartaya is that he has tightened up some as he has physically matured, not quite moving as fluidly behind the dish. The Venezuela native has a plus arm, and between his maturity as a pitch caller and solid overall tools, he should be a solid defender.
Outlook
Already one of the game's best catching prospects, Cartaya made up for lost time with a monster 2022 season. Cartaya doesn't quite have the plus defensive projection to complement an elite offensive ceiling, but his blend of power, intangibles and still solid defense have him reminding many of Salvador Perez. He will likely begin 2023 in Double-A with a chance to debut in 2024.
2. Miguel Vargas – 3B – (MLB)
Age: 23 | Height/Weight: 6'3′, 205 | Bat/Throw: R/R | IFA: $300K, 2017 (LAD) | ETA: 2022
| | | | | | |
| --- | --- | --- | --- | --- | --- |
| HIT | RAW POWER | GAME POWER | RUN | FIELD | FV |
| 55/60 | 55/55 | 45/55 | 45/45 | 40/45 | 60 |
A natural hitter, Vargas has put up strong offensive numbers at every stop. Though nothing quite jumps off of the page, his plus hit-tool, sneaky power and defensive versatility give him one of the higher floors in the minors with the potential to be a well above average regular.
Offense
Vargas has a silky smooth swing and a barrel that lives in the zone. A simple set up from the right side, Vargas times up his moves well and consistently puts himself in a good position to get his best swing off. The 22-year-old has added some strength over the years and has worked with the Dodgers to translate his high contact rate and impressive bat speed into more game power.
Things clicked for Vargas in the power department during the 2021 season, launching 23 homers along with 52 extra base hits in 120 games between High-A and Double-A. Vargas kept things rolling into Triple-A this past season, where he hit 17 homers and 53 XBH in 113 games.
The uptick in power over the last two seasons has not come at the expense of his impressive contact skills with Vargas actually posting the best BB/K ratio of his career (0.93). Vargas drives the ball to all fields with ease, controlling his body extremely well through his swing.
A high contact rate, phenomenal approach and above average power give Vargas as safe of an offensive profile as you'll find with enough upside to get excited about. Vargas has a great chance to get on base at a high clip with 20+ homer power in the tank and plenty of doubles.
Defense/Speed
An average runner, Vargas has averaged around 10-12 stolen bases per season, but surprisingly swiped 17 bags on 22 tries in 2022. A savvy base runner, Vargas will add some value on the base paths and a career high in stolen bases at the most challenging level he's played at leaves reason to believe that steals can be a small part of his game even in the big leagues.
Vargas made improvements defensively at the hot corner, providing more confidence that he is capable of playing average defense at third base, though that is likely his ceiling. That said, Vargas has moved all over the diamond in anticipation of becoming an every day big leaguer, seeing action in left field as well as second base and first base. Though he is not a great defender, his versatility is a nice consolation prize and he should be able to play passable defense at any of the aforementioned spots.
Outlook
A ridiculously impressive track record of hitting along with a well-rounded game and defensive versatility make Vargas one of the more high floor prospects in the game. Even with the high floor, the 22-year-old still has plenty of upside to look forward to, flashing comfortably above average power to his pull side and an ability to drive the ball with authority to all fields.
Vargas should factor into the Dodgers 2023 plans and beyond with a skillset capable of replacing Justin Turner's production if all goes right.
3. Bobby Miller – RHP – (Triple-A)
Age: 24 | Height/Weight: 6'5, 220 | Bat/Throw: R/R | 1st Round (29), 2020 (LAD) | ETA: 2023
| | | | | | |
| --- | --- | --- | --- | --- | --- |
| FASTBALL | SLIDER | CHANGEUP | CURVEBALL | COMMAND | FV |
| 70/70 | 60/60 | 50/55 | 55/60 | 50/55 | 60 |
Miller was seen as high-risk, high-reward pitching prospect out of Louisville with electric stuff, but a limited track record as a starter. The Dodgers took the training wheels off of Miller this year, and he has responded well to being stretched out.
Arsenal
A deep arsenal that is headlined by a plus-plus fastball that routinely touches triple digits, Miller has some of the best stuff you'll see in the minors. Miller's fastball averaged 99.1 MPH in 2022, which would actually lead all qualified Major League starters.
On top of the elite velocity, Miller has improved the shape of his fastball to give it more ride. As a result, Miller has seen a jump in the whiff rates of his fastball, setting the tone for his three impressive secondaries.
Miller's best secondary offering his his plus slider in the upper 80's. As the season has gone on, Miller has leaned on the pitch more than any of his other secondaries. The right-hander has extreme confidence in the offering, using it in any count and locating it well. With its sharp, late break, and his ability to spot it at the bottom of the zone, Miller has used the slider as a ground ball machine in the launchpad that is the Pacific Coast League.
Not far behind is Miller's above-average curveball which he has sharpened this season. A tick harder and tighter, Miller's curve has gone from a strike stealing pitch to a legitimate put away offering. The 23-year-old is extremely comfortable landing both breaking balls for strikes.
Lagging behind the other three pitches is Miller's changeup, which has flashed above average but has the tendency to get firm on him. He has struggled to locate the pitch at times this year, throwing it for a strike roughly 15% less frequently than the rest of his arsenal.
There have been starts where the changeup is there for Miller and he is comfortable throwing it to both lefties and righties, providing hope that it can be an above average offering. His command has improved as the season went on and his ability to locate three of his four offerings with plenty of confidence gives Miller the potential for comfortably above average command.
Outlook
Yet another electric pitching prospect in a loaded Dodgers system, Miller has a good chance to be the best of the bunch. Three potentially plus pitches with solid command and impressive size/athleticism on the mound paints the picture of a potential front line starter.
Miller's surface level stats may not be as sexy as some of the other pitching prospects in his ranking tier, however the Texas League and Pacific Coast League are two of the most difficult spots in the Minors to pitch.
Most importantly, Miller set a career-high for innings pitched at any level, tossing 109.2 frames while maintaining his high-end stuff late into the season and late in games. Reliever risk all but gone, Miller is a likely middle-of-the-rotation option with frontline potential.
4. Gavin Stone – RHP – (Triple-A)
Age: 24 | Height/Weight: 6'2, 205 | Bat/Throw: R/R | 5th Round (149), 2019 (LAD) | ETA: 2023
| | | | | | |
| --- | --- | --- | --- | --- | --- |
| FASTBALL | SLIDER | CHANGEUP | CURVEBALL | COMMAND | FV |
| 55/60 | 50/55 | 60/60 | 45/45 | 45/55 | 60 |
The earliest draft pick in Central Arkansas history, Stone has seen his stuff jump several ticks since joining the Dodgers organization with the potential for three well above average offerings.
Arsenal
Stone deploys a four-pitch mix with multiple weapons that induce whiffs within the strike zone. He works extremely quickly and is a fiery competitor on the mound. He has found success by working ahead in the count consistently thanks to his ability to throw three of his pitches for quality strikes. He is exceptionally athletic and mobile on the mound, making it especially easy for him to repeat his mechanics.
His arsenal starts with a mid 90's heater with ride that he locates both east-west and north-south. Stone's ability to locate this overpowering offering makes it a weapon both early and late in counts and he holds its velocity deep into outings. The ball explodes out of his hand and low release point creates some deception and added life to hitters who consistently have issues timing him up.
The best off-speed pitch in Stone's repertoire is his plus mid 80's changeup that features an abnormal amount of late drop and arm-side run. The pitch produces ugly swings against both lefties and righties and regularly missed bats even when located within the zone. To the naked eye, the immense amount of late-life could easily get it confused with a splitter. He threw it to the bottom of the zone at will and it should miss bats at the highest level.
Stone's third pitch is a mid 80's slider that he deploys mostly against right-handed hitters. While it may not feature the same movement as many of the sliders in modern-day baseball, Stone's ability to throw it for quality strikes when behind in the count allows the offering to play up. It will never be a bat-missing machine like the changeup, but it is a valuable pitch nonetheless.
Stone sprinkles in a low 80's curveball to round out his arsenal. He only throws it a few times each outing and it tends to back up a bit on him at times leading to some consistency issues regarding location. It flashed solid depth and shape at the bottom of the zone, making it a nice change-of-pace pitch to be used sparingly.
Outlook
There isn't much more Stone can achieve in the Minor Leagues. He has excelled at every challenge the Dodgers have thrown his way and the numbers/overall polish reflect the fact that he is big-league ready right now.
It wouldn't be surprising to see him break camp with the Dodgers next season, though he could have probably handled a promotion in 2022. Stone combines a high floor with a high ceiling, as we don't see him as anything less than a number four starter on a playoff-caliber team. If he further develops his breaking balls and command, Stone has the ceiling of a number two starter on a division winning team.
5. Andy Pages – OF – (Double-A)
Age: 22 | Height/Weight: 6'1′, 210 | Bat/Throw: R/R | IFA: $300K, 2017 (LAD) | ETA: 2023
| | | | | | |
| --- | --- | --- | --- | --- | --- |
| HIT | RAW POWER | GAME POWER | RUN | FIELD | FV |
| 40/45 | 60/60 | 55/60 | 50/50 | 45/55 | 50+ |
A good athlete with big raw power that he has already tapped into in games, Pages has launched 57 homers in his last two seasons. Hit tool concerns hold him back some, but he is just 21 years old with success in Double-A under his belt.
Offense
Pages starts upright and deploys a slow and controlled load that allows him to get into his back hip. His mechanics rarely break down due to his lower half's immense strength and athleticism. His takes are easy and he rarely gets fooled in the box.
Pages has a swing geared for lifting the ball in the air to the pull-side. His homers are majestic, as high as they are far and he has no trouble catching up to premier velocity while staying disciplined on quality breaking balls out of the zone. He feasts on fastballs middle-away and hanging breaking balls. These pitches allow him to utilize the leverage in his swing and at worst, he will be able to annihilate said pitches in the big leagues once he gets there.
He currently struggles with fastballs located on the inner half of the plate. It's not due to a lack of quickness, but the length to his swing makes him have to cheat a little bit in order to get the barrel out. Pages will need to adjust once he gets to the big leagues and regularly sees quality velocity on the inner half. Even with the bit of length, Pages makes plenty of contact and has a chance to be an average hitter with his plus game power as the calling card.
Defense/Speed
It takes Pages a while to get to his top speed but once he does, he's an above-average runner. He posts average home to first times due to the time it takes him to get to top speed but the speed plays a bit better in the outfield. As he has become more comfortable with his reads and routes, Pages has started to cover more ground with ease.
His profile is that of a right fielder, but in a pinch, he could likely play an average center field thanks to his reads and 70 grade arm strength. He has above average defensive potential in right.
Outlook
After a massive year in High-A in 2021, Pages struggled to match the same level of consistency in Double-A, though he still turned in a solid campaign for a 21-year-old in the upper minors. The struggles against velocity are a concern with Pages and he will need to find a way to be more efficient to the baseball. He identifies spin well and punishes mistakes while lifting the ball as much as anyone in the minors which helps his offensive profile.
The Dodgers are hoping Pages can develop into an average hitter with big power. After getting a closer look at Pages in the Arizona Fall League, I feel a confident enough in his ability to at least be an average hitter thanks to his athleticism and ability to repeat his moves.
6. Michael Busch – 2B – (Triple-A)
Age: 25 | Height/Weight: 6'1′, 210 | Bat/Throw: L/R | 1st Round (31), 2019 (LAD) | ETA: 2023
| | | | | | |
| --- | --- | --- | --- | --- | --- |
| HIT | RAW POWER | GAME POWER | RUN | FIELD | FV |
| 45/50 | 60/60 | 55/60 | 45/45 | 35/40 | 50+ |
A powerful bat who controls the strike zone really well, Busch has the ingredients of a Max Muncy lite.
Offense
Busch features a short, compact swing that produces big exit velos and massive backspin to all parts of the park. Busch's opposite-field power is perhaps the most impressive aspect of his game. A significant amount of his homers were hit to left field off of fastballs middle-away.
The power does come with some swing-and-miss concerns, though it seems the strikeouts pile up due to Busch's willingness to get deep into counts. One of the biggest adjustments he'll have to make at the big league level is picking his spots and when to be aggressive early in counts. Overall, there is 30 homer power here with good on-base skills and an ability to hit lefties.
Defense/Speed
The majority of his time in the field is spent at second base. While he has improved significantly since being drafted, he is a below-average defender there due to his heavy-ish feet and not enough arm to make up for it.
With the shift being banned in the majors next season, it'll be interesting to see if the Dodgers continue rolling him out at the keystone. Busch is a below-average runner who doesn't project to be especially good at any position on the diamond.
Outlook
Busch's value will be dictated by the potency of his bat. He will likely never contribute much with his glove or his wheels. With that being said, his patience and power offer a higher floor than most prospects and we will likely see him in LA next season.
Though an older prospect, Busch has had relatively limited professional at bats with his 2019 cut short and 2020's cancellation. As Busch gains more experience, he should find some more offensive consistency. There's foul pole to foul pole home run pop with a knack for getting on base and palatable whiff rates. Busch should be able to keep the strikeouts relatively in check with a lot of homers and walks.
7. Dalton Rushing – C – (Low-A)
Age: 21 | Height/Weight: 6'1′, 220 | Bat/Throw: L/R | 2nd Round (40), 2022 (LAD) | ETA: 2025
| | | | | | |
| --- | --- | --- | --- | --- | --- |
| HIT | RAW POWER | GAME POWER | RUN | FIELD | FV |
| 50/55 | 55/55 | 45/50 | 45/45 | 35/45 | 50 |
Blocked by Henry Davis at Louisville his first two seasons, Rushing tore up the Cape Cod League before mashing to an OPS of 1.156 his junior season. After being selected 40th overall, Rushing kept the ball rolling into pro ball, somehow topping his numbers in 28 Low-A games. Rushing is a bat-first catcher, but the bat is impressive.
Offense
Rushing starts with a slightly open stance and a smooth leg kick to get into his back side. He controls his body extremely well allowing him to consistently be on time with his compact swing. Rushing has shorter levers, but generates plenty of bat speed and flashes above average power. In his 30 pro games, Rushing already flashed exit velocities higher than 109 mph with 9 batted balls over 105 mph.
A patient hitter with a good feel for the strike zone, Rushing walked as much as he struck out both at the collegiate and professional levels last year. His smooth and repeatable swing helped him post strong numbers left-on-left as well. It's pretty hard to poke a hole in Rushing's offensive game, and based on the bat alone, he could climb through the minors quickly.
Defense/Speed
Though he is a raw catcher, Rushing has already shown signs of being a decent receiver and blocker. This isn't a total surprise as he is a good athlete for a catcher with average wheels. His catch and throw skills are solid, but there's times where things just seem a bit quick for him. After all, it is worth noting that dating back to his freshman year of college, Rushing has only caught around 70 total games. With his athleticism and skill set, Rushing has a chance to develop into an average catcher.
Outlook
The bat will lead the way for Rushing, as he is athletic enough to potentially move to first base or corner outfield if he does not develop behind the dish. That said, Rushing still had a chance of sticking at catcher. Offensively, Rushing is a high floor hitter who can develop into a high OBP guy capable of launching 20-25 homers.
8. Nick Nastrini – RHP – (Double-A)
Age: 22 | Height/Weight: 6'3, 195 | Bat/Throw: R/R | 4th Round (149), 2019 (LAD) | ETA: 2023
| | | | | | |
| --- | --- | --- | --- | --- | --- |
| FASTBALL | SLIDER | CHANGEUP | CURVEBALL | COMMAND | FV |
| 60/65 | 55/60 | 40/50 | 50/60 | 35/40 | 50 |
Another Dodgers prospect with devastating stuff and command issues, Nastrini shook off the training wheels and pitched deeper into games as the season went on. Possessing as good of swing and miss stuff as you are going to find outside of the top 100 lists, Nastrini has breakout potential.
Arsenal
Led by his plus fastball, Nastrini has a nasty four pitch arsenal with the chance of developing three above average or better offerings. His fastball sits 94-96 mph, topping out at 98 with more than 20 inches of induced vertical break on average. The high velocity and riding life on the fastball allow Nastrini to rack up plenty of whiffs in the zone. If he could command the pitch a bit better, it would be closer to double-plus territory.
Though both breaking balls have flashed plus, Nastrini's mid 80's slider with gyro break (downward dive) was his most reliable secondary offering. Throwing the pitch around 20% of the time, Nastrini racked up a 47% strikeout rate while holding opponents to a .192 batting average. Nastrini's slurvy curveball sits around 79-81 mph with good depth. Much like all of his other pitches, Nastrini was able to pile up the whiffs but struggled to consistently locate it. His two breaking balls landed for a strike only 56% of the time (average is around 63%).
The fourth pitch for Nastrini is a mid 80's changeup that flashes above average with decent fade. It plays off of his lively fastball well and can be a whiff pitch to lefties, but too many of his changeups are non-competitive in location. If Nastrini can find more consistency with the change, he could feasibly possess four above average or better offerings.
Outlook
Nastrini struggles to repeat his slow windup and delivery at times, which caused him to walk 11% of hitters between High-A and Double-A last season. He is a pretty athletic pitcher which lends hope that he can develop into average command as his quality stuff is up there with some of the elite pitching prospects. There's a wide range of outcomes for Nastrini, but he looks to be a big league arm one way or another. The hope for the Dodgers is that he is closer to his No. 3 ceiling than late-inning reliever floor.
9. Ryan Pepiot – RHP – (MLB)
Age: 25 | Height/Weight: 6'3, 215 | Bat/Throw: R/R | 3rd Round (102), 2019 (LAD) | ETA: 2022
| | | | | |
| --- | --- | --- | --- | --- |
| FASTBALL | SLIDER | CHANGEUP | COMMAND | FV |
| 55/60 | 45/50 | 60/60 | 40/45 | 50 |
Pepiot shook off a rough 2021 season in Triple-A by pitching to a 2.56 ERA and 31% strikeout rate in his second stint with Oklahoma City. Pepiot earned himself a big league debut where he was able to hold his own last season, but fought command issues.
Arsenal
Pepiot possesses a strong three pitch mix led by his fastball/changeup combination which work off of each other well. Pepiot's mid-90's fastball is a fringe-plus pitch with riding life. Averaging around 2400 RPMs, the heater jumps out of Pepiot's hand generating plenty of whiffs at the top of the zone. He'll top out at 98 mph.
Working off of the fastball is a plus changeup in the upper 80's with late arm side fade. The pitch has been inconsistent for Pepiot, sometimes featuring more vertical drop and other times more side-spinning run. As a result, the right-hander often struggled to locate the pitch, landing it for a strike only 53% of the time. Even with the sporadic command of his changeup, Pepiot held opponents to a .561 OPS with the pitch while punching out 29% of batters.
The third offering for the 25-year-old is a cutterish slider in the upper 80's. Pepiot has taken the pitch from a distant third offering to a viable second out-pitch. He landed it for a strike more frequently last season while surprisingly racking up a higher chase rate on the pitch than his fastball and changeup. His misses even tend to be better as his slider will back up on him at times as a backdoor strike against lefties.
Outlook
The excitement around first-rounder Bobby Miller and emergence of Gavin Stone have resulted in Pepiot slipping down the totem pole a bit, but he has the goods to be an impactful big league starter if he can hone in on his command. The leap that Pepiot made with his slider last season was encouraging as was his improved ability to command his fastball and keep the ball in the yard.
To stick as a starter, Pepiot will need to find more consistency with his changeup as more experienced hitters are less likely to do him any favors. If Pepiot's command doesn't come along, he has a strong fall back as a high-leverage reliever capable of pitching multiple innings.
10. James Outman – OF – (MLB)
Age: 25 | Height/Weight: 6'1′, 220 | Bat/Throw: L/R | 7th Round (40), 2022 (LAD) | ETA: 2023
| | | | | | |
| --- | --- | --- | --- | --- | --- |
| HIT | RAW POWER | GAME POWER | RUN | FIELD | FV |
| 40/40 | 55/55 | 45/55 | 60/60 | 50/55 | 50 |
After falling just shy of 20 homers in each of his first two full pro seasons, Outman broke out with 32 bombs between AA/AAA and MLB last year. An older prospect who can play all three outfield spots, Outman has forced his way into consideration for playing time at the highest level next year.
Offense
Outman is an athletic hitter who starts upright and sinks into his legs with a sizable leg kick. He repeats his moves well before uncorking a quick stroke geared for pull and lift. Outman has seen his 90th percentile exit velocity rise each season, his 107 mph mark last year was one of the highest in the Dodgers organization.
Even with a swing designed for lift, Outman punished velocity last season, slashing .356/.477/.721 against fastballs 94 mph and above. Where the lefty ran into some trouble was against changeups, hitting just .195 against them last season. Outman's ability to crush fastballs and hold his own against breaking balls while posting low chase rates should be enough to help him hit enough.
Defense/Speed
A plus runner, Outman is capable of playing all three outfield spots. His strong arm profiles well in a corner where he can be a well an average defender, but he covers enough ground to hold it down up the middle. Outman hasn't been as aggressive on the base paths as he was at the lower levels, but is still a threat to run. He swiped 13 bags on 17 tries last season.
Outlook
The combination of Outman's age and fringy hit tool has suppressed his prospect hype a little bit some, but he has a chance to contribute for the Dodgers in 2023 and beyond. With 20-25 home run pop, plus speed and the ability to draw walks, Outman's floor is higher than most prospects with his swing and miss concerns. Outman could be an above average regular who takes the bulk of a platoon.
The Next Five Prospects
Emmet Sheehan – RHP – (Double-A): After striking out 38% of hitters last year in High-A, Sheehan looks like he could be the next Dodgers pitching prospect with major helium. His plus fastball in the mid 90's and potentially plus plus changeup were already too much for lower level hitters despite his command issues (4.10 BB/9). The 23-year-old's slider improved as the year went on and could give him a third swing and miss offering. A big dude at 6-foot-5, 220 pounds, Sheehan is a big time breakout candidate for 2023.
Josue De Paula – OF – (DSL): Signed for $500,000 out of the Dominican Republic in July of 2022, De Paula mashed to a .349/.448/.522 line with more walks than strikeouts in the Dominican Summer League last year. While it's important to take those numbers with a grain of salt, De Paula has an advanced swing for a 17-year-old with already impressive bat speed. De Paula is already physical at 6-foot-3, 200 pounds and has room to add even more strength. His polished swing and physical maturity make him a candidate to push stateside earlier than most and his offensive upside is easy to dream on.
Jorbit Vivas – 2B/3B – (High-A): A plus hit tool is the calling card for Vivas, boasting a zone contact 89% zone contact rate and 8% swinging strike rate. Vivas walked more than he struck out last season and while he may not offer much home run power, Vivas still mixed in 38 extra base hits last season. The ceiling may be limited, but the floor is high.
Maddux Bruns – LHP – (Low-A): A first round pick in 2021 out of an Alabama High School, Bruns has an electric three pitch mix led by his fastball that can reach 98 mph. The 20-year-old has really had issues finding the strike zone, walking 45 batters in 44 1/3 innings last season. A southpaw with his caliber stuff is impossible to ignore, but he needs to make major leaps with his mechanics and timing to reach anywhere near his potential.
River Ryan – RHP – (High-A): Ryan was an eleventh rounder by the Padres in 2021 but has quickly looked like a top five round talent since he debuted. A two-way player at UNC Pembroke, Ryan hit .349 with 9 homers while primarily serving as a reliever for UNCP. The Padres let Ryan hit a bit at the Complex, but he really impressed on the bump at instructs. He was later sent to the Dodgers for Matt Beaty prior to the start of last season and flashed exciting stuff on the mound.
Ryan's mid 90s fastball boasts nearly 19 inches of induced vertical break while his cutter and changeup have already flashed above average. His command was a bit inconsistent, but Ryan is a fantastic athlete on the mound and should continue to make strides in that regard.
Other Names To Watch
Yeiner Fernandez – C/IF – (Low-A): A polished hitter for a newly-turned 20-year-old, Fernandez has a short, quick swing geared for line drives to all fields. Fernandez is a great athlete with above average wheels. When he wasn't catching, Fernandez made 17 starts at second base as well. Fernandez may not light it up in the exit velocity department, but he has a knack for hitting the ball with some carry. His positional versatility and intriguing stick make him a unique prospect to follow.
Nick Frasso – RHP – (Double-A): Traded in from the Blue Jays in a deal for Mitch White last year, Frasso is a big bodied power pitcher with a fastball that can reach triple digits. His changeup has a chance to give him a second plus pitch and the slider is not too far behind. Injuries have slowed Frasso a bit through his career and he will need to build up his workload to fight off his high reliever risk. His stuff is big league caliber one way or another.
Eddys Leonard – INF – (High-A): Leonard followed up a strong 2021 season with another above average offensive campaign last year (119 wRC+). The 22-year-old cut his strikeout rate while improving a bit defensively at shortstop. While he may not stick at short, Leonard has shown an ability to play second base, third base and even the outfield. With above average power and a decent feel to hit, Leonard can develop into an offensive minded second baseman or a nice utility piece.
Jonny DeLuca – OF – (Double-A): A good athlete with solid bat to ball skills and staying power in center, DeLuca could be one of the more underrated prospects in the Dodgers system. His exit velocities are average, but DeLuca does a great job of getting the ball in the air and generating carry. He may not be as toolsy as James Outman, but could be on a similar trajectory.
Landon Knack – RHP – (Double-A): A second round pick in 2020, Knack dominated High-A in 2021, but could not quite carry his success over to Double-A. His above average heater and plus slider have helped him continue to pick up strikeouts (28.4% last season), but his changeup and curveball lag too far behind. If one of those pitches makes a leap, Knack could be a back end starter.
Ronan Kopp – LHP – (High-A): An 11th round pick out of South Mountain CC, Kopp turned heads in MLB's Draft League in 2021. The 20-year-old lefty stands at a towering 6-foot-7 and can run his fastball up to 98 mph. His slider can be a plus pitch and he's worked on a changeup. Kopp overpowered Low-A hitters, striking out 38% of the batters he faced, but also walked 15%. Another arm with huge stuff and nascent command, Kopp has extreme reliever risk.
Michael Grove – RHP – (MLB): A high-floor arm with good fastball command and a plus slider, Grove climbed his way from Double-A to a big league debut last season. The 26-year-old righty will mix in a decent curve as well. He should be a solid swingman and spot starter for the Dodgers next season.
Rayne Doncon – INF – (Low-A): Doncon is one of the higher floor prospects of the recent Dodgers international signees. He has a good feel for the barrel and projects as an above average hitter with the potential for average or better tools across the board. His ceiling will likely be determined by how much power he can tap into, but there's definitely room for more strength in his frame.
Carlos Duran – RHP – (High-A): Duran's calling card is his double-plus slider which he threw 40% of the time and held opponents to a .063/.149/.076. His fastball sits in the 94-96 mph range, but lacks shape. Duran should be able to ride his 3,000 RPM slider into a big league bullpen.
Edgardo Henriquez – RHP – (Low-A): Another big power pitcher, Henriquez reached 101 mph with his fastball and flashed a nasty slider. The 20-year-old lacks a third pitch, but has immense arm talent.
Jose Ramos – OF – (High-A): Ramos has big power but big whiff concerns. The 22-year-old launched 25 homers last season, flashing exit velocities as high as 111 mph, but he also punched out at a 33% clip in High-A. Ramos still has time to cut down on the whiffs a bit and his plus power is too exciting to ignore.