Analysis
Top 10 MLB Shortstops For 2023
Few positions in baseball are more loaded with superstars than at shortstop, where you will find some of the game's best overall players.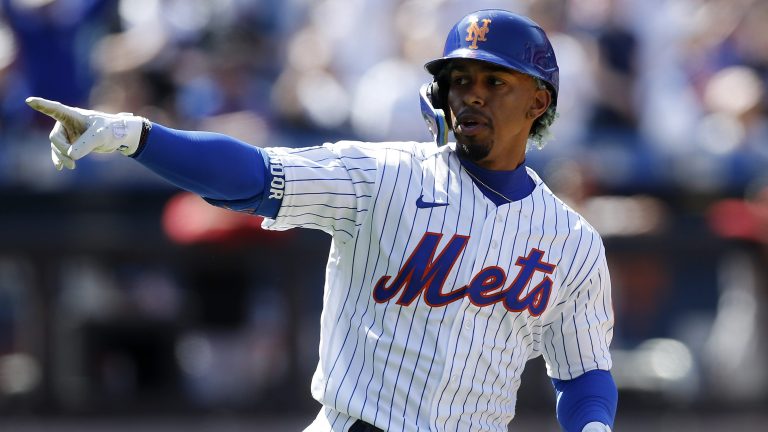 Ever since the beginning of time, there has always been a general rule of thumb when it comes to the game of baseball. The best player is supposed to play shortstop.
This begins from the days of tee ball and continues at just about every level after that. Obviously in Major League Baseball it is not that simple, as elite all-around shortstop play can be hard to come by. Yet over the last decade, we have seen a renaissance at the position, entering a new "Golden Age of Shortstops".
Since 2021, we have seen 11 shortstops sign nine-figure contracts, with four coming just this offseason. We just watched two rookie shortstops go head-to-head in the World Series, where Jeremy Pena completed his coming out party by winning both the NLCS and World Series MVP awards.
Looking around the league, over half of the teams had quality shortstops this past season and young stars are on the rise to grow that even more. While the talent is widespread, there are 10 shortstops that stand out among all the rest, as the best players at baseball's most premium position.
Did Not Qualify: Fernando Tatis Jr.
When it comes to pure ability, no one that will be mentioned on this list is better than Fernando Tatis Jr. Across his first three MLB seasons, Tatis never posted a wRC+ lower than 151. In 2021, when he played 130 games, Tatis hit 42 home runs and a 7.3 fWAR.
If Tatis was playing shortstop for the Padres next season, we would have to include him somewhere in the top 10, but instead you will find his new teammate Xander Bogaerts ranked on our list.
As of now it is unclear exactly where Tatis will play, but with Juan Soto reportedly set to move over to left field, it appears like his home will be in right field. Coming off an injury-plagued year that ended in a PED suspension, Tatis has a lot to prove once he gets reinstated this season.
10. Tommy Edman – 5.6 fWAR
2022 Traditional Stats: 630 PA, .265/.324/.400, 13 HR, 32 SB, 57 RBI, 7.3% BB%, 17.6% K%, 108 wRC+
2022 Defensive Metrics: 6 DRS, 11 OAA at SS; 12 DRS, 8 OAA at 2B
I will admit, prior to speaking it over with the Just Baseball staff, I did not have Tommy Edman on my list of the top 10 shortstops in baseball. There are two honorable mentions we will get to later with Jeremy Pena and Tim Anderson that I would've rather have at shortstop going into this season.
Edman would rank very high on my list of top second basemen, but he's still not a player I fully considered as an elite starting shortstop. Then, thanks to our little roundtable of ranking top players, I really looked deeper at the numbers from last year. Edman was awesome in 2022.
A Gold Glove second baseman, Edman played that same caliber of defense when he moved over to shortstop in the second half. Offensively, Edman doesn't get on-base at a great clip but when he does, Edman leverages his speed well on the basepaths.
Over the last two seasons, Edman has hit 72 doubles, adding in seven triples and 24 home runs. He has also swiped 62 bases, stealing over 30 in each of the last two years. Outside of Paul Goldschmidt, Edman has scored the most runs on the Cardinals over the last two seasons.
9. Wander Franco – 2.3 fWAR
2022 Traditional Stats: 344 PA, .277/.328/.417, 6 HR, 8 SB, 33 RBI, 7.6% BB%, 9.6% K%, 116 wRC+
2022 Defensive Metrics: 0 DRS, 0 OAA
Where to place Wander Franco was one of the hardest decisions that had to be made on this list. Franco could put up the best season of anyone listed and it would not surprise any of us, he is just that talented.
Having made his MLB debut in June of 2021, and having endured a injury-plagued season in 2022, Franco has only played 153 games across his first two seasons. Across a 652 plate appearance sample, Franco is hitting .282/.337/.439, with a 121 wRC+. His career 4.7 fWAR could be the floor of what he would put if healthy this year for a full 162-game season.
We simply just don't know what Franco will be this year based on the lack of track record, but no one doubts the potential of the 21-year-old.
8. Willy Adames – 4.7 fWAR
2022 Traditional Stats: 617 PA, .238/.298/.458, 31 HR, 8 SB, 98 RBI, 7.9% BB%, 26.9% K%, 109 wRC+
2022 Defensive Metrics: 9 DRS, 10 OAA
Wander Franco is probably a better shortstop than Willy Adames, but we can't just ignore what the 27-year-old did last year. Excellent defense and 31 home runs from the shortstop position is nothing to sneeze at.
Adames has been consistently durable throughout his big league career and the glove at shortstop gives him a very high floor. Add in the power potential and you have one of the safest bets to be an above-average contributor at the shortstop position this season.
7. Dansby Swanson – 6.4 fWAR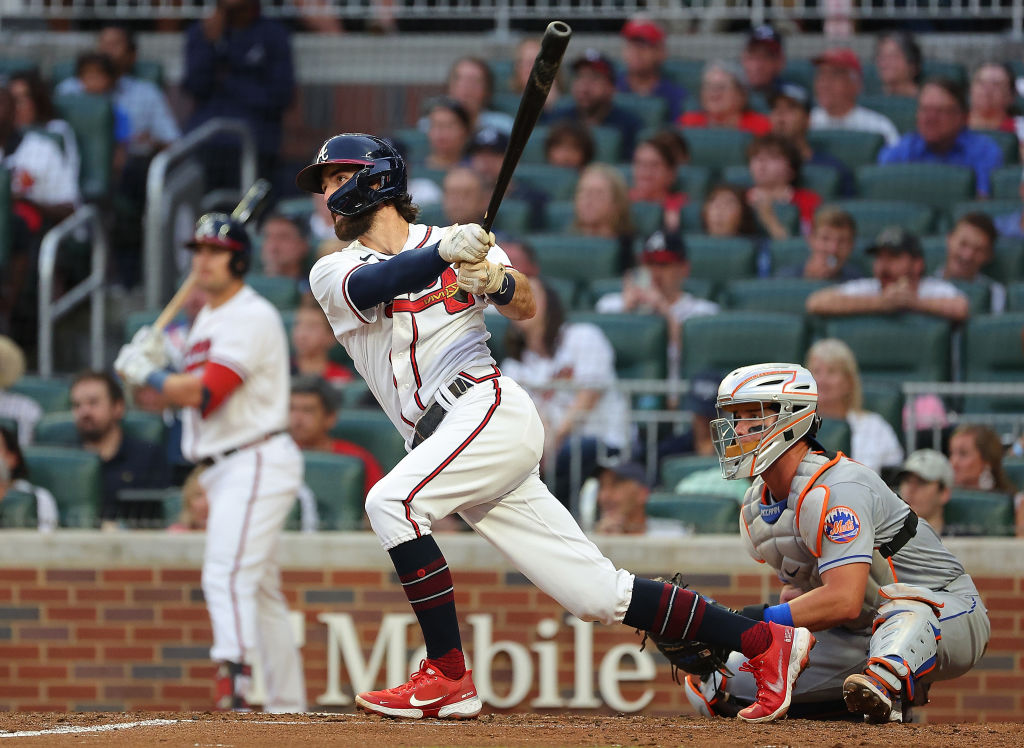 2022 Traditional Stats: 696 PA, .277/.329/.447, 25 HR, 18 SB, 96 RBI, 7.0% BB%, 26.1% K%, 116 wRC+
2022 Defensive Metrics: 9 DRS, 20 OAA
Based on last season alone, Dansby Swanson should find himself in the top-five of this list. Swanson scored 99 runs, drove in 96, hit 25 bombs and won the Gold Glove for his defense at shortstop. In a lot of ways, Swanson helped led an Atlanta Braves team that won 101 games last year.
Yet that same Braves team let him walk for a seven-year, $177 million deal this offseason.
Swanson had a career-best campaign in a contract year and there is no reason to believe he falls off a cliff now that the ink has dried. The former No. 1 overall pick has eclipsed 25 home runs two years running and has gotten better each year in his big league career.
Future production probably falls somewhere between his 6.4 fWAR 2022 campaign and the 3.4 fWAR in 2021, but if Swanson is a 4-to-5 win player over the next five seasons, the Cubs are going to be thrilled with their investment.
6. Bo Bichette – 4.5 fWAR
2022 Traditional Stats: 697 PA, .290/.333/.469, 24 HR, 93 RBI, 13 SB 5.9% BB%, 22.2% K%, 129 wRC+
2022 Defensive Metrics: -16 DRS, -7 OAA
Bo Bichette brings a lot of bat to the party, but not a lot of glove. His bat alone carries him inside the top 10, because his upside is so great, yet there is a lot of pressure on him to improve defensively in the Blue Jays are going to take that next step this year.
Offensively there are no questions from Bichette. He has hit .297/.340/.491 across his career, with a 127 wRC+. Over the last two seasons, Bichette has been worth 9.6 wins for the Blue Jays. If he puts it all together on both sides of the ball, Bichette has a six or seven win season in him at some point during his prime. That could take place in 2023.
5. Corey Seager – 4.5 fWAR
2022 Traditional Stats: 663 PA, .245/.317/.455, 33 HR, 91 RBI, 8.7% BB%, 15.5% K%, 117 wRC+
2022 Defensive Metrics: -4 DRS, 4 OAA
Compared to his last two seasons with the Dodgers, Corey Seager was not quite the same player in his first year with the Rangers. Seager posted career-low marks across the board with his .245/.317/.455 slash line, yet he still managed to hit 33 home runs.
More importantly, Seager was able to stay healthy and played 151 games, his most since his first full season back in 2016. Seager might eventually need to move off the shortstop position, but at least for the next few years he has to be considered a top-five overall shortstop in baseball.
4. Carlos Correa – 4.4 fWAR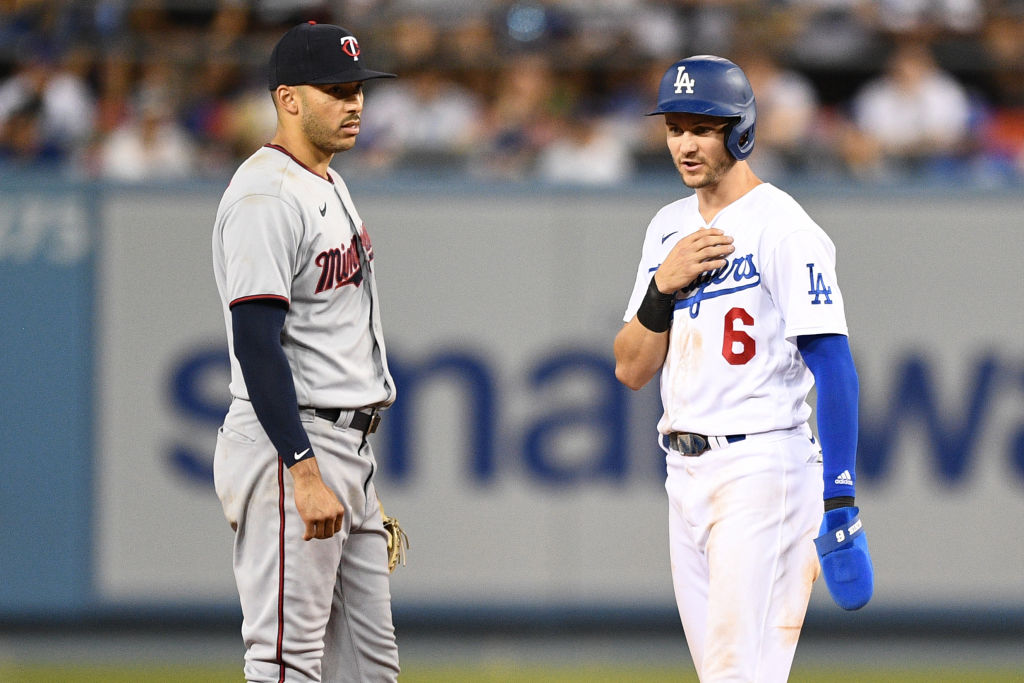 2022 Traditional Stats: 590 PA, .291/.366/.400, 22 HR, 64 RBI, 10.3% BB%, 20.5% K%, 140 wRC+
2022 Defensive Metrics: 3 DRS, -3 OAA
In a lot of ways, Carlos Correa has been the biggest story of the offseason. Through all of the drama surrounding his free agency, what some of us have failed to remember is just how good Correa is at baseball.
Correa is just a year removed from winning a Platinum Glove at shortstop for the Astros, boasting maybe the strongest arm in the game today. After seeming destined to move over to third base when he was going to sign with the Mets, Correa will now remain one of the best defensive shortstops in the game.
Meanwhile offensively, Correa has hit .279/.357/.479, across his career, having eclipsed 20 home runs in seven of the eight full seasons he has played. Coming off a season where he posted a 140 wRC+, Correa is primed for another big year for the Twins in 2023.
3. Xander Boegarts – 6.1 fWAR
2022 Traditional Stats: 631 PA, .307/.377/.456, 15 HR, 8 SB, 73 RBI, 9.0% BB%, 18.7% K%, 134 wRC+
2022 Defensive Metrics: 5 DRS, 5 OAA
Trea Turner was the first shortstop from an elite free agent class to sign a contract this offseason, landing an 11-year, $300 million deal. Xander Bogaerts was the next free agent shortstop domino to fall, as he also inked a contract that spanned 11 years.
Bogaerts has spent his entire career with the Boston Red Sox, but will now move to the West Coast to play with the Padres. The 30-year-old is coming off a career-year, in which his defense improved significantly, posting positive marks in both Defensive Runs Saved and Outs Above Average.
With Major League Baseball set to limit shifting, Bogaerts' defense could take a hit, but what won't is his bat. Since 2018, Bogaerts has hit .300/.373/.507, with an MLB-best (among SS) 134 wRC+.
No longer having the benefit of peppering the Green Monster with doubles at Fenway, Bogaerts may have to adjust a bit at the start of the season, but he's too good of a hitter not to produce offensively.
2. Trea Turner – 6.3 fWAR
2022 Traditional Stats: 708 PA, .298/.343/.466, 21HR, 27 SB, 100 RBI, 6.4% BB%, 18.5% K%, 128 wRC+
2022 Defensive Metrics: -1 DRS, 0 OAA
Trea Turner returns to the National League East this season, where he spent a majority of his career with the Washington Nationals. The 29-year-old is coming off two-straight six-win seasons and has led all shortstops in fWAR since 2019.
Since 2016, Turner has eclipsed at least 10 home runs and 25 stolen bases in each full season he has played (even finishing the shortened 2020 campaign with 12 home runs and 12 steals). Turner is a true five-tool player at the shortstop position and should be for years to come.
Now reunited with former teammate Bryce Harper, Turner will look to carry the Phillies in his absence during the first few months of the season.
1. Francisco Lindor – 6.8 fWAR
2022 Stats: 706 PA, .270/.339/.449, 26 HR, 16 SB, 107 RBI, 8.4% BB%, 18.8% K%, 127 wRC+
2022 Defensive Metrics: -2 DRS, 13 OAA
Francisco Lindor is the best shortstop in baseball and has been since he made his MLB debut. The 29-year-old has led all shortstops in fWAR in four of his eight big league seasons, while nearly passing Bogaerts as a rookie in 2015, despite playing 57 less games.
Lindor was head-and-shoulders the best shortstop in the game from 2015 through 2018, with his 23.2 fWAR being over seven wins better than Bogaerts. From 2019 through 2021, Lindor did not lead the league in fWAR once. That all changed though in 2022.
In his second season with the Mets, Lindor played in all but one game and was nearly a seven-win player. His 107 RBIs were a career-high, all while playing excellent defense at shortstop. Heading into this season, Lindor will once again look to lead the Mets in their goal of toppling the Braves in the NL East.
Honorable Mentions
Jeremy Peña
When I initially ranked my top 10 shortstops in baseball, before the rest of the Just Baseball staffed gave their input, I had Jeremy Peña ranked seventh. Ambitious? Yes, but that just shows how much I value him as a player.
Peña is coming off a masterful postseason run where an argument can be made that he was the best player on a championship team. The argument is pretty sound when you realize he played exceptional defense throughout the postseason and took home not one, but two MVP trophies.
This year, Peña has to prove he can sustain that level of play to become an All-Star and I really believe he is up for the task.
Tim Anderson
It feels like a snub to not have Tim Anderson on this list when he has consistently been one of the best players at the shortstop position. For Anderson, health is starting to become an issue though and when he was on the field last year his power was diminished.
Anderson has hit over .300 in each of the last four seasons and has swiped double-digit bags every year of his career. If healthy this season, Anderson could still have another top-five shortstop in baseball season in him.
Bobby Witt Jr.
General consensus on Bobby Witt Jr.'s rookie campaign is that it was a disappointment compared to his potential, yet he still hit 20 bombs and stole 30 bases. Coming into year two, there is every chance that Witt figures it out and ends up being a 30-HR, 40-SB guy in 2023, which would make him a top-10 shortstop in the game without question.
Witt is set to represent our country on Team USA in the World Baseball Classic, giving him a chance to play among some of the best players in the game prior to the start of this season. Don't be surprised if he uses that launching pad to vault himself over a few of these other players come season's end.