Analysis
Top 10 MLB First Basemen For 2023
Headlined by two seven-win players in Freddie Freeman and Paul Goldschmidt, the first base position is loaded with talent heading into 2023.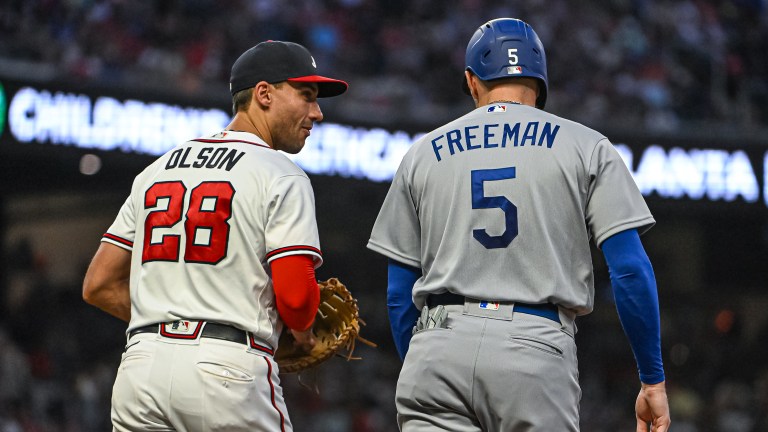 First base is the position in baseball that is most synonymous with power.
All the game's best sluggers live over at first base, where defense is barely part of a job description that is mostly focused on mashing. Over the past week, we have begun ranking all of the positions in baseball, aiming to find the 10 best players at each position.
We began up the middle, focused on second base and shortstop, as well as the best double play combinations we have in the game today. Now we look to the corners, beginning with first base and the 10 best sluggers that reside at the position heading into the 2023 season.
Honorable Mentions
Rhys Hoskins: If you hit four home runs in the NLCS to help lead your team to the World Series, you at least deserve mentioning when it comes to being one of the top players in the game. Rhys Hoskins is almost underrated at this stage in his career, as his flaws can sometimes overshadow his strengths.
A poor defensive first baseman, Hoskins value all lies in his bat and in a lot of ways, he delivers. Through the first six seasons of his career, Hoskins has hit .242/.353/.492, with a 125 wRC+. Removing his rookie year, where he played just 50 games, and the COVID-shortened 2020 season, Hoskins has averaged exactly 30 home runs per 162-game season. The glove is so bad, however, that Hoskins has never amassed an fWAR over 2.4.
A lot of teams hide bad gloves at first base, which is why fWAR can be so deceiving at the position. While his regular season numbers come up a bit short of the top first basemen, Hoskins showed his worth when it mattered most, homering six times in his postseason debut.
Ty France: The Seattle Mariners offense has a lot of key contributors, but if there is one guy who can really drive things when he's hot, it's Ty France. The 28-year-old broke out during the 2020 season and has been one of the game's most consistent hitters ever since.
Over the past three seasons, France has hit .284/.354/.441, with a 128 wRC+. France drove in a career-best 83 runs in 2022, trailing only Eugenio Suarez for the team-lead.
Ryan Mountcastle: A year removed from a 33-home run season, Ryan Mountcastle is not coming off his best year, but he still eclipsed the 20-homer mark last year and remained one of the more consistent bats in an up-and-coming Orioles lineup.
Mountcastle is entering his fourth season, but his rookie year came during the COVID-shortened 2020 campaign. Having just turned 26 years old, Mountcastle is right in his physical prime and could put together his best season yet in 2023.
10. Nathaniel Lowe – 3.0 fWAR
2022 Stats: 645 PA, .302/.358/.492, 27 HR, 76 RBI, 7.4% BB%, 22.8% K%, 143 wRC+
2022 Defensive Metrics: -9 DRS, -11 OAA
Arguably the worst defensive first baseman in baseball last season, Nathaniel Lowe cracks our top 10 thanks to an outstanding breakout campaign with the bat.
Lowe had a solid 2021 campaign in Texas, which saw him hit .264/.357/.415, with 18 home runs and a 114 wRC+. The 27-year-old built off that season and turned in a career-year in 2023, tapping into more power for 27 home runs and nearly a .500 slugging percentage.
Among qualified first basemen, Lowe's 143 wRC+ was tied with Pete Alonso for the third-best mark in Major League Baseball. The only thing keeping Lowe from being higher on this list, other than his glove, is the lack of track record. If he posts another strong season, Lowe could find himself closer to the top-half of this list by season's end.
9. Anthony Rizzo – 2.4 fWAR
2022 Stats: 548 PA, .224/.338/.480, 32 HR, 6 SB, 75 RBI, 10.6% BB%, 18.4% K%, 133 wRC+
2022 Defensive Metrics: -3 DRS, -3 OAA
One of the best first basemen in baseball for a decade now, Anthony Rizzo put together a fantastic first full season in pinstripes in 2022. After getting traded to the Bronx at the deadline in 2021, Rizzo returned to the Yankees on a two-year deal with an opt-out last year.
The left-handed slugger has the perfect swing for the short porch in right field at Yankee Stadium and he took full advantage of it, hitting 32 bombs, his most since 2017.
Rizzo was able to parlay his great season, and maybe his close friendship with fellow free agent Aaron Judge, into a new contract with the Yankees early this offseason, signing a two-year, $40 million deal. Rizzo, Judge and Giancarlo Stanton form arguably the best trio of home run-hitting sluggers in baseball.
8. Vinnie Pasquantino – 1.5 fWAR
2022 Stats: 298 PA, .295/.383/.450, 10 HR, 26 RBI, 11.7% BB%, 11.4% K%, 137 wRC+
2022 Defensive Metrics: -2 DRS, 1 OAA
Alright, this is where you might get confused. How could we rank Nathaniel Lowe 10th, due to a limited sample size, then put Vinnie Pasquantino above both him and Anthony Rizzo with only 72 MLB games under his belt?
Well, that is meant to articulate just how much we believe in Pasquantino and his quick ascent to becoming one of the best first basemen in baseball.
Since getting promoted to Double-A in 2021, Vinnie Pasquantino has walked more than he has struck out at every stop. That includes his near 300-plate appearance sample with the Kansas City Royals in 2022.
To be able to walk more than you strikeout is a remarkable feat, particularly for a hitter getting his first taste of big league action. Pasquantino could very well get on base at a .380 clip again next year, while hitting 25-30 home runs. Very few first basemen in baseball can conceivably accomplish those two things in any given season.
7. Christian Walker – 4.1 fWAR
2022 Stats: 667 PA, .242/.327/.477, 36 HR, 94 RBI, 10.3% BB%, 19.6% K%, 122 wRC+
2022 Defensive Metrics: 17 DRS, 14 OAA
Did you know that Christian Walker is baseball's best defensive first baseman? Cause it was not until writing this article that I discovered this for myself.
Matt Olson had the second-most Defensive Runs Saved among MLB first basemen in 2022 with 6 DRS. Walker nearly had triple that amount, posting by far the best DRS at 17. Looking at Outs Above Average, Walker leads all first basemen by 10, with 14 OAA.
Walker doesn't just belong on this list thanks to the glove though, he also packs some punch offensively. Walker blasted 36 home runs for the D-Backs in 2022, leading the team. The 31-year-old actually posted the third-highest fWAR among first baseman last year.
6. Jose Abreu – 3.9 fWAR
2022 Stats: 679 PA, .304/.378/.446, 15 HR, 75 RBI, 9.1% BB%, 16.2% K%, 138 wRC+
2022 Defensive Metrics: 1 DRS, 1 OAA
Jose Abreu will suit up for a different team for the first time in his career, signing a three-year deal with the Houston Astros this offseason. Abreu represents a huge upgrade over Yuli Gurriel for the reigning World champs, giving them another great presence in the middle of their order.
While the home run power seemed to evaporate last year, Abreu posted his best full season based on wRC+ since 2017. Abreu's .378 on-base percentage was the second-best mark in his career and the best since his 2014 AL Rookie of the Year campaign.
Abreu won the short-season MVP in 2020 and is a three-time Silver Slugger. He now joins an infield that includes another former MVP in Jose Altuve, the reigning World Series MVP in Jeremy Pena and one of the best third basemen in baseball, Alex Bregman.
5. Matt Olson – 3.1 fWAR
2022 Stats: 699 PA, .240/.325/.477, 34 HR, 103 RBI, 10.7% BB%, 24.3% K%, 120 wRC+
2022 Defensive Metrics: 6 DRS, 3 OAA
In a lot of ways, the 2022 campaign represented a down year for Matt Olson, and yet he still hit 34 home runs and drove in 103, while playing strong defense over at first base.
Adjusting to a new league is never easy, which could explain some of the struggles for Olson regarding his bat. In his final season with the Athletics in 2021, Olson posted a 147 wRC+. His .271/.371/.540 slash-line was far superior to what he just hit in Atlanta.
Heading into his age-29 season, the best is still to come for Olson, who should be far more comfortable in Atlanta for year two. He may never completely fill the void left by Freddie Freeman, but he has a good chance to be extremely valuable to the Braves nonetheless.
4. Vlad Guerrero Jr. – 2.8 fWAR
2022 Stats: 706 PA, .274/.339/.480, 32 HR, 8 SB, 97 RBI, 8.2% BB%, 16.4% K%, 132 wRC+
2022 Defensive Metrics: 3 DRS, -4 OAA
Vlad Guerrero Jr. is one of the few players in baseball who can look at a 132 wRC+ at season's end and view it as a down year.
Guerrero was coming off a better season in 2021, where he finished as the runner-up to Shohei Ohtani in the MVP race after hitting 48 home runs, with a 166 wRC+. In 2021, Guerrero walked 12.3% of the time and got on base at a .401 clip. A year later, Guerrero's walk rate fell back to his career norm of about 8%, with a drop-off in on-base percentage of over 60 points.
Still just 23 years old, Guerrero has to prove that 2021 was not just a one-year aberration if he wants to one day be considered the best first baseman in baseball. That said, if 2022 showed us Guerrero's floor, he will continue to be a top-10 first baseman for a long time.
Guerrero improved defensively this year, showing he can at least be league average, if not slightly better. Combine that with over 30 home runs and a .480 slugging percentage and you still have one of the best young players in the game.
When it comes to talent, Guerrero might be the top player on this list. Now it's time to see if talent can meet production and Guerrero can get back to contending for MVPs.
3. Pete Alonso – 4.0 fWAR
2022 Stats: 685 PA, .271/.352/.518, 40 HR, 5 SB, 131 RBI, 9.8 % BB%, 18.7% K%, 143 wRC+
2022 Defensive Metrics: -2 DRS, -8 OAA
Since making his debut in 2019, no one in baseball has hit more home runs than Pete Alonso. His 146 longballs pace first basemen by over 20, with Matt Olson's 123 coming in second and Paul Goldschmidt's 103 coming in third.
Alonso also leads MLB in runs batted in since 2019, with his 380 RBIs beating out Jose Abreu's 375. Last season, Alonso hit .300/.424/.675 with runners in scoring position, posting a 187 wRC+ in those spots. With men on base, Alonso cut his K-rate by just over 10%, helping him rack up all of those RBIs by putting the ball in play.
Alonso tied Aaron Judge with 131 runs driven in, the top mark in the sport.
Simply put, Pete Alonso is the best run producer in baseball. He is a threat to hit 40 bombs every season and while the metrics did not love him defensively in 2022, he is far from a liability with his glove. Alonso should continue to be a top 10, if not top five, first baseman for a long time.
2. Paul Goldschmidt – 7.1 fWAR
2022 Stats: 651 PA, .317/.404/.578, 35 HR, 7 SB, 115 RBI, 12.1% BB%, 21.7% K%, 177 wRC+
2022 Defensive Metrics: 2 DRS, -5 OAA
The reigning National League MVP and yet he does not top this list? That just speaks to the talent that exists at this position right now.
Paul Goldschmidt was remarkable in 2022, as he flirted with a Triple Crown until struggling a bit down the stretch. Goldschmidt finished with an on-base percentage over .400 for the sixth time, improving his career mark to .391.
After a down year in his first campaign with the Cardinals in 2019, Goldschmidt has been sensational over the last three seasons. He has hit .305/.389/.534, with his 156 wRC+ being the top mark among all first basemen during that span.
There is only one first baseman who has produced a better fWAR than Goldschmidt's 14.4 mark over the past three seasons and that first baseman is ranked No. 1 on this list.
1. Freddie Freeman – 7.1 fWAR
2022 Stats: 708 PA, .325/.407/.511, 21 HR, 13 SB, 100 RBI, 11.9% BB%, 14.4% K%, 157 wRC+
2022 Defensive Metrics: -2 DRS, 1 OAA
For the second year in a row, Freddie Freeman finds himself atop our list as the best first baseman in baseball. Freeman got off to a bit of a slow start in his first year playing in Dodger Blue, but then really turned it on down the stretch.
From July 1st on, Freddie Freeman hit .345/.425/.532, with a 167 wRC+. He struck out at a 11.4% clip and walked at a better 12.5% rate over the season's final three months. Freeman chased down and overtook Goldschmidt in the batting title race, only to be passed up late by Mets second baseman Jeff McNeil.
Still, Freeman led the league in on-base percentage and posted the third 100-RBI season of his career. Only Juan Soto has a better on-base percentage than Freeman over the past three seasons.
When it comes to Freeman and Goldschmidt, we really are splitting hairs, but Freddie did more than enough to keep his place as the top first baseman in baseball for another season.