Rankings
Top 10 MLB Second Basemen For 2023
From dependable veterans to rising young stars, these are Just Baseball's top ten second baseman heading into the 2023 season.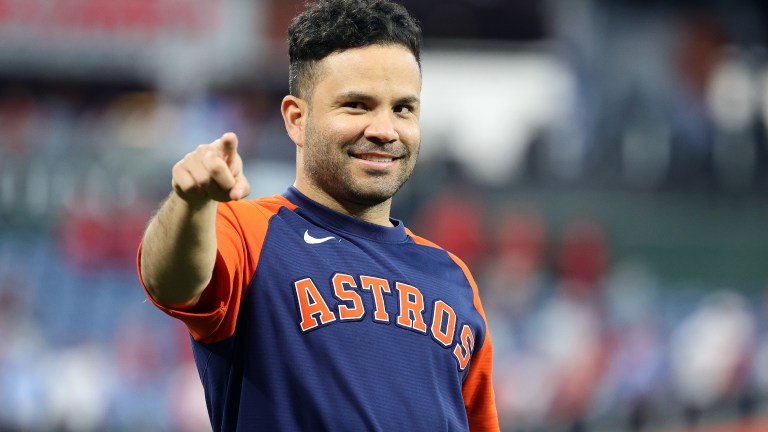 It's that magical time of year again. The offseason is nearly over, players have reported to camp, and spring training games are about to get underway. To celebrate, we at Just Baseball present our annual rankings of the top players at each position.
After a long day of discussion (and no shortage of arguments), the staff has come to a consensus. For the next month, we'll be releasing our rankings at every position, from first base to the bullpen. Kicking things off, here are Just Baseball's top 10 second baseman heading into the 2023 season.
10. Brandon Lowe – 0.9 fWAR
2022 Stats: 266 PA, .221/.308/.383, 8 HR, 25 RBI, 31 R, 10.2% BB%, 22.9% K%, 104 wRC+
2022 Defensive Metrics: 0 DRS, -3 OAA
Power-hitting second basemen are rare, so when Brandon Lowe hit 17 home runs in 82 games his rookie season, people took notice. He followed that up with 53 homers over the next two seasons, tops among second basemen and sixth in all of baseball.
Unfortunately, Lowe missed most of the 2022 season with injuries. Even when he was on the field, he just wasn't the same. He maintained his excellent walk rate and cut down on his strikeouts, but his power disappeared, and his slash line took a significant hit.
From 2020-2021, Lowe was one of the best second basemen in baseball. He can get there again, but first, he has to regain his power stroke and prove he's healthy. Keep an eye on Lowe this season – he's a candidate to shoot up this list by the All-Star break.
9. Gleyber Torres – 2.7 fWAR
2022 Stats: 572 PA, .257/.310/.451, 24 HR, 76 RBI, 73 R, 6.8% BB%, 22.6% K%, 115 wRC+
2022 Defensive Metrics: 9 DRS, 0 OAA
Gleyber Torres was an All-Star his first two seasons, earning some down-ballot MVP votes in his sophomore campaign. He took a step back in 2020 and 2021 but returned to form in 2022, putting up his best numbers in three years. Most importantly, he rediscovered his power, hitting 28 doubles and 24 home runs.
What's more, Torres took a big step forward defensively. He put up 9 DRS, 4.1 UZR, and 0 OAA – all career highs. It remains to be seen if he can maintain those numbers going forward, but it's a promising sign that his defense was above average for the first time.
Torres has a great bat and a sturdy glove, and he's primarily stayed on the field despite various nagging injuries. He's not a superstar, but he's a safe bet to be one of the better second basemen in the American League.
8. Luis Arraez – 3.2 fWAR
2022 Stats: 603 PA, .316/.375/.420, 8 HR, 49 RBI, 88 R, 8.3% BB%, 7.1% K%, 131 wRC+
2022 Defensive Metrics: 3 DRS, 1 OAA
Luis Arraez is a one-tool player, but that one tool is so good, it led him to an AL batting title in 2022. The 25-year-old infielder is adequate with the glove, mediocre on the bases, and has no power to speak of, but he can put the bat on the ball like no one else.
In 603 plate appearances last season, Arraez stuck out just 43 times. He made contact on 94% of his swings. The result was an AL-best .316 batting average, which propelled him to a 131 wRC+ despite an average walk rate and minimal power.
Arraez figures to get the bulk of the playing time at the position on a Marlins team replete with second basemen. Playing in loanDepot park won't help with his power output, but you can expect another .300 batting average as Arraez competes with Freddie Freeman, Jeff McNeil, and Trea Turner for the NL batting crown.
7. Ozzie Albies – 1.1 fWAR
2022 Stats: 269 PA, .247/.294/.409, 8 HR, 35 RBI, 36 R, 5.9% BB%, 17.5% K%, 93 wRC+
2022 Defensive Metrics: -1 DRS, 4 OAA
Ozzie Albies entered the scene in 2017 as one of baseball's brightest young stars. Just 20 years old, he excelled in all aspects of the game. Over the next few seasons, he proved himself to be one of the better second basemen in the league.
Unfortunately, his 2022 season was marred by injury. After he missed three months recovering from a foot fracture, Albies returned for the playoff push only to break another bone two days later. He played just 64 games all season and struggled to produce even when he wasn't injured.
Albies has a lot to prove in 2023. If he stays healthy and starts hitting again, he can still be an All-Star caliber player – but those are some big ifs.
6. Ketel Marte – 1.4 fWAR
2022 Stats: 558 PA, .240/.321/.407, 12 HR, 52 RBI, 68 R, 9.9% BB%, 18.1% K%, 102 wRC+
2022 Defensive Metrics: -6 DRS, -3 OAA
Ketel Marte broke out in 2019 with an MVP-caliber performance. He was off to an equally impressive start in 2021 before an injury derailed his season.
Marte was healthy for most of the 2022 season, but his performance was uninspiring. His power and contact skills were lacking, and his work with the glove was mediocre at best. The Diamondbacks infielder has an All-Star ceiling, but he needs to put the bat on the ball and hit the ball harder if he wants to return to that level of play.
5. Nico Hoerner – 4.0 fWAR
2022 Stats: 517 PA, .281/.327/.410, 10 HR, 55 RBI, 60 R, 5.4% BB%, 11.0% K%, 106 wRC+
2022 Defensive Metrics: 4 DRS, 9 OAA (2B); 10 DRS, 13 OAA (SS)
With the arrival of Dansby Swanson in Chicago, Nico Hoerner is moving to second base. He was terrific at shortstop last season, so his glove should play even better at a less demanding position.
In addition to his elite defense, Hoerner has an excellent feel for contact. He rarely strikes out and has some power he can occasionally tap into. What's more, he's a quick runner who can steal 20+ bags in a season.
Hoerner is an exciting young talent with the potential to blossom into an exceptional player at second base.
4. Andrés Giménez – 6.1 fWAR
2022 Stats: 557 PA, .297/.371/.466, 17 HR, 69 RBI, 66 R, 6.1% BB%, 20.1% K%, 140 wRC+
2022 Defensive Metrics: 16 DRS, 12 OAA
Andrés Giménez broke out in a big way last season, popping off with a 140 wRC+, 20 stolen bases, and exceptional defense at second base. You could make a case he was the best second baseman in baseball.
The big question facing Giménez in 2023 is whether or not he can repeat his success. His breakout performance was fueled by a .353 batting average on balls in play, which is hard to sustain over a long period of time. However, to his credit, he kept up a high BABIP all season long in 2022. In other words, his success wasn't the result of one major hot streak or a run of good luck.
Regardless of what he does at the plate, the 24-year-old Giménez is such a strong defender and baserunner that he should be an excellent second baseman going forward. If his bat continues to develop, he could be at the top of this list before you know it.
3. Marcus Semien – 4.2 fWAR
2022 Stats: 724 PA .248/.304/.429, 26 HR, 83 RBI,101 R, 7.3% BB%, 16.6% K%, 107 wRC+
2022 Defensive Metrics: 11 DRS, 8 OAA
Marcus Semien might be the best all-around second baseman in baseball, swinging a dangerous bat, carrying a golden glove, and boasting 89th-percentile sprint speed. He had a down year in 2022 by his own lofty standards, but he was still excellent, finishing fifth among primary second basemen in fWAR.
His season got off to a rough start, as he hit .199 with a 55 wRC+ through the end of May. However, Semien picked things up in June and posted a 128 wRC+ through the end of the season. His defense was wonderful throughout the year; he finished third at his position in UZR, fourth in DRS, and fifth in OAA.
2. Jeff McNeil – 5.9 fWAR
2022 Stats: 589 PA, .326/.382/.454, 9 HR, 62 RBI, 73 R, 6.8% BB%, 10.4% K%, 143 wRC+
2022 Defensive Metrics: 3 DRS, 7 OAA
Jeff McNeil had a tough year in 2021, batting under .300 for the first time in his career and dealing with a sore left leg for much of the season. He bounced back in a big way in 2022, winning the NL batting title and finishing first among NL second basemen in fWAR.
The 30-year-old McNeil is a contact machine, putting the ball in play in most of his plate appearances. Few hitters strike out less often. In an age of increasing strikeouts, walks, and home runs, McNeil plays a unique brand of baseball. The results, so far, have been excellent.
McNeil has yet to rediscover the power he displayed in 2019, when he hit 23 home runs, but he's still an extra-base threat. His 39 doubles ranked eighth in the NL last season. If he does start hitting with more pop, he's a genuine MVP candidate. He'll have to settle for being the best second baseman in the National League.
1. Jose Altuve – 6.6 fWAR
2022 Stats: 604 PA, .300/.387/.533, 28 HR, 57 RBI, 103 R, 10.9% BB%, 14.4% K%, 164 wRC+
2022 Defensive Metrics: -15 DRS, 2 OAA
How could it be anyone other than Jose Altuve? At 32 years old, the veteran infielder shows no signs of slowing down. Altuve played one of the best seasons of his career in 2022, finishing third among AL position players in fWAR en route to a fifth-place MVP finish.
The eight-time All-Star led all MLB second basemen in home runs, on-base percentage, and slugging percentage last season while posting the fourth-highest wRC+ in baseball. As if that wasn't enough, he stole 18 bags and was caught only once.
Altuve's defense may slip as he ages, but his bat looks as menacing as ever. He complements his contact skills and surprising power with a mature eye at the plate, and there's no pitch he can't send into the seats.
Honorable Mentions
Brendan Rodgers
Playing for the Rockies, Brendon Rogers slipped under the radar in 2021. Last year, however, he grabbed some attention with his slick fielding and impressive contact skills. If Rogers can figure out how to hit right-handed pitching (and stay healthy for a full season), he has a bright future ahead of him.
Jonathan India
Jonathan India had a bad case of the sophomore slump in 2022, slashing .249/.327/.378 in 103 games. He missed the first two months of the season with a hamstring injury and struggled upon his return. The Reds are hoping he can regain his rookie season form in 2023.