Analysis
The Baltimore Orioles Are the New York Mets Dream Trade Partner
If the Mets want to use Steve Cohen's money to help buy prospects, they should be looking to trade with the Orioles at this year's deadline.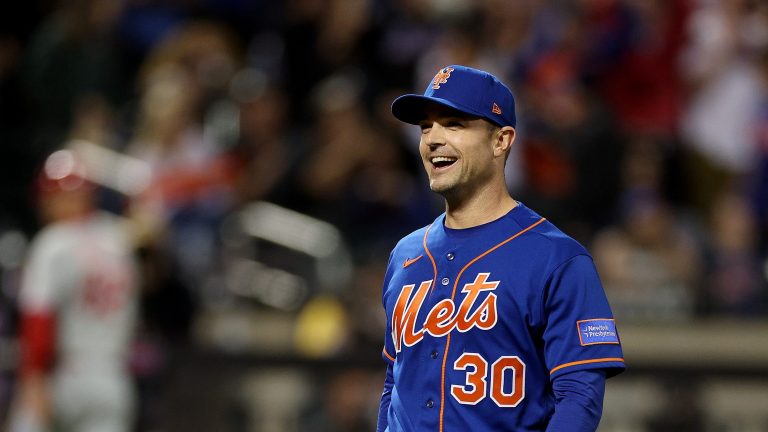 If you have been paying attention to the Mets this season, one thing is pretty clear about how they are doing business: they are shamelessly looking to spend as much money as possible to create a winning team in Queens.
First, it was spending nearly $500 million on contracts this offseason, looking to revamp a team that won 101 games last year. Then, when this high-priced team started to falter, the Mets went into transaction mode with their pocketbook as a guide.
They ate all of the money on Eduardo Escobar's contract in a trade with the Angels, increasing the prospect return they received for a player who did not have much value after being relegated to the bench. Then the Mets made a trade to acquire a reliever, taking on $4 million in dead salary on Chris Flexen, who they immediately DFA'd themselves, in exchange for Trevor Gott.
In making these trades, the Mets showed their hands on how they would like to do business. Cohen said as much in his midseason press conference, when he called payroll a sunk cost anyway that he was not looking to recoup. Instead, the Mets want to reinvest, taking moderate trade assets and shining them up by selling them to teams on low-money contracts.
This is where the Mets trade deadline strategy as sellers becomes so fascinating, because instead of trading David Robertson with the remainder of his $10 million contract, they can give who Jeff Passan called the best reliever on the market, to a team on a vet minimum.
When looking for a trade destination for the Mets assets at this deadline, there is a combination of things that have to come into play. First, the team has to be in contention. Second, the team has to be cheap, typically in a small market. Third, they need a deep farm system with top prospects they are willing to deal.
One team checks all those boxes for the Mets, and it is the one I believe they should do the most business with at the deadline.
The Baltimore Orioles.
Baltimore is the Perfect Fit for Mets "Moneyball"
Do you know who is making the most money on the Baltimore Orioles this season?
It is none other than their backup catcher, James McCann, who will earn $12 million this season. The Orioles traded for McCann this offseason, in a deal where the Mets agreed to pay $19 million of his remaining $24 million in salary. This year, the Mets are paying $11 million of his salary, effectively paying more money than the Orioles have to anyone on their payroll. Kyle Gibson is their only other contract that is even eight figures, at exactly $10 million.
Despite the $70 million payroll, the Orioles are sitting in first place in a very competitive AL East, having run down a Tampa Bay Rays team who started the year 13-0. Baltimore has arguably the best farm system in all of baseball, and is just opening a long window where they hope to contend.
The Orioles will be motivated buyers at this deadline as they look to round out what they hope can be a championship roster. This is what makes Baltimore the perfect trade partner for the Mets.
A small market team that is historically cheap, looking to win now, with a farm system that is so deep, they can give up great prospects and not even feel it.
Unless the Mets eat a ton of money on Max Scherzer and get him to waive his no-trade clause, the Mets aren't going to be the team that trades the Orioles their much-needed ace, but they do have pieces that could be really intriguing to Baltimore.
What the Mets Are Selling
How can a team get around their lack of starting pitching? Put together an excellent bullpen that can shorten games. This is where the aforementioned David Robertson comes into play.
Robertson would give the Orioles pitching staff a veteran leader who has pitched in a every big game before in his 15-year career. We saw it just last season, where Robertson was traded to the Phillies at the deadline, then played a key role in their making it to the World Series. In the playoffs, Robertson allowed just one run over seven appearances, pitching four scoreless in the World Series.
This year, Robertson has a 2.05 ERA in 44 innings pitched with 1.00 WHIP. Between his experience and the way he has pitched over the past two years, there is not a more dependable relief arm on the market this year.
Josh Hader has a 0.95 ERA and could be on the move, but teams have to worry about how he threw to a 7.31 ERA after getting traded last year. Also for a team like the Orioles, Hader would become their most expensive player, making $14.1 million in his last year of arbitration. He has also never even pitched in the American League.
Meanwhile Robertson spent over a decade pitching in the American League, and in the AL East in particular. Throw in $3.5 million to essentially cover his salary for the remainder of the deal and suddenly the Orioles could be willing to give up a real blue chip prospect to get a deal done.
Now to another name that could really intrigue the Orioles: Mark Canha.
The Orioles have gotten really solid production this year for Aaron Hicks, but he just went on the IL with a hamstring strain. Knowing Hicks' history with injuries, the Orioles could use an outfielder to fill his void and Canha could be a nice fit.
While he has lost his starting job this season to Tommy Pham, Canha has continued to be solid despite irregular playing time. The 34-year-old is hitting .235/.333/.374, with a 102 wRC+ in 84 games played. His numbers are down, but he is still striking out at just a 17.5% clip and has a 10.2% walk rate.
Canha gives solid at-bats and has been a bit unlucky this year (.267 BABIP). Put him at the bottom of a really good Orioles lineup and he could even perform a bit better and be the guy he was last year, who got on base at a .367 clip and posted a 128 wRC+. He would also bring defensive versatility to the Orioles, having played all three outfield spots this season, as well as first and third base.
Owed around the same money as Robertson this season at $10.5 million, the Mets could send a little over that $3.5 million to the Orioles in a trade to eat down all of Canha's contract this year. He also has a club option next season for $11.5 million, but there is a $2 million buyout the Mets could send conditional cash for, making him a low-cost rental for Baltimore.
Last but certainly not least, is Jose Quintana. Who is maybe the most intriguing option to the Orioles when it comes to value earned by the Mets eating a contract.
Quintana will make just his second start of the season later tonight, having missed most the season recovering for a rib surgery he had in spring training. The 34-year-old faired well in his first outing, going five innings and allowing just two runs.
Last season, Quintana pitched to a 2.93 ERA over a 165 2/3 innings pitched. It was the eighth time in his career where he made over 30 starts and eclipsed 160 innings pitched. When he was traded to the Cardinals at the last deadline, Quintana went on to pitch to a 2.01 ERA over 12 starts and started Game 1 of their Wild Card series against the Phillies.
The Mets rewarded the left-hander with a two-year, $26 million contract as part of their offseason spending spree. While the Mets could certainly just keep Quintana in their rotation for rest of this year and all of next season, he is an arm that would intrigue the Orioles, especially at a discount.
Imagine if the Orioles can have Quintana on essentially a 1.5-year, $10 million deal, when they are paying Kyle Gibson $10 million for this season alone. Quintana can give the Orioles another arm for the stretch run and replace Gibson for half the cost next year.
All of this is to say, the Mets have three pieces who could fit the Orioles perfectly, helping them win now without breaking the bank. The question is, how much are they willing to give up in prospect capital to get these type of deal done?
Orioles Get David Robertson and $3.5 million for Connor Norby
What the Mets are basically doing here is buying prospects. By eating down Robertson's salary, they can land a top 100 prospect for a rental reliever. Albeit a great one.
Connor Norby was one of the seven guys who was featured on our top 100 list prior to the season, coming in ranked at No. 78. The 23-year-old started last year in High-A and finished in Triple-A, spending 49 games in High-A, 64 games in Double-A and nine games in Triple-A.
Put it all together, and Norby played 122 games in 2022 and hit .279/.360/.526, with 29 home runs, 23 doubles, four triples and a .886 OPS. This year, Norby has played 89 games in Triple-A and he is hitting .283/.342/.459, with 13 home runs and 24 doubles. The power has dipped a bit, but he's still projected to be a good player and has a solid .801 OPS.
Norby plays a good second base and can also play a corner outfield spot, essentially giving the Mets another guy like Jeff McNeil who could fill needs all over, while being a steady hitter. For a team that doesn't want to tank after this deadline, Norby could actually start on the Mets and help them down the stretch. Especially if they move Canha and/or Tommy Pham in other deals.
With a glut of middle infields on the roster and in the minors, the Orioles wouldn't even feel the loss of Norby in their system and could add an elite high-leverage arm to their pen for the stretch run.
Orioles Get David Robertson, Mark Canha and $9 million for Dylan Beavers and Cesar Prieto
The Mets are going to be after best player available and Norby certainly feels like the guy they'd want in any deal. With that said, the Orioles have plenty of names that could interest the Mets as well, such as Dylan Beavers.
Beavers was picked 33rd overall by the Orioles back in 2021 and has plenty of upside. He's super athletic at 6'3″, with the ability to bring power and speed to the game if he puts it all together. Playing in High-A at 21 years old, Beavers is hitting .260/.355/.456, with an .810 OPS, 24 doubles, three triples, nine home runs and 18 stolen bases in 79 games.
Coming into the season, Beavers was ranked 11th in the Orioles system by Baseball America and is now ranked in the top 10 according to MLB.com.
With the recent graduations of Francisco Alvarez, Brett Baty and Mark Vientos, Beavers would slide comfortably in the Mets top 10, maybe even their top five. In fact, he'd be in the conversation with Alex Ramirez as being the best outfield prospect in the Mets system.
Along with Beavers, the Mets would get a high-floor prospect in Cesar Prieto, who is tearing the cover off the ball in Triple-A. The 24-year-old defected from Cuba in 2021 and played his first season with the Orioles in 2022. He began his minor league career hitting .340 in High-A, but then struggled when promoted up to Double-A, posting just a .643 OPS in 90 games.
A poor performance in the Arizona Fall League had Prieto's prospect stock dropping, where he was ranked No. 25 in the Orioles system by Baseball America heading into 2023. Prieto has certainly turned heads this year though, as he hit .364/.406/.476, with an .882 OPS in Double-A to earn a promotion up to the Triple-A.
In his first 22 games in Triple-A, Prieto has hit .322/.358/.483, with a .841 OPS.
The Orioles have a similar player in their farm with Joey Ortiz, who is a top five prospect in their system, making Prieto expandable. Prieto can play all three positions in the infield, giving him the floor of a solid utilityman, who can hit his way into more playing time.
In this deal, the Orioles have to give up two prospects, but they get two players to help win now and hang onto Norby. While it's a steep price to pay for rentals, you can't measure the value Robertson and Canha can bring to a young clubhouse in a playoff push.
Orioles Get David Robertson, Jose Quintana and $15 million for Connor Norby and Jud Fabian
Another trade that sends two players to Baltimore in exchange for two prospects, but this one is all about adding pitching. The Orioles would get a starter who could easily slid past Kyle Gibson into a top three spot in their rotation, who they would have control over for next season at a discount.
By sending $15 million, the Mets can cover all of Robertson and Quintana's salary for this season, while also giving them a great discount on the left-hander for next year as well.
In return, the Mets get Norby and also another intriguing outfield prospect in Jud Fabian.
The 22-year-old was a second round pick out of Florida in 2021 and currently finds himself ranked No. 15 in the Orioles system by MLB.com. Capable of playing all three outfield spots, Fabian is in Double-A and is currently starting most days in center field.
He started this year in High-A and hit .281/.392/.490, with an .882 OPS in 56 games to earn his promotion. Across his first 25 games he has struggled, hitting .178/.272/.426, with a .698 OPS, although one positive note is that 12 of his 18 hits have gone for extra bases.
While Beavers might be considered a better prospect by some, Fabian is the one who earned the promotion to Double-A first. The Mets don't have any prospect of Fabian's caliber in Double-A right now, making acquiring him with Norby a steal.
Again though, the Orioles have coverage in their system with Heston Kjerstad and Beavers both still being ranked above him, where they can move Fabian along with Norby in a win-now trade and not live to regret it.
Orioles Get David Robertson, Mark Canha, Jose Quintana and $24 million for Connor Norby, Dylan Beavers and DL Hall
Well if you are already on the phone with each other, how about a mega blockbuster?!
This trade would honestly infuriate so many owners in Major League Baseball. If this deal where to go through, and when you include the James McCann deal, Steve Cohen would be footing the bill for $43 million in salary combined over 2023 and 2024. MLB teams do enjoy revenue-sharing, but payroll-sharing to this degree is not exactly encouraged.
For a team operating at a $70 million payroll, Cohen would basically be paying 30% of the Orioles salaries, allowing them to operate closer to a $90 million team. Not against the rules, yet blatantly buying prospects has to be frustrating to the Mets competitors.
If you're the Orioles though, why do you care?
Having Robertson, Quintana and Canha plugs three holes in one trade, and fills a hole for next season with Quintana, giving you extra money to spend for this next offseason a well. For a GM who operates brilliantly through financial constraints, this is a trade that gives Mike Elias more room to work. The cost though is three really good prospects.
We have already discussed Norby and Beavers, let's get into the third guy in this deal. DL Hall is consensus top 100 guy, who has already seen some time in the Major Leagues. The 24-year-old left-hander was drafted in the first round out of high school back in 2017.
Across his professional career, Hall has never topped 100 innings pitched in a season.
Hall has been limited to 12 starts in Triple-A this year, where he has pitched to a 4.46 ERA across 42 1/3 innings pitched. In his lone appearance in the big leagues this season, Hall gave up two runs but struck out seven in three innings pitched.
While there is real reliever risk, Hall's ability to throw gas from the left-side with a nasty slider is sure to make a big league impact at some point in the not-too-distant future.
If the Mets decide to sell, this is not for some lengthy rebuild. They are looking for pieces who can plug and play relatively soon, who will be on affordable rookie scale deals that will balance their future payroll. In one trade, the Mets could accomplish everything, while saving face without having to completely gut the roster.
Norby and Hall could both play huge roles in 2024 and Fabian would become a top 10 prospect at a position where the Mets are very weak in their farm. That's the home run trade the Mets should try to hit. Only question is if GM Billy Eppler is the right man at bat.