Analysis
New York Mets Trade Deadline Outlook
Currently sitting atop the NL East, the Mets will be big buyers at the deadline as they look to clinch their first division title since 2015.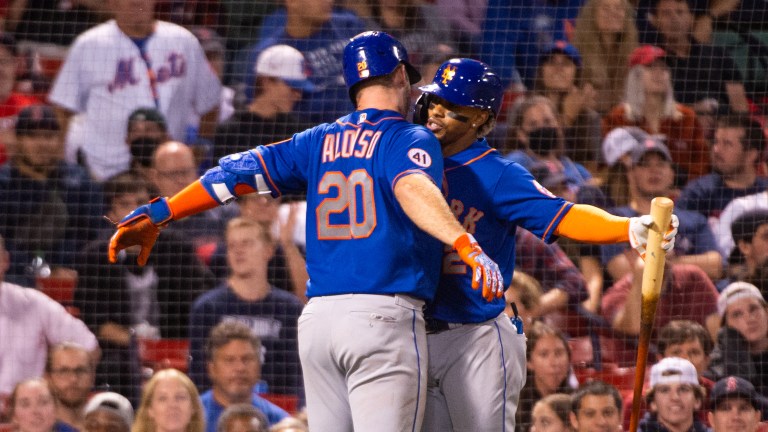 If there is one thing we have learned in the first few years of Steve Cohen's ownership of the New York Mets, it's that this franchise is always going to be in a perpetual state of win-now.
That is why they handed a blank check to Max Scherzer this offseason and signed Francisco Lindor to a massive $341 million contract the offseason prior. That's why they traded for Javier Baez at last year's deadline and why they are expected to be active buyers this year as well.
The National League East is setting up to be the best divisional race in baseball, as the Mets and Braves are as closely matched division rivalry in the game. Who wins the deadline could ultimately be who wins this division. As we saw last year when the Braves deadline haul resulted in not only another NL East title, but also a World Series victory.
Here is your full breakdown of what the Mets will look to accomplish at this year's trade deadline.
Addressing the Bullpen
The New York Mets have two clear areas of need that must be addressed at this year's deadline if they hope to be successful in the second half. The first is the same one that every contender will be looking to address. The need for additional help in the bullpen.
As a collective, the Mets bullpen has fared pretty well this season. They have a 3.54 ERA, which ranks as the 10th-best mark in baseball. With that said, the Mets bullpen has been buoyed by one incredible reliever, while the rest of the group leaves a lot to be desired.
Edwin Diaz is an All-Star this year and for good reason. He is the most dominant pitcher in baseball right now, striking out over 50% of the batters he has faced, with a 18.08 K/9 that equates to striking out two batters for every inning he pitches.
The Mets primary set-up men behind Diaz are Adam Ottavino, Drew Smith and Seth Lugo, all of which are having solid seasons, but none of which can really be trusted to close games on nights when Diaz is not available.
Ottavino has been the best of the bunch, pitching to a 2.67 ERA, while Smith sits with a 2.97 ERA and Lugo is at 3.97. Trevor May has been on the injured list most of the season and should be back in the second half, but the Mets could still use one dynamic arm at the back of their bullpen to pair with Diaz.
The Mets also have an issue when it comes to left-handed arms in their bullpen, as Joely Rodriguez and Chasen Shreve have not gotten the job done this year. Shreve was just recently DFA'd and was later released by the team entirely after he passed waivers. Meanwhile Rodriguez has a 4.67 ERA.
Bullpen Targets
Looking over the market, you can attach the Mets to pretty much every top reliever that could spring free at this year's deadline. David Bednar is likely to fetch the biggest package, assuming the Pirates decide to move him. Jorge Lopez might have been on the move from Baltimore, but considering their recent hot streak, maybe he now stays put.
Let's talk about the guy I really want to see the Mets target though. Joe Mantiply.
The soft-tossing left-hander will represent the Arizona Diamondbacks at the All-Star Game next week, as he has pitched to a 2.08 ERA across his first 36 appearances this year. Mantiply ranks in the 97th percentile or higher in average exit velocity against, xwOBA, xERA, xSLG, Barrel%, BB% and chase rate. He would immediately fill the Mets need for a left-handed reliever and could be trusted in high leverage spots as well.
When it comes to getting another lockdown back-end arm that could close games when Diaz is not available, David Robertson and Michael Fulmer are a few other names the Mets could target, along with the two aforementioned names at the top of the market in Bednar and Lopez.
Adding a Big Power Bat
The Atlanta Braves are one of the best home run hitting teams in baseball this year, trailing only the New York Yankees when it comes to longballs. The Mets are trying to beat out the Braves in this division and their lack of true home run threats could prove to be the difference.
Of the 89 home runs the Mets have hit this season, 39 of those blasts belong to Pete Alonso (23) and Francisco Lindor (16). The rest of the Mets lineup has combined for just 50 home runs.
Eduardo Escobar has been one of the biggest sore spots for this team. The third baseman was supposed to give the Mets another 25-30 home run guy, but so far this season he has hit just 10 home runs and has a paltry .662 OPS.
Whether it is improving at third base, or at DH, the Mets have to find a way to get extra juice into their starting lineup. One internal option would be to promote top prospect Mark Vientos, but it is hard to hang your playoff hopes on a rookie and ask him to be the savior.
Targets
The Mets could use a proven bat in the middle of that lineup to back up Pete Alonso and they could look in the division to find it.
Josh Bell would be the perfect compliment to Alonso, giving the Mets a switch-hitting slugger who is in the midst of a career-year. Bell is hitting .304/.386/.491, with 12 home runs and a 143 wRC+. He is playing out his final year before hitting free agency and shouldn't cost a crazy package to acquire.
If not Bell, the Mets could look to address their catcher position and DH spot in one move and acquire All-Star Willson Contreras from the Chicago Cubs. Contreras would be a massive upgrade over James McCann and Tomas Nido offensively and could also DH instead of JD Davis when the Mets want to get one of their defensive-minded backstops in the lineup.
The Mets have also been linked to Trey Mancini in recent days, although like Jorge Lopez in their bullpen, it is hard to know if the Orioles will be sellers at the deadline considering how well they have been playing lately.
Bottom line, the Mets need a bopper in the middle of that lineup and it would be rather surprising if they walked away from the deadline without one.
Trade Pieces to Move
The New York Mets will be aggressive at this year's deadline, but don't expect them to turn over their farm system too much. There are a list of untouchable prospects the Mets will absolutely not move and then a secondary list of prospect who they would be hard-pressed to move.
We will begin with the untouchables and the most obvious one is Francisco Alvarez. The Mets 20-year-old backstop could be the consensus top overall prospect in baseball very soon and there is absolutely no chance the Mets move him. If the Nationals called the Mets up about Juan Soto and asked for Alvarez, GM Billy Eppler would hang up the phone.
Fellow top prospect Brett Baty might not be quiet as untouchable to the Mets, but there isn't a player they will realistically target at this year's deadline that they would move him for.
Don't expect top pitching prospect Matt Allan to be moved, as the Mets have a lack of top-end starter depth in their farm and the same could be said about top outfield prospect Alex Ramirez.
The two real blue chip trade assets that will be squarely on the block at the deadline are Mark Vientos and Ronny Mauricio. Either prospect could headline a trade for an impact player, but the Mets won't just trade them for a rental without careful deliberation.
JD Davis and Dom Smith won't fetch the Mets much at the deadline, but they are a pair of MLB players who could be thrown into a trade as a sweetener as guys who could use a change of scenery.
Financial Advantage
The big question for the Mets at this year's deadline is if they will end up absorbing enough salary to cross over the new $290 million luxury tax threshold that has been dubbed the, "Cohen Tax".
There are strict penalties for exceeding that level of payroll, but the Mets owner apparently has no qualms about blowing through that line. There have even been rumblings that the Mets may look to take on salary at the deadline as a way to minimize the prospect capital they have to spend to address their roster.
Imagine the Mets taking on some of Patrick Corbin's contract, so they don't have to give up as much for Josh Bell, or taking on the final year of Jayson Heyward's contract in a deal for Willson Contreras.
If there is a way that Steve Cohen can flex his financial muscle to get a better deal, the Mets won't hesitate to jump on that.
As the deadline is getting near, the Mets are one of the most fascinating teams to watch. They have a loaded starting rotation that is only going to get better with the return of Jacob deGrom and have three All-Stars in their starting lineup. If they can land the right finishing pieces, the Mets might just finish the job and win the NL East for the first time since 2015.