Analysis
Why Signing Max Scherzer Erased Mets' Javier Báez Mistake
The New York Mets got a deadline do-over with their free agent spending spree and are in far a better place because of it.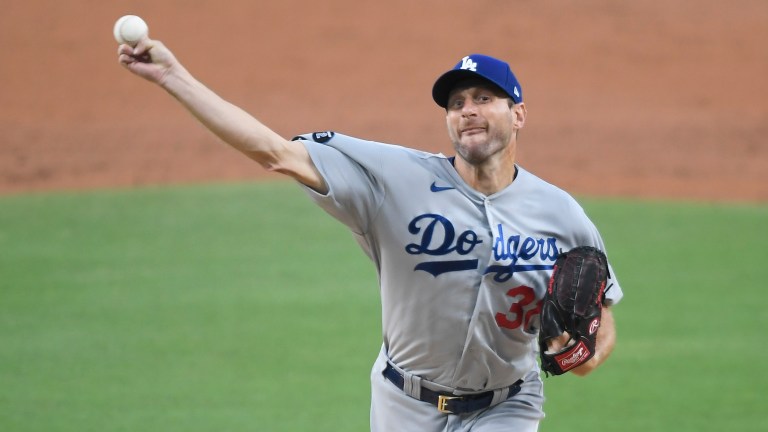 At this year's trade deadline, the New York Mets made one big blockbuster trade, acquiring Javier Báez and Trevor Williams in exchange for No. 5 prospect Pete Crow-Armstrong. When the Mets made the trade, many (including myself) thought this indicated that Báez would be playing up the middle with his buddy Francisco Lindor for a very long time. Or at least longer than half a season.
Today we learned that Báez's stint with the Mets was short-lived, as he signed a six-year, $140 million deal to play shortstop for the Detroit Tigers. There will always be those few videos on YouTube of Báez making incredible plays on the field and on the base paths wearing the blue and orange, but that is certainly not worth the 19th overall pick in the 2020 MLB Draft.
Crow-Armstrong has the chance to become a five-tool centerfielder one day, who will make the Mets regret ever foolishly trading him for a rental in a season where the Mets endured one of the worst second-half collapses in franchise history. Still, the events of the trade deadline ultimately paved the way for a much more significant transaction for New York. The signing of Max Scherzer.
How Are Báez and Scherzer Even Related?
So there are some of you who are wondering how Max Scherzer signing with the Mets in November has anything to do with trading for Javier Báez in July. Well the fact is, Steve Cohen's fascination with Scherzer pre-dates the offseason, as he was looking to make a significant push to acquire the ace at the deadline. Only problem is Scherzer didn't want to come over.
Reports indicated that Scherzer would not exercise his no-trade clause to go to his then-division rival and he instead landed with the Dodgers. Had Scherzer given the Mets the green-light to trade for him, Cohen would have pushed his front office hard to get a deal done.
One thing you have to understand about how this franchise is being operated right now is that Cohen wants to win desperately. He is a fan above all else, and his team has not won a World Series since 1986, when Cohen was just 30 years old. Cohen running the Mets is like if your Dad got his hands on his favorite sports team, all while having a net worth of over $15 billion.
Until he ends their World Series drought, Cohen is going to be incredibly aggressive with this team, knowing he can afford to make mistakes due to his immense wealth. Only problem is that at the trade deadline the capital you are dealing in is prospects, not cash.
Trading away PCA is a mistake that could be felt for years to come, but things could have been even worse if they traded for Scherzer. Teams often put an extra premium when negotiating with a division rival, especially if one of them is looking to make a push at the deadline. Mike Rizzo might have taken rookie GM Zack Scott to the cleaners in those trade talks, especially if Scott had Cohen in his ear pushing to get a deal done at all costs.
Maybe it would've only cost PCA in terms of prospects, but there is a chance Rizzo wisely would have gotten Cohen to pay the tab on some of the deferred money owed to Scherzer, especially if he believed the 37-year-old ace would sign long-term.
Obviously if the Mets won it all in 2021, it would have been worth it. But considering how much the team failed across the board in the second half, it is really hard to make the leap and believe that Scherzer would have made all the difference.
When it comes to getting production out of a rental, the Mets could not have asked for any more out of Báez. He was playing his best baseball in years, as he hit .299/.371/.515, with a 143 wRC+, yet the Mets went 21-37 from August on.
As great as Scherzer is, it is a stretch to believe that the Mets are World Series champions in 2021 if they make that trade and worse, they could have traded for Báez too and forfeited even more prospect capital for rentals in a lost season.
Obviously this is not aimed to compliment the Mets and their decision-making at the deadline, but instead to illustrate how much things could have played out differently.
What's Different if Mets Landed Scherzer Early?
Now let's continue to re-write history for a minute. Scherzer is owed $15 million a year from the Nationals for next seven seasons, as he had $105 million in deferred money baked into his original $215 million contract. Imagine the Mets land Scherzer at the deadline for Pete Crow-Armstong, while also agreeing to pay $5 million a year in his deferred salaries.
At the time, the move would've been heralded among fans, as Cohen would have "did what it took to get the job done". Well then the season plays out, the Mets still endure a terrible collapse, the Atlanta Braves win the division and the World Series and then Scherzer decides he wants nothing to do with New York beyond 2021.
Maybe $130 million over three years would still sway him, but Scherzer still wants to win and being apart of the second-half 2021 Mets would not have been good for their sales pitch to keep him long-term. Suddenly the Mets could have been out PCA, Scherzer AND be left holding the bag on $35 million that would ease the financial burden for one of their division rivals. Not to mention the fact that PCA (or whatever other top prospect) is a National in this scenario.
Now obviously I have taken a lot of creative license in creating this hypothetical Doomsday situation for the New York Mets, but the point I am trying to make is that the situation could be far worse than the one that ultimately played out.
Looking Forward After Short-Lived Báez-Era
In retrospect, of course the Mets should not have traded PCA for a few months of Javier Báez, but that is the price you pay when you try to win at the deadline. It did not work out for the Mets, but there were alternative scenarios that could have played out far worse.
Hopefully Cohen, with the aide of Billy Eppler, has learned a lesson with how things played out with Báez. Right now the advantage the Mets have among other MLB teams is a financial one. They can flex that spending power in the offseason and land a first-ballot Hall of Famer like Scherzer.
But their farm system is still an area of weakness after years of trading prospects in futile attempts to win-now and it would be wise to hold onto their prospects unless they are acquiring a player with team control. Signing Báez to a six-year, $140 million contract likely would have just been doubling down on a previous mistake.
Báez, while at times great, is a flawed player who strikes out in nearly 30% of his at-bats throughout his career. Players with big swing-and-miss profiles are a risk on long-term deals, just ask the Orioles how extending Chris Davis panned out.
By signing Scherzer this offseason, the Mets just landed a player that will buoy their franchise for the next three years, while they try to build out a massive hole in their farm system. The lack of impact starting pitchers. This is how Cohen should be spending his resources moving forward to continue to try to win in the short-term, while building out his organization the right way from the top down.
Whether the Mets offseason seasons pan out at this stage is too be determined. But so far they have not signed any player to a deal longer than four years, leaving plenty of flexibility down the road to continue to add star players to try to contend every season.
Once the Mets build out a farm system that can rival a franchise like the Los Angeles Dodgers, then they can be real players at the trade deadline where trading a PCA is not as back-breaking of a deal as it looks to be right now.
Bottom line, Cohen's resources give the Mets a wider margin of error than almost any team in the sport, but that does not make the franchise fool-proof. They need to play things smart moving forward and despite the reputation that Eppler carried over from the Angels, he has been a breath of fresh air to this front office.
If Eppler's plan plays out perfectly, the Mets will win big in the short-term with this bloated payroll, while building out a sustainable winner in the meantime with their farm system. Worst case scenario Cohen has to wait a bit to get his World Series, but at least the Mets won't be throwing prospects down the drain to chase it any longer.