Analysis
New York Mets Trade Deadline Guide
It is looking like the New York Mets will be sellers after all, with veterans such as David Robertson, Tommy Pham and Mark Canha on the block.
Now a week away from the trade deadline, it is time for the New York Mets to concede. This is not a team to continue to go all-in on.
In the offseason, Steve Cohen handed out countless high-priced contracts to build off last year's 101-win season, combining the talents of two future first ballot Hall of Famers atop his rotation at $43.3 million each. Unfortunately for Cohen, all that money seems to be a loss, as the Mets cannot get out of their own way this year.
The Mets are sitting seven games under .500 and 7.5 games out of the Wild Card race. They could win each of their final six games before the deadline and still will be a losing team, one game under .500.
There had been some thought that the Mets might buy at the deadline, using the blueprint of their last trade as a way to do so without costing prospect capital. In their last trade with the Mariners, the Mets ate $4 million in salary on recently DFA'd pitcher Chris Flexen, in exchange for the services of Trevor Gott.
In his first eight appearances out of the Mets bullpen, Gott has allowed six earned runs and has made it through just 5 2/3 innings. The idea that they would take on more bad money for a chance to win this year seems crazy, but you never know.
For today's exercise, we are operating under the assumption that the Mets go all-in but in the other direction, towards selling off whatever pieces they have to build a future contender in Queens.
2023 Trade Deadline Candidates
2023
2024
2025
2026
NOTES
Tommy Pham
$6,000,000
FA
Mark Canha
$10,500,000
$11,500,000*
FA
*Club option
David Robertson
$10,000,000
FA
Brooks Raley
$2.325,000
$3,300,000*
FA
* Club option
Adam Ottavino
$7,750,000
$6,750,000*
FA
*Player option
Max Scherzer
$43,333,333
$43,333,333*
FA
* Player option
Justin Verlander
$43,333,333
$43,333,333
$35,000,000*
FA
* Vesting option
Omar Narvaez
$8,000,000
$7,000,000*
Arb 3
FA
* Player option
Daniel Vogelbach
$1,500,000
Arb 3
FA
Carlos Carrasco
$14,000,000
FA
Jose Quintana
$13,000,000
$13,000,000
FA
Top Corner Outfielders on the Market
If there is one thing everyone seems to be selling this time of year, it is pitching and particularly, relief pitching. Some might think that closer David Robertson is the Mets best trade asset, which we will discuss in the next section, but that might not be the case because there are so many options teams have in the relief market.
When it comes to position players, those options are far more limited.
Unless the Padres trade Juan Soto, if teams are looking for a corner outfield bat, the Mets might just be the first call they make, considering the season that Tommy Pham has been having.
The 35-year-old is having himself a resurgent season, where he is hitting .271/.355/.472, with nine home runs, 15 doubles, 11 stolen bases and a 129 wRC+. Pham has played a league average defensive left field this year, and has even logged some innings in center field.
Pham has been red-hot since June, hitting .305/.379/.531 over his last 38 games and 145 plate appearances. He takes his walks, doesn't strike out too much and ranks among the league leaders in average exit velocity, putting himself in the top four percent of MLB hitters with his 93.2 MPH.
All the expected metrics check out for Pham as well, with an expected batting average of .297 and an expected slugging percentage of .517. Throw in the great walk, chase and whiff rates and Pham looks like one of the best hitters who will be moved at this year's deadline.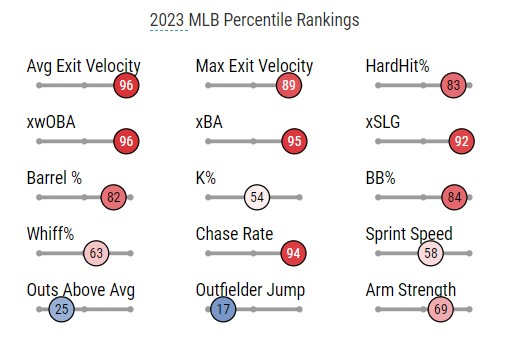 Signed to a one-year, $6 million contract this offseason, Pham is a solid rental who could help any team win. The Mets can make any of their deadline pieces a bit more attractive by eating down their salaries, similar to what they did with Eduardo Escobar back in June, but Pham's salary is so reasonable it might not move the needle much in either direction.
Meanwhile where eating the salary will help greatly is if the Mets decide to deal fellow left fielder Mark Canha, who is in the second-year of a two-year, $26.5 million contract, which includes a $2 million buyout on a $11.5 million club option for 2024.
The Mets can't eat any of the money on that club option to make it more attractive for another team, but they can eat down his salary this year and also cover the $2 million buyout.
This would essentially make Canha a rental with no strings attached, who teams can acquire on a vet minimum salary. We saw with Escobar, the Mets were able to employ this strategy to pry a very nice prospect from the Angels with Coleman Crow heading back to New York in that deal. MLB.com has Crow listed at No. 11 now in the Mets system.
Canha is having a bit of a down-year and was replaced by Pham in the starting lineup, yet he still holds value at the deadline. His 105 wRC+ this year is his lowest in years, as he has posted a wRC+ of at least 115 or better in each of the last five seasons.
With solid strikeout and walk rates, Canha can give any team quality at-bats and has shown the versatility to be able to play any spot in the outfield, first base and has even bought the Mets some innings at third base this year as well.
Last year, Brandon Drury and Andrew Benintendi were both rentals who hit the open market and were dealt at the trade deadline. Drury was traded from the Reds to the Padres in exchange for San Diego's then No. 6 prospect, Victor Acosta.
An 18-year-old shortstop who had signed in 2021 out of the Dominican Republic for $1.8 million, Acosta. According to Baseball America, he is now slated No. 18 in a very deep Reds farm system. MLB.com has him at No. 12.
On the other end of the spectrum, Benintendi was traded to the Yankees for three prospects, two of which were in the back of New York's top 20 and one who was outside of it altogether.
Pham most likely is the piece that nets the Mets their best prospect of the deadline, similar to Acosta, being a really high upside young flier type. Whereas Canha is more likely to go for a similar package as Benintendi, or even to what the Mets received for Escobar.
Bullpen Arms for Hire
As previously mentioned, every non-contending team has a reliever or two they can sell at the deadline, which saturates the market to the point where it is hard to get a great return.
The one piece the Mets have that would be really intriguing for teams is David Robertson, because he has the highest floor of any reliever on the market. Robertson was traded a year ago, going from the Cubs to the Phillies, where he ultimately was a key cog on a team that went to the World Series.
Last year, Robertson pitched to a 2.40 ERA in the regular season, then allowed just one run across seven postseason appearances, including four scoreless in the World Series. This year, Robertson has pitched to a 2.08 ERA, with 14 saves in 17 chances.
Teams could trust Robertson to be their closer or to pitch in a set-up role, as he has done everything in his MLB career. With a one-year, $10 million contract, the Mets could eat that down and send him to any team as a top-flight high-leverage arm, pitching on a vet-minimum.
Best case scenario, Robertson is dealt for a top 10 prospect in a good system, with maybe another top 30 guy thrown in. It is so hard to gauge return though when there are so many options for teams to chose from.
Brooks Raley is another reliever who has been great this year, but under team control with an affordable club option for next year, the Mets are more likely to hold. Adam Ottavino hasn't been nearly as good as he was in 2022, but he has still been solid enough, with a 3.57 ERA.
Ottavino has an expensive contract, with a lot of incentives baked in and an option for next season. Since it is a player option, the Mets can actually send conditional money to eat that down, while also handling the incentives on the deal. This could make him a more attractive trade piece than he looks to be on the surface.
Dealing High-Priced Aces
There has been plenty of attention paid to whether the Mets could trade either of their $43.3 million aces at this year's deadline, but every report is calling it highly unlikely for a deal to be struck.
Scherzer is owed $43.3 million next year on a player option, and Verlander is simply under contract for that same number. The Mets could eat down either of their contracts for both this and next year, but even that won't guarantee value coming back in a trade.
Verlander is already 40 and Scherzer will turn 39 right before the deadline. Scherzer has allowed 22 home runs in just over 100 innings this year and Verlander is still an injury-risk at his age in his second season coming back from Tommy John.
Scherzer also has a no-trade clause, making it more complicated to deal him.
If the right team steps up and decides that Scherzer or Verlander is their guy, maybe a deal happens, but it is more likely the Mets will continue to run these guys out as their ace tandem for the foreseeable future.
Under the Radar Trade Deadline Candidates
There are four more names mentioned as candidates in our table above, none of which are necessarily likely to be dealt for various reasons.
We begin with the guys who aren't garnering much of any return, other freeing up a roster spot, and that is Daniel Vogelbach and Carlos Carrasco.
Vogelbach is a change of scenery guy, who could be flipped to a team that is looking for a good left-handed bat who will get on base at a solid clip. Unfortunately for the Mets, Vogelbach has turned in a terrible season compared to what they got from him after the deadline last year.
In 55 games with the Mets after being traded from the Pirates, Vogelbach got on base at a .393 clip and posted a 144 wRC+. This year, those numbers have dropped to a .330 OBP and a 98 wRC+. Trading Vogelbach would be a glorified DFA, opening up playing time for younger players in the second half, namely Mark Vientos.
Another player who won't garner much of a return is Carlos Carrasco. At $14 million this year, nobody would touch Cookie unless the Mets eat all of his salary, which they would happily do to get any kind of return.
Carrasco has a 5.82 ERA on the season, but is a few starts removed from going eight scoreless against the Diamondbacks in Arizona. There's a chance someone wants him as a depth starter, but the Mets aren't going to see much come back there way in a deal.
Finally we have two players who could be part of the Mets next season, but can also be turned into underrated trade pieces with the advent of eating their salaries.
Omar Narvaez on a vet minimum would garner a ton of interest in free agency. Imagine acquiring him now at that price, with an extra year of control?
Again the Mets can eat money on future player options, and Narvaez has one next year for $7 million. The Mets can send cash considerations if he picks up the deal, which he likely will, giving a team two years of top 30 catcher in baseball at the minimum. Might get you more value than you think.
Same can be said for Jose Quintana, but even to a greater extent.
Quintana signed a two-year, $26 million deal with the Mets in the offseason and just made his first start last week. The left-hander looked solid in his first go, and is coming off a strong season in 2022, which saw him pitch to a 2.93 ERA over 165 2/3 innings pitched.
Now, there is a every chance the Mets see more value in simply keeping Quintana around, as he is a great option that would be hard to replace in their 2024 rotation. But if the Mets want to get younger and want to try to best take advantage of their position as sellers, they could shop Quintana on a value contract and see who bites.
Conclusion
Overall the Mets have options to go in as a seller, but all of it really hinges on how much money Steve Cohen is willing to eat. He is already in the hole in a big way and has indicated that this would be his strategy at the deadline if the Mets weren't in it. Which they aren't.
Cohen already views this team's payroll as a sunk cost, and would love to buy as much prospect return out of it as he can if the Mets flip players.
At the same time, teams have to be willing to play ball with the Mets on their terms, where they are willing to give up more for cheaper contracts. Robertson, Pham and Canha are the three likely trade pieces with the most value, but none of them is going to net a franchise-altering prospect return.
Maybe the Mets can swing one big deal by combining Pham and Robertson to a contender, where they can get a really nice return, but ultimately, this could be an uninspiring deadline where the Mets sit on their hands more than anything else.