Analysis
Selling High: The Case For The Mets To Trade Ronny Mauricio
Long regarded as one of the Mets top prospects, Ronny Mauricio has shown flashes of his potential, but has not quite put it together.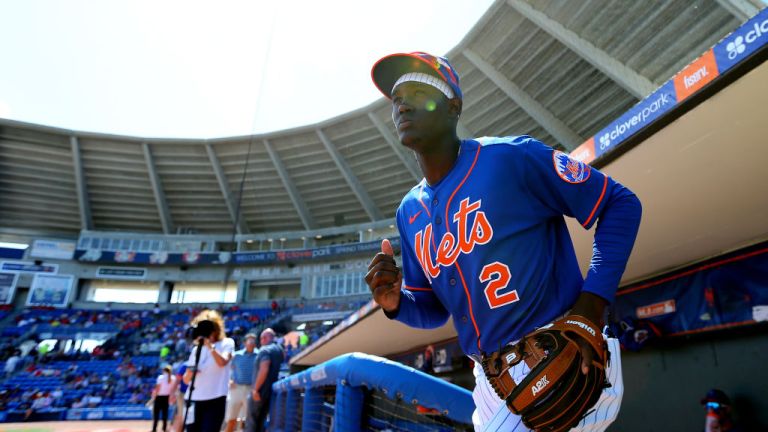 Knowing when to sell is one of the most difficult propositions in any industry, particularly when the value of an asset is subjective. When it comes to Major League Baseball, teams often struggle with identifying the proper time to sell some of their assets and that can have a devasting impact on their future success.
While it can feel gross at times to refer to prospects as assets, that is the reality of professional baseball. A team must be able to properly identify the value of their young talent, so they know which players to hang onto and which players should be moved to augment their roster when discussing trades.
In our latest series for Just Baseball, we will be looking at the top prospects each team has that they should be looking to sell high on now before it is too late. We will begin with the New York Mets and a very talented shortstop prospect they have in Ronny Mauricio.
Learning From Mets History at Shortstop
This offseason, the New York Mets have made it a point of emphasis to focus on free agency as a means to building out a roster that can contend in 2022.
Dating back to his introductory press conference, new GM Billy Eppler has suggested that the Mets will be looking to hang onto most of their prospects in the near-future, in hopes of building out a farm system that is very top-heavy at the moment. Still, the Mets would be wise to consider moving Mauricio to capitalize on his value while he is still a top prospect.
Once a prospect graduates, it can be like when you drive a new car of the lot and suddenly the value depreciates exponentially. If the player is great, their value will only increase. But it is really hard to be great at the big league level.
All the Mets have to do is look back at one of their most recent top shortstops to see how this could play out for Mauricio. Back in 2017, Amed Rosario was the Mets top prospect, being ranked as high as No. 3 in all of baseball by Fangraphs.
Fast forward four years later, Rosario was no longer viewed as a viable shortstop of the future for the Mets after he hit .268/.302/.403, with a 90 wRC+ across 403 games played. New York instead used him as a throw-in of sorts in the trade to acquire the new shortstop of the future in Francisco Lindor.
Had the Mets looked to trade Rosario back in 2017, he would have been exponentially more valuable then he ended up being after his flaws were exposed at the big league level.
As a prospect, Rosario was viewed as a slick fielder with Baseball America saying that he had, "Gold Glove potential". As the Mets starting shortstop he posted some of the worst defensive metrics at the position with -33 OAA and -20 DRS.
Now just because Rosario was not a success for the Mets, that does not mean that Ronny Maurcio will have the same fate. Mauricio is already hitting for more power than Rosario ever did as a prospect, mashing 20 home runs this past season at just 20 years old.
Assessing Mauricio's Value
Ronny Mauricio showed up to spring training in 2021 looking noticeably stronger than the last time we saw him in 2019, having packed on a lot of muscle during his lost year of Minor League development in 2020 and that added strength clearly showed up in his ability to leave the yard.
Spending a majority of the season in High-A with the Brooklyn Cyclones, Mauricio slugged at a .449 clip, which is very impressive considering how much younger he was than most the pitchers he was facing. Yet when you take a deeper look into his stat line, the 6'3″ shortstop left a lot to be desired.
Across 100 games played at High-A, Mauricio hit .242/.290/.449, with 101 strikeouts in 420 plate appearances. Mauricio struggles with plate discipline, which could get exposed even more as he advances through the Mets farm system. Although it is fair to note that he showed improvement in that department, cutting his chase rate from 52% in May to 33% in August.
The shortstop did finish his season in Double-A, playing eight games with the Binghamton Rumble Ponies. In the small sample size in Double-A, Mauricio fared pretty well with 10 hits and two walks in 33 plate appearances, but he also struck out 11 times.
Next season will be huge for the soon-to-be 21-year-old's development, as he will spend the season in Double-A seeing some of the best pitching the Minor League's has to offer.
When it comes to his defense, many are divided on Mauricio's upside at his natural position at shortstop. He has a strong arm and soft hands, but doesn't necessarily move well, which could push him over to third base once he gets to the big leagues.
The reality is that there is a wide-range of outcomes for Ronny Mauricio, as he has a ton of raw talent, but we will not know if he can refine it until we see him sink or swim at the highest levels.
Why the Mets Should Trade Mauricio Now
It is very rare that there is a player on a MLB roster that has more team-control than a top prospect, but that is exactly the case with the Mets and Francisco Lindor. Locked into that decade-long $341 million contract, Lindor will be the Mets starting shortstop for a very long time, which naturally makes their shortstop prospects like Mauricio more expendable.
Now that alone isn't enough of a reason to trade Mauricio, especially since his long-term home could be third base anyway. Only thing is, the Mets have two third base prospects in Brett Baty and Mark Vientos that are more sure things at this stage, so Mauricio's path to the big leagues is jammed in many ways.
Still, considering the fact that Mauricio is a widely considered a top 100 prospect (although not by Just Baseball), there is no doubt that he would have plenty of trade value as teams love to acquire prospects that have a lot of upside.
The Mets can't necessarily shop Mauricio, as that would only stand to diminish his trade value. Still, there is going to be a point over the next year where Cohen's win-now Mets will inevitably look to the trade market to address a need on their roster and when that time comes, Mauricio should be the prospect they attempt to headline such a deal.
Other teams will likely be most interested in Francisco Alvarez or Brett Baty, but the Mets need to hold onto those two potential franchise cornerstones at all costs.
Mark Vientos could move the needle in trade talks as well, as the 22-year-old just hit 25 home runs in only 349 PA between Double-A and Triple-A in 2022. In my opinion, Vientos should be another untouchable prospect, as his bat is nearly big league ready as is, and could have a massive impact in the Mets lineup this upcoming season.
Matt Allan and J.T. Ginn are a pair of recent top draft picks that project well as future starting pitchers that teams could call about, but with the depleted state of the Mets farm system when it comes to pitching, they would be wise to try to hang onto them as well. This leads us back to Mauricio.
As things stand now, the Mets could still be in the market to add another starter in their rotation this offseason and a suddenly thin free agent class could lead them into the trade market. Any call to address that need should begin with Ronny Mauricio.