Analysis
Five Biggest Takeaways From Steve Cohen's Midseason Presser
Mets owner, Steve Cohen, with the media on Wednesday to discuss what can only be described as a disaster of a season thus far in New York.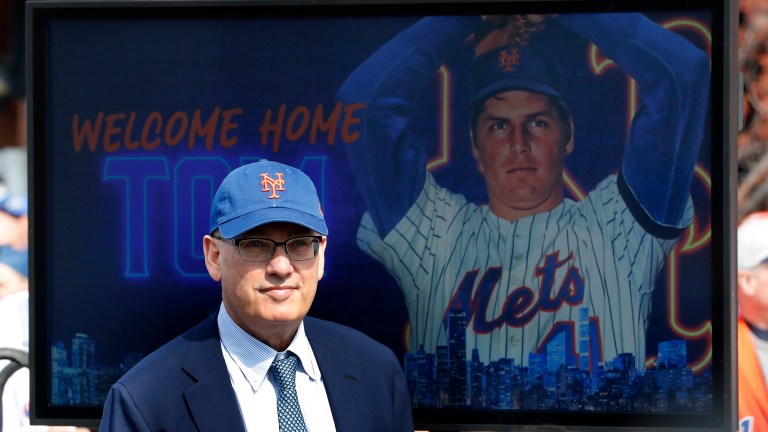 It is not often that we see a team owner speak to the media in the middle of the season, but Steve Cohen is not your typical MLB owner. The man who has a tax threshold named after him brazenly blew past it this offseason, putting together the most expensive payroll in MLB history.
Through the first half of the 2023 season, the high-priced roster has been an abject failure. The Mets are 36-43, closer to last place in the National League than to the final Wild Card spot. This is about as bad of a place as the Mets could be, especially considering all of the circumstances.
That is why Cohen met with the media prior to the game Wednesday night, to take stock in where things stand with his team during this dissapointing season. Here are my five biggest takeaways from the presser and what it means for the Mets moving forward.
1. No One is Getting Fired Midseason
A lot of the talk around the New York Mets lately has been surrounding their management and if GM Billy Eppler or manager Buck Showalter could be held responsible for this disaster of a season.
Yesterday, Eppler met with the media and ensured everyone that Showalter would not be fired this season and that he still has the clubhouse behind him. Francisco Lindor echoed the latter part of that statement to the press as well. And to their credit, with all the noise about the owner meeting with the media, the team responded with a 7-2 victory on Tuesday night.
When asked about the job security of both Eppler and Showalter, Cohen said definitively that both would absolutely be keeping their positions for the remainder of this season.
Part of the reason behind this though is interesting. Not only does Cohen feel it is best to not react to quickly and rashly to, "win the news for a day", he also doesn't want to be perceived within the industry as a reactionary owner.
Through his actions and his statements, Cohen is preaching patience, hoping that he can build a quality infrastructure that will attract, as he says, "the top talent in the game."
2. David Stearns is About to Get a Massive Check
Okay, this takeaway is me reading between the lines, but bare with me for a second.
Throughout this press conference, Cohen spoke of hiring a President of Baseball Operations as the answer to many different questions. Currently the position of president is vacant within the Mets organization, after Sandy Alderson moved on from the role.
Cohen made it very clear that he is being patient in regards to filling that position, as he does not want to set the organization back by making the wrong hire. He also flatly said he does not want a "rookie" executive taking the position and even mentioned how it is not as easy to acquire executive talent in this field, as it is in his line of work in the financial industry.
Essentially he wants a top tier executive, but most of them already have jobs so he can't speak with or try to poach them. Enter David Stearns.
It has been one of baseball's worst-kept secrets that Stearns would be an ideal fit for the New York Mets and his contract with the Milwaukee Brewers is finally set to expire after this season. Stearns has presided over the Brewers as their GM since September of 2015 and has led one of the most successful stretches of winning in franchise history.
The 38-year-old executive has resigned from his post with the Brewers, but does remain under contract for this season. A New York native, many have felt that Stearns could jump at the opportunity to run the Mets as their president, where he would work over Eppler.
Considering the fact that Cohen openly spoke about hiring someone who could run baseball ops with Eppler and his patience on waiting to hire the right guy, don't be surprised if Stearns is signing a record-breaking executive contract this winter.
3. Responsibility for Losing Lies With the Players
With about 25 games left to play until the deadline, the Mets are sitting 8.5 games out of a playoff spot. They have their work cut out for them to get into the playoff race, but if they do, there is every chance the Mets can be buyers instead of sellers at the deadline.
Cohen clearly put the responsibility for the Mets struggles this season on the players, but was careful not to pinpoint or blame anyone in particular. He mentioned reasons for optimism lately, such as the way Max Scherzer has been throwing the baseball, but admitted that he has no idea what the future holds.
Ultimately Cohen took ownership over the Mets issues by meeting with the media, and was very realistic with their options moving forward. If the Mets are sitting in this same position at the deadline, they will either stand pat or consider selling. If they are in the hunt again, anything is one the table.
Cohen continued to harp on the fact that he has a veteran roster, which can perform much better moving forward. The onus is on them to do so. As Cohen said, "one thing I can't do is pitch and hit."
4. From Biggest Buyer to Unprecedented Seller
If you look at some of the most recent trades the Mets have made, there is a pattern developing that is truly fascinating. This team is willing to shamelessly eat contracts for prospects because Cohen is rich and he doesn't care about money.
This offseason, the Mets traded James McCann to the Baltimore Orioles after he posted a .610 OPS across 182 games played in his two seasons in New York. To even get a player to be named later for McCann, and to clear his roster spot for a newly signed Omar Narvaez, Cohen ate $19 million of the $24 million left on his contract.
Fast-forward to last weekend and Cohen again used his pocketbook in another trade, eating all of the money owed to Eduardo Escobar (outside of the minimum required by the league) to bolster the prospect return.
As Aram Leighton and Jack McMullen broke down on The Call-Up, acquiring Coleman Crow and Landon Marceaux in exchange for Escobar was essentially the Mets "buying prospects" as the aging infielder did not hold much value on a $9.5 million contract.
Make it a league minimum veteran though and the Angels were willing to give up a pretty intriguing prospect in Crow, who is immediately a fringe top-10 prospect in the Mets system, which desperately needs pitching.
Expect the Mets to repeat this strategy at the deadline if they are out of the race and potentially to do so at epic proportions. What is Max Scherzer worth to a contender on a vet minimum?
Scherzer still has a $43.3 million player option teams would have to grapple with, but being able to acquire an ace at the deadline without raising payroll much midseason would be very attractive to World Series contenders.
Cohen described the contracts on his books as, "a sunk cost" in his mind, as he is not looking to reimburse himself on money he has already allocated towards payroll. If eating salaries means the Mets can get better prospects and speed up the rebuild of their farm system, he is all in.
Other veterans the Mets could sell outside of Scherzer include Tommy Pham, who is on a one-year deal, $6 million deal and is having a great season. Mark Canha is on the second-year of a two-year deal that has a third-year club option with a buyout. Starling Marte is in year two of a four-year deal and Justin Verlander is in the first year of a two-year, $86.6 million deal, which has a vesting third-year option.
David Robertson, Adam Ottavino and Brooks Raley are all viable high-leverage relievers who could be moved to, and if the thin catching market opened the door to move Omar Narvaez, that could be a trade candidate as well.
The Mets probably won't stripe it all down to the studs, but if they decide to be seller, they will have a lot on the table, especially if Cohen is really willing to eat down all those hefty salaries.
5. The Mets Are in Great Hands with Cohen
One thing that people forget about Steve Cohen's ownership of the Mets is that he started way behind due to previous ownership. In the Wilpons last few years owning the team, they made countless win-now trades to try to put the team over the top. Most of which came back to bite them.
Very little money was invested, beyond payroll at the big league level, with a lot left to be desired when it comes to dollars spent on the infrastructure of the franchise, particularly at the minor league level.
Cohen has put a plan in place since Day 1 of his ownership and really has not deviated from it once.
Everyone talks about that one quote from his opening presser about wanting to win a World Series in three-to-five years, but people don't often speak about how he thought the Mets could get there.
From the beginning, Cohen spoke about his plan to use free agency as a way to circumvent the Mets lack of a top farm system and to hopefully build one in the process. Outside of trading Pete Crow-Armstrong (a big mistake), the Mets have avoided trading from the top of the farm system under Cohen and have instead signed players on big-money short-term deals (ie. Scherzer and Verlander).
Last year, the plan worked and the Mets won 101 games to make the playoffs. This year, not so much. Still, the process the Mets have used ensures that their best days are ahead of them as a franchise.
Cohen has been investing heavily on player development, from building a pitching lab, to improving working conditions for his minor league players. There is no guarantee that it will all work, but it is certainly a vast improvement from the systems that were in place prior to Cohen.
If the Mets get the right executive at the helm to lead the organization, there is every chance that they can become the model franchise Cohen has dreamed of. In the meantime, the diehard fan turned owner has done everything in his power to build a winner.
Now it's up to the players to deliver him one.