Analysis
The Phillies (And Rhys Hoskins) Are Facing a Difficult Qualifying Offer Decision
Rhys Hoskins has played in the Phillies organization since 2014, but after a lost 2023 season, his future in Philadelphia is up in the air.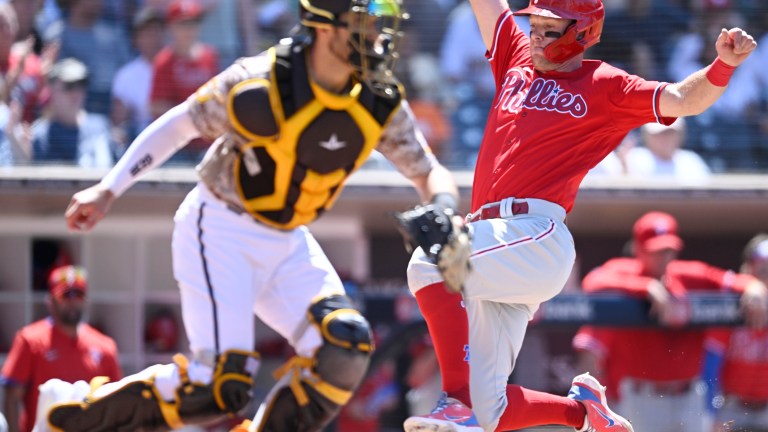 Rhys Hoskins has been with the Phillies for nearly ten years. He was drafted in 2014, the same year the team took Aaron Nola with the seventh-overall pick.
The day he was drafted, Cole Hamels twirled 7.2 scoreless innings, while Jimmy Rollins, Chase Utley, and Domonic Brown powered the Phillies offense to an 8-0 victory over the Reds. To many Phillies fans, that must feel like a lifetime ago.
Although he wasn't a top prospect entering the draft (the Phillies took him 142nd overall), Hoskins quickly made an impression in the minor leagues, hitting .319 with a .913 OPS in his first full season. As a young first baseman, he had to keep hitting to have any shot at a major league job, and that's exactly what he did. Hoskins bashed at every stop along the way.
In 2016, he crushed 38 home runs at Double-A, earning the Paul Owens Award as the best position player in the Phillies farm system.
The following summer, the promising young slugger made his big league debut, and while the Phillies were limping to a last-place finish, Hoskins made a name for himself around the sport, becoming the fastest player in MLB history to hit his first 17 career home runs. He finished the season with 18 home runs and a 1.014 OPS in 50 games, en route to a fourth-place finish for NL Rookie of the Year.
While he never quite reached those heights again, Hoskins has been a top-50 hitter in the sport and a leader in the Phillies clubhouse over the past six years. He is good for 30 home runs a year with a plus walk rate and tolerable strikeout numbers. That's been enough for 2.5 fWAR per 162 games; he's not an All-Star, but he's the kind of solid contributor every contending team needs.
Unfortunately, his 2023 season ended before it even began, when Hoskins tore his ACL in spring training. His walk year was stripped away from him, and now the typically reliable veteran is set to enter free agency as something of a question mark.
The Qualifying Offer Questions
Indeed, a question mark is the perfect symbol for Hoskins and his impending free agency. Questions abound for the Phillies and their long-time first baseman:
Will Bryce Harper return to right field in 2024?
If he does, will the Phillies extend the qualifying offer to Hoskins?
If they do, will Hoskins accept?
If Harper wants to play first base full-time in 2024, it's hard to imagine the Phillies giving Hoskins a qualifying offer. There is a reasonable chance he would accept, and the team would end up with a logjam at first base/DH.
In his end-of-season press conference, Dave Dombrowski didn't have too much to say about Hoskins, but he discussed Harper's future at first base, indirectly alluding to Hoskins in the process:
"I don't know what's going to happen with Bryce. We need to sit down with Bryce and ask him what his preference is and sit down for a heart-to-heart on what he wants to do and how he would like to approach going forward. I don't know what he's going to do yet at this time, but it's something we have to do relatively soon."
If Harper wants to return to right field, the decision becomes an easy one for the Phillies. They will certainly grant their superstar's wish – as long as it comes with a doctor's approval – and with an opening at first base, they would have little reason not to extend their longest-tenured position player a qualifying offer.
In such a case, the difficult decision then falls on Hoskins' shoulders. He'll have to decide if he wants to bet on himself or if he'd rather secure the highest possible payday this winter.
Hoskins could surely command more than $20.5MM (the approximate value of the QO) on a multi-year deal, but he might not beat that annual salary. Thus, if he returns to the Phillies on a one-year pact, he could reestablish his value and re-enter the open market after his age-31 season; with a strong enough performance, he could look for a contract similar to the five-year, $100MM deal Nick Castellanos signed with the Phillies in 2022. As an added bonus, he wouldn't have a qualifying offer dragging down his value – players can only receive the QO once in their career.
Unfortunately, he also runs the risk of lowering his value. Hoskins will be a year older next winter, and the market for first base/DH bats will be more crowded (potential free agents include Paul Goldschmidt, Pete Alonso, and Christian Walker). If he has a down year or suffers another injury in 2024, his earning potential could plummet.
It's clear that Hoskins enjoys playing in Philadelphia. He and his wife Jayme are beloved personalities in the Phillies community. Still, that doesn't mean he will let his personal attachment to the team prevent him from doing what's best for his family.
To make matters more complicated, only the Phillies and Hoskins know the complete details about his health. He seemed to be progressing well this fall – the team didn't rule him out for a potential World Series roster – but at the same time, there's a reason he didn't appear in the rest of the postseason.
It's hard to guess if the Phillies will give Hoskins a qualifying offer, and it's just as hard to gauge if he would accept one. In some ways, he is irreplaceable. He has a long history with this ballclub, and his leadership in the clubhouse and the community is one of a kind. That said, the Phillies have no shortage of aging sluggers; in some ways, the writing was on the wall for Hoskins as soon as the team signed Schwarber and Castellanos two years back.
It's a shame, because Hoskins is arguably a better hitter than either of them. Indeed, in an ideal world, the team might look to move on from Castellanos instead of Hoskins, but only one of them has $60MM remaining on his contract. It would be much easier for the Phillies to part ways with Hoskins, and so it's the route they're most likely to take.
| Player | AVG | OBP | SLG | BB% | K% | wRC+ |
| --- | --- | --- | --- | --- | --- | --- |
| Rhys Hoskins | .246 | .340 | .491 | 11.4% | 24.6% | 126 |
| Kyle Schwarber | .219 | .340 | .493 | 14.7% | 29.2% | 125 |
| Nick Castellanos | .274 | .322 | .481 | 6.1% | 24.6% | 113 |
Stats from 2020-23, via FanGraphs.
Teams must issue their qualifying offers within five days. Players then have ten days to make their decisions. Thus, we'll have the answers to all our questions soon enough. Until then, however, all we can do is speculate.
The Rhys Hoskins qualifying offer question is one of the most challenging decisions a team or player will have to make at this stage of the offseason, and it will be fascinating to see how it all plays out.