Analysis
Bryce Harper Is the Familiar Face the Phillies Needed
Bryce Harper is back from Tommy John surgery, and his return couldn't have come soon enough for the Phillies and their fans.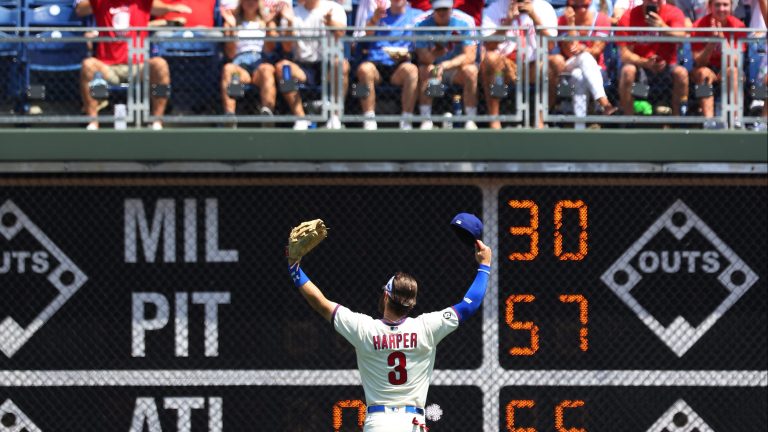 The Phillies won big last night, as long as you weren't looking at the scoreboard. While the Dodgers technically got a few more runs across the plate (12 more to be exact), the Phillies got something better – they got their superstar back.
Bryce Aron Max Harper returned to the field 160 days after Tommy John surgery. That's the quickest return from Tommy John we've ever seen in Major League Baseball, beating the old record – which stood for nearly two decades – by more than three weeks. When Harper underwent his surgery, there was a chance he wouldn't return until August. In case you don't have a calendar near you, let me just remind you: it's only May.
I wrote about Harper's potential return a few weeks back, but even in my most optimistic fantasy, I didn't think it would come so soon.
The final bit of information we have (as of right now) is that Harper is scheduled to follow up with his surgeon when the Phillies visit the Dodgers in early May. For that reason, it's unlikely he'll return to game action before then. However, that appointment could be the final step before he is medically cleared to play. Perhaps his rehab stint will begin sometime after the Phillies return home on May 5. I can't say it's likely, but it's possible…

When Bryce Harper returns, he'll transform the Phillies' offense. If he comes back in May, he'll make a world of difference for the Phillies and their postseason dreams.

From "Bryce Harper's Early Return Would Make a World of Difference" (April 13, 2023)
Harper went 0-for-4 with three strikeouts in his season debut. The Phillies lost 13-1. But the results of this particular game don't matter nearly as much as what Harper can do over the next five months. Anyone who watched him during his 2021 MVP campaign or the 2022 playoffs knows what a difference his bat can make in the middle of the Phillies lineup. What's more, his presence on the field makes a tremendous difference in and of itself. The mere sight of his name on the lineup card makes the Phillies a more watchable and entertaining ballclub.
Something hasn't felt quite right about the Phillies this season. Some of that was inevitable; it's always difficult to follow a miraculous postseason effort. Some of that was poor timing; going 1-5 wouldn't be such a big deal during any old week of the season, but it was a painful way to open the year. However, the most pronounced reason this team hasn't felt quite right is the number of guys who haven't been around. The Opening Day roster was missing several players who took the field last October.
Bryce Harper is the face of this team. The Phillies without Harper are like The Office without Steve Carell or a BLT with turkey instead of bacon. It still works, but it isn't the same. And Harper wasn't the only familiar face missing. Rhys Hoskins is out for the year with a torn ACL, and Ranger Suárez is still making his way back from an elbow strain. Jean Segura left for Miami, and Zach Eflin is thriving in Tampa Bay. Each of those guys was instrumental in getting the Phillies to the World Series, and, at the risk of getting too personal here, they were my five favorite players from the 2022 postseason run. Without Harper, Hoskins, Segura, Suárez, and Eflin, the Phillies just felt different. I thought I had ordered a BLT, but instead I was eating chicken salad on rye.
I'm aware that I'm being a little dramatic. Objectively speaking, the current Phillies roster is very similar to what it was last year. Nevertheless, I can't shake the feeling that the Phillies have been missing something, and that's why I'm so excited that Harper is really and truly back. (Well, that and his actual baseball skills. Those are pretty exciting too.)
With Harper in the lineup, this team feels familiar once again. He's only one man, but he really does make a tremendous difference. That's the kind of player he is. He's the bacon in the BLT. He's Michael on The Office. He's Bryce Freakin' Harper, and I can't wait to watch him play ball.