New York Mets Offseason Outlook
The New York Mets are expected to be aggressive this offseason as they look to end the Atlanta Braves' reign over the NL East.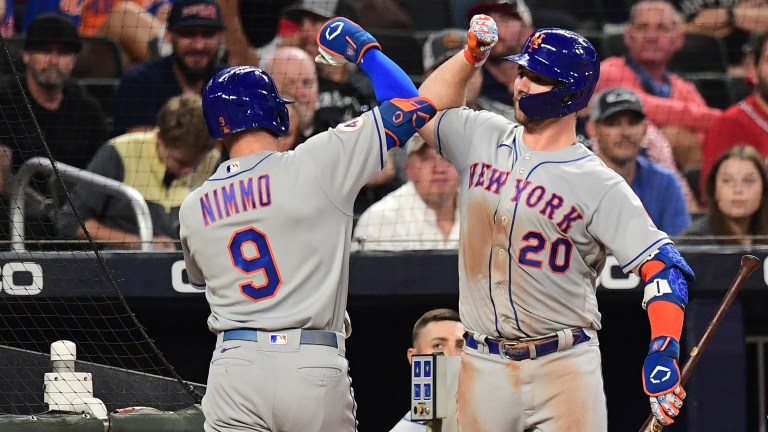 On August 6th, the Atlanta Braves took hold of first place in the National League East, knocking the New York Mets off a perch that they had held for 90 days.
Behind an MVP first half of the season from ace Jacob deGrom, the Mets looked to be heading to the playoffs for the first time since 2016. After the All-Star break, deGrom would never return to the mound and the Mets ultimately plummeted in the standings.
Making matters worse, the Mets chief division rival, the Atlanta Braves, went on to not only clinch the division but win the whole damn thing and become World Series champions. New owner Steve Cohen has vowed to make the Mets into legitimate contenders and is certainly going to feel the pressure to contend this offseason.
New York is still in the process of trying to hire new GM to lead their front office in this most pivotal of offseasons, but regardless of the hire, there is one thing that is very clear about the Mets. This team is going to be aggressively spending this offseason as they look to become a legitimate contender in 2022.
Which Free Agents Are Returning?
When it comes to free agency, the New York Mets first have to decide what to do with all of their free agents before looking outside of the organization. A handful of the Mets most impactful players are now free to test the open market, leaving the franchise with plenty of tough decisions to make in the early offseason.
The first step for the Mets was to extend qualifying offers to both Michael Conforto and Noah Syndergaard, as they looked to at least receive draft compensation for two of their most prominent players.
After basically not pitching for the last two seasons following Tommy John surgery, Syndergaard is expected to accept the QO and return to the Mets. On the other hand, Conforto has already declined the offer and will become a free agent. Conforto will be joined by the following former Mets in free agency this offseason.
Javier Báez
Marcus Stroman
Aaron Loup
Jonathan Villar
Kevin Pillar
Jeurys Familia
Rich Hill
Dellin Betances
Heath Hembree
Of this group of free agents, the two biggest names to watch are Javier Báez and Marcus Stroman. Báez was acquired at the trade deadline to play up the middle with his best friend Francisco Lindor. That pairing did not lead the Mets to a postseason berth, but that was hardly Báez's fault.
The soon-to-be 29-year-old hit .299/.371/.515, with nine home runs and a 143 wRC+ in 47 games with the Mets. To acquire Báez, the Mets parted with their first round pick from the 2020 MLB Draft, Pete Crow-Armstrong. PCA was a consensus top-five prospect in the Mets farm system, which has led many to speculate that Báez was viewed as more than just a rental when they traded such a significant prospect to acquire him.
The Mets will have to weigh their desire to make the most out of that trade by keeping Báez, while still properly evaluating a market that is chock-full of impact infielders.
Stroman is another interesting free agent case for the Mets, as he was by far their most consistent starting pitcher this past season. Stroman led the NL with 33 starts in 2021 and pitched to a 3.02 ERA across 179 innings pitched. The 30-year-old is reportedly seeking a long-term deal, that would pay him upwards of $25 million a year.
Assuming Syndergaard does return on the qualifying offer, the Mets rotation is pretty full. It is just full of question marks. Between the injury concerns of Syndergaard, Jacob deGrom and Carlos Carrasco and the inconsistent seasons from Taijuan Walker, Tylor Megill and David Peterson, the Mets rotation could certainly benefit from retaining an anchor like Stroman.
Outside of Stroman and Báez, the Mets could look to retain some of their better under-the-radar signings from last offseason in Jonathan Villar and Aaron Loup. Villar played in 142 games for the Mets in 2021, hitting 18 home runs while starting at all three positions in the infield outside of first base. He can provide depth to the Mets infield next season, although he may be able to parlay his bounce back season into a bigger role on another team.
When it comes to Loup, the question is how high will the price tag climb for the left-handed reliever who is coming off the best season of his career. Loup pitched to a sparkling 0.95 ERA across 65 appearances this season. The 33-year-old could be a priority for the Mets, but expecting him to pitch to that ERA again is probably unrealistic. Especially when his 3.37 xFIP predicts a regression to the mean for Loup moving forward.
Biggest Holes to Address
One of the problems the Mets are going to run into this offseason is gauging which of their players they can count on to have bounce back seasons next year. Jeff McNeil, Dominic Smith and J.D. Davis all failed to meet expectations in 2021 and could be on the trade block this offseason.
The problem for the Mets is extracting good value for these players, who could still be more valuable to the club than they would be in a trade. When looking over the current roster there are only a few spots that are locked in for 2022 season.
Pete Alonso is going to be the team's starting first baseman, as he is coming off a very strong season in which he hit 37 home runs and had a 133 wRC+. The $341 million man Francisco Lindor is obviously going to be their starting shortstop, a position he will be manning for the next decade. Brandon Nimmo continues to deal with injuries, but when on the field he has proven to be one of the more productive centerfielders in the game.
Outside of those three positions, the only other one that is locked in for sure is catcher, as James McCann and Tomas Nido are likely going to man the backstop once again for New York, despite their shaky offensive production.
If retained, McNeil will have a place in the starting lineup, but that could be in left field, second or third base depending on who else is signed. After serving his year-long suspension for PEDs, Robinson Cano is back on the books next year and will likely get time over at third base, as well as second base and potentially at designated hitter if the universal DH is instituted in the new CBA.
Even with their internal options, which includes defensive whiz Luis Guillorme and prospects who are soon to graduate in slugger Mark Vientos and potential fourth outfielder Khalil Lee, the Mets still need to add at least two starting level bats into their lineup.
Third base and left field have long been positions of need for the Mets and that is likely the case again this offseason. Also the departure of Michael Conforto leaves a big hole to fill out in right field as well.
Three Realistic Free Agent Targets
If last offseason taught us anything, it is that every single top tier free agent will be linked to Steve Cohen's Mets at one point or another. This could be due to their widespread interest on the league's top free agents, or agents posturing to get their clients paid by other clubs.
The first place the Mets should start when it comes to free agency is working to retain their own star players that have just hit the open market.
Marcus Stroman might have the highest floor of any free agent starter on the market and the Mets could desperately use that stability in their 2022 rotation. The upside for the Mets rotation is off the charts, but their top three projected starters of deGrom, Carrasco and Syndergaard combined to make just 29 starts in 2021.
Javier Báez is a natural fit on this roster, due to his ability to provide incredible insurance for Lindor at shortstop, as well as form a dynamic double play partner with him at second base. Keeping your best player happy is very important and signing Báez would certainly be a great first step in getting the most out of Lindor.
The cost to retain Báez is unknown right now, but if he ends up getting the five-year, $100 million deal that MLB Trade Rumors predicted, the Mets should be willing to meet that price.
Starling Marte is the top external free agent the Mets should be targeting, as he is the only outfielder on the market that can fill the void left by Conforto both offensively and defensively. Nick Castellanos is a great bat, but a bad outfielder, whereas Marte is coming off a season where he posted 4 OAA in center field, with a 133 wRC+.
Having Marte and Nimmo as table-setters atop the lineup would be a great way to get on the board early and often next season. By signing Báez, the Mets could move McNeil out to left field full-time, leaving third base as the only real hole to fill in their starting lineup.
J.D. Davis is a bat-only type player, but he could certainly get some playing time at the hot corner if he is back in 2022. The Mets could also look to retain Jonathan Villar as another stopgap at the position while they wait for top prospects Mark Vientos and Brett Baty to make it to the show.
2022 Outlook
The New York Mets certainly need to be aggressive this offseason if they want to knock of the reigning World Series champion Atlanta Braves. The Braves have won the NL East four years in a row now and don't look to be slowing down any time soon.
Last offseason, the Mets used the trade market to make their biggest splash, acquiring Francisco Lindor and Carlos Carrasco. While the temptation will be there to trade for some of the big star players on the block like Jose Ramirez or Matt Chapman, the Mets would be wise to hang onto their prospects and address most of their needs through free agency.
If the Mets were to make Marcus Stroman, Javier Báez and Starling Marte their three big free agent splashes, they could feel really good about their starting rotation and their starting lineup, before moving on to make depth additions to their bullpen and their bench.
It is no surprise that the Mets enter this offseason reeling after holding a five-game lead over the Braves at the trade deadline, only to finish 11.5 games out of first place. Still, there is a lot of talent in place that leaves the New York a few quality moves away from being a contender to watch next season.