Analysis
Mets and Braves Set to Battle for NL East in Biggest Series of the Season
The Atlanta Braves will host the New York Mets for a pivotal series this weekend that will likely decide MLB's final divisional race.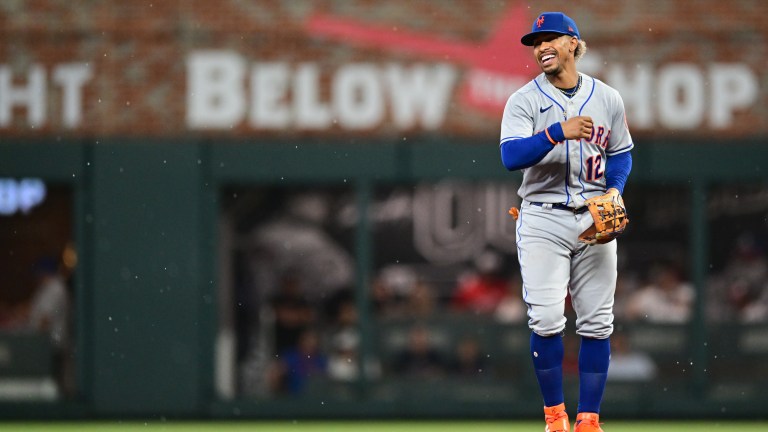 The New York Mets and Atlanta Braves have each played 156 games this season. They are separated in the standings by just a single game. Thus has been the story in the National League East this season, as these two juggernauts have been trading blows all season.
The Mets have led the division nearly wire-to-wire, taking over first place on April 12th and holding onto their lead for nearly five whole months before the Braves finally spent a day in first on September 9th. Atlanta trailed by as many as 10.5 games going into June, but have been the best team in baseball (not named the Dodgers) since then.
Now we are set for a truly special series, as the Braves host the Mets for a three-game set that will likely decide the outcome of this tightly-contested division.
Season Series: Mets Ahead
So far this season, the two heavyweights of the National League East have met 16 times. The Mets have won nine of those games, putting them a win away from taking the season series.
This is vitally important when it comes to who clinches the division because this year there will be no Game 163. If these two teams finish with an identical record, the tiebreaker will be head-to-head matchups, so if the Mets win just one game this series they will own the tiebreaker.
This leads us to the playoff implications for each team based on this series:
Mets Playoff Implications
With a magic number of six, the Mets can clinch the division if they sweep this series.
Currently leading the division by a game, if the Mets win the series, they will carry a two-game lead into their final series of the season, while also owning the tie-breaker. That means they would only need to win one game in their final series against the Nationals to clinch.
If they win just one game, the Mets will own the tie-breaker and leave series tied with Atlanta. That means they would still control their fate going into the final series against the Nationals.
Braves Playoff Implications
If the Braves want to control their fate heading into the last series of the season, they must sweep the Mets. In doing so, Atlanta would take a two-game lead into the final series of the season and would also steal back the tie-breaker. They would only need one win against the Marlins to clinch.
Pitching Probables
Game 1: Jacob deGrom vs. Max Fried
Could we possibly have a better matchup to kick off this highly-anticipated series?
Chris Bassitt was originally slated to take the ball in Game 1, but with Jacob deGrom already on full rest thanks to two off-days this week, the Mets opted to open the series with their ace to match the best the Braves have to offer in Fried.
DeGrom has faced the Braves twice already this season, with his first start against Atlanta coming in his second start back on August 7th. Limited to around 75 pitches, deGrom allowed two runs on a homer by Dansby Swanson that ended his day with two outs in the top of the sixth inning.
Prior to that, deGrom had struck out 12 of the first 17 batters he faced, retiring all of them before issuing a walk that preceded Swanson's homer. The Mets went on to win that game by a 5-2 score.
In his next start against the Braves on August 18th, deGrom squared off against Fried and was bested, allowing three runs in 6 2/3 innings pitched. Meanwhile, Fried gave the Braves seven strong innings and picked up the victory.
Fried has faced the Mets four times this year and has allowed exactly two runs in each appearance. Altogether he has pitched to a 3.00 ERA against New York, across 24 innings pitched.
Game 2: Max Scherzer vs. Kyle Wright
Major League Baseball's wins leader will be looking for one more, as Kyle Wright tries to pick up his 21st victory on Saturday night against the Mets. Of the five losses Wright has actually picked up this season, two of them have been at the hands of the Mets.
Wright first faced the Mets on May 3rd, in the second game of a doubleheader. He squared off against Carlos Carrasco in that outing and lost, with "Cookie" giving New York eight scoreless innings. Wright actually fared pretty well, allowing just three runs, with two scoring on a double by Dom Smith and another coming on a home run by Pete Alonso.
On August 4th, Wright would meet the Mets again and had even less success. The right-hander allowed six earned runs, giving up homers to Tyler Naquin (2X), Pete Alonso and Daniel Vogelbach. Wright may be due for a victory against the Mets, but it won't come easy against Max Scherzer.
In his first season in a Mets uniform, Scherzer has been everything Steve Cohen could have asked for when he gave him that three-year, $130 million contract. He is undefeated against the Braves this season, picking up victories in each of his three starts against them.
In his first two starts against the Braves this season, Scherzer went seven innings each time and gave up just one earned run, while racking up 20 strikeouts. The Braves did get to Scherzer the last time they faced him though, scoring four runs, but the Mets scored nine that day and Max still got the win.
Game 3: Chris Bassitt vs. Charlie Morton
The final matchup of this series is by far the less sexy, but still brings two veterans that can rise to the moment in what could be a big rubber match game. Chris Bassitt has been great lately, pitching to a 2.57 ERA in 12 starts since the All-Star break.
Bassitt has faced the Braves twice this year and is 1-1 in the contests. In his first matchup against Atlanta, Bassitt allowed a home run to Austin Riley and three runs overall in a loss. In his second go-around he fared much better and actually squared off against Morton.
On July 13th, we saw this exact pitching matchup and it was advantage Mets. Bassitt went six innings and allowed just one run on a homer by Matt Olson in the sixth inning.
Morton on the other hand was chased from the game in the top half of that same sixth inning, allowing a homer to Mark Canha before getting pulled. Morton allowed five runs and three home runs overall, giving up longballs to Eduardo Escobar and Francisco Lindor as well. This wasn't the first time Morton got tagged by the Mets this season either.
On May 3rd, Morton was knocked out of the game with two outs in the sixth inning after having given up five runs (four earned) off of seven hits. He did however right the ship in his most recent start against New York, striking out 12 Mets in 6 2/3 scoreless innings back on August 16th.
Who's Hot on the Mets?
The New York Mets have a trio of hitters that have been hot over the last two weeks, helping carry a lineup that is otherwise struggling to find production. The man who has packed the biggest punch is the same one who has carried them all season, MLB's RBI leader, Pete Alonso.
Over the last 15 days, Alonso is hitting .267/.382/.667, with three doubles, five home runs and 20 RBIs. He has homered in five of the Mets last eight games and won NL Player of the Week along with Albert Pujols for his play last week.
Eduardo Escobar is currently the biggest hero on the Mets, after he carried them to a victory on Wednesday night that gave them a lead in the division heading into this series. Escobar hit a two-run homer in the seventh inning, had a two-run single that tied the game in the eighth, then walked it off in extras.
After struggling for most of the season, Escobar has turned it on at the right time, as he is having a fantastic September. The 33-year-old is hitting .330/.379/.638, with eight home runs, 24 RBIs and a 183 wRC+ this month. He is leading the National League with a 1.4 fWAR in September.
Francisco Lindor is having a strong month as well. He is hitting .308/.342/.510, with four home runs, 18 RBIs and a 142 wRC+. With a 6.8 fWAR on the season, Lindor is one of six players in MLB who will likely finish as a seven-win player in 2022.
Who's Hot on the Braves?
Over the last two weeks, Ronald Acuna Jr. has started to turn it on for Atlanta, having hit four home runs in his last 10 games played. Acuna is hitting .256/.310/.641, during that span with a .951 OPS.
William Contreras has been on a tear over the last two weeks as well, hitting .326/.412/.558, with a team-leading .970 OPS. Contreras' hot streak actually extends out to the entire month of September, where he has hit .310/.391/.500, with a 147 wRC+. No matter which catcher the Braves roll out, they are getting great production this month, as Travis d'Arnaud has a nearly identical 148 wRC+.
The real leader of the Braves this month though is likely Rookie of the Year winner Michael Harris II. Harris is right behind Eduardo Escobar in September fWAR, with a 1.3 mark. He has hit .327/.347/.582, with six home runs, 19 RBIs, 20 runs scored and a team-leading 156 wRC+.
The Biggest Series of the Season
If we look around the landscape of Major League Baseball right now, a lot has already been decided. The Los Angeles Dodgers ran away with the NL West and have already locked up the No. 1 seed in the National League.
The St. Louis Cardinals won the NL Central, while the Cleveland Guardians took the central division on the American League side. The Houston Astros and New York Yankees have each locked up their respective American League divisions, leaving just one division left to be decided.
All year long the Mets and Braves have looked like teams that could win the World Series. Each has punched their ticket into October, but one will have a much easier path to get through it.
The winner of the division gets a bye in the first round of the playoffs and will face the winner of Wild Card series between the Cardinals and the final Wild Card team. The loser will host a Wild Card series, and if they win, their reward will be facing the Los Angeles Dodgers in the NLDS.
There is every chance that we could see the Atlanta Braves and New York Mets matchup again in the National League Championship Series this season, but the road to get there could not be more different depending on who wins this division.
Buckle up and enjoy, as we get playoff baseball early this weekend between these two great teams!