Analysis
Mets Make Right Call Extending Noah Syndergaard the Qualifying Offer
Some have called it an overpay, but bringing Noah Syndergaard back on the qualifying offer was a no-brainer for the Mets.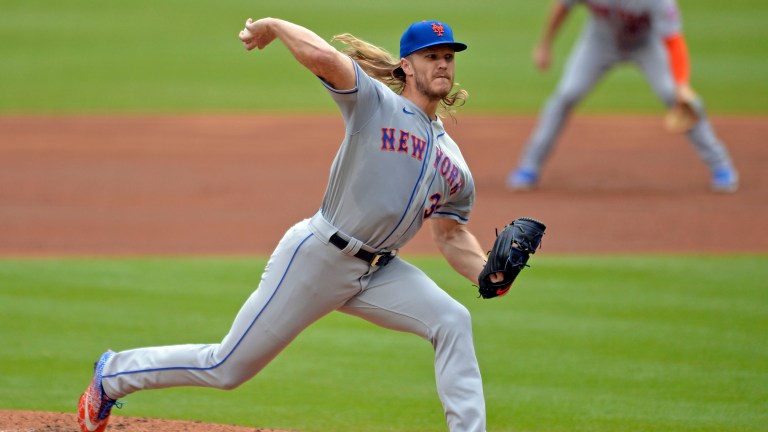 After the 2019 season, the idea that Noah Syndergaard would ever sign a qualifying offer with the New York Mets would have been laughable. The all mighty Thor was coming off his second 200-strikeout campaign, in which he eclipsed a 4.0 fWAR for the third time in the last four years. Syndergaard would hit free agency before his 30th birthday, where he would surely be looking to cash in on a nine-figure contract.
Unfortunately things did not go as planned for Syndergaard, as he was forced to undergo Tommy John surgery in March of 2020. The flame-throwing right-hander did not make his way back onto the mound until the end of the 2021 season, pitching just two innings.
During the final week of the season, Syndergaard let it be known that he hoped to be back with the Mets in 2022, describing the potential of pitching on the qualifying offer as "a blessing".
Those wishes came true on Saturday, as the New York Mets announced that they had extended qualifying offers to both Michael Conforto and Syndergaard. Considering the fact that Syndergaard said "This gives me life" on his Instagram story after the news, it is fair to assume that the 29-year-old will accept the offer and be back with the Mets next year.
This is a very worthwhile gamble for the Mets, as Syndergaard has as much upside as any starting pitcher on the market. Getting a player of his caliber on a one-year prove-it deal should be considered win, yet that is not the narrative that some have been pushing after this news.
There is a notion that Syndergaard will be overpaid with his $18.4 million salary next season, but that is not exactly the case.
Andy Martino of SNY made the comparison between Syndergaard and Corey Kluber to describe this as an "overpay" because the latter received $11 million from the New York Yankees last offseason. Syndergaard will obviously be making an extra $7.4 million compared to Kluber, but this is not an apples to apples comparison.
Syndergaard is entering his age-29 season, whereas Kluber was entering his age-35 season. Kluber may have been more accomplished, but his injury was also more of a question mark. On July 26th, 2020, Kluber exited his Rangers debut after just one inning pitched due to a torn teres major muscle. It was only six months later that he signed with the Yankees, making his situation a far bigger question mark than Syndergaard's.
Had the Mets chose to forgo extending the qualifying offer to Syndegaard, teams would have been lining up for his services next season. He may not have received that full $18.4 million guaranteed, but on an incentive-laden deal there are plenty of teams that would have viewed Syndergaard as a worthwhile gamble at that number.
Teams are not as hesitant about a player coming off Tommy John as they once were, because the surgery has become so prevalent and has really been perfected over the years. Once a pitcher is a few years removed from the surgery, there is a pretty good chance of returning to previous form, if not becoming an even better pitcher.
Recency bias is common in sports, with "what have you done for me lately" being the driving force behind many sports debates. But if we take a look at the other free agent starting pitchers on the market and compare their careers to Syndergaard, it becomes pretty apparent that Thor deserves every penny he will make in 2022.
| | | | | | |
| --- | --- | --- | --- | --- | --- |
| Free Agent Pitchers | ERA | WHIP | K/9 | xFIP | fWAR |
| Marcus Stroman | 3.63 | 1.27 | 7.39 | 3.59 | 18.2 |
| Kevin Gausman | 4.02 | 1.28 | 8.88 | 3.82 | 19.9 |
| Robbie Ray | 4.00 | 1.32 | 11.21 | 3.76 | 15.6 |
| Noah Syndergaard | 3.32 | 1.16 | 9.74 | 3.17 | 18.7 |
When it comes to ERA, WHIP and xFIP, Noah Syndergaard has better career numbers than the top-three free agent starters in his age range. Marcus Stroman, Robbie Ray and Kevin Gausman will all be looking to cash in off career-best campaigns, where teams will have to cede to their demands on long-term contracts.
For Ray and Gausman, this is the first time in both of their careers where they have eclipsed a 4.0 fWAR in a season. Stroman has never eclipsed a 4.0 fWAR, getting closest in 2019 at 3.9 and then posting a 3.4 fWAR in 2021. Syndergaard eclipsed a 4.0 fWAR on all three of his seasons where he made at least 25 starts.
If he had stayed healthy and pitched up to career norms, there is no doubt that Syndergaard would have been the top free agent starting pitcher on the market, even over Max Scherzer due to being eight years his junior. So this notion that the Mets are "overpaying" for Syndergaard's services is rather short-sighted.
The Mets have a lot of tough decisions to make this offseason and their starting rotation is one of the biggest question marks. Jacob deGrom and Carlos Carrasco are coming off injury-plagued seasons and All-Star Taijuan Walker was nowhere near the same pitcher in the second half. New York has some young options who have shown flashes in David Peterson and Tylor Megill, but neither should be locked into the rotation without earning a spot in spring training.
Stroman was the most dependable starter the Mets had this season, but is now a free agent and is looking to command at least $25 million a year over a long-term deal.
Considering their respective career numbers, can you really blame the Mets for wanting to sign Syndergaard to a one-year, $18.4 million deal when Stroman could be looking for a six-year, $150 million deal?
Stroman just laid the blueprint that Syndergaard is hoping to follow by putting together a great season on the qualifying offer before testing the market again for his big payday. It was a win-win for the Mets last offseason when they brought Stroman back and Syndergaard has a great chance to provide similar value this time around.
Assuming Syndergaard does in fact accept the QO, the Mets will have four names penciled into their starting rotation before getting into the thick of the offseason. The upside of a rotation that includes deGrom, Carrasco, Syndergaard and Walker is as good as any team could hope to have before we even get to December.
Once Syndergaard is officially back, their work is certainly not done when it comes to building out this rotation, as depth is still a major concern. New York could always bring Stroman back, but Syndergaard provides great insurance in case he prices himself out of Queens. The Mets could always shop in a lower tier for free agent starters that can fill out the back of their rotation.
Still, when it comes to the decision to extend a qualifying offer to Noah Syndergaard, this really was a no-brainer and anyone who believes it was an overpay is missing the big picture.