Feature
Starling Marte to Follow Curtis Granderson's Path with the Mets?
Curtis Granderson set a precedent Starling Marte could follow when it comes to a 33-year-old free agent outfielder.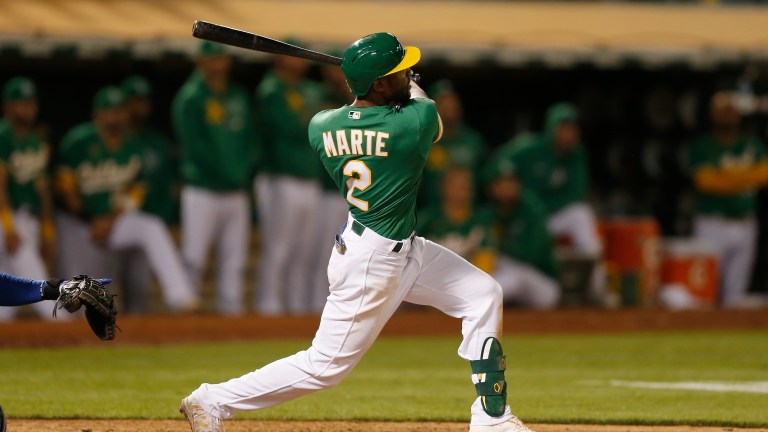 Back in 2014, the New York Mets had an offseason that was widely panned as their two big ticket free agent acquisitions were former All-Stars with a combined age over 70 years old.
Curtis Granderson was the headliner, as the Mets signed the former New York Yankee to a four-year, $60 million contract, while also nabbing 41-year-old Bartolo Colon on a two-year, $20 million deal. At the time, many felt like the Mets were once again signing players that were past their prime, but in retrospect these were some of the best signings we have seen by this franchise in the past decade.
"Big Sexy" was an absolute fan-favorite, providing a young Mets rotation with a veteran anchor, who led the team in starts from 2014 through 2016. Granderson was a quiet leader who helped take a team that was in a lengthy rebuild to two-straight playoff berths in his four seasons with the club.
When we look back at the Granderson signing in particular, it could be very instructive for this current Mets team to remember this offseason. Granderson showed the value that a quality outfielder can bring to the top of your lineup, even in their mid-30s. This is especially important to remember this offseason, where Starling Marte could have the biggest impact of any free agent for the Mets in 2022.
This year's free agent class is absolutely loaded with talented infielders. Carlos Correa, Corey Seager, Marcus Semien, Javier Baez and Trevor Story make up one, if not the, greatest collection of free agent shortstops in MLB history. Kris Bryant and Freddie Freeman are both former MVPs that could bring immense value to new teams as corner infielders. Yet for the Mets, their greatest need isn't in the infield, it's in the outfield.
Francisco Lindor was just named a finalist to win another Gold Glove at shortstop and Pete Alonso is coming off a great season over at first base. With those two former All-Stars and other talented infielders like Jeff McNeil, Luis Guillorme and J.D. Davis, the Mets don't need to overhaul much to have a competent infield core next season.
The outfield is completely different story though.
With Michael Conforto set to become a free agent, Brandon Nimmo is the only current player locked into a starting outfield spot in 2022. While Nimmo is great whenever he is on the field, the oft-injured 28-year-old has only played over 100 games once in his entire career. Unless they re-sign him, the Mets desperately need to replace Conforto in the starting lineup and Marte could be the best option to do just that.
If we were just judging based on their production in 2021, there is no doubt that Marte is the best free agent outfielder on the market.
Marte is coming off a career-year where he hit .308/.381/.456, with 42 extra-base hits, 47 stolen bases and a 133 wRC+. Marte is graded out as an above-average outfielder, putting up 4 OAA in center field. The only hole you can poke in Marte as a free agent is that he just turned 33 years old.
This leads us back to the precedent that Granderson set with the Mets back in 2014. Just like Marte, Granderson was entering his age-33 season when he signed a four-year deal to switch uniforms and go from the Yankees to the crosstown rivals in Queens.
As a left-handed pull hitter, Granderson learned how to maximize the short porch in right field in his previous four seasons with the Yankees, hitting 115 home runs including two 40-HR seasons in the Bronx. When Granderson signed with the Mets, there was concern about how his home run swing would fare outside of Yankee stadium and also if he would be able to stay healthy throughout his mid-30s.
Through four seasons with the Mets, Granderson blasted 95 home runs and played in 573 games out of a possible 605. Despite his age, Granderson played more games than any other position player on the Mets, while also hitting the most home runs during that span as well.
Granderson's first season with the Mets did not start out great, as he did not break through the Mendoza line until June and was part of a team that started the year 38-49. New York finished strong, winning 41 of their last 75 games, and began to show signs of a bright future.
Daniel Murphy was an All-Star, Lucas Duda had his first 30-home run season and Juan Lagares won a Gold Glove in center field. The biggest surprise was some dude named Jacob deGrom, who came out of nowhere to win the Rookie of the Year. Granderson didn't have his best season, hitting 20 home runs and posting a 107 wRC+, but his leadership on and off the field was a huge part of turning the Mets into a winner the following year.
In 2015, we all know the Mets went to the World Series, but we forget that Granderson was the team's best player. The then 34-year-old led the club with a 5.3 fWAR and his 26 home runs out of the leadoff spot were one behind Duda for the team-lead.
For the season, Granderson hit .259/.364/.457, with 98 runs scored and a 131 wRC+. He also played an incredible right field, posting 12 DRS. When the Mets really took off in the second half, everyone credits the addition of Yoenis Cespedes, but the Grandy Man was just as important. He consistently got the Mets early leads by putting runs on the board in the first inning for that great starting rotation.
Once the Mets entered the postseason, Granderson continued to be an offensive spark plug, going 7-for-18 with three walks in the NLDS against the Dodgers. Granderson tied Daniel "Babe Ruth" Murphy for the team-lead in RBIs that series with five.
After a quiet NLCS, Granderson's bat came alive again in the World Series, where he homered in Game 1, Game 3 and Game 5. Those three home runs by Granderson alone, were more than the Kansas City Royals hit as team altogether.
The following season, Granderson hit 30 home runs, played in 150 games for the third-straight year and even went back to playing center field at 35 years old to accommodate the midseason acquisition of Jay Bruce. The Mets earned the first Wild Card seed, marking just the second time in franchise history that they went to the playoffs in back-to-back years.
In his last memorable act as a New York Met, Granderson made a spectacular catch out in center field, that may unfortunately go forgotten as they would ultimately lose the game.
Overall when it comes to extracting value out of a free agent signing, it is hard to say the Mets could have done any better than signing Granderson to that four-year, $60 million deal. He was a productive player, a fan-favorite, a leader and a consummate professional. Considering the success they had signing Granderson, it would make a lot of sense to try to catch lightning in a bottle again this offseason with Starling Marte.
There is always fear in giving big money and years to a player that is in his mid-30s, but that should not scare the Mets away in this case.
Marte has been a fairly durable player throughout his career, playing in at least 120 games every season except for 2017, when he missed time due to a PED suspension. This year, Marte missed some time with fractured ribs and a lat injury, but still played 120 games. In 2020, Marte led all of baseball playing in 61 games in the 60-game season, as he was traded to the Marlins midseason.
When it comes to his athleticism, Marte is showing no signs of slowing down with age. He is coming off a season where he matched a career-high with 47 steals and was in the 83rd percentile for sprint speed.
While Marte has not played the position throughout his career, he does have a strong enough arm to shift into right field, allowing Brandon Nimmo to continue to play center field for the Mets. If Nimmo once again endures an injury-plagued season, Marte provides much better insurance out in center than Kevin Pillar did this season.
Of all the free agents the Mets could sign this offseason, no one fits their position of need more than Marte. If history repeats itself, Marte can be a veteran leader for a Mets team that makes noise in October, just like Granderson did back in 2015.