Analysis
New York Mets Offseason Outlook
Building off a 101-win season, the Mets have a lot to accomplish this winter, with Jacob deGrom and Brandon Nimmo headlining in free agency.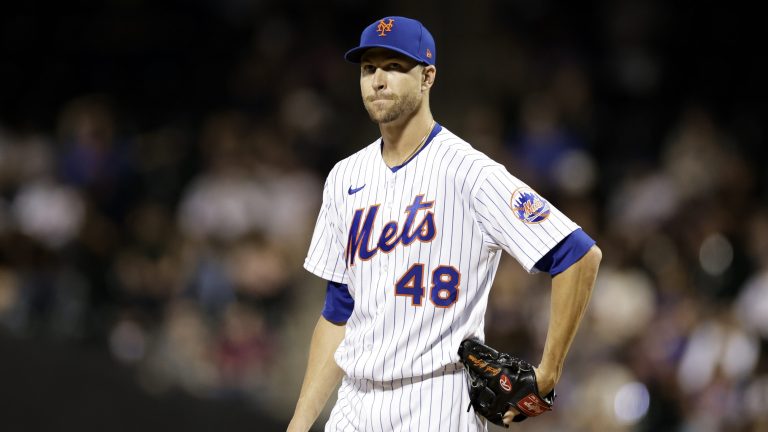 The New York Mets are coming off of their second-best regular season in franchise history, where they won 101 games, eclipsing the century-mark for just the fourth time in their 60-year history.
Jeff McNeil won a batting title, they have five Silver Slugger finalists, Buck Showalter is likely to win the National League Manager of the Year and they have already re-signed their All-Star closer Edwin Diaz to the richest contract in MLB history for a reliever before free agency even entirely opened.
Point being, the Mets are in much better shape this offseason than where they stood last.
Last year, the Mets were coming off of a brutal second-half collapse, where they saw a division they led all year get taken by an Atlanta Braves team that went on to win the World Series. Their last two general manager hires ended due to a sexual harassment case and a DUI, and they had fired their second manager in three seasons. The Mets were a mess.
Jeff McNeil and Francisco Lindor were coming off terrible seasons, and they had big holes to fill in both their outfield and starting rotation. The Mets were active in free agency, bringing in Starling Marte, Mark Canha, and Eduardo Escobar as veterans to solidify their lineup and another ace in Max Scherzer to lead in October.
All of those players are returning now, with the added bonus of their middle infield having a massive bounce back season. The Mets have big free agents hitting the market still, with more than any team in baseball, but have an owner that is sure to make more splashes than just the waves he sent inking his closer to a five-year, $102 million deal.
Do Jacob deGrom and Brandon Nimmo Return?
The biggest question mark surrounding the New York Mets this offseason is if Jacob deGrom will return and on how big of a contract. After watching fellow ace Max Scherzer sign a three-year, $130 million deal a year ago, deGrom has a massive baseline to work off of.
We will now find out once and for all if the Mets signed Scherzer to pitch with deGrom, or to eventually replace deGrom.
The answer could be both, as deGrom has a say in the matter as well. Even if the Mets make a competitive offer, deGrom may decide he wants a change of scenery late in his career. That is what free agency is all about.
In this instance though, years is probably the biggest sticking point that could hold the Mets back from keeping their homegrown two-time Cy Young.
The Mets can use the three-year, $130 million framework of Scherzer's deal and give deGrom an additional $10 million on the signing bonus to get a deal done. DeGrom may want five years though and that could be where we would see the Mets have him shop the market to see what he finds. This could lead to the two sides parting ways, or coming to terms on a long-term deal that would keep him in a Mets uniform for the remainder of his career.
A similar decision has to be made to a lesser extent with Brandon Nimmo.
Nimmo enters free agency as the top center fielder on the market and should enjoy a healthy crop of suitors in free agency. The Mets have to decide whether to meet the market value on him, which I predicted in his free agent profile to be around $24 million over a six-year deal ($144 million), or let him walk.
Without Nimmo, the Mets can either sign or trade for another center fielder, or move Starling Marte back to his natural position and find someone to play right field. Joc Pederson, Andrew Benintendi, or even a return of Michael Conforto could make sense if Nimmo signs elsewhere.
Big Game Hunting
When you have a net worth of over $17 billion, you tend to have expensive taste. That is exactly the case with Mets owner Steve Cohen. When he purchased his childhood team, Cohen proudly proclaimed in his introductory press conference that he would like to win a World Series in three-to-five years. Now the clock is ticking to come through on that desired timeline.
Rumors have indicated that Cohen plans to blow past the $290 million "Cohen Tax" threshold with his 2023 payroll. This keeps the door wide open for the Mets to nab any of the top free agents on the market.
Early interest has already been shown in acquiring Trea Turner, and the Mets would likely be in on either Justin Verlander or Carlos Rodon should deGrom sign somewhere else in free agency.
Expect the Mets to spend big in one of two ways. Either they will nab fresh faces off the top of the free agent market, or they will retain their own in deGrom, Nimmo and even Chris Bassitt.
Most of the Rotation Hits Free Agency
Jacob deGrom is not the Mets only veteran starter that is hitting free agency. In fact, four-fifths of the rotation the Mets closed the season with could become free agents by Thursday.
DeGrom and Taijuan Walker already have become free agents, and Chris Bassitt is set to join them as well. The Mets hold a $14 million club option on Carlos Carrasco, but have yet to accept it.
Considering the fact that Carrasco's contract has a $3 million buyout, it would seem like a no-brainer to pick up that option, as one-year for essentially $11 million is very fair for a starting pitcher who will give you 150 innings and a sub-4.00 ERA.
The Mets will likely extend qualifying offers to deGrom and Bassitt, with an outside chance they would extend one to Walker as well. New York could retain any of these pitchers, but if not, they would be left with just Max Scherzer and David Peterson as locks for their 2023 rotation.
Tylor Megill and Joey Lucchesi represent the remaining depth the Mets have beyond Scherzer and Peterson, so expect them to add at least two and as many as four starting pitchers this offseason.
Building a Bullpen From Scratch
After giving out over $100 million to one reliever, we can pretty much guarantee that the Mets will spend more than any team in baseball on their bullpen this offseason. Especially because their entire 2022 bullpen just hit free agency.
The following list of Mets relievers are all set to hit free agency:
Adam Ottavino
Seth Lugo
Trevor Williams (could sign as a starter this offseason)
Trevor May
Joely Rodriguez
Tommy Hunter
Mychal Givens (mutual option)
Unless Givens returns on his mutual option, the Mets only have Edwin Diaz and Drew Smith penciled into their bullpen at this stage. A lot of work will have to be done in free agency, as the Mets don't exactly have an abundance of arms waiting in the wings at the upper levels of their farm system.
Bryce Montes de Oca is a name to keep tabs on though, as he has nasty stuff and made his MLB debut this September.
Any pitcher that can live over 100 with movement, has a great shot at the big league level. But like many flamethrowers, control has been the issue for de Oca (career 6.9 BB/9 in the minors).
Betting on the Farm
With injuries at third base and the Mets consistently looking for answer against left-handed pitching, we saw three of Just Baseball's top 100 prospects graduate over the final two months of the season.
First it was third baseman Brett Baty, who homered in his first big league at-bat.
Baty was arguably the best hitter in the Mets system this year, hitting .312/.406/.544, with 19 home runs and a 160 wRC+ in Double-A. He earned a promotion to Triple-A, where he hit .364 in six games before being promoted to the big league club after Luis Guillorme hit the IL.
Unfortunately it was an injury that cost Baty a longer look in the majors, as he hit the IL himself with a thumb injury after only 11 games played. Still, Baty is clearly the future at third base for the Mets, where he will be competing with Eduardo Escobar and Guillorme for the starting job out of camp in 2023.
Mark Vientos was the next to make his MLB debut, as they Mets were searching for answers after Darin Ruf's disastrous post-deadline production (24 wRC+). Vientos did not fare much better than Ruf (65 wRC+), but he did show some flashes down the stretch.
Whether the Mets afford him the opportunity, Vientos has proven all he needs to in the minors to get a full look at the MLB level in 2023. The 22-year-old hit .280/.358/.519, with 24 home runs in 101 games in Triple-A this year.
The one real issue with Vientos is his lack of a position defensively, as first base is probably the only place where he projects to even be close to a league average defender. That's a spot the Mets have occupied with Pete Alonso, so Vientos' path to playing time is as at DH.
The Mets exercised their $1.5 million club option on Daniel Vogelbach and could still be looking for that righty to compliment him in a DH platoon. Vientos could be the ideal option, as he hit .330/.408/.732 against southpaws this season, with 13 home runs in 112 at-bats. New York still has Ruf on the books for $3 million next season, but he is definitely a non-tender candidate.
What they do with Ruf and throughout free agency will tell the story of how the Mets really feel about Vientos contributing to the 2023 team. He is also a trade candidate if the Mets look to address their rotation or bullpen outside of free agency.
Last but certainly not least, Francisco Alvarez made his shocking debut during the last week of the season and was even carried on the Mets playoff roster. One of the best catching prospects in baseball, Alvarez is still 10 days away from being able to legally drink.
The soon-to-be 21-year-old phenom is set to take center stage in 2023, where is expected to supplant James McCann and Tomas Nido to become the Mets starting catcher.
When it comes to the Mets plans offensively heading into next season, we could see them just re-sign Nimmo and bank on internal improvements with their next young core finally surfacing at the big league level.