Analysis
MLB's Best Sliders
Our best pitch series continues with some of the nastiest sliders in Major League Baseball.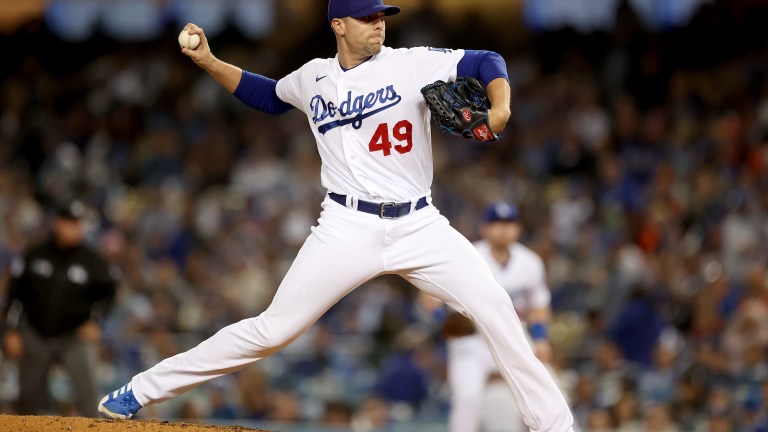 We continue MLB's best pitches series with some of the most aesthetically pleasing pitches in the game. These frisbee sliders are absolutely unfair and almost impossible to hit, even for the most talented of hitters as you will see in some of the videos below.
Check out our already published list of the best changeups and curveballs in baseball!
Jacob deGrom – New York Mets
Jacob deGrom is the best pitcher on planet Earth–and it's not relatively close–so it's not shocking that he finds himself atop the list of best sliders in the game. He throws the hardest slider, averaging 91.6 mph with the second highest whiff rate of any pitch, trailing only Craig Kimbrel's knuckle-curve.
The most amazing trait about his slider is the ability to get swings without ever throwing it in the zone. Nearly 70% of his sliders end up out of the zone with batters swinging at 37% of those pitches, which is the 7th highest chase rate of any pitch in baseball.
All in all, deGrom's slider is in the running for the single best secondary pitch in baseball, throwing it a third of the time and holding opponents to a .123 wOBA, which ranked second among all pitches.
Tyler Rogers – San Francisco Giants
And the winner for most badass Baseball Savant page goes to…the submarine baller himself, Tyler Rogers. We started with the fastest slider in baseball and now have moved onto the slowest one. Rogers throws his at just 72 mph.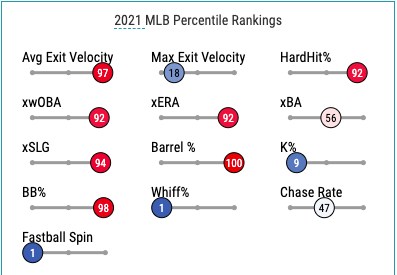 So to reiterate, Tyler Rogers is a submarine pitcher, meaning he releases the ball inches above the ground, causing the ball to actually rise from his release point on the way to the plate. This creates a completely new challenge for hitters and in turn causes hitters to get under the ball and get outs by way of weak fly balls.
Tyler Rogers is a beacon of hope for the common man that thinks, they too can throw a 72 mph rising sliders while holding opponents to six extra base hits against the pitch and collect a 2.22 ERA overall. It's apparent that Rogers is the only one able to do what he does, but the dream is alive out there for someone.
Blake Treinen – Los Angeles Dodgers
Entering 2021, Treinen made a major change to his slider. He decreased velocity of the pitch from 89 to 86 mph, while increasing horizontal movement by more than 10 inches, making it more of a sweeper. What had already been a great pitch, became the most unhittable pitch in baseball behind Corbin Burnes cutter, with hitters mustering a .073 average and .101 wOBA against.
Not only does the pitch produce whiffs, but it's nearly impossible to hit hard, limiting batted balls over 95 mph on 7.7% of batted balls, which was the lowest rate of any pitch in baseball.
Chris Sale – Boston Red Sox
To call Chris Sale's slider a true slider, is almost ridiculous considering it averages nearly 50 inches of vertical drop and more than 10 inches of horizontal sweep. It's been a staple pitch for years, making batters freeze as it comes out of an arm slot almost touching first base.
What makes Sale's slider fascinating is the way he's able to vary the velocity and movement of the pitch. On September 28th, he struck out Austin Hays with a 76 mph slider and then five days later got Juan Soto looking on an 81 mph offering.
The creativity of Sale's repertoire, and especially of his slider, is why he will continue to prosper even if his velocity does not return to the high 90's we once saw. Reliance on a pitch with a track history of whiffs and poor contact will carry Sale in the back half of his career.
Carlos Rodón – Free Agent
The free agent to be has held one of baseball's best sliders for quite a few years now, which may have slipped a bit under the radar until a breakout 2021 campaign in which Rodon has a 2.37 ERA and held batters to a .107 batting average and .148 wOBA against his slider, which he threw almost a third of the time.
Since 2019, Rodon has allowed a .169 wOBA against his slider, which only trails Justin Verlander's slider at .165 wOBA. He keeps batters on edge with a lot of movement and a velocity that's on the upper end of the slider spectrum at 86 MPH.
If Rodon gets his shoulder healthy, a team could really cash in on a one year deal with insane upside. Rodon, at his best, is a top 20 pitcher in baseball after all.
Gerrit Cole – New York Yankees
Sticky stuff or not, Gerrit Cole possesses one filthy slider that can reach 91 mph, and like deGrom, hitters do not have enough time to react to the movement at that velocity, especially paired with a 100 mph fastball.
Since 2019, hitters have swung and missed on 40% of swings, and have mustered just a .299 slugging percentage. It's difficult to square up even if contact is made.
In the video below you'll see the ball spinning like a football, which means Cole's slider has a lot of gyro spin, or spin that does not make the ball move. Gyro spin helps Cole throw his slider harder and with sharper break.