Analysis
The Return of Jacob DeGrom Takes Mets to Another Level
Of all the additions teams made on August 2nd, the return of Jacob deGrom to a big league mound might have been the most impactful.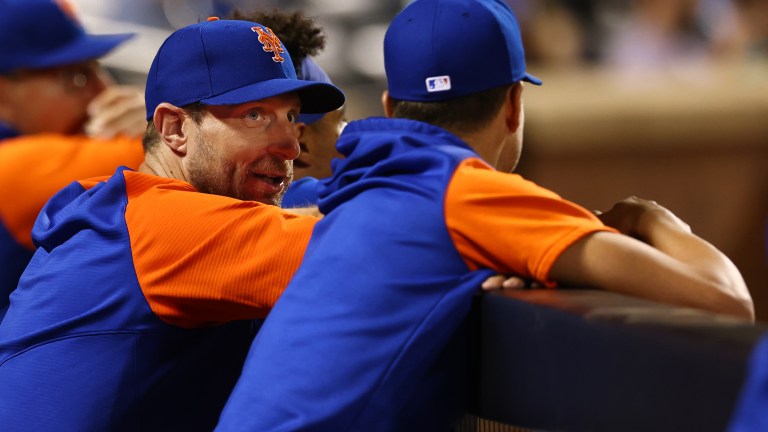 Written By: Max Cutler
For the first place New York Mets, August 2nd was perhaps the most important day of their season. Not because the team was in desperate need of reinforcements, but because one key piece made his much-awaited return (and to call Jacob deGrom's a reinforcement may be an understatement).
The two-time Cy Young winner, the man with a 1.94 ERA since 2018, the only starting pitcher in the sport to consistently throw 100 MPH fastballs and 94 MPH sliders, returned to a big league mound for the first time in over a year.
It has been a long-awaited return for New York's ace, who spent a whooping 391 days between his last two MLB starts. Last July, after a seven-inning, 10-strikeout performance against the Brewers, deGrom was placed on the injured list with an inflamed right elbow, an injury that would sideline him for the rest of the season.
After a promising start to Spring Training, at the end of March, deGrom was diagnosed with a stress reaction in his scapula. This is an injury similar to a bone bruise, and it's an injury that mainly requires time and rest to heal. Yesterday, the best pitcher in the sport was back.
Unsurprisingly, there were questions surrounding Jake's return. Is he fully healthy? Will he ramp back on velocity (in his final rehab start, deGrom's fastball was sitting 95-98, down from his usual 99-101, but Jake attributed that to nothing other than some leg cramps). There is no starting pitcher who has accumulated more WAR in the last 4.5 seasons than deGrom (except for his teammate Max Scherzer), no one has a better K:BB rate in that span, and, simply put, no one in the sport is more dominant than Jake at his best.
Though many wishful Mets fans wanted to see the team make a splash for someone like Willson Contreras or J.D. Martinez, neither of whom was traded by the 6:00 p.m. deadline. A little over an hour later, deGrom took the mound to a roaring applause of Mets fans at the nation's capital.
After a long first inning, in which the Mets loaded the bases but did not score, deGrom trotted out to the mound. Baseball fans around the world held their breath, as did many players and coaches around the league, desperate to see the master at his craft, healthy at last.
The first pitch of deGrom's season was a 99.3 MPH fastball at the knees to Victor Robles for a strike. You could almost feel the collective sigh of relief (or maybe that was just me). The Florida native followed it up with another fastball at the same velocity for a strike, followed by an eye-popping 102 (!!) at the knees, during which home plate umpire David Rackley likely blinked, as it should have been strike three.
As the pitch popped into Tomas Nido's glove, you could hear oohs and ahhs across the stadium, as well as a "Woahhh…" from the great Keith Hernandez. DeGrom eventually struck out Robles with his patented wipeout slider at 93 MPH.
"Nice to have you back," said play-by-play man Gary Cohen.
DeGrom threw 31 fastballs in all, averaging 99.7 MPH and 2506 RPMs, up from averages of 99.2 and 2418 a year ago, when deGrom had a 1.08 (yes, that first digit is actually a one) ERA in the first half.
It's possible that the increase in velocity could be attributed to Jake being particularly amped up for his return, but deGrom has also mentioned mechanical changes he's made in his time off, including making his windup less violent, and it's possible some of those changes will lead to an increase in spin (hitters, beware).
Notable, too, was deGrom's slider. He threw 21 sliders, at an average speed of 92.9 MPH and 2621 RMPs. Surprise! These numbers were up, too, from averages of 91.6 and 2598. Side note: deGrom threw only four curveballs last season, but threw three on Tuesday night, all first pitches to left-handed batters. This is something that Max Scherzer has reportedly taught the fellow members of his rotation, with Taijuan Walker and Chris Bassitt also doing it more often.
After a 1-2-3 first inning, with a pair of strikeouts, Keibert Ruiz hit a ground ball single down the first base line (which had an xBA of just .210), but was thrown out at second thanks to an excellent Starling Marte throw. DeGrom went on to retire the next two hitters, and struck out Josh Palacios in the third en route to facing the minimum through three stellar innings.
After allowing a leadoff seeing-eye single to Victor Robles, which was followed by a stolen base, Luis Garcia did the unthinkable: got a hit with a runner in scoring position against deGrom. Holding opponents while they're threatening has always been one of the wonders of deGrom's career.
In 2021, batters hit .139 and slugged just .167 in these scenarios. When the going gets tough, deGrom gets tougher. Garcia, though, was sitting on a fastball, and roped one to the right-center field gap. DeGrom decided that he had let the Soto-less Nationals have enough. He retired the next hitter via a groundout, struck out Nelson Cruz on three pitches with a nasty changeup, and then got Ruiz to fly out to center. A couple hard-hit balls, but just one run across. Jake's day concluded with an easy 1-2-3 fifth inning, after which he was pulled (59 pitches on the day).
To say deGrom's first start back was successful would be an understatement. The right-hander looked smooth with his mechanics, his velocity was exceptional, and, most importantly, he came away healthy. The Mets' ace said Wednesday that he feels good, and was playing catch in the outfield in the afternoon. He lines up to pitch on Sunday, in the finale of a key five-game set against the red-hot Atlanta Braves, who trail the Mets by just a couple games in the division race. Manager Buck Showalter said on Wednesday that the plan is for him to go around six innings or 75 pitches.
It's basically impossible to overstate the importance of the Mets having a healthy deGrom down the stretch. With a full-strength 1-2 punch of deGrom and Scherzer, there may be no team better positioned to win the World Series. In a seven-game series, four games could be started by two of the best pitchers of this generation.
Without deGrom, Scherzer is great, but Chris Bassitt and Taijuan Walker become a rather pedestrian 2-3, instead of an excellent 3-4. The Mets made some minor moves at the deadline, shoring up their DH situation and adding a bullpen arm in Mychal Givens, but did not make a splash.
Daniel Vogelbach and Daren Ruf, though, will likely go under the radar as one of the more productive DH platoons in the league: Ruf since 2020 vs LHP: 337 PA, .266/.380/.557 (.937 OPS, 155 wRC+). Vogelbach has an eerily similar slash line vs RHP: 228 PA, .267/.382/.524 (.905 OPS, 153 wRC+).
There will undoubtedly be questions about whether GM Billy Eppler did enough at the deadline, particularly after the Mets' bullpen characteristically wasted deGrom's stellar return, but this is a team well-positioned to make a deep playoff run.
Reason number one? The return of The Best Pitcher in The World: Jacob Anthony deGrom.