Analysis
MLB's Best Fastballs: Four-Seamers
While we have grown more fascinated with gravity-defying breaking pitches, there is still nothing more effective than an overpowering fastball.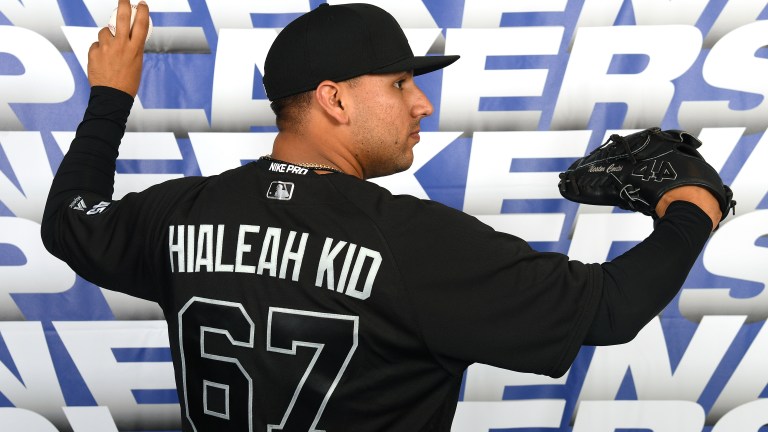 It is time to once again break down some of the nastiest pitches in baseball. So far, we have looked into which pitchers have the best changeups, curveballs and sliders but now we have finally reached the hard stuff, as we look into which pitchers feature the best fastballs in MLB.
This isn't just about hitting triple digits on the radar gun, although that certainly helps. This is about finding the fastballs in the game that are the toughest on batters and we begin with one of the more underrated fastball pitchers in the game.
Nestor Cortes – New York Yankees
What a day here at Just Baseball. First, the Just Baseball Show sat down with Cortes for an interview, and now I get rave about how filthy his heater is. I've already been one to gush about Cortes and his rising fastball, calling it the best four-seamer in all of baseball, which may have been a bit of hyperbole, but not too far off.
Simply put, what makes Nestor's fastball unhittable, even at a modest 90 MPH, is the lack of vertical drop on the way to home plate. You'll often hear commentators talk about the rise effect or life of a fastball and Nestor's fastball is a prime example of that.
It drops 2.3 inches less than other fastballs at the same velocity, so hitters expect it to drop more than it does, causing them to get under it. Deception is the name of the game for Cortes as hitters averaged a launch angle of 25 degrees and popped up on 36% of batted balls.
The next time Cortes is pitching, sit down and watch an inning, and dissect every pitch. He's a master of location, sequencing, varying arm slots and overall, deceiving. Even with the 18th slowest fastball in baseball, Cortes has blossomed into a reliable starter for the Yankees, riding his rising fastball into the Bronx night.
Josh Hader – Milwaukee Brewers
When you're able to throw your fastball two-thirds of the time and still get a whiff on 40% of swings, you're doing something right. Josh Hader is certainly doing something right, boasting the second-highest four-seam whiff rate behind Seth Lugo, allowing just 12 hits off of his fastball last season.
He was able to gain two MPH of velocity going into 2021, turning what was already an amazing pitch into a demonizing fastball. Everything about Hader's delivery is deceptive and explosive all in one. His release point comes out of right field, and he hides the ball basically until release, so by the time the hitter picks up the ball, it's in the catcher's glove.
His ability to pair his rising fastball with a slider that whiffs batters at a 57% clip has made him the best reliever in the business and maybe the most feared pitcher in baseball not named Jacob deGrom.
Jacob deGrom – New York Mets
Speak of the devil, here's Jacob deGrom and his four-seamer which averaged an MLB fastest 99.2 MPH. The baseball world prays that deGrom is healthy heading into 2022, but it's fair to wonder if the elbow and forearm issues that plagued him in 2021 will linger, especially for a pitcher that puts so much force on his elbow.
Injuries aside, 2021 deGrom possessed one of the most dominant pitches I've ever seen. In four out of his 15 starts, he threw more than 70% fastballs, which is unheard of in today's game, and two separate occasions, he averaged more than 100 MPH on his fastball for the entire game!
For a fastball that's thrown nearly 60% of the time from a starting pitcher to hold batters to a .217 wOBA, which is third lowest among starters, and an average against of .157, which is second-lowest, is otherworldly. But really there isn't anything about Jacob deGrom's pitch mix that screams humanly possible.
Freddy Peralta – Milwaukee Brewers
One way to know that Freddy Peralta's fastball is nasty is to look at all the whiffs he gets on pitches in the middle of the zone. I mean, his 31% whiff rate and 112 punch outs on the fastball are good barometers for nastiness as well, but it's especially cruel getting MLB hitters to swing through a pitch down the middle.
Like any sane person would, I watched every single Freddy Peralta fastball strikeout from last season. It was shocking how many times I heard, "Wow that one was right down the middle and he missed" from commentators. Here is the breakdown:
| | |
| --- | --- |
| Location | Percentage of pitches |
| Heart of zone | 30% |
| On the corner | 39% |
| Out of the zone | 31% |
Freddy Peralta strikeouts by zone 2021
After watching every single fastball strikeout, I can conclude that Peralta gets an insane amount of bad swings, and even called strikes, on pitches well within the zone. Since Peralta does pitch for the Brewers, an NL team, the pitchers that he struck out must be factored in, but even accounting for some error, I would estimate around 25% of his strikeouts came on pitches in the heart of the zone.
He's another arm that hides his fastball under a layer of deception, tunneling it with a wipeout slider and a blossoming changeup. It's a large part of the reason for his ranking as Just Baseball's #13 ranked pitcher.
Lance Lynn – Chicago White Sox
Lynn threw some variation of a fastball on 92% of pitches last season, mixing together four-seamers up and away, cutters on the outer half and sinkers down and in. It's an unconventional approach, but one that has turned Lynn into a consensus top-30 pitcher in the game.
In 2021, Lynn cut back on the usage of his four-seam slightly, decreasing from 50% to 42%, and increased usage of his cutter, which closely resembles a slider and is six MPH slower than his four-seamer. This drastically changed hitters approaches and kept them more off balance, making his four-seamer all the more valuable.
His .250 xwOBA was in the 96th percentile among all pitchers, and that's due in large part to the effectiveness of his backspin heater that held hitters to a .236 wOBA and .241 xWOBA. My one concern is that 45% of batted balls against his four-seamer were hit above 95 MPH, but evidence supports Lynn's four-seamer being among the best in the game.
Alek Manoah – Toronto Blue Jays
A newcomer on the scene, Manoah enjoyed a fantastic start to his major league career, putting up a 3.22 ERA across 111.2 innings, instilling confidence in Blue Jays nation that he will be a staple in their rotation for years to come.
Manoah's "signature pitch" according to most is his frisbee slider that moves an insane 15 inches horizontally, but do not sleep on his four-seamer that allowed a .200 batting average and a .172 expected batting average that ranked second among four-seamers behind Yu Darvish.
What makes it so effective is its ability to get weak fly balls on command. Manoah had the fourth highest fly ball percentage against his heater with hitters averaging a 26 degree launch angle, which is nearly 14 inches above average.
Many are buying Manoah as a breakout candidate in 2022, and I am fully on the hype train.