Analysis
MLB Top 20 Starting Pitchers
Major League Baseball is brimming with talented starting pitchers, who display utter dominance on the mound. Here are our rankings for the top starters right now.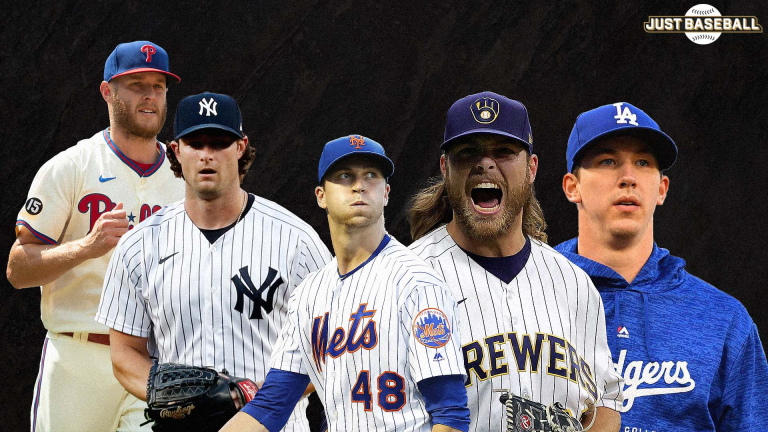 Welcome to my 2022 MLB top 20 starting pitcher rankings. These rankings are based around who I would want on my team for the 2022 season and are not related directly to fantasy baseball, but the information below will be informative for the fantasy baseball enthusiast.
I have excluded some players due to injury. Clayton Kershaw is excluded due to a lack of information about the health of his elbow and his outlook for the 2022 season. When healthy, Kershaw is well within the top 20, but for now, I will leave him off of this list.
Justin Verlander is also absent from this list. After missing the 2020 and 2021 seasons, it is impossible to get a baseline for Verlander's current abilities, but as the season approaches and Verlander is seen in a more public setting, I will have a better idea of how to rank him.
Finally, Carlos Rodon is another arm that was omitted due to injury concerns. He was lights out last season, but his velocity dipped near the end of the year as he dealt with shoulder soreness and fatigue, so until his health and velocity is more well known, I am leaving him off the top 20.
I will use some advanced baseball jargon in this article, so if you are not familiar with stats such as FIP, xERA, wOBA, I suggest quickly reading about those stats on the links attached, and as always, please feel free to reach out to me with any questions.
This was a difficult list to make. It was tough leaving certain players off towards the back-end of the list, so if you are wondering why I left a pitcher off the list, please feel free to reach out to me on twitter, and I will be sure to answer in a detailed manner, but without further adieu, I present baseball's best starting pitchers.
1. Jacob deGrom – New York Mets
If not for injury, Jacob deGrom's 2021 season would likely have been placed in the record books as one of the best pitching seasons of all time. Through his first 12 starts, which spanned 72 innings, deGrom allowed just four total earned runs, struck 117 batters while walking just 10, which all equated to a 0.50 ERA and 0.88 FIP.
It was a video game level run and one that had no end in sight until deGrom began dealing with forearm fatigue, which ended his season after his July 7th start, despite attempts at a comeback late in the year.
There is only one concern for deGrom heading into 2022: the health of his right elbow, and well, entire body for that matter. deGrom has missed time due to neck, lat, back, shoulder and elbow issues over the past two years and has held him and his team back as a result.
When on the bump, there is zero question about deGrom's ability to be the best pitcher on the planet. Prior to 2021, Gerrit Cole held the record for highest strikeout rate over an entire season with a 39.9% strikeout percentage.
DeGrom had a 45.1% strikeout rate over his 92 innings before injury. It was almost unfathomable how dominant deGrom was last season, and in a season plagued by questions surrounding the use of foreign substances to gain spin rate and movement advantages, deGrom was praised for his cleanliness. If deGrom can maintain his health for a full 162 game slate in 2022, he's far and away the best pitcher on this planet, and possibly the universe.
2. Corbin Burnes – Milwaukee Brewers
The 2021 NL Cy Young proved his 2.11 ERA in the Covid shortened 2020 season was not a fluke and cemented himself as the second-best pitcher in baseball just behind Jacob deGrom. The craziest part about Corbin Burnes in 2021 was that his season could have, and probably should have been better from an ERA standpoint. Even though he finished the year with a 2.43 ERA, his 1.63 FIP is the second-lowest FIP in a season since 1920. Dating back over 100 years, Pedro Martinez is the only pitcher in history to have a lower FIP in a season with more than 160 innings pitched.
Over his last two seasons, Burnes has amassed 322 strikeouts over 226.2 innings to go along with a 2.34 ERA and 1.74 FIP, while also limiting hard contact at the fourth lowest rate in the league. Entering his age 27 season, the expectation is for Burnes to repeat as a Cy Young candidate and lead the Milwaukee Brewers to the playoffs once again.
3. Gerrit Cole – New York Yankees
Now to a guy that faced a ton of scrutiny and questions about the use of sticky stuff last season. Through June 16th, Cole was on a tear, holding a 2.31 ERA and 2.45 FIP over 15 starts, and was firmly in the American League Cy Young race, but things took a disastrous turn on June 21st when the league announced it would be putting measures in place to crack down on the use of foreign substance.
This included umpires checking pitchers' hats and gloves, and even belts, after each inning as well as the monitoring of rapid increases in spin rate.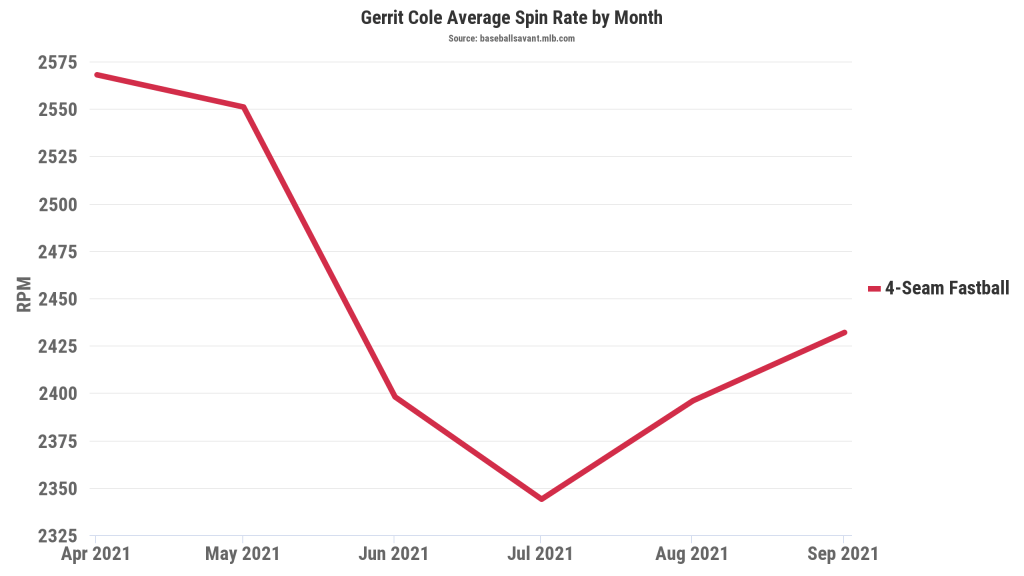 From the above chart, it's quite clear that something changed for Cole after the foreign substance crackdown was put into place, with his fastball spin rate dropping more than 200 RPM from May into July. Cole's effectiveness waned slightly from his norm, as he gave up 11 earned runs over his next three starts, while struggling with command.
Cole was never quite able to regain his form from the beginning of the year, and from June 22nd onward, he produced a 4.12 ERA, which is unlike himself. Pitching performance should never be judged solely on ERA though, and it was clear that Cole's peripherals were still very solid, albeit not as flashy as before.
His 3.39 FIP from June 22nd until the end of the year ranked 17th in baseball and his strikeout minus walk rate ranked fifth, so Cole was not completely lost without the sticky stuff. With a full offseason to make adjustments, the expectation is that Cole rebounds and produces another fantastic year in the Bronx.
4. Zack Wheeler – Philadelphia Phillies
Zack Wheeler received Tommy John surgery after the 2014 season and would not return to the Mets until 2017, only making 17 starts before being shut down midway through the season due to more arm issues. There were worries that Wheeler would never return to the mound and show off the upside he displayed as a prospect.
Well, since 2018, Wheeler has thrown the third-most innings in baseball and in 2021, he averaged 6.66 innings per start to lead baseball in that category. He's officially healthy and certifiably the top-10 starting pitcher he always projected to be.
The 2020 season was strange for Wheeler as his strikeout rate dipped to a career low 18%, but he was still effective, producing a 2.92 ERA and solid peripheral numbers. Wheeler knew he had to get more whiffs though, so in 2021, he increased the usage of his slider from 16% to 25% and decreased the usage of his sinker. The move paid dividends for his strikeout rate as it vaulted to a career-high 29%.
Wheeler attacks batters with five effective pitches and keeps batters off balance, forcing them to settle for weak contact. His hard hit rate against was a measly 28.5%, which was lowest in the league and among all qualified starters, he ranked second in xERA, FIP and xFIP behind Corbin Burnes, leading to a second place NL Cy Young finish.
The 31-year-old has optimized his arsenal and attacks batters in so many different ways that it's impossible not to bet on him going into 2022. If Aaron Nola can bounce back, the Phillies have a real shot at doing some damage in the NL East.
5. Walker Buehler – Los Angeles Dodgers
Weirdly enough, Walker Buehler's lost stuff from 2020 to 2021, losing 1.5 MPH in fastball velocity, but it didn't matter as he finished fourth in the NL Cy Young race with a 2.47 ERA and 3.16 FIP over 207.2 innings.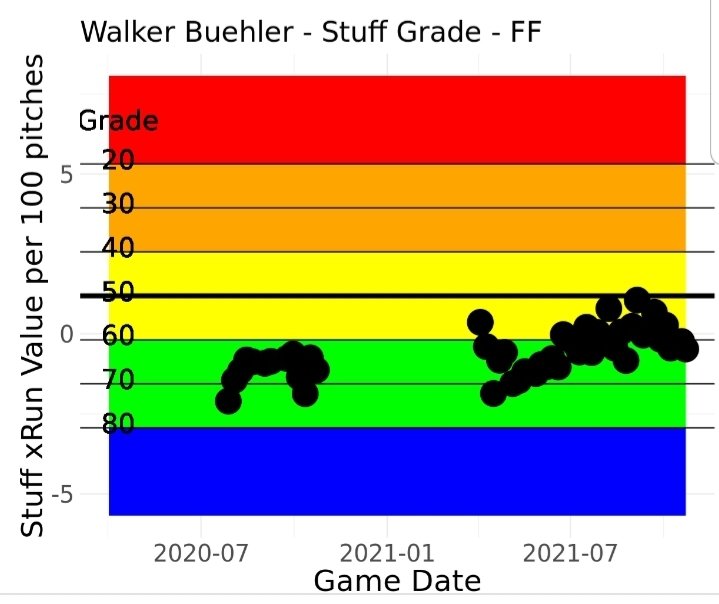 It was quite the effective season for Buehler, who allowed more than three earned runs in just four of his 33 starts. Since 2018, he ranks fourth in ERA behind Jacob deGrom, Justin Verlander and Max Scherzer.
Buehler attacks hitters with a five-pitch mix, plus a developing changeup that he increased in usage as the season went on, throwing it 10% in September and finding great results. All six pitches had a wOBA against below .300, and his cutter, slider, curveball and changeup each had whiff rates above 30%, keeping hitters off balance with so many varying speeds and movements.
Consistency is king as a pitcher and Buehler is as lock tight as they come, never posting above a 3.26 ERA in a full season. The expectation is that Buehler posts another ERA under 3.00 and leads the Dodgers to yet another NL West pennant.
6. Shane Bieber – Cleveland Guardians
Entering a June 13th start against the Mariners, Bieber held a 2.96 ERA and had not given up more than three earned runs in any of his 13 starts. Coming on the back of a magical 2020 season in which he had a 1.63 ERA and won the AL Cy Young, Bieber was on his way to competing for another Cy Young award, but disaster struck on June 13th, as Bieber's velocity dipped to 92 MPH, more than a mile per hour less than he was throwing just a month prior.
He went on to surrender five earned runs to the Mariners and would hit the injured list for three months with a right shoulder strain, essentially ending his season.
Bieber returned for two short starts in late September, but his was velocity down to 91 MPH, which did little to quell fears about his arm health. Entering 2022, it's clear that Bieber is one of the top arms in baseball when on the mound. Since 2019, he holds a 2.92 ERA over 388.1 innings, which ranks fifth, while striking out 33% and only walking 6% of batters.
Health is not guaranteed though, and is the only thing holding him back from being fourth on this list, so as spring training begins, whenever the lockout is resolved, Bieber's health and velocity will be a situation to monitor. It's been a dominant stretch for Bieber and if he comes back healthy, the expectation is that he will continue to produce ace-like numbers in Cleveland.
7. Max Scherzer – New York Mets
Taking away the shortened 2020 season and all its flukiness, the last time Max Scherzer had an ERA above 3.00 was 2014 and over that span, he's collected the most pitching WAR in baseball. It has been one of the most dominant pitching runs of all-time and to expect it to come to an end on the back of a season where he finished with a 2.46 ERA and third place in the NL CY Young race would be silly.
The only fear with Scherzer is his health as he enters his age 37 season. He's never had health concerns throughout his career and his velocity has amazingly never waned, sitting at 95 MPH for the last six seasons, but at some point, his body will not be able to keep up.
It's something we witnessed last October in the NLCS. Scherzer was not able to make his start in a must-win Game 6 due to arm fatigue, which may have been the result using Scherzer as a closer in Game 5 of the NLDS, on top of pitching him on short rest.
Arm fatigue or not, Scherzer can always be counted on to produce front line numbers and the Mets are believers that there is plenty left in the tank after guaranteeing $130 million over three years to Mad Max.
8. Logan Webb – San Francisco Giants
Back in August, I labeled Logan Webb as the most underrated pitcher in baseball. The secret may be out on Webb now, after he finished with a 3.03 ERA in 148.1 innings and third in FIP, leading the Giants to a playoff berth.
Webb's finest performances actually came in the playoffs as the 24-year-old carved up the Dodgers not once, but twice in the NLDS. Sadly, the Giants offense went ice-cold in Game 5, but fans will always remember his 14.2 innings of one-run ball in that series. It was pure domination and a glimpse into what Webb will give us over a full season in 2022.
The reason to love Webb is simple: he gets whiffs and ground balls. Predicting pitcher performance year-over-year is easiest with pitchers that limit contact to begin with, but especially limit damage on contact, leading to less home run variability.
By the numbers, getting ground balls is the most desirable outcome outside of a strikeout. wOBA on ground balls in 2021 was .221 and in comparison, wOBA on fly balls was .457, with the clear difference being the inability to hit home runs on ground balls.
Webb has turned getting batters out into a simple game. He gets batters to whiff 47% on his slider, making it the eighth-most whiffed on pitch in baseball among starting pitchers, and he gets batters to put the ball on the ground against his sinker and changeup. It's a combination that has led to the Webb having the second-highest ground ball rate in baseball while maintaining a well above average 26% strikeout rate. Even if he gets in a jam, he can count on double play balls to bail him out.
The simple matter of the fact is that Webb's entire arsenal plays off of itself, fooling batters into thinking a sinker is a slider and vice versa. Not many pitchers can limit hard contact in the air like Webb does, and it makes me believe that even ranking him at eight is too low. He has the stuff to be a top-five pitcher, but it's going to take another season to prove it.
9. Brandon Woodruff – Milwaukee Brewers
Corbin Burnes was far and away the best pitcher in the NL last season (sorry deGrom, gotta stay healthy), but Brandon Woodruff was not far behind and actually had more WAR than Burnes according to Baseball Reference's version of the stat.
Woodruff attacks batters with a fastball heavy approach, mixing in both four-seamers and sinkers, rarely ever missing with a pitch over the middle of the plate, he is considered a Picasso of pitching, always painting the edges.
Woodruff's four-seamer is one of the best in baseball, boasting the sixth-highest whiff rate and fifth lowest wOBA among four-seamers. To keep hitters off balance, he utilizes an 84 MPH hammer curveball that drops more than 50 inches with a called strike plus whiff rate of 33%.
The 2021 season was the first in which Woodruff used the pitch with regularity, upping the usage from 6% in 2020 all the way to 16% this past season. To go along with the curveball, he throws a changeup with wicked drop, often used against left-handed hitters, and a gyro-slider with tight spin that is mainly used against right-handed hitters.
The approach has turned Woodruff into an ace, as he posted a 2.56 ERA in 2021 and over his last 374 innings, he has a 3.00 ERA and 3.02 FIP. It does not get more consistent than Woodruff, who has also posted a walk rate of exactly 6.1% over the last three seasons.
I have full faith that he will continue to limit hard contact while striking out nearly a third of batters and deploying elite command. Woodruff is a top-10 pitcher for 2021 and one that could climb even higher.
10. Julio Urias – Los Angeles Dodgers
Despite debuting in 2016 as a 19-year-old phenom, Urias has only thrown 478.1 innings throughout his six-year career with 2021 being the first season that he's eclipsed 100 innings. His career is just taking shape after he finished top-10 in ERA, xERA and FIP in 2021 and looks poised to take over as the lefty ace for the Dodgers with Clayton Kershaw's elbow health up in the air.
Urias does everything right as a pitcher. He gets whiffs and limits hard contact at an elite level. He had the second-lowest hard hit rate against and the fourth-lowest home run per fly ball rate in baseball while walking only 5.1% of batters, which was also second-lowest in baseball.
The biggest change for Urias going into 2021 was throwing more curveballs. He increased his curve usage by 12%, completely eliminating the slider from his repertoire, and for good reason, the pitch is an anomaly, moving more than 15 inches horizontally.
Among all curveballs by starters, his has the third-lowest hard hit rate against and only a .180 wOBA against. The high usage of the curveball complemented by an above-average fastball and changeup has given Urias a full arsenal to deceive hitters and initiate weak contact. Julio Urias is my pick for 2022 NL Cy Young and believe he is just entering his peak years.
11. Chris Sale – Boston Red Sox
Sale returned to the Red Sox from Tommy John surgery on August 14th, throwing his first Major League pitch in more than two years. The Red Sox plan was to ease Sale into action down the stretch by limiting his pitch count and although he only averaged 4.74 innings per start, his return was as solid as could be. In 42.2 innings, Sale had a 3.16 ERA, 3.47 xERA and 3.69 FIP and showed he did not lose his knack for strikeouts, punching out 28% of batters and only walking 6.6%.
The biggest concern for pitchers when returning from Tommy John is losing velocity. As Sale went through his rehab starts, the talk of the town was focused on the radar gun, and while Sale's velocity did not return to the 95 MPH that he averaged back in 2018, 93-94 MPH would have to do.
Sale was able to overcome a dip in velocity by varying speed within each pitch type. His fastball was thrown between 89 and 98 MPH, his slider between 73 and 82 MPH, and his changeup between 84 and 89 MPH. Sale also varies movements on his slider, sometimes throwing a more vertical slider with 12-6 action and sometimes adopting a sweeping slider with more horizontal movement and less vertical drop. This strategy keeps batters off balance and shows the pitchability Sale possesses.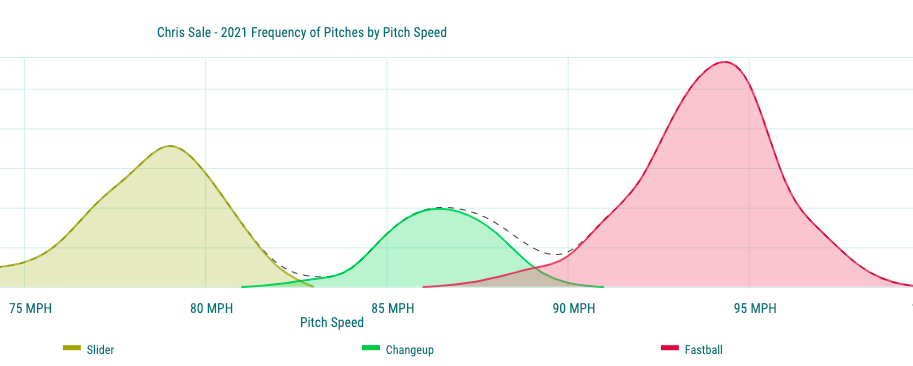 With an entire offseason, Sale should enter the 2022 season fully recovered and ready to put another 200+ inning season under his belt. Even if his velocity sticks at 93-94 MPH, Sale should not have trouble punching batters out and while he may not be the best pitcher in baseball anymore, he is definitely worthy of his title as the ace of the Red Sox. Confidence in Sale should not waver until he shows us otherwise.
12. Luis Castillo – Cincinnati Reds
Coming into 2021, Luis Castillo was being ranked firmly inside the top-10, and rightly so. Between 2019 and 2020, he pitched to the tune of 3.35 ERA and 3.42 FIP, and looked right on the brink of entering ace hood in 2021. Well, 2021 was not quite so kind to Castillo.
He stumbled out of the gate, going 2-9 in his first 13 starts, giving up 46 runs in 64 innings, and struggled to miss bats, striking out just 20% of batters, which was way down from his 29% rate between 2019 and 2020. He failed to pitch past the sixth inning in all but one of his first 13 starts and with his velocity averaging below 96 MPH, hitters were teeing off on his fastball and there were concerns that Castillo was hurt.
Something clicked in mid-June though, as his velocity crept back up to 98 MPH, putting any injury concerns to rest. From June 15th on, Castillo allowed more than three runs in just two out of 20 starts, striking out 26% of batters, leading to a 2.69 ERA and 3.32 FIP over that span.
The velo uptick allowed his other pitches to be more effective, mainly his oft-used changeup. In April and June his changeup whiff rate was failing to break 30%, but by August, he was back in peak form, whiffing batters on the change at a 40% clip. The second-half version of Luis Castillo is what can be expected in 2022. He's an ace and deserves to be treated as one.
13. Freddy Peralta – Milwaukee Brewers
Used as a reliever in 2019 and 2020, Peralta was without a third pitch and despite his deceptive fastball producing results out of the pen, he needed a third pitch to pair with a loopy curveball that was far too predictable. He did that and more, adding a slider and changeup to his arsenal and the rest they say is history.
Peralta finished the season with a 2.81 ERA, 3.12 FIP and 2.70 xERA, which ranked third in baseball. His fastball was the star of the show, holding opposing hitters to a .156 average, but the leap to being a top-15 starting pitcher in baseball would not have been possible without a wipeout slider with sweeping action.
It's a pitch he threw just 24 times in 2020, but he increased usage to 26% in 2021, getting 43% whiffs per swing while limiting hitters to a .229 wOBA. It was primarily used against right-handed hitters, so to combat lefties, Peralta developed a changeup that yielded 54% ground balls. All in all, this led to only 31% hard hit balls against Peralta, which was the fifth-lowest rate among starters.
Peralta also missed more bats than almost anyone last season, striking out less than six batters in just six out of 28 starts and ranking third in baseball with a 33% strikeout rate. Possessing three pitches with whiff rates around 30% and a slider with a whiff rate above 40% will do that.
The only thing holding Peralta back from being considered a true ace is longevity. He averaged just 5.27 innings per start last year, but he is fully capable of going deep into games, he just needs more consistency. When he's on the mound, he's lights out, so if Peralta can consistently go 6+ innings, he'll have no problem outperforming this ranking in 2022.
14. Trevor Rogers – Miami Marlins
This might be the first surprise on this list for many reading, but hear me out: Trevor Rogers has all the stuff of an ace and his rookie season proved that and more. Dating back to 2000, Trevor Rogers' 2.55 FIP in 2021 is the best FIP by a rookie and his 2.64 ERA is third-best by a rookie, behind only Jose Fernandez and Walker Buehler. That's some elite company.
In terms of stuff, Rogers has the makings of a front-line starter. Let's start with Rogers' four-seam fastball, which is considered his best pitch purely because of how effective it is, despite an incredibly high usage rate of 57%. In 2021, he allowed a .297 wOBA and .305 xwOBA against his fastball, and batters could not barrel it up, whiffing on 27% of swings. He misses barrels as the result of a pitch that has a ton of arm-side run, moving more than 11 inches horizontally, which is 3.7 inches above average than other fastballs at 94 MPH.
Rogers backs up his elite fastball with a changeup that Pitching Ninja may have created in a lab to boost views. It falls out of the sky dropping 37 inches on the way to the plate, which is six inches more than other changeups with the same velocity.
Jeremy Maschino, the Creator of Pitch Profiler, an online app that showcases pitch data from baseball savant, highlights that while Rogers throws his changeup with a split-change grip, the movement profile of the pitch identifies it as a screwball due to its lack of lift and massive arm-side run.
Among all changeups from starting pitchers, Roger's change ranks sixth in wOBA against and 14th in whiff rate, which gives Devin Williams and his airbender a run for its money. To round out his pitch mix, Rogers possesses a slurve that gets a ton of whiffs and keeps batters off balance. It's the perfect third pitch to tunnel off of the changeup and fastball that have a ton of arm-side run.
Entering 2022, Rogers does not need to do anything, but be himself on the mound. He has the luxury of playing in one of the most pitcher-friendly ballparks in the league, which benefits him greatly as a flyball pitcher. The acquisition of Jacob Stallings, who was the best defensive catcher last season according to Defensive Runs Saved, should be a huge boost to the Marlins pitching staff that was forced to throw to Sandy Leon and Jorge Alfaro in 2021.
Trevor Rogers will make his name known in 2022, get on the hype train.
15. Sandy Alcantara – Miami Marlins
Two Marlins back-to-back, and honestly it's so hard to pick one over the other, but it's time we gave Sandy his respect. Alcantara has increased his strikeout rate and decreased his walk rate in every season since 2019, striking out 24% and walking just 6% in 2021.
At only 26 years old, Sandy is still developing as a starter and 2021 proved that he is open to tinkering with his repertoire and challenging himself to attack batters in different ways.
For a pitcher that regularly hits triple digits on his heater, the next step was finding a pitch to keep batters off balance, so in 2021 he increased his changeup usage from 10% to 24%, which in turn gave his fastball and slider more play while getting more ground balls overall.
It also allowed him to go deeper into games, averaging 6.23 innings per start. One of the most underrated skills for a starting pitcher is facing a lineup a third time and keeping the ball out of the hands of the bullpen when necessary and Sandy does exactly that.
The expectation for Sandy in 2022 is to continue to build on the 3.16 ERA he's put up between 2020 and 2021. He's shown he can get more whiffs and induce more ground balls and as I mentioned in regards to Trevor Rogers, playing in Miami with Jacob Stallings will only boost his stock next season.
16. Lucas Giolito – Chicago White Sox
The 2021 season was a complicated one for Lucas Giolito, who struggled for much of the first half, giving up 18 home runs in just as many starts, leading to a 4.15 ERA at the break. I don't often praise xFIP because normalizing home run rate can be a dangerous game as some pitchers have a knack for giving up more long balls, but Giolito's 3.56 xFIP at the break was more of an indictment of things to come than his lackluster ERA.
He bounced back in the second-half with a 2.65 ERA, dropping his walk rate to 6%, and ending the year with a 3.53 ERA, 3.30 xERA and 3.79 FIP.
It was not the greatest season for Giolito, but he has finished with an ERA between 3.40 and 3.55 in three-straight seasons, proving to be very consistent. Giolito attacks batters with a changeup and slider that have whiff rates above 35%, which hold batters to below a .250 wOBA, mixing in a low-spin fastball that has a 25% whiff rate.
The issue for Giolito in the first-half was poor command and lots of fastballs and changeups left over the heart of the plate, but he made an adjustment in the second-half, leading to the 7th lowest hard hit rate against.
Entering his age-27 season, Giolito is still developing his pitchability and I expect the command improvements from the second-half of 2021 to continue into 2022.
17. Nathan Eovaldi – Boston Red Sox
Nate Eovaldi may not appear on the surface like a top-20 arm, but that's a common theme with Boston arms as they tend to underperform thanks to astoundingly poor defense behind them. Going by Fangraphs WAR, which uses a FIP based calculation, Eovaldi ranked third in 2021 with 5.6 WAR, trailing only Corbin Burnes (7.5 WAR) and Zack Wheeler (7.2 WAR).
Don't let Eovaldi's 3.75 ERA fool you, he was dominant last season, striking out more than a quarter of batters while walking less than 5%, leading to a 2.79 FIP and 3.37 xERA. The .96 point difference between his FIP and ERA is the eighth-largest gap in a single season since 2015, so if Eovaldi can replicate his performance on the mound, there should be room for positive regression in 2022.
From an individual pitch performance standpoint, Eovaldi shines. His go-to pitch is a four-seam fastball that averages 97 MPH, and often touches triple digits. Hitters had a tough time squaring it up, only managing a 39% hard hit rate, which ranked 15th-lowest compared to other four-seam fastballs.
He rounds out his repertoire with four "secondary" pitches: A slider, curveball, cutter and splitter, throwing each with about the same frequency. He went away from his slider to use cutter more in 2019 and 2020, but brought back the slider last season to great results, getting 35% whiffs per swing and holding batters .315 wOBA and .244 xWOBA. The addition was a huge part of his success last season, especially against right-handed hitters, to which he almost exclusively throws the pitch.
The added pitch has allowed his other offerings to flourish and entering 2022, Eovaldi should be able to excel once again. The Red Sox have already made it clear that improving the defense is a major part of their plan by acquiring Jackie Bradley Jr., moving Kike Hernandez to second base. The left side of the infield is still a problem with Xander Bogaerts and Rafael Devers combining for -18 defensive runs saved last year, but regardless, Eovaldi will control what he can control on the mound.
18. Blake Snell – San Diego Padres
The Padres sent a haul to the Rays in exchange for Blake Snell before the 2021 season, forming a beast of a rotation along with Yu Darvish and Joe Musgrove. Things did not click for Snell and the Padres for much of the year, as the Padres missed the playoffs and Snell held a 5.44 ERA and 4.59 FIP through his first 19 starts, failing to make it past the fifth in just four starts.
Now I know what you're thinking, how is Blake Snell a top-20 arm if he was that bad in 2021? Well, people can change, and Snell made a drastic one.
By now, you're probably aware of my favorite pitching mantra, but I'll say it again just to be sure: Throw your best pitches more, and your worst pitches less.
It sounds simple, but there are so many pitchers out there that struggle to throw their best pitches more, but Snell addressed this exact issue. In the first-half, Snell went to his changeup 16% of pitches, which was previously a staple pitch for him, but it found mediocre results in 2021, so returning in the second-half, Snell completely eliminated usage of the change.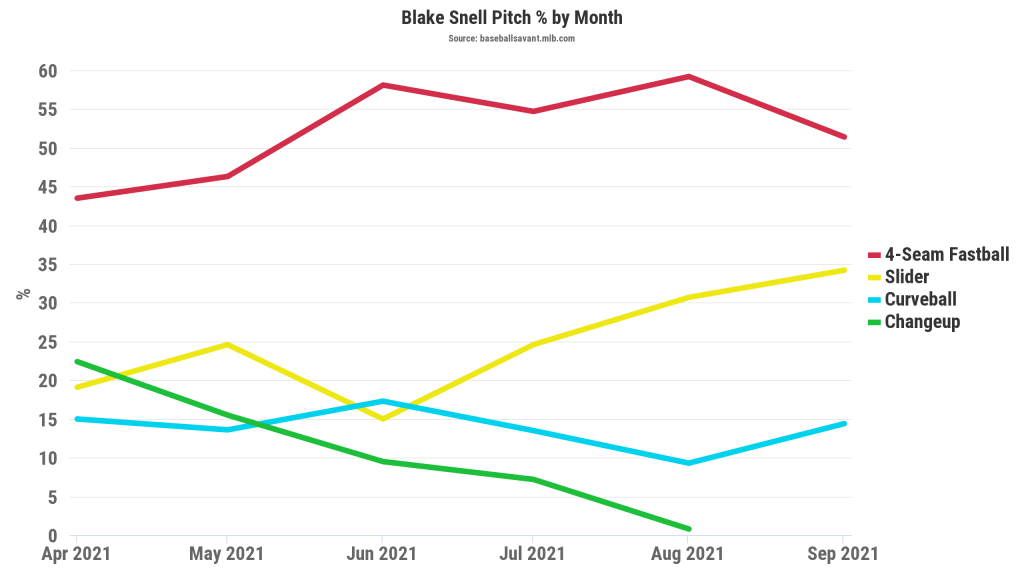 To replace the changeup, Snell increased usage of his slider. Now he had two pitches, a slider and curveball, with 47% whiff rates accounting for nearly 50% of his pitch usage. It's no surprise either that his fastball performed better with the increased slider usage.
This led to Snell putting up a 3.24 ERA and 3.20 FIP over his last 11 starts, even including a one-off blow up start in which he gave up seven earned runs to the A's. Going into 2022, I'm expecting Snell to continue the pitch usage he displayed above, giving me confidence that he will put up top-tier numbers in 2022.
19. Shohei Ohtani – Los Angeles Angels
This may come as a surprise, or maybe not, but Ohtani needs to be considered a top-20 pitcher going into 2022. Ohtani had not pitched, outside of 1.2 innings during the Covid-shortened 2020 season, since 2018, so for much of 2021, he was settling in and getting his feel on the mound.
That's not to say that Ohtani performed poorly in the first-half, because he didn't. He went into the All-Star break with a 3.49 ERA and 3.57 FIP, but walks plagued him, as he issued free passes to 12.4% of batters faced.
In the second-half it all clicked, as he only walked just nine batters and struck out 69 over 63.1 innings and finished the second-half with a 2.84 ERA. Averaging 6.3 innings per start gives confidence that Ohtani can handle a larger workload in 2022, and if he stays healthy, he should not have a problem eclipsing 160 innings, which would be huge for his value considering he produced 3.0 WAR in just 130.1 innings last season.
The biggest challenge for Ohtani will be overcoming a poor performing fastball. Although his four-seamer is thrown at upwards of 100 MPH, averaging 95.4 MPH, the pitch is far too straight. He allowed a 51.6 hard hit rate, .373 wOBA and eight home runs against it last season.
Conversely, Ohtani's splitter was the best performing pitch in all of baseball, holding batters to a league low .113 wOBA while getting 48% whiffs per swing. He also throws a sweeping slider with 16 inches of horizontal break that performed well last season.
I wrote in July of last season that Ohtani should decrease his four-seam usage in exchange for more splitter usage to maximize his arsenal. Making an adjustment, similar to Kevin Gausman, could propel Ohtani into another stratosphere. He surely has the stuff for it, but his workload and fastball are currently holding him back.
20. Max Fried – Atlanta Braves
To round out the top-20, Max Fried of the Atlanta Braves. I went back-and-forth on a few different names here, but Fried sold me on a profile that limits hard contact, and the way he finished 2021 was something out of a movie.
In the second-half, he had a 1.74 ERA and 2.74 FIP, while averaging nearly seven innings per start and going the distance for a complete game shutout not once, but twice.
You want ground balls?
Fried's got ground balls.
He's one of five pitchers with a ground ball rate above 50% and a strikeout rate above 23%. Luis Castillo and Sandy Alcantara are two of the other arms on that list, so Fried is among some elite company.
By now you probably know what I like in a pitcher, and Fried exemplifies it to a T, getting enough whiffs to get by and limiting opposing hitters to just 35% hard contact. Also when most of that contact is on the ground, it's easily gobbled up by Atlanta's stout infield defense, who combined for 9 defensive runs saved as a unit.
Fried's go-to offering is a soul crushing curveball with a massive 65 inches of vertical drop. Although it is only 74 MPH, it's as unhittable as they come with just a .198 wOBA against and 35% whiff rate. It's a certified knee-buckler.
All in all, Fried has four plus-pitches with great feel for his command, rarely missing over the heart of the zone and keeping home runs to a minimum. The return of Mike Soroka, in addition to a rotation with Fried, Charlie Morton, Ian Anderson, and Huascar Ynoa, should instill confidence that the Braves will compete for back-to-back World Series championships in 2022.